Are you interested in learning how to extract emails from LinkedIn? You've come to the right place. We'll demonstrate a straightforward method for extracting emails not only from LinkedIn but also from other social media platforms. Using our approach, you can retrieve both professional and personal email addresses.
So, how can you find email addresses manually? If you work in marketing, sales, business development, or lead generation, you likely encounter the need for lead generation as part of your responsibilities. Manually discovering email addresses involves identifying a pattern for creating email addresses, as exemplified below. However, this method often lacks accuracy and can be time-consuming when building an email list.
Here are some common email patterns that you can use for generating email addresses for your prospects:
FirstName.LastName@domain
FirstNameLastName@domain
FinitialLastName@domain
Finitial.LastName@domain
FirstName_LastName@domain
FirstName.Linitial@domain
It's important to note that this process is entirely manual, and there's no guarantee that the resulting email addresses are valid. It's just guesswork and freely create an email address of any professional.
For email patterns, you can search on Google. Simply enter the domain name of your target prospect in the format "@domainname.com" followed by the word "emails," and then click on the search button. This will yield email patterns that you can use for educated guesswork in creating a potential email address. It's a practical approach to gathering clues about the email structures used by various companies.
Once you've completed this task, don't forget to validate the email addresses using email verification software. This step is crucial for maintaining the sender's reputation and ensuring high email deliverability.
That's the manual way to find email addresses. Now, let's discover the easiest method for extracting emails from LinkedIn.
How to extract emails from a LinkedIn profile?
In order to extract emails from LinkedIn, you'll need to install the GrowMeOrganic LinkedIn email finder Chrome extension. Let's go through the step-by-step process.
#Step 1: Sign up for GrowMeOrganic for 14 days free trial
Begin by registering for a free account on the GrowmeOrganic platform.
#Step 2: Install the GrowMeOrganic Chrome extension
Download and add the GrowmeOrganic Chrome extension to your web browser.

#Step 3: Visit a LinkedIn profile
Navigate to the LinkedIn profile from which you want to extract email information.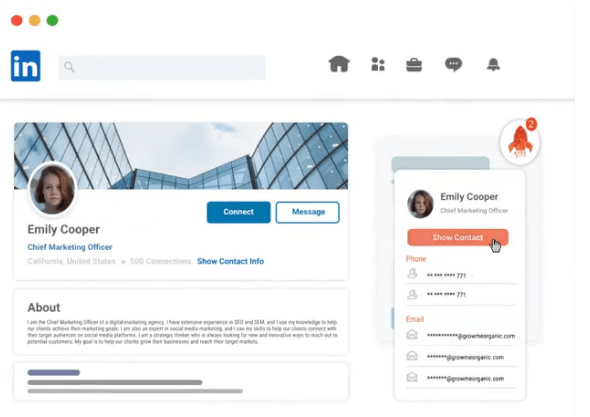 #Step 4: Use the GrowMeOrganic Chrome extension to extract emails from the LinkedIn profile
Once you're on the desired LinkedIn profile, use the GrowMeOrganic Chrome extension to retrieve email addresses from it.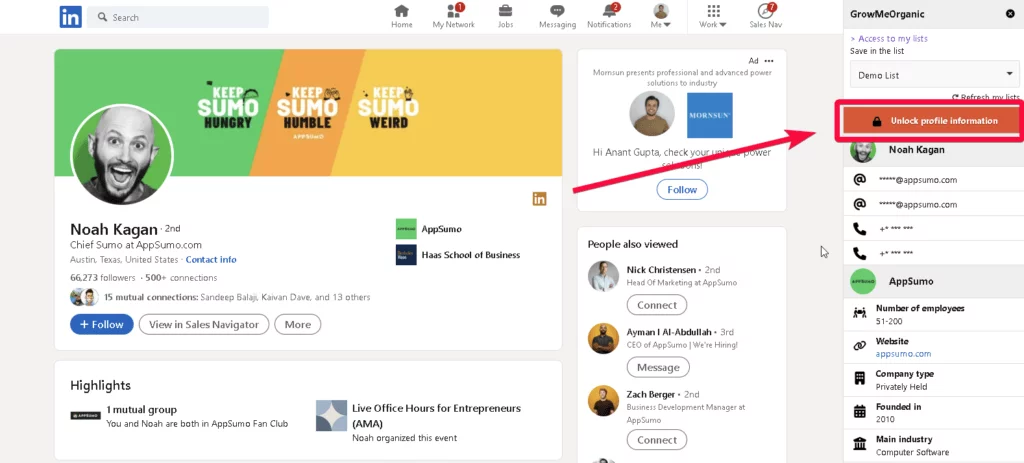 With GrowMeOrganic, you will not only be able to extract the emails but also the phone numbers of your target prospects. Easily you can export lists into CSV or Excel files and save the list.
Please watch this video to gain a clear understanding of how to use GrowMeOrganic for extracting emails from LinkedIn profiles.
You can read our GrowMeOrganic review for detailed functions and drawbacks of tools.
Now, let's delve into the process of extracting emails from LinkedIn in bulk.
How to Extract Emails From LinkedIn in Bulk?
Unlock the secrets of bulk email extraction from LinkedIn with our step-by-step process.
#Step 1: Ideal Customer Profile
Create an Ideal customer profile for your product and service. Choose the right audience that fits into your business. (e.g Chief Marketing Officer in the United States)
#Step 2: Linkedin Search Filter
Go to LinkedIn and search for "Chief Marketing Officer or CMO" in the United States by using the LinkedIn search filter. You can filter contacts based on Job, Location, Title, Company, Industry, etc. then search. It will populate the list of CMO professionals in the United States.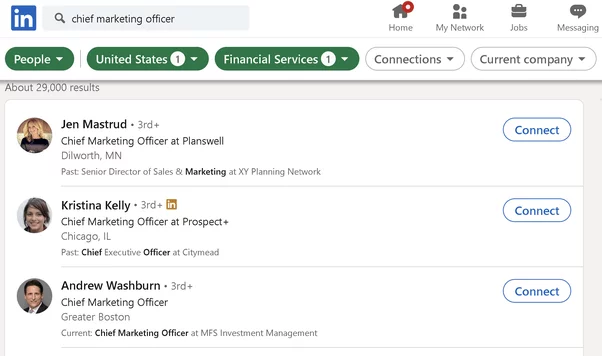 #Step 3: Extract Emails in Bulk
Once you get the LinkedIn search results, next step is to click on the GrowMeOrganic Chrome extension in your web browser. GrowMeOrganic will then systematically scan through all the pages of the LinkedIn profiles, collecting email addresses without having to open each individual LinkedIn profile. This efficient process ensures that all the necessary information is gathered effortlessly and securely.

#Step 4: Download List
Once the extraction process has finished, you have a few options for managing the collected data. You can download the email list in CSV and XLS formats for your convenience.
Alternatively, you can seamlessly transfer the data to your GrowMeOrganic CRM system. This flexibility ensures that you can work with the email contacts in a way that best suits your needs.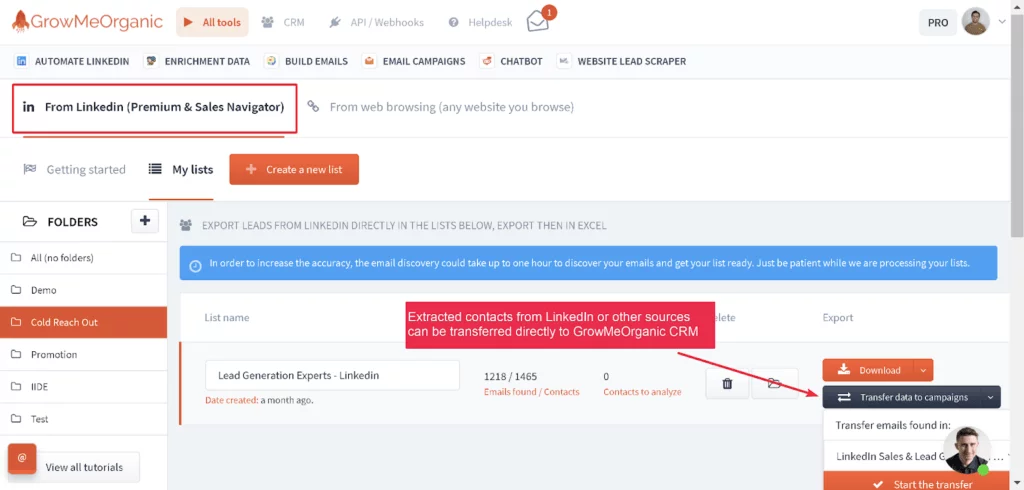 Like this exported list you will see.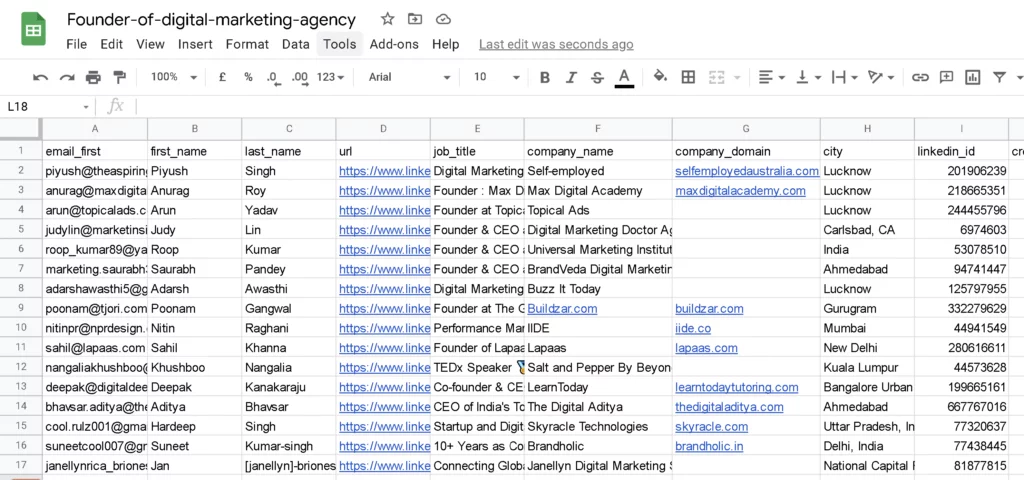 GrowMeOrganic works with both LinkedIn's free and paid versions. The free version has limitations on the number of contacts you can access and restricts bulk data collection. For more advanced search options and a wider target audience, it's recommended to use LinkedIn Sales Navigator.
Why should you verify emails extracted from LinkedIn?
It's crucial not to send emails immediately after downloading the email list. Maintaining a clean list is of paramount importance for the success of your outreach campaign. Sending emails directly increases the risk of encountering higher bounce rates, which can adversely affect your IP and domain reputation.
To prevent bounces and invalid emails, you can use email verification services. There are many email verification tools available in the market some of the most highly recommended options are Bouncer, MyEmailVerifier, ZeroBounce, MailerCheck, and Emailable.
These tools are known for their effectiveness in helping you maintain a clean and reliable email list, improving the overall success of your email campaigns.
How to send an outreach campaign to extracted emails?
Using GrowMeOrganic, you can also able to send email campaigns without any restrictions. GrowMeOrganic is an all-in-one lead generation platform that has more than 575 million B2B contact databases. This extensive database offers you the freedom to reach out to potential clients or contacts for your email campaigns without any constraints or restrictions.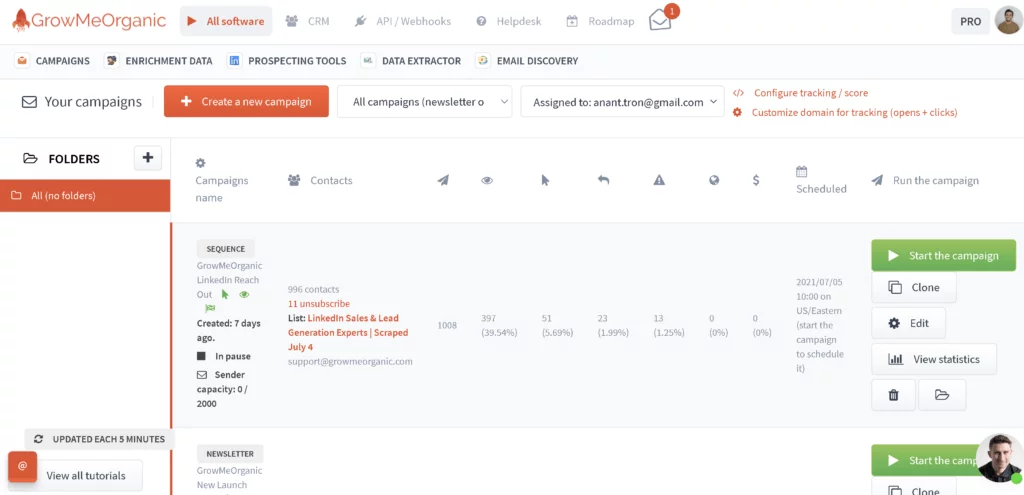 In GrowMeOrganic, you can send unlimited drip campaigns, send highly personalized emails, and reach prospects' inboxes without landing in spam. If you sending cold emails then GrowMeOrganic is the best option to consider.
Apart from GrowMeOrganic, What are other options to extract email from Linkedin?
There are many LinkedIn email extractors available in the market. Here is the list of top GrowMeOrganic alternatives.
1. PhantomBuster
PhantomBuster serves as a comprehensive lead generation automation tool, offering a wide range of functionalities. You can utilize it for tasks such as extracting emails from LinkedIn profiles, groups, and followers. Additionally, it automates actions like sending connection requests, messages, comments, and much more.
This tool simplifies and streamlines various lead-generation activities, making it a valuable asset for your outreach efforts.
For more information, you can read our PhantomBuster reviews and understand how it works, the pros and cons, and other details.
Also, learn
2. SalesQL
SalesQL is a simple and effective LinkedIn email finder tool that helps you extract emails within one click.
Creating a prospecting email list becomes a more straightforward task when you leverage the SalesQL platform. This platform offers the capability to extract and enrich information from more than 40 data points, allowing you to gather comprehensive data for your outreach efforts.
If you have any uncertainties or questions about how SalesQL works, reading a SalesQL review can provide the clarity you need to make informed decisions about using this tool.
Must read:
3. Waalaxy
Waalaxy is a fantastic lead-generation tool for LinkedIn. You can find emails, phone numbers, automated LinkedIn tasks, and send messages through Waalaxy. Perfect platform for sales, marketing, lead generation, and business development teams.
Read a detailed Waalaxy review and understand its function and features.
4. Closely
Closely is not just another tool; it's your complete solution for sales automation. With a range of powerful features, it simplifies and supercharges your sales efforts.
Here's what you can expect from Closely:
A LinkedIn email finder

A LinkedIn data extractor

Access to a massive in-house B2B database with over 132 million contacts

Auto-pilot LinkedIn outreach

Seamless email outreach

Meeting and appointment-setting services
Incorporate Closely into your sales strategy and watch your productivity and outreach soar to new heights.
Use Closely Chrome extension. Easily collect valuable data to fuel your outreach campaigns and streamline your lead generation efforts.
Check out a comprehensive Closely review. Discover the full potential of this LinkedIn automation tool and ensure you're making the most of its impressive capabilities.
5. Dripify
Dripify is a top LinkedIn automation and prospecting tool built to enhance your sales team's LinkedIn prospecting and deal-closing capabilities. It offers similar functionality to GrowMeOrganic. You can explore its features by starting a 14-day free trial.
For more insights, read our Dripify review to learn about its workings, advantages, disadvantages, features, customer feedback, and more.
Conclusion
Extracting emails from LinkedIn is a valuable skill for various professional endeavors, from marketing and sales to business development. Whether you choose a specialized tool like GrowMeOrganic or explore other methods, remember to prioritize data privacy, quality, and compliance with LinkedIn's policies.
With the right approach, you can harness the power of LinkedIn for your outreach and networking efforts, ultimately helping you connect with potential clients, partners, and opportunities.
Frequently Asked Questions
1. Can LinkedIn search results be saved for later use?
Yes. With the help of LinkedIn lead generation tools, you can save the LinkedIn search results including name, job titles, email, phone number, and company name in Excel or CSV files.
2. What should I do if the email address is invalid?
If the email address is invalid or doesn't work then use the manual method explained above. Check the email address on the email validation platform. Otherwise use SaleQL, PhatomBuster, or Waalaxy to get verified the email address with the highest retrieved results.
3. Is it possible to get email addresses from LinkedIn without paid tools?
Yes, you can use the manual method as described earlier. It's time-consuming, but it's a good option if you're working with a limited budget.
However, for those seeking to maximize their outreach and lead generation potential, LinkedIn extraction tools such as GrowMeOrganic, SaleQL, PhantomBuster, or Waalaxy are available, typically priced at just over $50 per month.
These tools are a worthwhile investment as they enable you to connect with a broader audience, generate more leads, and, ultimately, boost your revenue in a relatively short timeframe. The benefits far outweigh the costs, making them a valuable addition to your toolkit.
4. Can I get phone numbers from LinkedIn profiles?
Yes. In GrowmeOrgnaic, SalesQL, and PhantomBuster, you can obtain both phone numbers and email addresses. However, please note that each credit is used for both phone numbers and email addresses.