In this article, you will learn how to automate your lead generation on LinkedIn. 61% of marketers think that generating leads on Linkedin is challenging. Finding potential clients isn't just difficult but it's highly time-consuming.
To find new prospects for your business, you could conduct LinkedIn searches, send messages on Twitter, or scour Google Maps for companies in your area to contact. You could not even get the email addresses of prospects. 
All of these manual tasks require time and real productivity. You also miss out on important tasks such as scheduling appointments, client follow-ups, client demos, lead nurturing, and running a business. 
What if you could automate the lead generation process on LinkedIn? 77% of marketers convert more leads by using Linkedin automation software compared to those who don't use it. Linkedin is an excellent source for b2b lead generation. You can save time, increase productivity, and generate more leads for your business by using LinkedIn automation.
How to Automate Your Lead Generation on LinkedIn?
There's a lot of talk these days about how to prospect more effectively using LinkedIn. We've covered several tactics and tips in order to gain more leads and close more deals, but now it's time to get a little more specific… so today we're going to cover how to automate your lead generation on LinkedIn.
When you are a busy business professional, time is always a precious resource. Nowhere is this more true than when it comes to prospecting on LinkedIn. You have limited time and resources, so you need to make the best of them – by using the right tools and techniques.
What exactly can you automate on LinkedIn?
With the advancements in technology, there are many things you can automate on LinkedIn. Here is a list of some of them and how you can use them to increase your productivity and time management.
Building Ideal Prospect List
You can use Linkedin to create an ideal prospect list. Many business professionals use Linkedin. You can create a quality prospect list using a Linkedin search. However, doing it manually takes time. You can automate the entire list-building process with Linkedin automation.
Sending Connection Requests
Salespeople typically send LinkedIn connection requests to ideal prospects. They begin by reviewing the prospects' profiles. If they are compatible, they will send a connection request. This is the ideal process sales professional follows. But it takes a lot of time and effort. You can avoid these manual tasks by using Linkedin automation.
Sending Messages and Follow-Ups
If someone accepts your connection request. Then the first step should be sending thank you messages. Thereafter you can send your prospecting messages. Currently, you might be doing it one by one and it takes hours to send messages to all connections. Even you have to take care of Linkedin restrictions.
Linkedin automation, on the other hand, allows you to automate sending messages and follow-ups. You can convert prospects into sales by creating a complete automation workflow.
Finding the Email Address and Phone number of the Prospect
You can also find the email and phone numbers of your Linkedin prospects using the automation tool. There are numerous email and phone number lookup tools available on the market. However, today we will talk about world-class LinkedIn automation tools.
Sales Navigator Search Export
If you want to export your Sales Navigator search results that is also possible in the automation tool. You can export the Sales Navigator search results in a fraction of a second.
Extract LinkedIn Group Members' Emails
If you're looking for Linkedin Group member emails, you can use the Linkedin automation tool to find them.
Suppose, you are in search of finding LinkedIn profile URL. That is also possible in Linkedin prospecting tools.
Automate comments, likes, remove connections and unfollow
You can auto-comment on the Linkedin posts. And also you can remove unwanted connections from your LinkedIn profile.
Everything in Linkedin you can automate and increase your productivity with a world-class Linkedin automation tool called PhantomBuster.
What is PhantomBuster?
PhantomBuster is a powerful Linkedin automation tool that helps you to autopilot all your Linkedin tasks. Such as sending requests, sending messages, finding emails, extracting leads, finding phone numbers, removing connections, unfollowing connections, sending outreach campaigns, data enrichment, and also it works on other social media apart from Linkedin.
All B2B sales and marketing professionals should try this tool. Over 100,000 brands trusted PhantomBuster for Linkedin prospecting and lead generation solution. It has more than 100 ready-made automation for almost any task you can think of, from collecting email addresses on LinkedIn to auto-following on Twitter, to posting comments on Instagram.
How to Automate LinkedIn With PhantomBuster?
Effective lead generation is the key for most marketers and business folk. If you want to grow your business, you need to know how to generate leads and connect with them. The more customers you have, the larger your profits will be. Linkedin is a powerful site for creating lead lists. Through the PhantomBuster advanced automation feature, you can build an ideal list of prospects who are interested in your products and services.
Let's see a step-by-step process of how you can automate Linkedin prospecting with PhantomBuster.
#Step 1: Login to PhantomBuster
Just signup for 14 days free trial and get access to 5 Phantoms. One Phantom is equal to one task which can be extracting LinkedIn leads, finding emails, sending invites, sending messages, and more.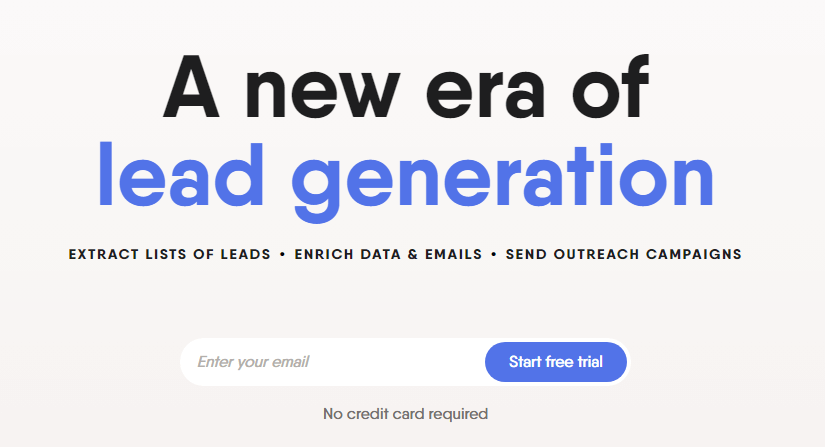 #Step 2: Set up a Phantom
Install the PhantomBuster Chrome extension. Then connect your LinkedIn account with PhantomBuster.
#Step 3: Manage & leverage Phantoms
Manage all prospect lists in PhantomBuster and leverage each feature of PhantomBuster.
#Step 4: Network limitations
To be the safer side you should follow the Linkedin restriction. Start it slowly and warm up the LinkedIn process. Linkedin has certain limitations such as
Profile visiting per day – 80 profiles for basic and 150 profile for premium

Extracting List – 1000 results for basic and 2500 results for premium

Messages – 100 messages for basic and 200 messages for premium
Strictly follow the instruction and grow your audience list with PhantomBuster.
Conclusion
As you can see, LinkedIn is an amazing networking platform that is used in many ways. You can use it to discover the best professionals, to connect with them, and even make yourself visible to the top executives. However, it's impossible for you to do this manually because it's too hard for you to send hundreds of emails. That's why you should take advantage of professional software like PhantomBuster which has already helped thousands of entrepreneurs from all over the world.
PhantomBuster will help you identify the most important people to contact in each organization, and then it'll compile a list of prospects for you to approach. It's really about saving you time—time that you can use for more important activities, like maintaining relationships with current clients or seeking out new clients on your own.
After reading this guide and testing our ideas, I'm confident that you can increase your prospecting even by 50%. Stop wasting your hours on people who do not fill the criteria, use more efficient tools and spend less time with prospecting. The key is to find new prospects who will give you the best return on your efforts.