As a potential customer, how do you know that the company providing the software is legitimate and trustworthy? In this EmailListVerify review, we'll break down the features of EmailListVerify, the pricing, and plans available, and the pros and cons of using this service vs. continuing to send emails without verification. We'll also touch on what people are saying about their experience with EmailListVerify so that you can get a better idea of whether or not to use it.
Are you looking for a reliable way to verify email addresses? Then this is the right product for you. EmailListVerify offers the perfect solution for your email verification. You will be able to know if there are any bad email addresses on your list, and if there are, then get rid of them without ever having to worry about spam or getting blacklisted.
EmailListVerify Review
Verify your email list and clean out the unwanted emails with EmailListVerify. The pricing is half of the other competitors, while still providing superior quality. It comes packed with features such as a spam trap checker, disposable emails cleaner, email duplicate remover, catch-all domains checker, domain & SMTP validation, syntax errors validator, MTA validator, and obviously hard bounce checker. You can also use EmailListVerify to quickly eliminate fake email addresses from your list.
EmailListVerify is superior, fast, and reliable bulk email verification software at an affordable price. It has over a thousand clients, including Shopify, Mailchimp, Invision, TNW, Rackspace, and more. It offers valuable email validation services that can fit any business.
Why you should use EmailListVerify's email verification service?
Catch all bad emails before sending the campaign

Increase your campaign's deliverability

Spend less money on email marketing

Increase the return on investment of your email campaigns

Keep your domain's reputation score safe
Best features of EmailListVerify
EmailListVerify offers outstanding email verification features. Let's review them one by one.
The process of verifying the accuracy of an email address is known as email validation. Email addresses are verified for accuracy by checking the syntax, domain name, and mailbox. Bulk email verification is the process of verifying multiple email addresses at once. This is often done by businesses that have large email lists, in order to clean their list and remove any invalid or inactive email addresses.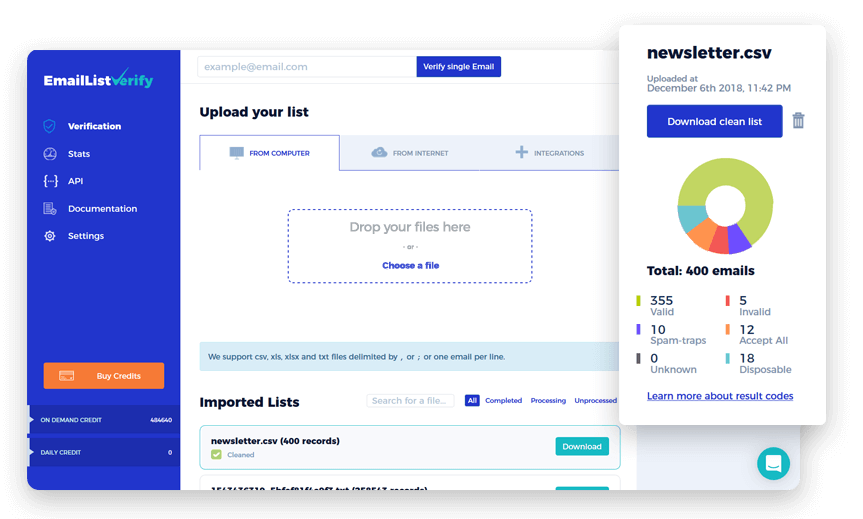 You can use EmailListVerify to verify email addresses in bulk and reduce bounce rates. It is extremely simple to use. Just upload your list to the platform, and it will process your data and identify valid email addresses for your email marketing campaign.
This is the modern marketing feature that EmailListVerify allows you to use it. Email verification API helps you to validate email addresses in real-time. You can use it in your website forms and landing pages to catch all bad emails before entering them into your database.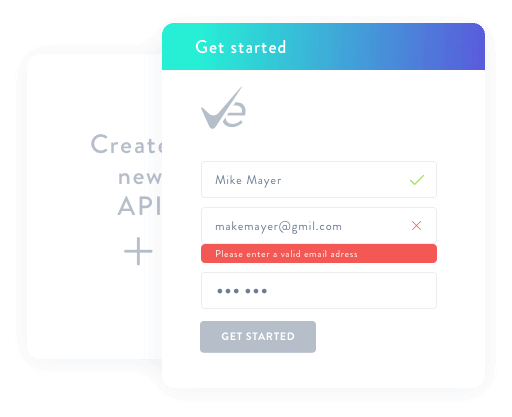 EmailListVerify API easy to implement. Just adding a few lines of code to your website form will enable it to detect fake and invalid email addresses.
Seamlessly integrate your favorite email marketing software with EmailListVerify. The integration will help you to verify email addresses within your email marketing platform. It supports Mailchimp, Aweber, MailerLite, Sendloop, SparkPost, MailGun, Hubspot, Campaign Monitor, and more.
EmailListVerify provides a free tool called email health checker. It is critical to check the DNS health of email. It ensures that the email's DNS record is up-to-date and valid. This way you can see whether your subscriber email is valid or not.

This is another excellent feature offered by EmailListVerify for free. You can use an email blacklist checker to see if your IP or domain is listed on any blacklist server.
Email extractor is useful for extracting emails from any file, including pdf, word, and text. EmailListVerify extractor makes it simple to extract emails. It is completely free, and you can extract emails with no restrictions.
EmailListVerify Pricing Plans Reviews
EmailListVerify provides an affordable and flexible pricing option that any business can use to expand its email marketing reach. It provides a highly accurate email verification service and helps you in keeping your bounce rate as low as possible.
Let's review the pricing option of EmailListVerify. There are two pricing options, Pay as you go and Monthly subscription.
In Pay as go model, you can buy credits according to your requirement. It includes all the features of EmailListVerify. Here are the cost details of Pay as you go pricing model.
| | |
| --- | --- |
| Number of emails | Price |
| 1,000 emails | $4 |
| 5,000 emails | $15 |
| 10,000 emails | $24 |
| 25,000 emails | $49 |
| 50,000 emails | $89 |
| 100,000 emails | $169 |
Monthly subscription plan for users who add contacts to their CRM platform on a regular basis. Companies such as eCommerce, SaaS, b2c, and even b2b receive a large number of subscribers or registrants on a daily basis. Sending emails to them without verification puts your sender's reputation and deliverability at risk. So, with the EmailListVerify monthly plan, you can verify emails on a regular basis and avoid risking your domain.
In the monthly plan, you will get per-day email verification credits. Here is the complete pricing chart.
| | |
| --- | --- |
| Monthly Plan | Price |
| 5,000 emails/day | $139 |
| 15,000 emails/day | $289 |
| 35,000 emails/day | $389 |
| 50,000 emails/day | $589 |
| 75,000 emails/day | $689 |
| 1,00,000 emails/day | $989 |
EmailListVerify Pros and Cons
There is no product in the market that doesn't have pros and cons. Even EmailListVerify also has pros and cons. So let's review it.
Pros
Get 100 email verification credits for free

Offer 99% email accuracy

Cheapest email verification software in the industry

Easy to upload and verify emails in bulk

Effective email verification API service

Offer useful free tools like email blacklist checker and extractor

Helps you to reduce your email marketing cost

Excellent customer service
Cons
Setting up API is complicated

Beginners may find the UI confusing
Apart from these two, there is no other issue with the software.
EmailListVerify Customer Reviews
Each customer has their own experience and point of view. So, let's look at it from the customer's perspective.
Is EmailListVerify the right tool for your business?
Everyone in today's digital world requires email verification software. As you are aware, the market is highly competitive. Email marketing is a powerful channel with a high return on investment. Email deliverability is critical for successful email marketing. You cannot improve email deliverability without email verification. As a result, email verification has become critical for every business.
EmailListVerify is ideal for sales, marketing, lead generation, business development, digital marketing agencies, eCommerce companies, advertising companies, affiliate marketers, bloggers, B2B professionals, publishers, Saas companies, and more.
Final EmailListVerify Reviews and Ratings
We have provided ratings and reviews after using EmailListverify. Here is the final verdict on EmailListVerify whether it's good or bad in terms of 4 major factors.

EmailListVerify Alternatives and Competitors
Email verification is a highly competitive market. So here is the list of the best alternative to EmailListVerify.