Bouncify stands out as a top-tier email list cleaning and verification service provider, equipped with all the essential features to bolster your email reputation, minimize bounces, and optimize delivery rates. However, when it comes to selecting the right tool for your growing business, is Bouncify the ideal fit? Let's take a closer look at the Bouncify email verification platform and find out.
In this Bouncify review, we will discuss its features, pricing, discount offers, pros, and cons, user experience, customer reviews, and alternatives. So that you can make an informed decision about whether it's the right tool for you or not. So buckle up and let's explore the world of Bouncify together!
Bouncify Review: Overview
Are you tired of sending emails to invalid or inactive email addresses? Do you want to improve your email deliverability rates and enhance your email reputation? Look no further than Bouncify – the top-notch email list cleaning and verification service provider that can take your email marketing game to the next level!
Bouncify is more than just a run-of-the-mill email verification platform. With its cutting-edge features and advanced technology, it can help you clean up your email list, remove invalid email addresses, and boost your email deliverability rates like never before. No more worrying about your emails bouncing back or getting flagged as spam – Bouncify has got you covered.

Imagine having the power to boost your email open rates and enhance your email deliverability by simply verifying your email list. Well, that's precisely what over 10,000 users have accomplished with the help of Bouncify – the go-to email verification tool for businesses of all sizes.
From big names like OYO, BajajCapital, HeroFinCorp, and MedLife to emerging players like ApanaPaisa and IFAGlobal, Bouncify has earned the trust of a diverse range of clients. And with its exceptional accuracy and efficiency, it's no wonder why businesses across various industries rely on Bouncify to verify their email lists.
So, are you ready to join the ranks of satisfied Bouncify users and take your email marketing game to the next level? Don't wait any longer – sign up for Bouncify today and witness the remarkable difference it can make for your business!
Why you should choose Bouncify?
Bouncify is an excellent choice for businesses and individuals who want to ensure their email campaigns' success.
Minimize the risk of account suspension by decreasing high bounce rates.

Lower email marketing expenses by eliminating invalid email addresses.

Improve reputation to achieve better email delivery and open rates.

Maintain the hygiene, freshness, and accuracy of your mailing lists.

Avoid inefficient bulk emailing to uncleaned lists.

Save time when cleaning large email databases.

Create clean email databases for effective targeting and selling.
Best Features of Bouncify
Bulk Email Verification Service
By running your list of emails through Bouncify's advanced verification system, you can eliminate pesky hard bounces and ensure that your emails land in the inboxes of real people who want to hear from you. Plus, the Bouncify tool provides in-depth analyses of your results, including deliverable, invalid, accept-all, and more, so you can get a comprehensive understanding of your email list's health.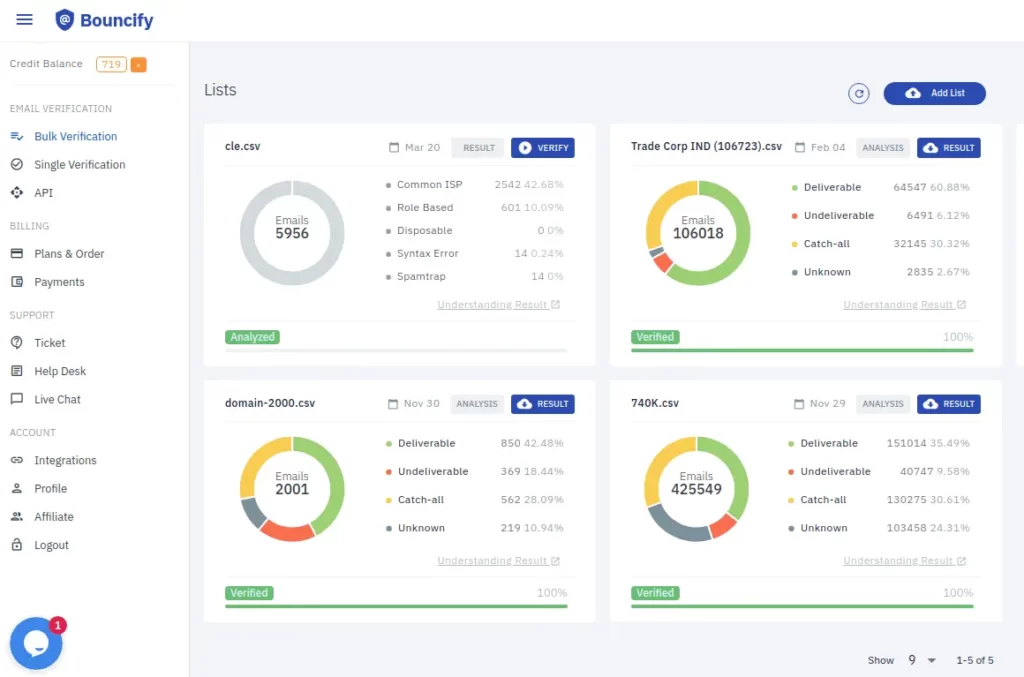 So why waste your time and resources on sending emails to inactive addresses? With Bouncify bulk email verification tool, validate your email list in bulk more efficiently.
When it comes to email accuracy, Bouncify is a true industry leader, with a jaw-dropping 99% email deliverability rate that's tough to beat.
Think about it – with such an incredibly high accuracy rate, you can rest assured that your emails will reach their intended recipients and won't get caught up in spam filters or bounce back. This means that your message will be seen by the people who matter most, resulting in higher open rates, better engagement, and ultimately, more business success.
Looking for an email verification tool that won't break the bank? Look no further than Bouncify – the affordable solution for businesses of all sizes.
With pricing plans that are among the lowest in the industry, Bouncify offers unbeatable value for your money, with rates as low as just 0.000002 USD per email verification. That means you can verify 10,000 emails for just 12.22 USD – an incredible deal that's hard to beat.
And if that's not enough, you can get an additional 5% discount by using promo code L68T11 at checkout. So why pay more for email verification when you can get the same high-quality service at a fraction of the cost with Bouncify?
Are you tired of dealing with the hassle of manually verifying email addresses every time someone signs up for your website or web application? Say goodbye to that headache and hello to Bouncify API – the ultimate solution for validating emails at collection points.
By seamlessly integrating our API into your website or web application, you can automatically validate email addresses in real-time, ensuring that only valid emails are added to your database. And with support for a wide range of programming languages, including NodeJs, PHP, Python, Java, and more, you can easily customize the integration to meet your specific needs.
With seamless integration options for a wide range of services, including Zapier, Hubspot, Drip, Mailchimp, Google Sheets, Zoho CRM, AWeber, Dropbox, WebEngage, ActiveCampaign, ActiveTrail, Agile CRM, Autopilot, AWeber, Campaign Monitor, CleverReach, ClickFunnels, Cognito Forms, Drip, and more, Bouncify makes it effortless to incorporate email verification into your existing workflow.
Whether you're looking to automate your email marketing campaigns, optimize your CRM data, or simply stay organized and efficient, Bouncify has the integrations you need to get the job done. So don't waste time switching between multiple tools when you can bring them all together with Bouncify.
With enterprise-level security protocols and deployment in the cloud, Bouncify provides the peace of mind that comes with knowing your data is in safe hands. And as a fully GDPR-compliant platform, you can rest assured that we take your privacy seriously and are committed to keeping your data safe and secure at all times.
Whether you prefer to get in touch via live chat, email, or phone, Bouncify's knowledgeable and friendly support team is always on hand to help you with any queries or concerns you may have. And with a commitment to speedy response times and personalized support, you can trust the team to be there for you whenever you need.
Bouncify Pricing Plans Reviews
At Bouncify, they believe that simplicity is key when it comes to pricing. That's why they offer a straightforward pay-as-you-go model that makes it easy to verify your email list without breaking the bank.
With affordable pricing plans, you can verify 10,000 emails for just 12.22 USD, and 100,000 emails for only 48.91 USD. And the best part is Bouncify pricing includes all the advanced features you need to ensure high email deliverability and engagement, with no hidden fees or limitations.
Bouncify Discount and Offer
Right now, Bouncify offering an exclusive deal to all new customers. Use promo code L68T11 at checkout and receive a flat 5% discount on any of the email verification plans.
Bouncify Pros and Cons
Here's a brief overview of the pros and cons of Bouncify:
Pros
Signup and get 100 email verification for free.

Offers a comprehensive suite of email verification tools, including bulk verification, API integration, and support for multiple web services.

Provides accurate and reliable email verification results, with a 99% deliverability rate.

Offers simple and affordable pay-as-you-go pricing plans, with no hidden fees or limitations.

Provides exceptional customer support via live chat, email, and phone.

Boasts robust data security features and is fully GDPR compliant.
Cons
Some users may find the user interface to be slightly outdated or difficult to navigate.

Does not offer a monthly subscription plan, which may be a drawback for businesses with high email verification needs.
Bouncify Customer Reviews
Let's take a closer look at what some of Bouncify's satisfied customers have to say about their experience with the email verification platform.
Is Bouncify the right tool for your business?
Absolutely! Bouncify is a game-changing email validation tool that's perfect for businesses of all sizes. With its cutting-edge email verification capabilities and top-of-the-line deliverability guarantee, you can always trust Bouncify to deliver results.
This powerful email validator is a must-have for marketers, salespeople, recruiters, business owners, bloggers, affiliate marketers, and anyone who wants to take their email marketing efforts to the next level. So, if you're looking for the best tool to help you maximize your email marketing ROI, look no further than Bouncify!
Final Bouncify Reviews and Ratings
Are you curious about Bouncify and what it can do for your business? Well, we've been using Bouncify for a few months now, and we're excited to share our thoughts on this powerful email verification platform.
From its intuitive interface to its lightning-fast verification process, Bouncify has exceeded our expectations in every way. It's helped us to drastically reduce our bounce rate and increase our email deliverability, all while saving us time and money.

So, if you're still on the fence about whether or not to give Bouncify a try, we highly recommend taking the leap. Trust us, your email marketing efforts will thank you!
Bouncify Alternatives and Competitors
Looking for alternatives to Bouncify? We've got you covered! Check out our list of the top email verification tools that can help you clean up your email list, improve your email deliverability, and boost your ROI.
Final Thoughts on Bouncify Reviews
After analyzing customer feedback and reviewing the features of Bouncify, we can confidently say that it is an excellent email verification and list-cleaning tool. Bouncify offers advanced features like API integration, bulk verification, and affordable pricing plans. It's accuracy and high deliverability rate are also impressive, ensuring that your email campaigns will reach your intended audience.
Although there are a few minor cons, such as limited customer support options and a lack of advanced features compared to some of its competitors, Bouncify remains a reliable and efficient email verification solution. Overall, we highly recommend Bouncify for any business or individual looking to improve their email marketing efforts and achieve better results.