When choosing the right tools for your lead generation stack, you should explore numerous options and compare your top choices to find the best one for your business. If you want to determine whether Dripify or Waalaxy is the most suitable platform, then keep reading.
Today, we will do a Dripify vs Waalaxy comparison, focusing on the features, user experience, integrations, support, pricing, pros and cons, and many other factors to make the right decision.
Dripify Vs Waalaxy: Pros & Cons
Every platform has its strengths and weaknesses. First, let's take a look at them to gain a better understanding of the features we will compare later on.
Let's start with Dripify.
Dripify: Pros & Cons
Below, you can see the advantages and disadvantages of Dripify based on user reviews:
| | |
| --- | --- |
| Pros | Cons |
| Saves time and effort for social media marketers. | The pricing is relatively expensive. |
| Offers scheduling, auto-follow, auto-like, and auto-comment features. | Not suitable for small social media presence or manual management. |
| Customizable campaigns that target specific audiences. | Effectiveness may vary depending on content and target audience. |
| Increases engagement rates and followers. | Technical issues were reported by some users. |
| Provides a 7-day free trial and multiple pricing plans. | |
| User-friendly interface with customer support. | |
| Changes IP location based on users. | |
For more information read detailed Dripify reviews.
Waalaxy: Pros & Cons
Now let's take a look at Waalaxy's strengths and weaknesses:
| | |
| --- | --- |
| Pros | Cons |
| User-friendly and intuitive interface for easy navigation | |
| Ready-made responses for quick and efficient communication | Lacks phone or email support |
| Ability to schedule automated follow-up messages | Relies on the third-party tool, Dropcontact for email address |
| Effective multichannel prospecting including LinkedIn and email | |
| Automated LinkedIn lead generation and activities | |
| Bypass LinkedIn restrictions and send upto 100 invitations per day | |
| GDPR-compliant databases for enhanced data security | |
For more information read detailed Waalaxy reviews.
Dripify Vs Waalaxy: Feature Comparison
To make our comparison more in-depth, we will analyze some of their best features, including the lead generation tools that both platforms have in common.
However, before we proceed, here's a straightforward table comparison between the two tools:
| | | |
| --- | --- | --- |
| Features and Actions | Dripify | Waalaxy |
| Free Trial | 7 days | 7 days |
| Starting Pricing | $39 / month | $38 / month |
| Compatibility with Linkedin | Free, Premium, Sales Navigator, and Recruiter Lite | Free and Sales Navigator |
| Linkedin Automation | Yes | Yes |
| Find Email and Phone numbers | Yes | Yes |
| Tracking and Reporting | Yes | Yes |
| Leads Export/Import | Yes | Yes |
| A/B Testing | Yes | No |
| In-built messenger | Yes | No |
| Auto Connect | Yes | Yes |
| Auto like content | Yes | No |
| Auto follow | Yes | No |
| Email campaign sequences | No | Yes |
| Zapier integration | Yes | Yes |
| Local unique IP address provision | Yes | No |
| Advance Team Management | Yes | Yes (Basic) |
| Bulk Message | Yes | Yes |
| 24/7 customer support | Yes | No |
Now, let's explore some of them.
Dripify Vs Waalaxy: Pricing
If you're looking for an affordable LinkedIn automation tool, both Dripify and Waalaxy offer competitive pricing plans suitable for any individual.
Dripify's pricing plans start at $39/month, but the basic features included in this plan may not be worth it for LinkedIn automation. However, their higher plan, priced at $59/month, provides advanced and automation features that are incredibly useful for LinkedIn lead generation.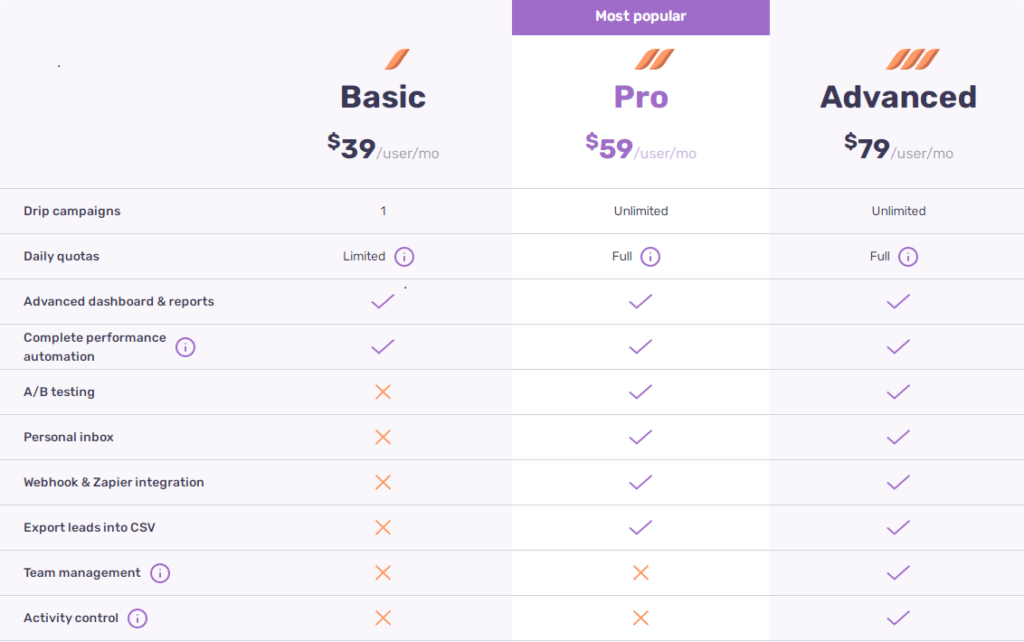 On the other hand, Waalaxy offers a similar pricing plan starting at €30/month, which is perfect for beginners who want to try out the tool. However, their base plan does not include some advanced features like email finder, CRM synchronization, and auto-imports of prospects. To access these features, you'll need to opt for a higher plan that costs €60/month.

So, whether you choose Dripify or Waalaxy, you can find a pricing plan that fits your budget and needs.
Compare to Dripify, Waalaxy pricing is a bit higher side and features are also limited. Dripify is a more advance and effective Linkedin lead-generation tool.
Dripify Vs Waalaxy: Which Is Better?
Great to hear that you are excited to compare Dripify and Waalaxy! Let's dive in and explore the features and benefits of each platform to determine which one will suit your LinkedIn automation needs the most.
1. Pricing
Looking for an all-in-one LinkedIn automation platform? Look no further than Dripify and Waalaxy. Both platforms offer competitive pricing plans that are sure to fit any budget. But which one is right for you?
If you're looking for a platform with a comprehensive set of features for LinkedIn lead generation, Dripify is the clear winner. Its advanced algorithm ensures that your LinkedIn account stays safe, while its cloud-based performance and activity control features guarantee maximum efficiency. With over fifteen personalization options, the ability to add team members, and a unique IP address assigned to each new user, Dripify is the perfect choice for those looking to take their LinkedIn strategy to the next level.
On the other hand, if you want to combine your LinkedIn strategy with cold email outreach, then Waalaxy is the platform for you. With its option for sending cold emails, Waalaxy offers a comprehensive solution for anyone looking to take their outreach efforts to the next level.
So, whether you're a seasoned LinkedIn pro or just getting started, both Dripify and Waalaxy offer powerful tools that can help you reach your goals.
2. Cold Email
Are you tired of relying solely on LinkedIn messages for your lead generation efforts? Look no further than Waalaxy! With its multichannel prospecting tool, you can now connect with your prospects not only through LinkedIn messages but also through cold emails. This feature-packed tool is sure to revolutionize your lead generation game and take your business to new heights.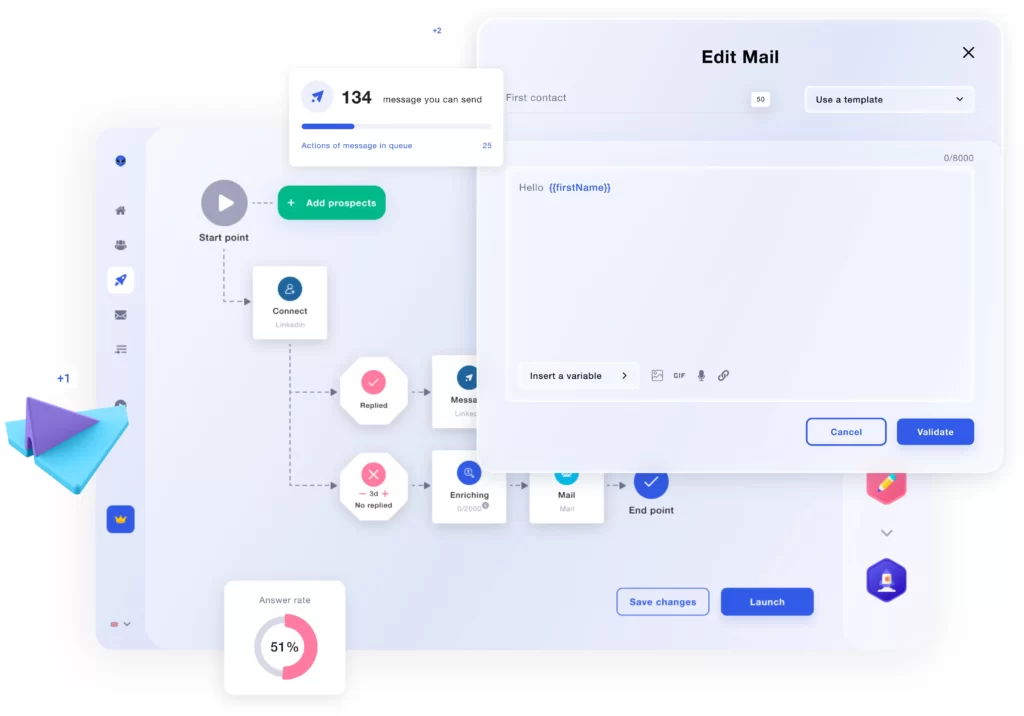 On the other hand, if you're looking for a more streamlined and straightforward approach to LinkedIn automation, Dripify is the way to go. Its focus on automating all your LinkedIn tasks and activities without any manual work will help you achieve your goals efficiently and effectively. Say goodbye to the hassle of manual prospecting and let Dripify handle everything for you.
3. Bypass the LinkedIn Restriction
Looking to expand your LinkedIn network beyond the weekly invitation limit? With Waalaxy, you can safely send up to 500 to 700 connection requests per week, without any risk to your LinkedIn account. This multichannel prospecting tool is perfect for those who want to connect with prospects through both LinkedIn messages and emails.
On the other hand, with Dripify, you can also bypass the LinkedIn limits and send up to 500 connection requests per week. This platform is perfect for those who want to automate their entire LinkedIn tasks and activities without any manual work. Whichever tool you choose, you'll be able to grow your network faster and more efficiently than ever before.
4. Google Chrome Extension
Waalaxy offers a Chrome extension that takes extracting lists and accessing LinkedIn to the next level. With the easy-to-use extension, you can perform all the necessary tasks without having to log in to your account. However, you must keep your Chrome Browser open to allow Waalaxy to carry out automated tasks seamlessly.
On the other hand, Dripifiy does not have a Chrome extension, but instead, you have access to a cloud-based platform that is more efficient and user-friendly. All the functions you need are easily accessible from the Dripifiy platform, making LinkedIn automation hassle-free and straightforward.
5. Performance
Looking at the performance of both LinkedIn automation platforms, Dripifiy takes the lead with impressive results. Dripifiy boasts an 82% invite acceptance rate, a 91% message response rate, and an overall conversion rate of 130%. On the other hand, there is no specific report available on the conversion rate for Waalaxy. So, if you want to maximize your chances of converting leads into customers, Dripifiy is the way to go.
6. Email Finder
Dripifiy takes the lead in providing an all-in-one solution for LinkedIn automation by offering an inbuilt email-finding tool that allows you to easily find verified emails of your prospects. On the other hand, in Waalaxy, you need to rely on a third-party tool called Dropcontact to extract the email and phone numbers of your prospects.
With Dripifiy, you can streamline your lead generation process and save time by finding your prospects' email addresses without having to switch between different platforms.
7. Custom Sequence
With Dripify, you can create custom sequences tailored to your specific communication needs. No more settling for generic templates that don't meet your requirements.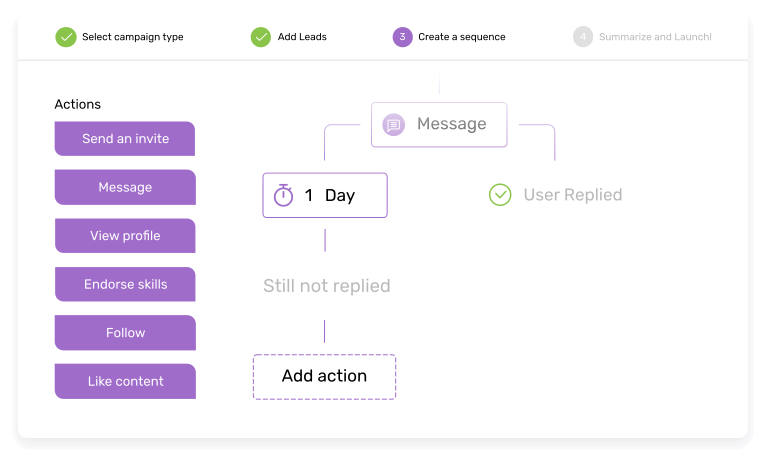 On the other hand, Waalaxy provides pre-built templates that are perfect for basic automation tasks. However, if you're looking for something more personalized and targeted, Dripify is the way to go.
8. Personalization
Personalization is a key factor in effective communication and building strong connections with your audience. Dripifiy takes it to the next level by offering over fifteen different personalization options, ensuring that your messages stand out and create a lasting impression.
On the other hand, Waalaxy offers only limited fields for personalization, such as First Name, Last Name, Industry, etc. While Waalaxy's personalization options may be sufficient for basic automation, Dripifiy's advanced personalization features are a game-changer for businesses looking to build strong relationships with their prospects.
9. Team Management
Waalaxy provides basic team management options, but Dripify takes it up a notch with advanced user and team management features. With Dripify, you can easily add team members to your control panel, manage their access and permissions, and evaluate their performance with detailed analytics. Plus, you can quickly add or remove members, upgrade or downgrade their plans, and collaborate more effectively with your team for better prospecting results.
10. Reporting Dashboard
Get ready to take your prospecting game to the next level with Dripify and Waalaxy. Both platforms offer reporting dashboards that help you track the performance of your campaigns, team performance, and more! These dashboards provide you with comprehensive insights into your account activity and enable you to make data-driven decisions. Whether you are using Dripify or Waalaxy, you can rest assured that you will have the tools you need to succeed.
11. Advanced algorithm to safeguard your LinkedIn account
Dripify takes things to the next level by assigning each new user a unique IP address from their local region, ensuring your activity is entirely secure and safe. Plus, with cloud-based activity control and human behavior simulation features, you can be sure you're staying on the right side of LinkedIn's rules.
Waalaxy is also a great option for safe and reliable LinkedIn automation, though they don't offer the unique IP address provision like Dripify does.
Final Thoughts on Dripify Vs Waalaxy
Both Dripify and Waalaxy offer a range of features that can help businesses and professionals automate their LinkedIn prospecting and lead-generation activities.
Waalaxy is a good option for those looking for a tool with an easy-to-use interface and customization options, while Dripify is a suitable choice for businesses seeking advanced personalization options and collaborative prospecting features.
It's important to note that while automation tools like Dripify and Waalaxy can save time and increase efficiency, their use can potentially violate LinkedIn's terms of service, leading to account suspension. It's crucial to use these tools responsibly and within LinkedIn's guidelines.
Ultimately, businesses should evaluate their specific needs and goals and choose the LinkedIn automation tool that best fits their requirements.