Today, we're going to talk about the power of Waalaxy and how it can elevate your business. In this Waalaxy review, you will understand the importance of LinkedIn automation, features, pros and cons, pricing, and customer feedback.
Lead generation is an essential part of the sales process. Everybody wants to generate more leads and close more deals. To run an effective lead generation campaign you should have tools like Waalaxy.
If you are looking for a LinkedIn prospecting or automation tool then there are plenty of options for you. Choosing the perfect prospecting tools sometimes creates a lot of confusion. Waalaxy is one of the popular LinkedIn automation tools that have a lot of users with good reputations. Let's learn more about Waalaxy.
Waalaxy Review
Waalaxy is the perfect LinkedIn automation tool that helps you generate new leads for your business. You can use it to identify prospects' email addresses, automate LinkedIn prospecting and messaging, send cold outreach campaigns, and save time.
Linkedin is the main source of B2b lead generation. Around 80% of B2b leads come from Linkedin itself. That's why Linkedin automation tools are very important for sales and marketing professionals.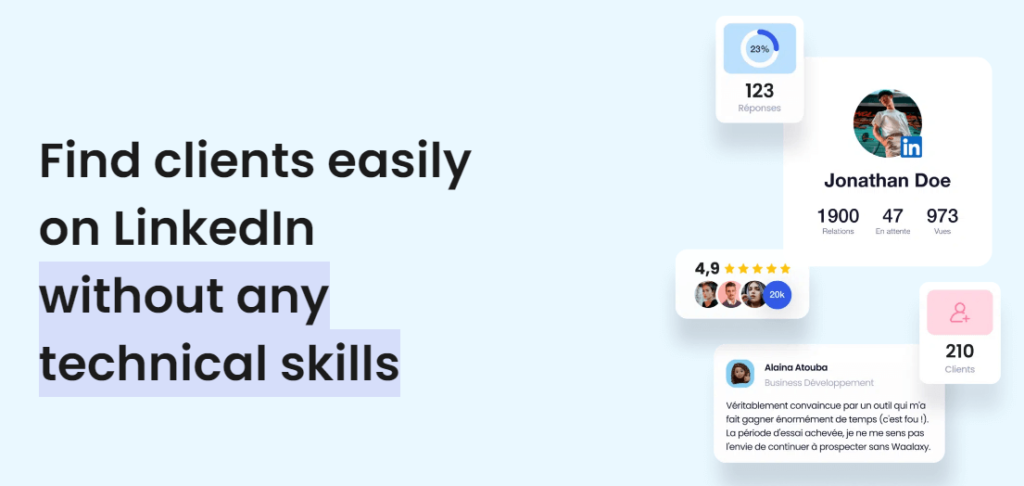 Any tasks you want to perform on Linkedin that can be automated easily with Waalaxy. Formally Waalaxy is known as ProspectIn, it is France based company focused on prospecting and lead generation. It is trusted by 90,000+ customers including Google, Yahoo, Thales, MongoDB, JobTeaser, and more.
How does Waalaxy works?
Waalaxy works with Linkedin free, and Sales Navigator. Use these 4 simple steps and start generating leads for your business.
#Step 1: Find your prospects
Once you signup, connect your Linkedin account with Waalaxy. You will get direct access to your LinkedIn prospect information in the Waalaxy dashboard. Filter contacts according to your ICP criteria and generate highly qualified leads.
#Step 2: Automate your LinkedIn prospecting 🚀
Create an automated Linkedin sequence for sending invitations and messages. It will grow your connection and set appointments for you automatically.
#Step 3: Automate your emails
Connect your email account with Waalaxy and start sending a drip email campaign to your target prospects. You can keep running the campaign until your prospect replies. This will help to boost your conversion rate and sales.
#Step 4: Track your results
Track all the performance of your prospecting campaign in one single dashboard. It will give you a clear idea of how your lead-generation efforts are progressing and where they need to be improved.
Best features of Waalaxy
Waalaxy offers excellent LinkedIn lead-generation features that ensure your team receives high-quality leads and generate more revenue.
Find the professional email address of your target prospects in seconds. You can also identify the email addresses of prospects that have not accepted your LinkedIn request. In Waalaxy, you will get a verified email address that maintains high email deliverability.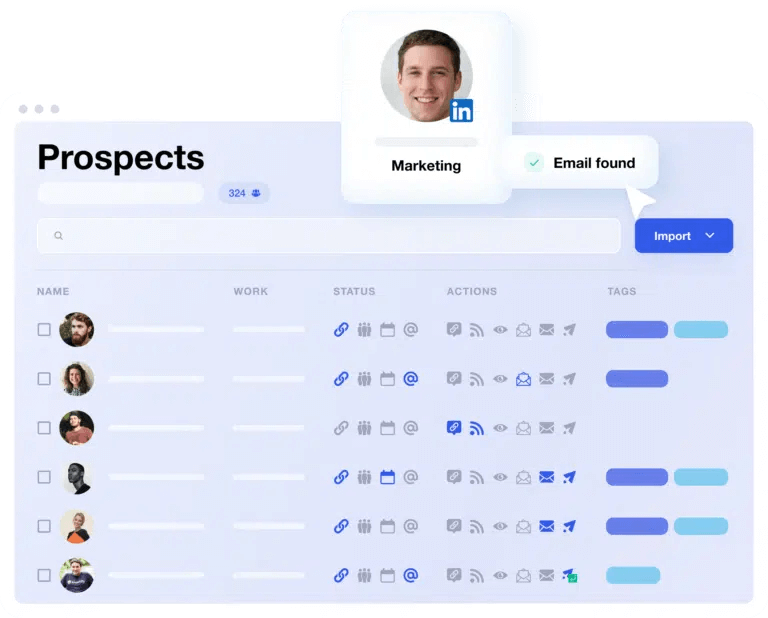 You can integrate your CRM with Waalaxy and enrich relevant contacts for multiple prospecting campaigns. All databases are fully GDPR compliant and up to date.
If you have a Linkedin prospecting strategy in place then the Waalaxy autopilot process helps you find future clients for your business. LinkedIn prospecting is an effective feature of Waalaxy.
Import your leads via Linkedin search, Sales Navigator, and CSV file.

Send an automatic invitation to your prospects

Contact up to 500 profiles per week.

Grow your audience in minutes and find new opportunities

Send automated follow-up messages and enhance your conversion rate

Create complex workflows based on prospects' replies and engagement
Waalaxy can also be used to run a cold email campaign. Combine your cold email and LinkedIn strategies to achieve great results with minimal effort.
Create a target list on Linkedin and import it into Waalaxy. Create an email sequence and then send the campaign. Sit back and monitor the campaign responses. There is no need to waste time searching for leads or verifying email addresses because everything is automated.
Every email you send through the system will be delivered to prospect-focused inboxes, allowing you to reach out to hundreds of people. Increase the likelihood of receiving more qualified leads.
The LinkedIn messaging solution simplifies and streamlines conversation management, boosts conversion rates, and improves messaging experience.
Pre-made response template

Send automated LinkedIn messages in a timely manner

Provide prospect personalize experience

Manage response and generate leads faster
Bypass LinkedIn's Restriction
In general, you can send 100 invitations per week from your Linkedin account. But with Waalaxy, you can safely send 100 invitations per day. It bypasses LinkedIn's restrictions and allows you to send more invitations without harming your Linkedin account.
Waalaxy can be integrated with your preferred CRM software. Such as HubSpot CRM, Zapier, Pipedrive, Abyssale, Dropcontact, Gmail, Outlook, and more.
Waalaxy Pricing Plans Reviews
Waalaxy has attractive pricing plans that are affordable for any business. Start using a free trial today to 10X your conversion and ROI.
There are mainly 4 pricing plans. Free, Pro, Advanced, and Business.

Free
In the Free plan, you get access to all the features for 7 days. That includes
LinkedIn Automation

200 invitations sent per month

Targeted message templates

Live chat with real humans 5 days a week
Pro
In the Pro plan, it will cost you 30€ /month. Features include
LinkedIn Automation

800 invitations sent per month

Targeted message templates

Cloud-based solution

Live chat with real humans 5 days a week
It is useful for individuals, freelancers, bloggers, and small business owners.
Advanced
In the Advanced plan, it will cost you 40€ /month. Features include
LinkedIn Automation

800 invitations sent per month

Targeted message templates

Cloud-based solution

CRM synchronization

LinkedIn profile auto-imports

Live chat with real humans 5 days a week
Business
In the Business plan, it will cost you 60€ /month. Features include
LinkedIn Automation

800 invitations sent per month

Targeted message templates

Cloud-based solution

CRM synchronization

LinkedIn profile auto-imports

Search Emails with Email finder

Live chat with real humans 5 days a week
This plan is the perfect fit for all business professionals who want to achieve their sales targets and revenue.
Waalaxy Pros and Cons
Let's look at the benefits and drawbacks of using the Waalaxy LinkedIn and Email prospecting tool.
Pros
Easy to navigate and intuitive interface

Pre-saved responses

Schedule automated follow-ups

Run effective multichannel prospecting including LinkedIn & Email

Get prospect professional verified emails

Automate Linkedin lead generation and activities

No Linkedin restriction send up to 100 invitations per day

All databases are GDPR-compliant

Reach thousands of prospects in minutes

Improve Linkedin conversion by 10X
Cons
Offer basic features

No phone or email support

The free version provides only 7 day's trial

For emails, it uses third-party tools called Dropcontact
Waalaxy Customer Reviews
Customers are the real users of the product. Let's see what they have to say about Waalaxy LinkedIn automation.
Is Waalaxy the right tool for your business?
Waalaxy is one of the best LinkedIn lead-generation tools in the market. That has basic features to run an effective lead generation campaign. If you want to expand your business and generate more leads, it should be part of your lead generation arsenal.
Who can use Waalaxy?
It can be used by any professional who wants to generate more leads for their business.
Sales and Marketing professionals: To acquire new clients and sell their services.
Founder: Grow your networks and create new opportunities.
Recruiter: Reach out to thousands of candidates and hire the best talent.
Freelance: Set appointments automatically and save time on lead generation.
Final Waalaxy Reviews and Ratings
We have reviewed Waalaxy's features, pricing, pros and cons, and customer service. Now, here are the final Waalaxy reviews and ratings for your consideration.

Waalaxy Alternatives
Linkedin automation is a trending tool among sales folks. Everybody wants to automate their lead generation. That's why there are a lot of LinkedIn automation tools available in the market. Some of the best Waalaxy alternatives are