Marketing leads can be hard to acquire. As a marketer, it's important that you're able to leverage the most out of your marketing strategy in order to get the right kind of leads. Prospecting is one of the best ways to do this. You need the best LinkedIn prospecting tools that will help you get more qualified prospects through your funnel.
LinkedIn is a professional network site that allows users to create, manage and share their professional profile information. You can use LinkedIn to expand your personal and professional network in order to reach out to those who are interested in what you have to offer. It is a great place to explore new prospects. If you're serious about increasing your revenue, then you are going to need some great LinkedIn prospecting software to help you find more clients. To be successful at prospecting, it's important that you know the best tools.
There are many ways to prospect on LinkedIn. Prospecting can be a tedious and time-consuming task, but with these prospecting tools, you'll be able to increase your revenue, get more leads and better understand your customers. In this post, we will look at the best LinkedIn prospecting tools on the market right now that can help you generate more leads and deals.
The following are the top LinkedIn prospecting and lead generation tools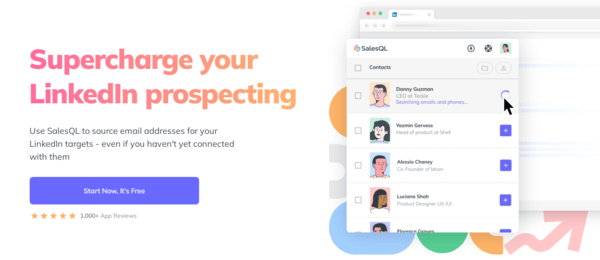 SalesQL is one of the effective LinkedIn lead generation tools. Work very well on LinkedIn's free and paid versions. Just install the SalesQL chrome extension it will help to identify the prospect's email and phone number. Extract leads in bulk then used them for your outreach campaign.
Pricing: Free to start. Offer 50 credits per month. The starter plan costs you $39/month for 1500 credits.
Main Features: SalesQL is the cheapest LinkedIn lead-generation tool that offers easy access to prospects' phone numbers and emails. Read more.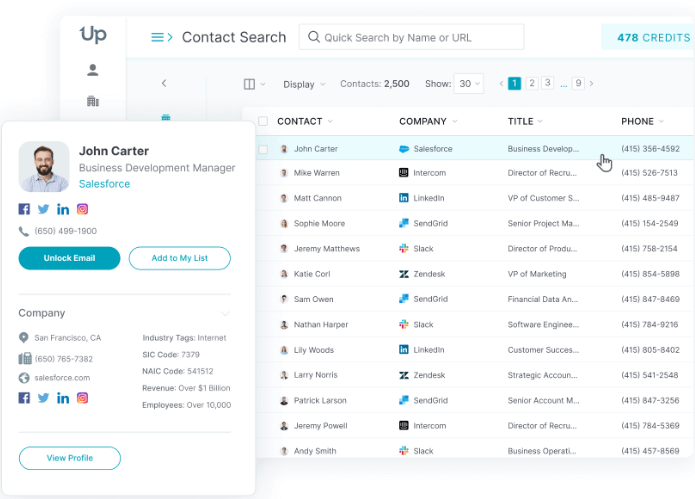 UpLead is one of the solid lead generation and database hubs. With UpLead you can get access to +108 Million accurate b2b contacts. It is the highest-rated lead intelligence tool. Extract data for any region, country, industry company, or job title and enhance your reach to get more leads and conversions.
UpLead chrome extension works well on any website or Linkedin. Find prospect information within a fraction of a second. It helps the sales team to save time and manual tasks. By using UpLead you can easily increase 10x revenue from your prospecting efforts.
Pricing: Free trial offers 5 credits. Starting plans cost you $74/ month with 2,040 credits.
Main Features: Extensive pool of B2b contacts database with the highest accuracy. Reach out to any B2b professional with ease.

GrowMeOrganic is an all-in-one prospecting platform. Effective Linkedin prospecting tool for sales and marketing professionals. Use the powerful GrowMeOrganic chrome extension to extract leads from any website such as Linkedin, Google My Business, or any prospect's company website. The database can easily store in the GrowMeOrganic platform. And send an automated outreach campaign through the GrowMeOrganic platform.
GrowMeOrganic is one of the most effective Linkedin prospecting tools that generate higher revenue and sales. Apart from Linkedin, you will also get access to 575M+ professionals all over the globe. Read the GrowMeOrganic review.
Pricing: 14 days free trial. The starter plan costs you $39/ per month.
Main Features: GrowmeOrganic is the best LinkedIn email finder and prospecting tool that help you get anyone's contact details with a single click.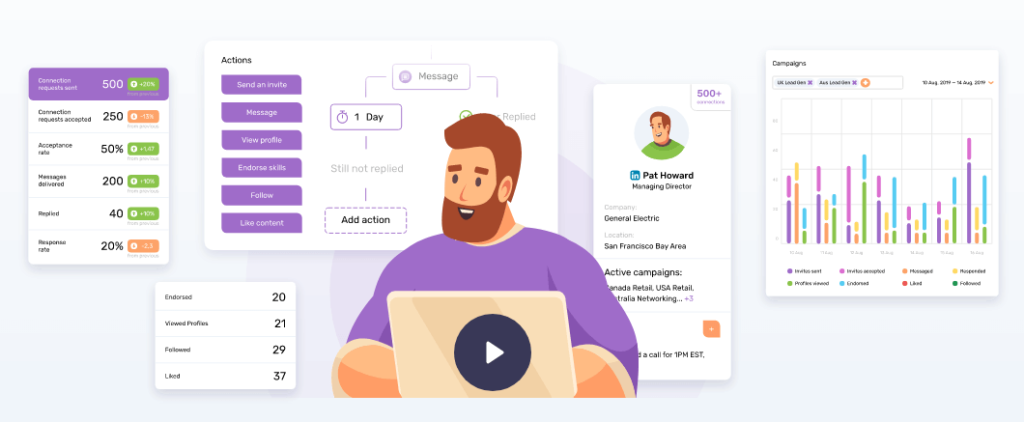 Dripify is an outstanding Linkedin automation and prospecting tool. Specially designed for sales and marketing teams. You can completely autopilot your Linkedin prospecting and convert more deals.
Typically, the first step in the Linkedin prospecting process is to send a connection request. If someone accepts your request, you will start sending prospecting messages. But by using Dripify Linkedin automation you can save a significant amount of time. It sends the connection request to your chosen prospects automatically. When prospects accept your request, it sends out outreach messages automatically.
Dripify provides a complete report of each LinkedIn prospect. You can use this tool to grow your LinkedIn connection and generate higher revenue.
Pricing: 14 days free trial. The starter plan costs you $39/per month.
Main Features: With Dripify you can send up to 75 connection requests per day without risking your Linkedin account.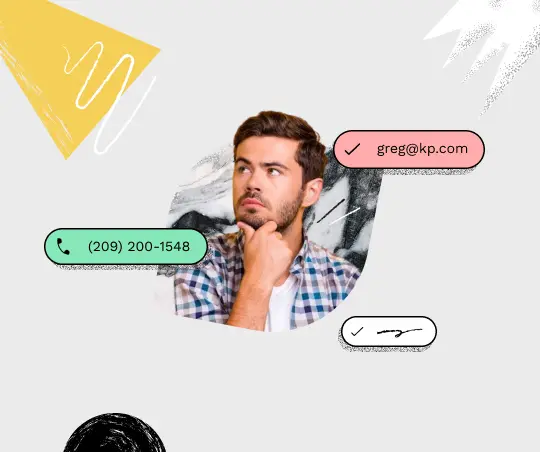 Wiza is a smart LinkedIn prospecting tool that helps you to find prospects' contacts and import LinkedIn contacts into your CRM such as Salesforce, Pipedrive, Hubspot, and Zoho CRM. It offers 25 credits for free. Works smoothly with LinkedIn and Sales Navigator.
Pricing: $30/ month for 75 credits.
Main Features: Import unlimited Linkedin contacts to your CRM with just one click. Download here.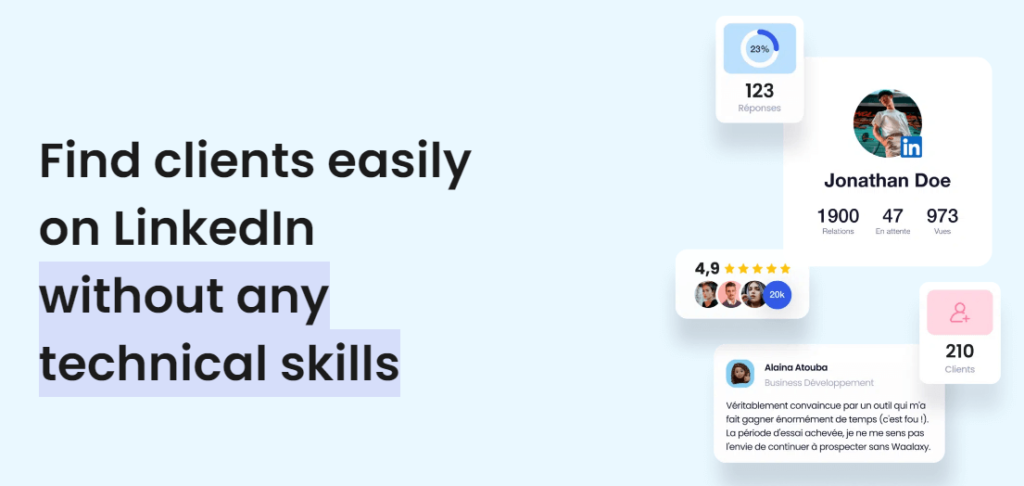 Waalaxy is the perfect LinkedIn lead-generation tool for sales, marketing, recruiter, freelancer, and business owners. Automate your LinkedIn lead generation strategy with Waalaxy. Send automated invitations and messages to Linkedin prospects and get 10X more responses from the Linkedin lead generation campaign.
With Waalaxy you can track, import, find new leads and send emails in a single platform. Reduce prospecting time and energy for your team.
Pricing: Free to start. Send up to 400 invitations per month.
Main Features: Most powerful LinkedIn prospecting tool that helps you send LinkedIn invitations up to 100 per week for free. Signup here and get 2 months free trial.

Closely is the best LinkedIn prospecting tool that will help you to hit your sales targets. It is an all-in-one lead intelligence and sales automation platform. Closely has an in-house database of 151 million within one click you can reach your ideal prospects.
You can use Closely for reaching customers through multi-channel such as LinkedIn, emails, and more. Easy to filter data based on location, job titles, company, industry, and more. Closely chrome extension also helps you to find emails and data extraction on Linkedin.
Pricing: Start for free. Offer 50 credits/month. A professional plan costs you $49/month for 500 leads/ month.
Main Features: Find contact details, autopilot the entire lead generation process, and generate higher revenue and sales.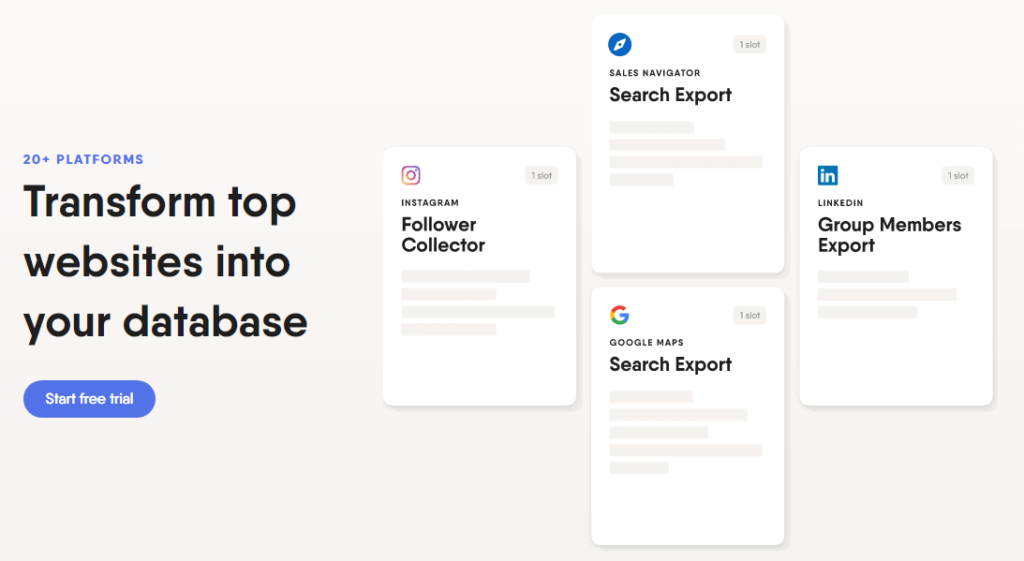 PhantomBuster is a new-generation prospecting tool that helps you to build a powerful lead list for your sales and marketing. Build a lead list from any social networking or website such as Linkedin, Twitter, Instagram, Facebook, Slack, and more. Send outreach campaign to collected leads.
With PhantomBuster you can save time on repetitive tasks and grow your business seamlessly. 100+ ready-made workflows to achieve higher targets and goals.
Pricing: $48/ month for 500 credits/ month.
Main Features: Provide ready-made lead generation workflows to build lists, send invitations, LinkedIn profile scraper, Sales navigator search export, and more.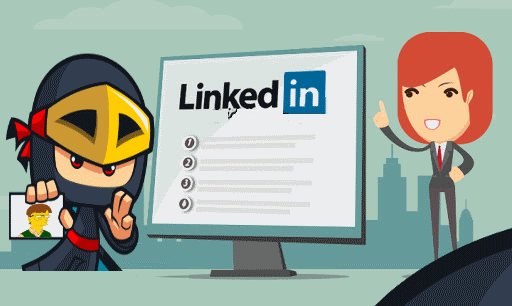 Kendo is another Linkedin prospecting tool that you can use for LinkedIn lead generation. Find your ideal prospect's contact details on Linkedin. In Kendo, you will get the professional as well as personal email addresses of prospects. You can search prospects through the domain, job titles, company, or contact name. Read Kendo Email app review.
Pricing: Kendo offers 50 credits for free. Starting price will be $17 /month for 600 credits.
Main Features: Kendo provides an all-in-one contact-finding solution that includes emails, phone numbers, domain search, email verification, phone number validation, and more.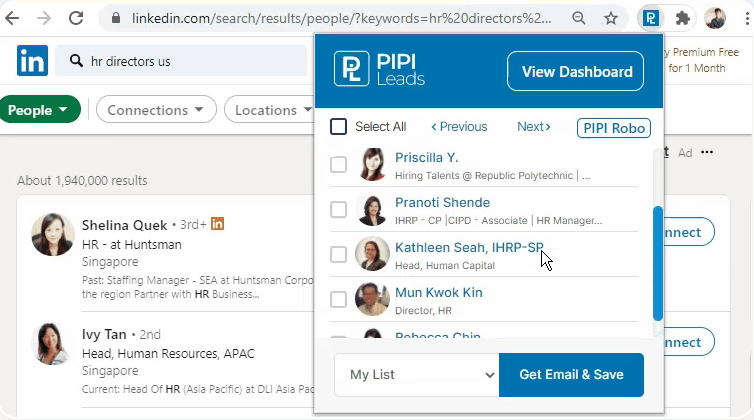 PipiLeads is another simple and highly effective LinkedIn lead-generation tool. Install the PipiLeads chrome extension and start extracting data from Linkedin. PipiLeads is compatible with free and paid LinkedIn versions. Read the detailed review here.
Pricing: It's free to start. Starting pricing is $9.95/ month for 250 credits.
Main Features: PipiLeads offer high retrieve results and accuracy on emails. And one of the cheapest Linkedin prospecting tools.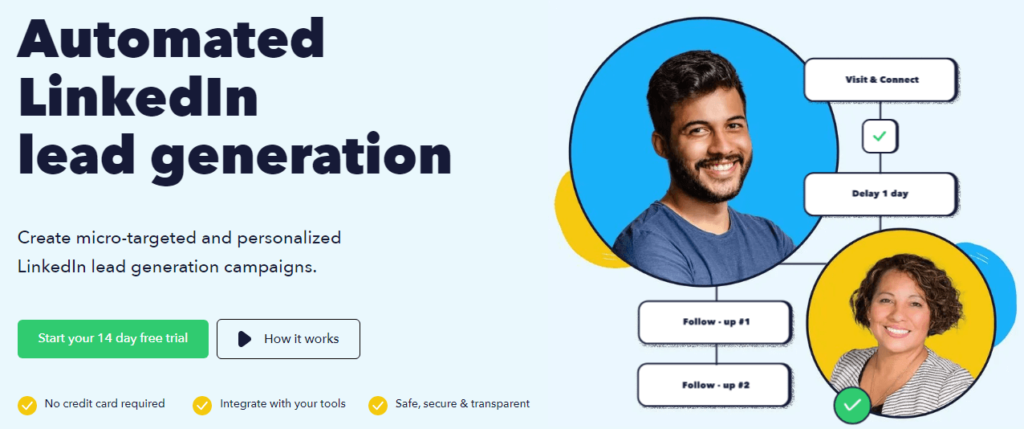 Dux-Soup is the Linkedin lead generation tool that helps you generate leads automatically. Perfect Linkedin automation tools for sales, marketing, growth hackers, lead generation agencies, and business owners. Find the right audience, create a messaging sequence, and start your campaign. Next, get a response in your inbox.
More than 70,000 users are trusted Dux-Soup for LinkedIn lead generation. Increase your sales pipeline with an automated lead generation tool and close more deals.
Pricing: 14 days free trial. Paid plan starts at $11.25/month.
Main Features: Simple and user-friendly LinkedIn lead generation tools. Spend more time on lead nurturing and accelerate your lead generation efforts.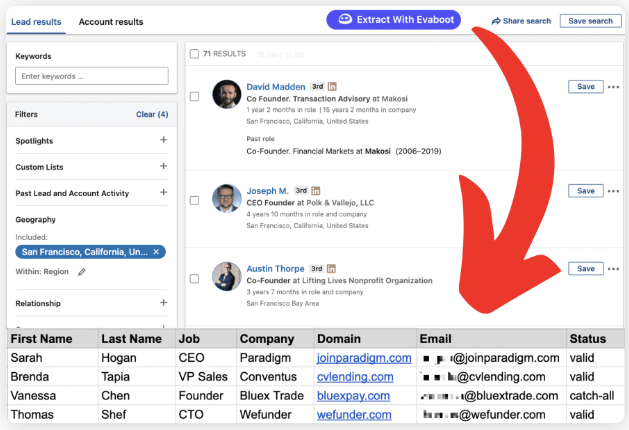 Evaboot is another best Linkedin scraping tool where you can extract Linkedin leads into Excel or any CRM. Automatic entire lead generation task on Linkedin sales navigator. Get clean and accurate emails for your outreach campaign. Filter leads based on location, revenue, experience, industry, head counts, job titles, and more.
Evaboot is the #1 Linkedin Sales Navigator extractor to build lists instantly. Evaboot only works on Sales Navigator. It does not support the basic version of Linkedin.
Pricing: Try for free and get 1000 credits. Starting plans come with $49/ month for 2000 credits.
Main Features: Evaboot chrome extension to build a lead list with just one click. It has all lead generation features like data extraction, data filter, data cleaning, email finder, and email validation.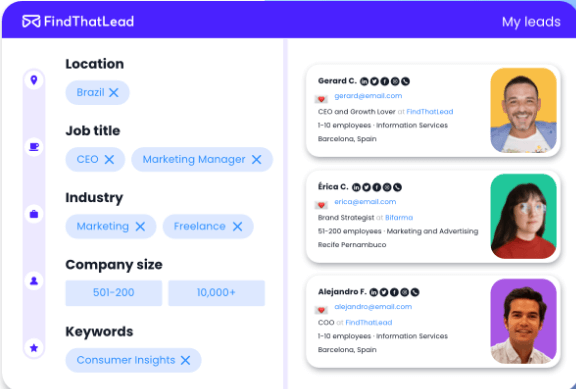 FindThatLead is an excellent B2b sales prospecting tool. With the help of the FindThatLead chrome extension, you can easily find leads on any website. Comfortably works on Linkedin, Twitter, and Facebook. It is a complete solution for lead generation and prospecting. FindThatLead has tools like email finder, email verifier, send cold emails, social and local business finder, etc.
Pricing: $49/ Month for 5000 credits.
Main Features: FindThatLead is an all-in-one lead generation machine that has everything to run a successful lead generation campaign. Signup and get 10% off.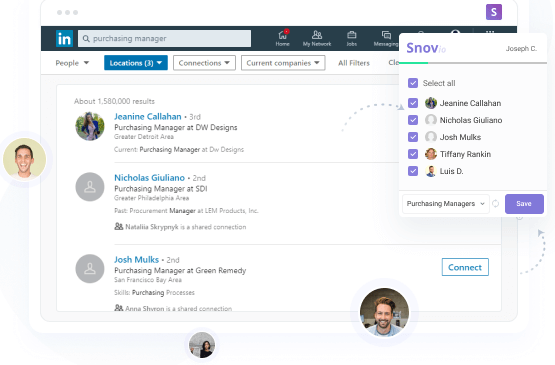 Snov.io is the sales automation platform that allows you to collect emails on LinkedIn, send outreach emails, and get new leads for your business. More than 130,000 companies trusted Snov.io for b2b prospecting. One of the most user-friendly prospecting tools for sales, marketing, freelancing, and recruiters.
It works perfectly on Linkedin. Collect prospects' contact information and send a lead nurturing campaign using the Snov.io drip campaign. And turn prospects into paying customers.
Pricing: Free trial offers 150 credits. And Paid plans start at $30/month for 1000 credits.
Main Features: Snov.io superb sales automation and CRM platform that you can manage the entire sales process in one single platform.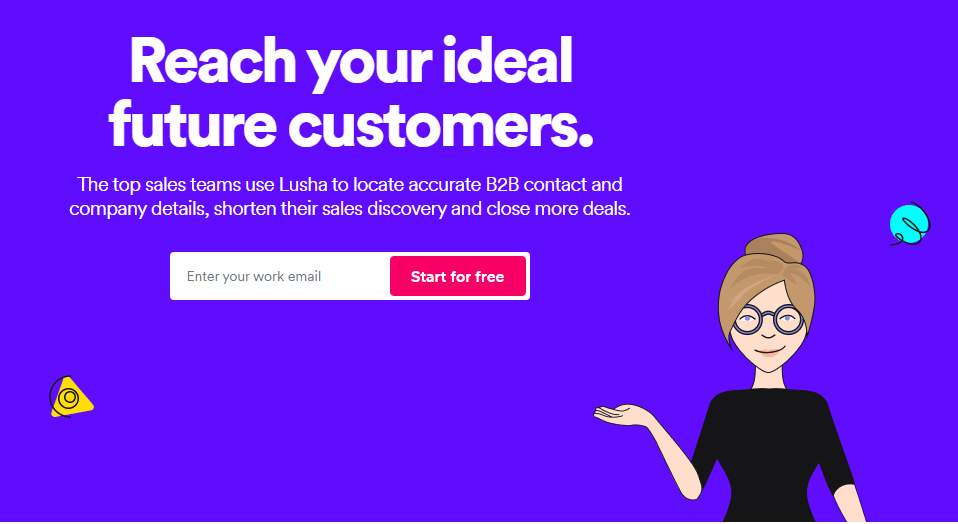 Lusha is the b2b database and prospecting platform that provide a highly accurate b2b contact database. It has over 100 million b2b contacts with 81% accuracy. You can easily contact any decision-makers in your industry. With the Lusha Chrome extension, you can extract leads from LinkedIn as well as any website.
Pricing: $348/ Month for 480 credits.
Main Features: Lusha has an extensive b2b database that helps you to reach any audience across the globe.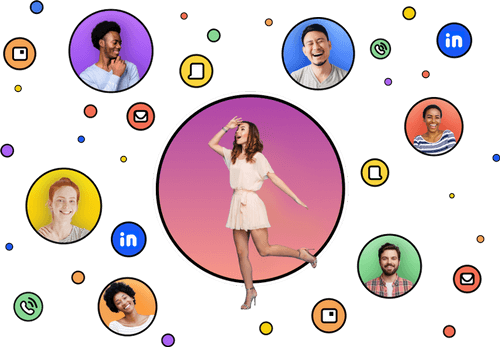 With Octopus CRM you can easily find any social profile emails in seconds. You can get complete prospect's information by using emails, phone numbers, and social profiles. Octopus CRM is an outstanding prospecting tool that comfortably works on Linkedin, Twitter, Facebook, and any website. And provide you with instant access to emails and phone numbers.
Octopus CRM also has a mail merge function that you can use to send emails to your target prospects. Octopus CRM is one of the best Linkedin automation tools you can consider.
Pricing: $24 /Month and unlimited credits.
Main Features: Excellent email-finding tools to find email and phone numbers from any website.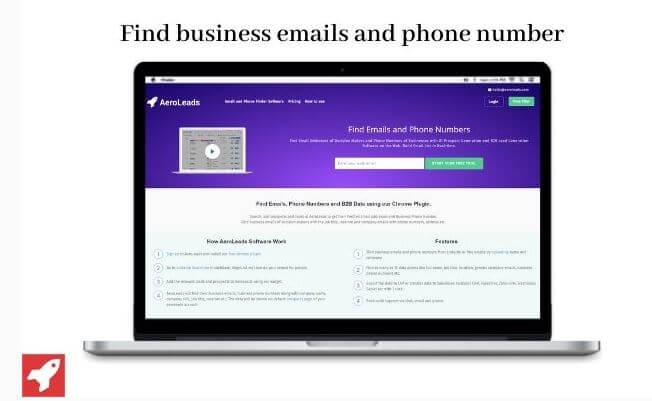 AeroLeads is another best email and phone finder software for your lead generation. It is a useful tool for your sales and marketing team. Find out phone numbers and emails from Linkedin profiles. Reach out to the right prospects in the target industry.
AeroLeads is trusted by reputed companies in the market. It has an extensive database of 650 million contacts. Use AeroLeads to get accurate information of your prospects.
Pricing: $49 /Month for 2,000 credits
Main Features: Create a laser-focused list and automated your prospecting efforts.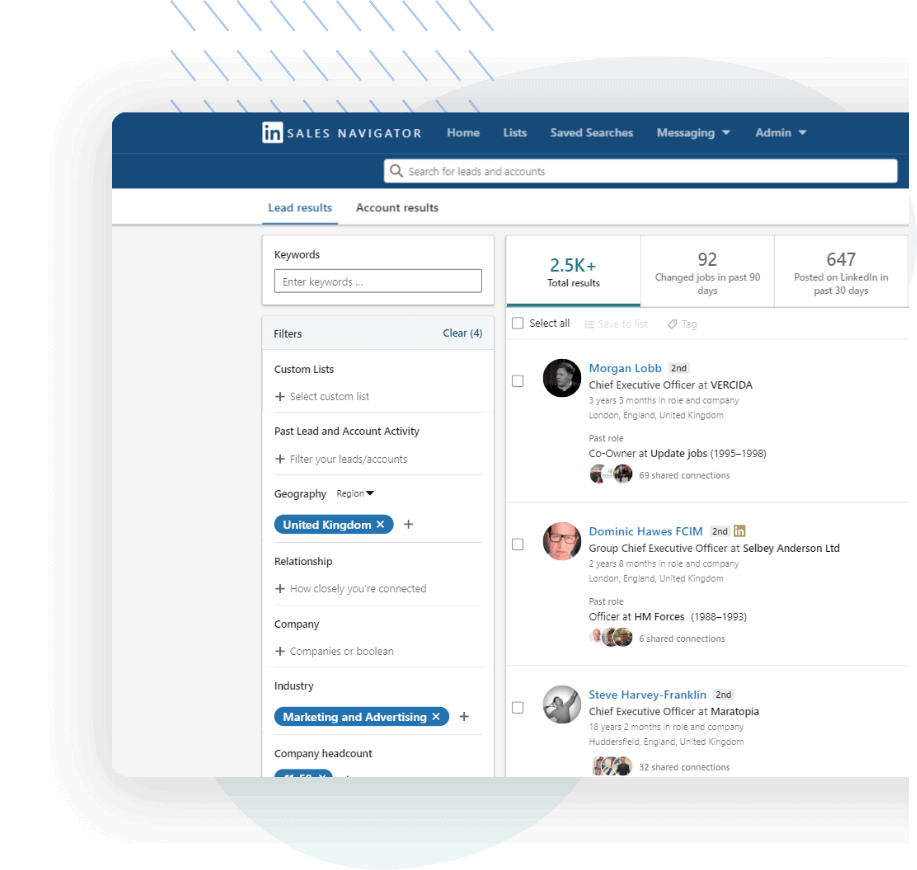 Zopto is another effective Linkedin prospecting software. Using the LinkedIn automation tool is the most efficient way to generate new business leads. The ultimate social selling tool for LinkedIn prospecting, allowing you to focus on business.
Pricing: $215/ month
Main Features: Use Zopto to attract hundreds of hot leads by targeting your ideal customers on LinkedIn.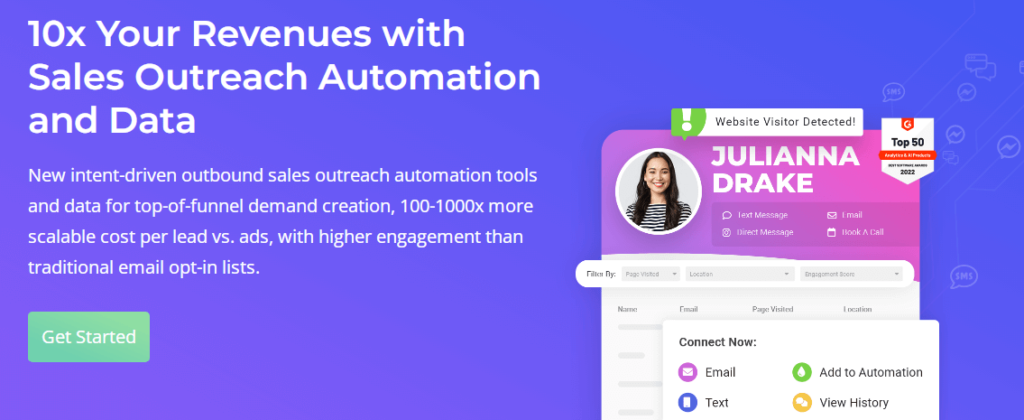 MobileMonkey is a powerful prospecting software for sales, marketing, growth hackers, and business owners. Build automation campaigns across all channels such as email, Linkedin, Facebook, Instagram, Chat, Ads, and SMS and generate 10x more leads for your business. This is another best prospecting software you can consider in adding to your arsenal. Check out more details on MobileMonkey here.
Pricing: $59 / Month
Main Features: MobileMonkey is the most efficient and effective lead generation tool that generates 10x more leads and revenue.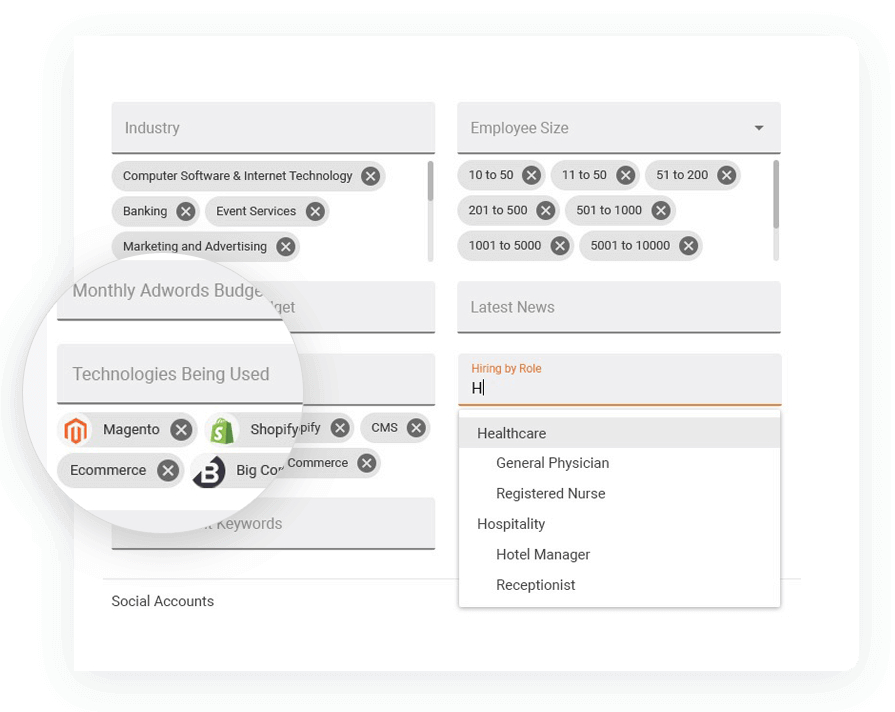 LeadFuze is unlimited and automated lead generation software. Create your target list by using LeadFuze effectively. LeadFuze effortlessly works on Linkedin and gets you highly qualified leads.
Pricing: Starting at $397/mo
Main Features: LeadFuze functions similarly to a search engine for business professionals and builds the list automatically.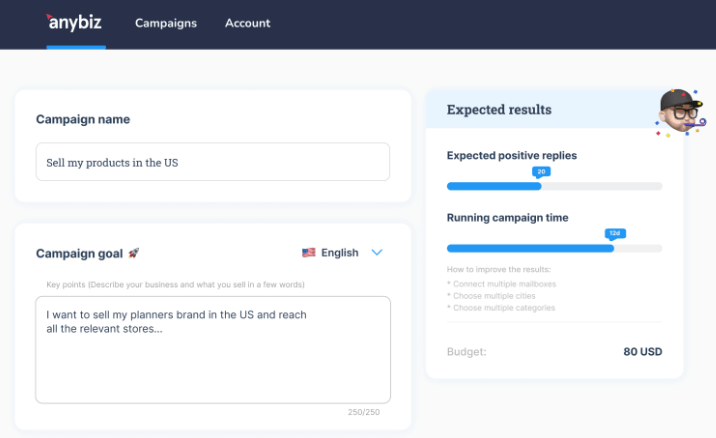 AnyBiz is another prospecting tool that you can use to enhance your lead-generation efforts. This tool is completely different from any LinkedIn prospecting platform. Because it provides a direct prospect's response to your inbox. It collects and runs outreach campaigns on your behalf. And get you positive reply of customers. Check out for more details.
Pricing: $97.99 for 2 Positive replies.
Main Features: Reduce your prospecting time and get positive replies from customers directly to your inbox.
Final Thoughts
Prospecting is essential to every company's growth. Your contacts are your assets, and they are an increasingly valuable source of revenue. You need to lead the way, to prospect continually and not let up until you have all of your prospects developed and converted into customers.
In case you are in sales, your primary job is to get more business for yourself and your team. No matter what prospecting tool you are using, remember always that it is just a tool not a strategy by itself. LinkedIn prospecting tools help you to expand your reach and in the end, increase your revenue. For example, one client of mine sells advertising and marketing services to businesses. By using the LinkedIn prospecting tools mentioned above, he increased his income by 20% in just three months. That considerate amount of revenue can make all the difference in helping you achieve your goals.
If you're a salesperson or business development professional and you're using LinkedIn for prospecting purposes, this list of LinkedIn prospecting tools is for you. If one of these tools works well for you, I'd love to hear about it.