Do you have confusion between GetResponse vs Moosend? Need more clarity on GetResponse and Moosend. Then you are in the right place where you will know better with side-by-side comparison details.
Email marketing is an essential part of marketing. Choosing the right email marketing software can make a difference between the success and failure of your marketing. There are numerous email marketing platforms available in the market. Sometimes it's difficult to find the perfect email marketing platform. I believe you have tried many email marketing software after doing all research you end up with GetResponse and Moosend.
Both are excellent options. In some cases, GetResponse is effective, while in others, Moosend is effective. These platforms can fit into your business based on your needs. This post will compare the features of each tool to help you decide whether GetResponse or Moosend is best for you.
GetResponse vs Moosend: Overview
GetResponse and Moosend are the most popular and well-known email marketing software. Let's go over each software feature and its benefits and drawbacks.
What is GetResponse?
GetResponse is a powerful email marketing software that has extraordinary features like webinars, advertising, website builders, push notifications, live chats, landing pages, SMS marketing, and more. It is a great pick for eCommerce, startups, freelancers, bloggers, affiliate marketers, and large businesses. Read the complete GetResponse review here.
Main Features of GetResponse
More efficient and effective email marketing software

Boost your customer experience through marketing automation

Ready-made conversation funnel to convert customers into sales

Attract more visitors through web push notification

Enhance your customer reach with SMS marketing

Conduct webinars and increase your sales volume

Live chats option to connect, engage, and support your customers

Maximize conversion with automated email responder

Create and run paid campaigns with an in-built paid ads editor

One-click integration with major eCommerce platforms
What is Moosend?
Moosend is a simple and easy-to-use email marketing software specifically designed for SMMs (Small to Medium-sized Businesses). It incorporates all the components you need to run an effective email campaign: professional and secure campaign creation, fully customizable email templates, automated email matching and delivery, real-time reporting, and much more. Read Moosend review here.
Main features of Moosend
The most user-friendly email marketing platform

Using a newsletter editor, you can create professional-looking emails

Create a high-level personalization campaign using smart segmentation

Keep and manage subscribers with CRM

Build high-converting landing pages and subscription forms

Automate your marketing campaign and convert customers while you sleep

Ecommerce AI to send automated emails smartly

Track your efforts with custom reporting and analytics
What is the difference between GetResponse vs Moosend?
GetResponse and Moosend both are reliable email marketing software. If you are looking to send regular email campaigns and simple automation both will work for you. But If you need a more advanced and all-in-one marketing automation platform, then GetResponse offers more value at a better price.
Let's compare the features of GetResponse Vs Moosend
| | | |
| --- | --- | --- |
| Core Features | GetResponse | Moosend |
| Email marketing | Yes | Yes |
| Prebuilt email templates | Yes | Yes |
| Signup forms and pop-ups | Yes | Yes |
| Marketing automation | Yes (advanced) | Yes |
| Conversion funnels | Yes | No |
| Landing pages | Yes (advanced) | Yes |
| Live web chats | Yes | No |
| Webinars | Yes | No |
| Web push notifications | Yes | No |
| SMS marketing | Yes | No |
| Built-in image editor | Yes | Yes |
| Free stock photos | Yes | Yes |
| Send time and delivery optimization | Yes | No |
| Countdown timer | Yes | No |
| Dedicated IP address | Yes (In Max Plan) | No |
| Lead scoring | Yes | No |
| Website Builder | Yes | No |
| Facebook ads | Yes | No |
| Google ads | Yes | No |
| Web event tracking | Yes | Yes |
| 24/7 support | Yes | Yes |
| Free plan | 30 days with premium features | 30-day trial with all features |
In this chart, you can see a clear difference between GetResponse and Moosend. GetResponse has plenty of features that you can use for your expanding business. But Moosend offers limited features that serve your purpose. After buying Moosend you might feel you want additional features to support your growing business. Features like web push notifications, live web chats, conversion funnel, lead scoring, webinar, SMS, countdown timer, paid ads, dedicated IP, etc. you will not get in Moosend.
What is the pricing difference between GetResponse vs Moosend?
When it comes to email marketing software, price is the most important consideration. GetResponse has a slightly higher pricing plan than Moosend. Both software offers annual plan discounts. GetResponse's most basic plan costs $13.24 per month. In Moosend, the most reasonable plan starts at $9 per month.
Let's find out pricing based on the number of contacts. This pricing is compared between the GetResponse premium and Moosend pro plans.
| | | |
| --- | --- | --- |
| Contacts | GetResponse (Monthly) | Moosend (Monthly) |
| Up to 1,000 | $ 41.12 | $ 16 |
| Up to 2,500 | $ 48.09 | $ 24 |
| Up to 5,000 | $ 66.22 | $ 48 |
| Up to 10,000 | $ 79.46 | $ 88 |
| Up to 25,000 | $ 149.86 | $ 160 |
| Up to 50,000 | $ 250.22 | $ 315 |
| Up to 100,000 | $ 417.5 | $ 624 |
If you calculate pricing based on the number of contacts. You will realize GetResponse has a better pricing plan compared to Moosend. For a lower number of contacts, Moosend is the perfect tool for you. But when it comes to managing a higher number of contacts GetResponse is an inexpensive email marketing platform.
The majority of marketers believed that GetResponse is an expensive email marketing platform. But the truth is higher the contacts lower the price. Both GetResponse and Moosend have competitive pricing plans.
If you just started your business and have a low budget for email marketing then obviously go with Moosend. But if you have an established business and need a more advanced automation platform then Getresponse is the excellent choice for your business.
GetResponse vs Moosend: Customer Reviews
GetResponse and Moosend both are trusted by thousands of customers. Let's hear their thoughts on both platforms.
GetResponse Customer Reviews
Moosend Customer Reviews
Which one to choose GetResponse or Moosend?
If you're still not sure which email marketing platform to choose from, you can read our in-depth comparison of GetResponse vs. Moosend.
1. User Interface
GetResponse and Moosend have a user-friendly interface that any professional can use comfortably. But Moosend has a clean and clear interface that is easy to operate for beginners. All the functions are easily accessible in Moosend.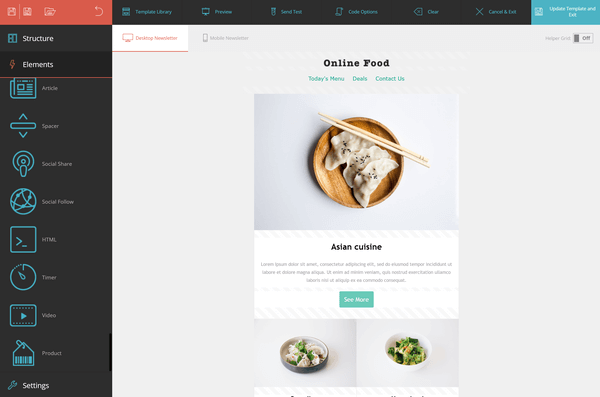 What about GetResponse Interface?
GetResponse has a more advanced and lightweight platform that works in any browser. In a single dashboard, it will show you all the options such as creating newsletters, forms, popups, landing pages, adding contacts, creating autoresponder, webinar, etc. Its interface reminds us of what is available in the system and how to implement it effectively. I like both the platform interface and its speed.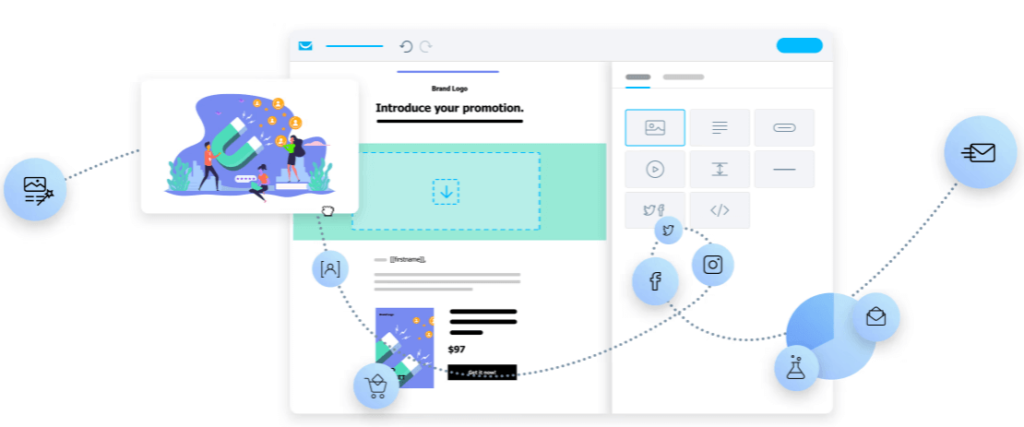 2. Marketing Automation
You must go beyond email marketing to run a successful marketing campaign. To nurture leads and improve conversion, you'll need landing pages, workflows, autoresponders, web push notifications, conversion funnel, social media, and more.
GetResponse provides the advanced feature of marketing automation. Its intuitive automation workflow builder, you can create triggers based on actions like contact added, contact opened or clicked a link, contact made a purchase, contact abandoned a cart, contact visited a particular URL, contact was moved or copied from another list, and more. GetResponse has everything to run a business effectively.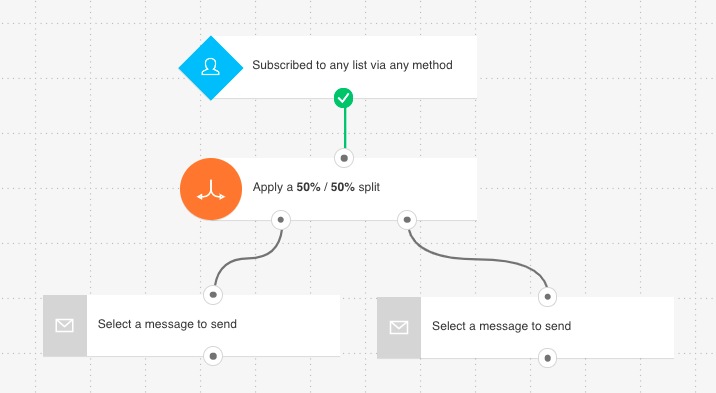 But in Moosend you will get a limited and basic automation workflow that is enough for beginners. As you grow you might be required more automation features. Both tools provide a simple drag-and-drop editor to build an automation workflow. You will also get an in-built workflow template that makes your job easier.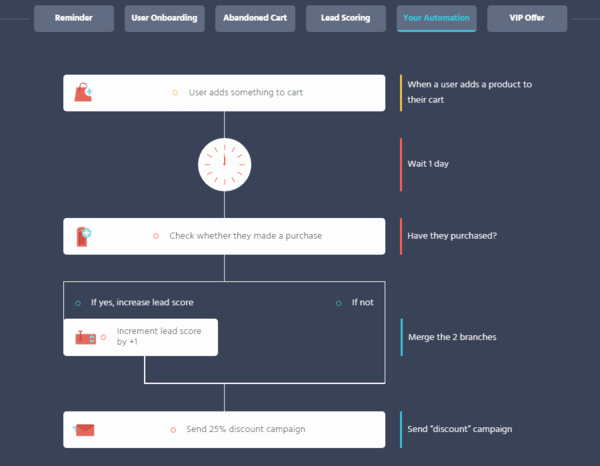 GetResponse is the clear winner in marketing automation.
3. Landing Pages and Signup Forms
Moosend has a great collection of landing pages and customize signup forms to attract visitors and capture subscribe contacts. You will get landing pages for lead generation, webinars, ebooks, and more. Moosend offers excellent signup forms options such as floating bar, floating box, full-page, inline-form, modal pop-up, and more.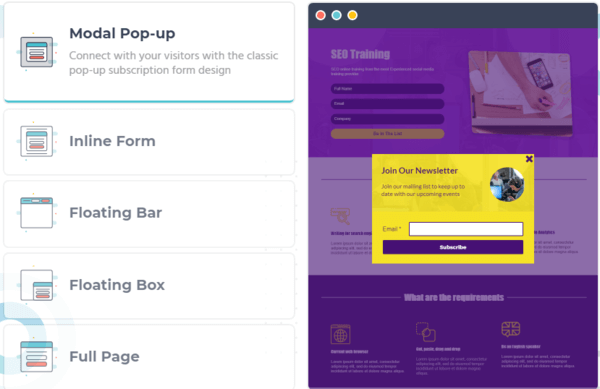 But in GetResponse, you will get 200+ mobile-responsive landing pages that convert visitors into customers. Moosend and GetResponse have an outstanding collection of signup and landing page designs. Moosend regularly updates landing page templates whereas GetResponse occasionally updates landing page designs.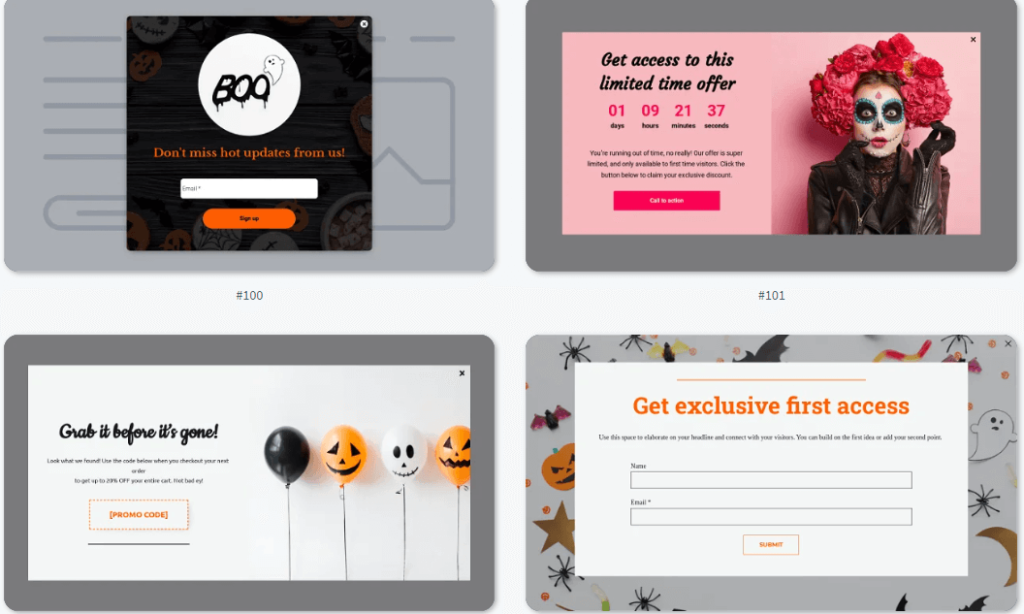 4. List Segmentation
List segmentation has a key role in growing your audience and revenue. Both Moosend and GetResponse have powerful and simplified list segmentation options. But in GetResponse you will get more options for personalization and segmentation such as lead scoring, behavioral pattern, engagement score, lead source, and every information of your leads.
5. A/B Testing
In Moosend you get three variations for A/B testing such as email subject line, content, and email sender. But in GetResponse you will get 5 advance A/B testing features like subject line, from field, email content, sender name, and delivery time. There is much more you can do with the Getresponse A/B testing function.
If you enjoy testing or conducting frequent testing of your email marketing campaigns, then GetResponse is the best tool for experimentation.
6. Inbuilt Templates
GetResponse template library has plenty of design collections where you can start your campaign in minutes. Email templates, landing page templates, website templates, social ads templates, and even full conversion funnel templates with consistent branding are all available in the template library.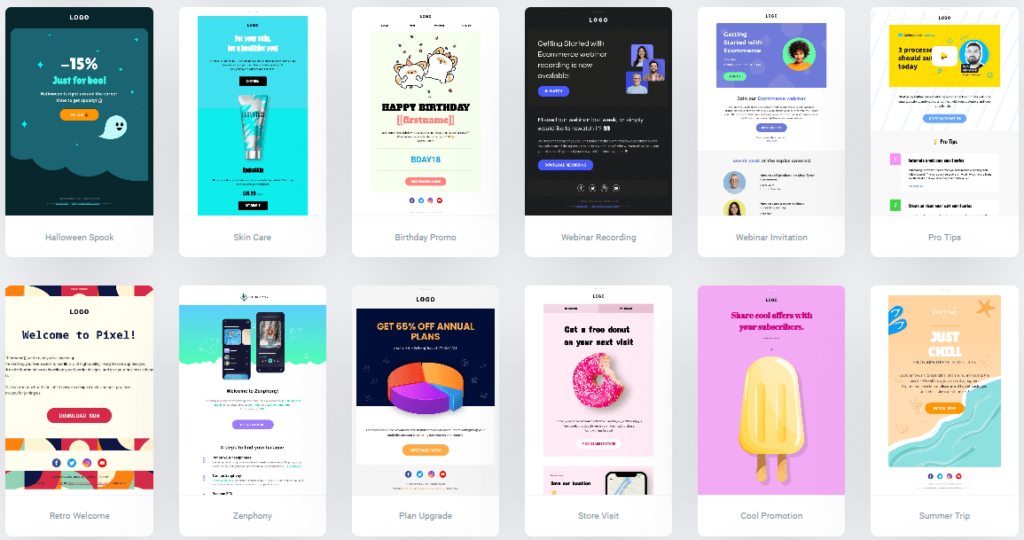 Moosend also includes excellent email, landing page, and signup form templates. However, because Moosend does not provide a website builder, social ads, or conversion funnel, these will not be available in the template library. These templates are ready to use, you can just edit your content and send the campaign to your audience.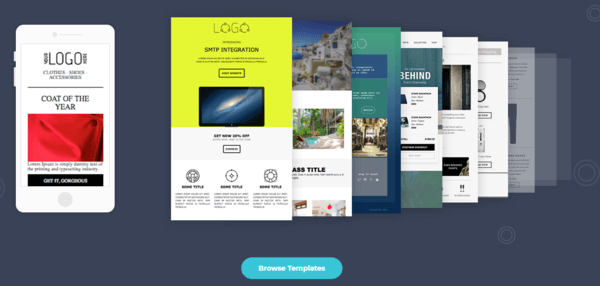 7. Conversion Funnels
A conversion funnel is one of the best features of GetResponse. These features allow you to track the buyer journey of your leads. You can track each customer journey through the conversion funnel. There is a ready-made conversion funnel template available in GetResponse you can make use of it. With the conversion funnel, you can check.
How many visitors entered your site?

How many got converted?

How many people clicked on your products?

How many people become customers after viewing the product page?

How many people are repeat visitors or customers?

How many people converted from email, ads, SEO, and more?
Like this, you will get complete details that will help get an overview of your marketing campaign.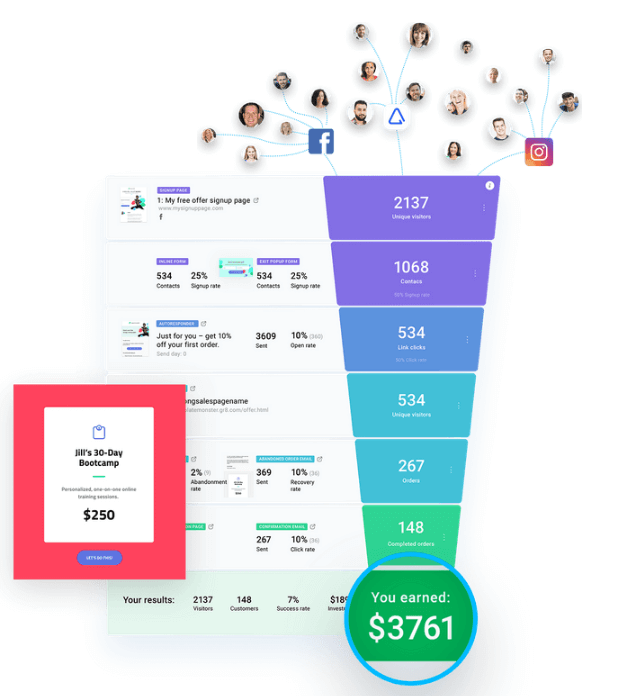 But Moosend does not offer these useful features. These are the additional features you required to grow your business apart from email marketing.
8. Webinars
Create interactive webinars, invite subscribers to attend, and automatically follow up right from the dashboard with GetResponse's webinar software. With these inbuilt webinar features, You no longer need to rely on third-party webinar platforms like Webx, GoTo Meeting, Blue Jeans, WebinarJam, Livestorm, etc.
Host unlimited webinar

Get a room for up to 1,000 live attendees

Share the stage with two other presenters

You will get 20 hours of webinar recording storage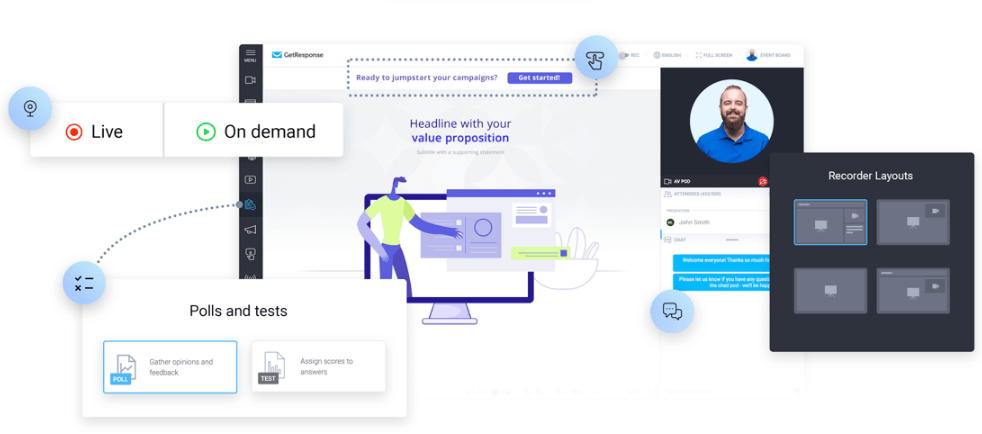 However, Moosend's platform does not include any specific webinar tools.
9. Live Web Chat
In GetResponse, you will get a web chat option where you can connect directly with your online customer and generate more sales. Web chat is a great solution for website conversion optimization. A quick chat and automated answers can help you get more customers and revenue for your online business.
This is another essential feature that the Moosend needs to include. Moosend does not have a live web chat feature.
10. Email Deliverability
When comes to email deliverability, it is more important than features. GetResponse and Moosend offer great email deliverability in the industry. But when you compare Moosend email deliverability with GetResponse, then GetResponse has better email deliverability and inbox placement.
Any email marketing platform does not guarantee 100% email delivery. It all depends on your email marketing activity, email list, content, and many other factors. Both tools are capable to offer you standard email deliverability.
11. Customer Support
Moosend and GetResponse offer excellent customer support. You will get chat, email, and phone support on both platforms. Many of our customers said Moosend offers much quicker customer support than GetResponse. But it depends on the customer to customer. Both tools provide a dedicated support manager who is ready to help you 24/7.
12. Paid Ads Campaigns
You can manage, track and run paid ads through GetResponse. It works with Google ads, Facebook, and Instagram ads. With GetResponse paid ads you can effortlessly create an ads campaign and track the performance of your campaign.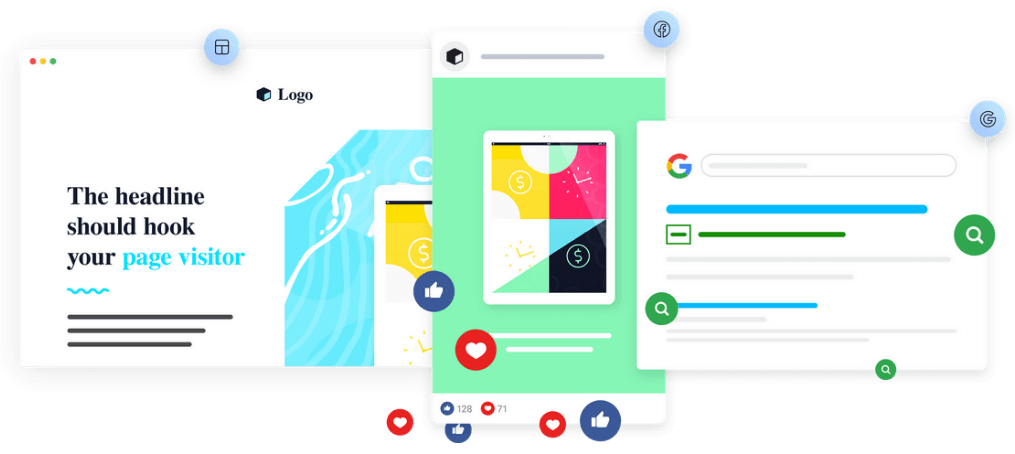 Moosend, on the other hand, does not have these features. That's why GetResponse refers to itself as an all-in-one marketing automation platform, and Moosend refers to itself as a simplified email marketing platform.
13. Website Builder
With GetResponse's drag-and-drop editor, you can create a stunning website. If you don't have a website, this is a useful feature that will allow you to create one in a matter of hours. GetResponse is the best choice for your business if you just start out and require all the necessary features.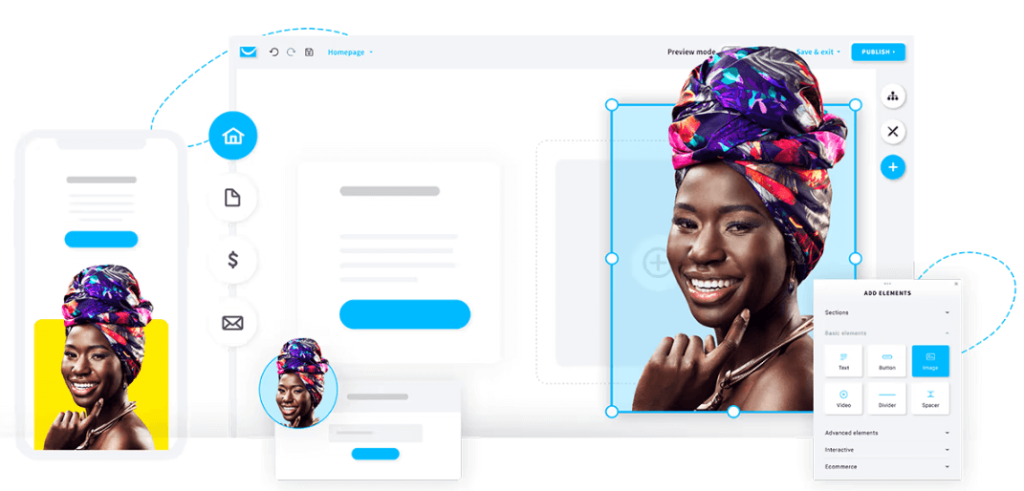 Moosend does not have a website builder, but it does have a landing page builder that you can use to drive traffic and generate leads.
14. Web Push Notification
This is another feature you can get in the modern email marketing platform. GetResponse offers a web push notification solution that increases your website traffic and conversion. With the help of web push notifications, you can attract users and convert them into sales while they are browsing on other sites.
There is no web push notification solution in Moosend. However, by incorporating third-party tools into your website it is easily useable.
15. Dedicated IP
In GetResponse you will get an option for dedicated IP. That is only for the Max plan, if you are sending a large number of emails then a dedicated IP is the best option for boosting email deliverability.
Whereas in Moosend no option for dedicated IP. But it has a great email infrastructure that is capable of sending high-volume emails with excellent email deliverability.
Final Thoughts on GetResponse vs Moosend
Now that you know what each one has to offer, it's time to make a decision: GetResponse or Moosend.
There are a lot of email marketing platforms available, and it can be tough to decide which one is right for your business. That's why we've put together this comparison, so you can see which tool's features and pricing fit your company's needs and budget.
The conclusion of this report is that GetResponse is a better choice for digital agencies, eCommerce, and large and medium size companies, that need an all-in-one solution for their email marketing, CRM, conversion funnels, paid ads, webinars, and automated campaigns.
Moosend is a great choice for small businesses, affiliate marketers, freelancers, bloggers, and publishers that are just starting out with their email marketing.
The decision is now entirely up to you and your requirements. If you're on a tight budget and don't need anything other than email marketing, Moosend is the way to go. However, if you require more advanced marketing features and customer engagement, GetResponse is an excellent choice.