In the realm of email finding, lead generation, and growth hacking, two notable platforms that provide powerful lead generation solutions are Waalaxy and PhantomBuster. These platforms offer a wide range of features to automate tasks such as lead generation, email finding, social media management, and data scraping. While both Waalaxy Vs PhantomBuster shares a common goal of streamlining workflows and boosting productivity, they have distinct features and capabilities that set them apart.
In this article, we will delve into a comparison of Waalaxy and PhantomBuster, helping you understand their strengths and differences to determine which platform aligns best with your specific needs. Whether you're an entrepreneur seeking efficient automation tools or a marketer looking to optimize your growth strategies, this analysis will aid in making an informed decision.
Waalaxy VS PhantomBuster: Pros & Cons
Regarding lead generation and automation tools, Waalaxy and Phantombuster are prominent contenders. Let's explore the pros and cons of each platform to help you make the right decision.
Waalaxy: Pros & Cons
Here you can explore the pros and cons of Waalaxy to determine if it aligns with your automation needs and business objectives.
Pros
Automatic Email Finder: Easily discover your prospects' emails with Waalaxy's automated email finding feature, saving you time and effort.
LinkedIn Prospecting Autopilot: Seamlessly automate your LinkedIn prospecting activities, allowing you to focus on other essential tasks while Waalaxy takes care of engagement.
Streamlined Cold Emailing: Effortlessly send cold emails and expand your client base using Waalaxy's user-friendly interface and efficient email-sending capabilities.
Enhanced LinkedIn Conversion: Experience a significant boost in LinkedIn conversion rates, potentially reaching up to 10 times higher conversion with Waalaxy's optimization features.
Rapid Prospect Outreach: Reach thousands of prospects within minutes, maximizing your outreach efforts and increasing your chances of generating leads and conversions.
Verified Professional Emails: Obtain verified professional email addresses of your prospects, ensuring the accuracy and deliverability of your email campaigns.
Automated Follow-ups: Schedule automated follow-up emails to nurture relationships and maintain engagement with your prospects, increasing your chances of converting them into clients.
Cons
Restricted Free Trial: The free version of Waalaxy offers a limited trial period of only 7 days, which may restrict the evaluation and exploration of its features.
Reliance on Dropcontact: Waalaxy relies on third-party tool Dropcontact for email verification, which may introduce additional dependencies and potential limitations.
Limited Support Options: Waalaxy does not provide phone and email support.
PhantomBuster: Pros & Cons
Discover the advantages and considerations of using PhantomBuster, a powerful automation platform, to streamline your processes and optimize your lead generation efforts.
Pros:
Free Trial: Get started with a 14-day free trial, allowing you to explore the platform's capabilities before making a commitment.
Automated Lead Generation: Automate the entire lead generation process, saving time and effort by leveraging PhantomBuster's powerful automation tools.
LinkedIn Profile Extraction: Easily extract leads from LinkedIn profile searches, enabling you to build targeted prospect lists efficiently.
Rapid List Creation: Create high-quality lists in a matter of minutes, accelerating your lead generation efforts.
Broad Platform Compatibility: Phantombuster is compatible with various platforms including LinkedIn, Facebook, Twitter, Instagram, Reddit, GitHub, YouTube, Yellow Pages, and Google Maps, expanding your reach and possibilities.
Affordable Pricing: Benefit from affordable pricing plans that offer value for money, catering to businesses of different sizes and budgets.
Diverse Automation Workflows: Access a library of 100+ automation workflows, empowering you to complete specific tasks with ease and efficiency.
Seamless Integration: Seamlessly integrate PhantomBuster with other marketing tools, ensuring a cohesive and efficient workflow across your automation stack.
Responsive Support: Experience highly responsive and quality support service, allowing you to get timely assistance and resolve any issues or queries you may have.
Cons:
Usage Limitations: Users need to operate within the limitations set by PhantomBuster, which may restrict the scope or volume of their automation activities.
Risk of Account Blocking: There is a potential risk of being blocked from social media accounts when using PhantomBuster's automation features, as some platforms have strict policies regarding automated activities.
Waalaxy VS PhantomBuster: Feature Comparison
Now it is time to explore the feature comparison between Waalaxy and PhantomBuster, two prominent automation platforms, to understand their capabilities and choose the ideal solution for your business needs.
| | | |
| --- | --- | --- |
| Features and Actions | Waalaxy | PhantomBuster |
| Free Trial | 7 days | 14 days |
| Starting Pricing | €30 / month | $56 / month |
| Compatibility with | Linkedin Free, Premium, and Sales Navigator | Linkedin Free and Sales Navigator, Facebook, Twitter, Instagram, Google Maps |
| Linkedin Automation | Yes | Yes |
| Find Email and Phone numbers | Yes | Yes |
| Tracking and Reporting | Yes | Yes |
| Leads Export / Import | Yes | Yes |
| A/B Testing | Yes | No |
| Auto Connect | No | Yes |
| Like & comment | No | Yes |
| Send Messages | Yes | Yes |
| Data Enrichment | Yes | Yes |
| Safety & Security | Yes | Yes |
| LinkedIn Profile Scraper | Yes | Yes |
| Integrations | Yes | Yes |
| 24/7 Customer Support | Limited to live chat | Chat, email, and phone |
Waalaxy VS PhantomBuster: Pricing
When it comes to pricing, both Waalaxy and PhantomBuster offer competitive plans. Waalaxy starts at €30 per month, providing features like limited invitations, LinkedIn automation, and pre-filled message templates. For advanced email-finding capabilities, you'll need to opt for the $60 per month plan, encompassing all features.

On the other hand, PhantomBuster charges $56 for 5 tasks, allowing you to extract contacts, send emails and LinkedIn invitations, engage with social media, and more. While PhantomBuster may seem pricier than Waalaxy, it boasts powerful features that make it a force to be reckoned with.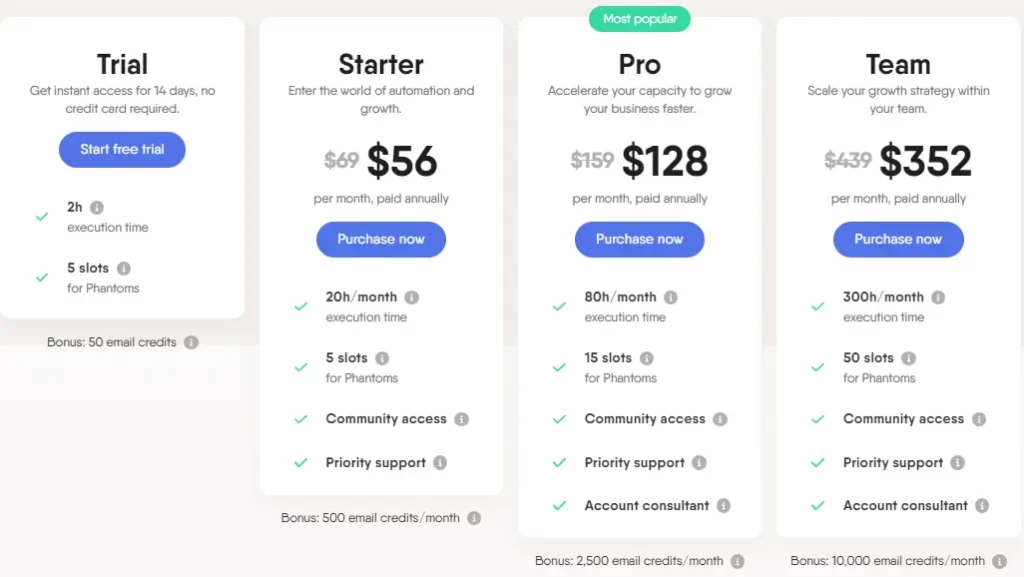 Waalaxy focuses primarily on LinkedIn automation and lead extraction, offering a straightforward lead-generation solution. In contrast, PhantomBuster shines as a robust lead generation platform, equipped with 100 Phantoms and Flows to extract leads, enrich data, automate outreach campaigns, and handle responses with ease.
Waalaxy VS PhantomBuster: Which Is Better?
Choosing the superior option between Waalaxy and PhantomBuster comes down to evaluating their respective features, pricing, and suitability for your specific automation and lead generation needs.
1. Feature Faceoff: Waalaxy vs. PhantomBuster
Waalaxy offers a range of features including an email finder, LinkedIn prospecting, cold emailing, and LinkedIn messaging.
On the other hand, Phantombuster goes above and beyond with over 100 features such as LinkedIn search export, LinkedIn auto connect, LinkedIn profile scraper, Sales Navigator list export, Google Maps search to contact data, HubSpot CRM enricher, LinkedIn message sender, Instagram follower collector, Facebook group members export, Twitter follower collector, Facebook profile URL finder, GitHub profile scraper, Yellow Pages search export, and many more. Phantombuster stands as a comprehensive all-in-one lead generation solution to help you achieve your business goals with its extensive feature set.
2. Email Finding Showdown: Waalaxy vs. PhantomBuster
When it comes to email finding, Waalaxy focuses solely on LinkedIn, limiting its capabilities to this platform alone.
However, Phantombuster takes the game a step further by supporting LinkedIn Sales Navigator, Facebook, Twitter, Instagram, GitHub, Reddit, Slack, YouTube, and Yellow Pages, allowing you to find not only emails but also phone numbers of prospects across multiple social media platforms. With Phantombuster's broader reach, you can supercharge your lead generation efforts by harnessing the power of various channels to uncover valuable contact information.
3. Data Enrichment
When it comes to data enrichment, both platforms have the capability, but they differ in their approaches. Waalaxy relies on Dropcontact as its data source, providing verified email addresses for contacts.
On the other hand, Phantombuster boasts an in-house data enrichment capability, offering more accurate and valid information about contacts. With Phantombuster's internal enrichment system, you can trust in the reliability of the data and make more informed decisions for your lead generation and outreach efforts.
4. LinkedIn Automation
Waalaxy offers a range of LinkedIn prospecting features such as sending automatic invitations, automated follow-ups, and importing LinkedIn leads.
On the other hand, Phantombuster takes a LinkedIn lead generation to the next level with features like LinkedIn connections export, LinkedIn auto-connect, LinkedIn message sender, LinkedIn profile URL finder, Auto commenter, Auto follow, Auto liker, Auto poster, Auto unfollow, and many more. With PhantomBuster's extensive arsenal of LinkedIn automation tools, you can supercharge your lead generation efforts and establish a strong presence on the world's largest professional network.
5. LinkedIn Messaging Battle: Waalaxy vs. PhantomBuster
When it comes to LinkedIn messaging features, there's a noteworthy difference in pricing between Waalaxy and PhantomBuster. Waalaxy charges an additional 20€ per month on top of the standard plan for access to LinkedIn messaging capabilities.
In contrast, PhantomBuster includes these features as part of its standard offering, without any additional cost. With PhantomBuster, you can engage and connect with your LinkedIn prospects through messaging without breaking the bank, making it an enticing option for effective and cost-efficient communication on the platform.
6. Send outreach campaigns
Both Waalaxy and PhantomBuster empower you to launch impactful outreach campaigns to connect with your prospects. These platforms offer automation features that enable you to automate outreach campaigns and personalize emails based on user actions. Whether it's leveraging LinkedIn or email, you have the flexibility to reach out to targeted prospects through multiple channels. With Waalaxy and PhantomBuster by your side, you can efficiently engage with your audience, nurture relationships, and drive conversions, all while streamlining your outreach efforts.
7. Transparent and Ethical: Waalaxy vs. PhantomBuster on LinkedIn
When it comes to operating on LinkedIn, both Waalaxy and PhantomBuster prioritize transparency and ethical practices. These platforms strictly adhere to LinkedIn's restrictions and limits, ensuring that your account remains safe and secure without any associated risks.
By utilizing these tools, you can confidently navigate LinkedIn's ecosystem, knowing that your actions are compliant and aligned with the platform's guidelines, allowing you to focus on generating leads and achieving your business goal without any obstacles.
8. Customer Support Clash: Waalaxy vs. PhantomBuster
When it comes to customer support, there's a notable difference between Waalaxy and PhantomBuster. Waalaxy offers support exclusively through live chat, without phone or email options.
On the other hand, PhantomBuster takes customer support to the next level by providing chat, email, and phone support for users on their paid plans. With PhantomBuster's comprehensive support channels, you can reach out for assistance in the way that suits you best, ensuring a smoother and more personalized experience when you need help.
Discover more about these platforms:
Conclusion
Both Waalaxy and PhantomBuster offer powerful automation solutions for lead generation and prospecting. Waalaxy focuses primarily on LinkedIn automation and lead extraction, while PhantomBuster stands out with its extensive features and capabilities across multiple social media platforms.
Waalaxy provides a user-friendly and straightforward approach, with pricing plans tailored to specific needs. However, it has limitations in terms of features and platform compatibility. On the other hand, PhantomBuster offers a comprehensive suite of over 100 automation workflows, allowing for a wider range of tasks and integration with various marketing tools.
Consider your specific requirements, budget, and features that align with your business goals when choosing between these platforms. Whether it's email finding, data enrichment, LinkedIn automation, outreach campaigns, or customer support, carefully evaluate which platform best meets your needs and will help you achieve your desired outcomes.