Picking the best email verification software for your needs can determine the success or failure of your campaigns. So let's look at two: Bouncer vs ZeroBounce.
Which of these two options offers a more favorable deal for your needs? Bouncer and ZeroBounce are user-friendly email verification tools that help verify email and eliminate bounce from your list.
In this article, we'll help you reach your own conclusion by breaking down 10 key features you should compare before choosing an email verification software.
From the essential parts of email verification tools, like bulk email verification, spam detection, bounce detection, verification API, and real-time verification, we've compiled a detailed comparison between the Bouncer vs ZeroBounce tools so you can choose which is best for your business.
Bouncer vs ZeroBounce: Overview
Let's see an overview of Bouncer and ZeroBounce.
What is a Bouncer?
Bouncer is the easiest and most powerful email validation platform. Bouncer offers a trustworthy, reliable, and accurate email verification service that smoothly lands your email in recipient's inboxes and generates higher email marketing revenue.
Bouncer is trusted by thousands of reputed companies like Woodpecker, Airbnb, Cognizant, Hollister, Oracle, PrestaShop, Shoppe, Siemens, T-Mobile, BigMailer, HCMDeck, and more. It has top-rated data security, SOC 2, and GDPR Compliant hosted in the best European data center. Let's read Bouncer Review for more information.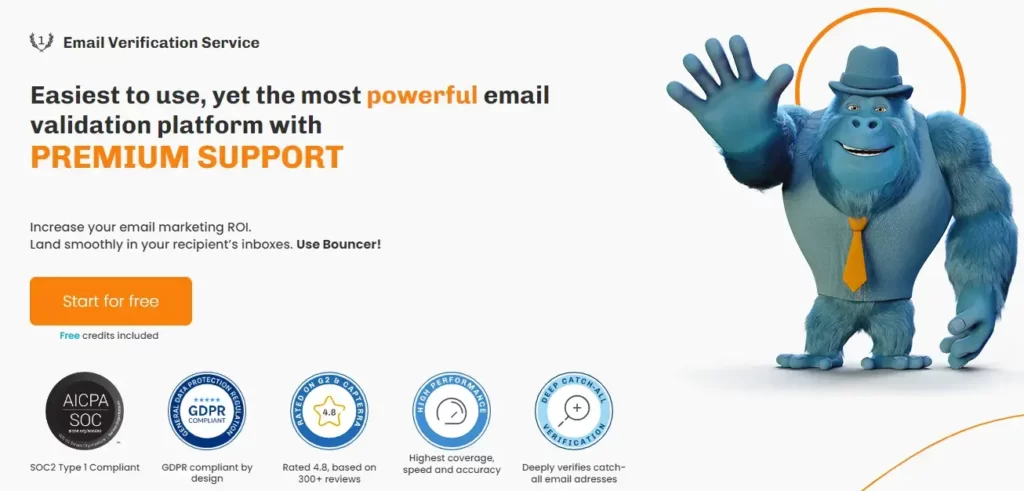 What is ZeroBounce?
ZeroBounce is a fast, accurate, and secure email verification software that verifies emails in real-time and enhances your email campaign open rates and sales. It also provides AI-driven scoring, Email finder, Email testing, and email deliverability tools that make ZeoroBounce the No. 1 email validation service.
ZeroBounce is trusted by over 250,000+ clients including LinkedIn, Intel, PWC, Vistaprint, Strava, Amazon, Netflix, Samsung, Disney, Hubspot, Sephora, and more. ZeroBounce offers bulk email verification services with 99% accuracy.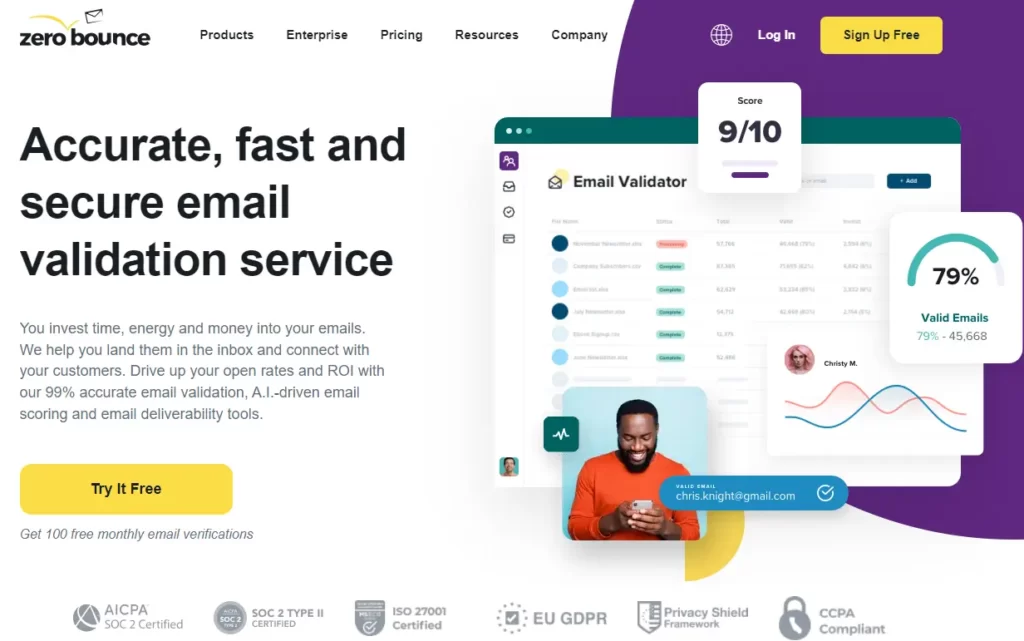 Try ZeroBounce for free and evaluate its quality
Bouncer vs ZeroBounce: Feature Comparison
In a hurry? Here's a brief overview of the key features included in both platforms:
| | | |
| --- | --- | --- |
| Top Features | | |
| Free Plan | Verify 100 emails | Verify 100 emails |
| Delivery Guaranteed | 99.50% | 99% |
| Pricing for 10,000 Email Verification | $60 | $64 |
| Bounce Detection | Yes | Yes |
| Spam Trap Detection | Yes | Yes |
| Duplication Check | Yes | Yes |
| Abuse Detection | No | Yes |
| Bulk Email Verification | Yes | Yes |
| Toxic Domain Detection | Yes | Yes |
| Social Append | No | Yes |
| Disposable Email Detection | Yes | Yes |
| Catch-All Domain Detection | Yes | Yes |
| Email Score | No | Yes |
| Email Activity Data | No | Yes |
| Money-Back Guarantee | Yes | Yes |
| Unknown Results | Do not charges | Do not charges |
| Deliverability Tools | No | Yes |
Bouncer vs ZeroBounce: Pricing
Pricing is the main concern when choosing any email verification platform. Everybody wants to know how reliable and accurate the email validation platform is based on pricing. Let's take a look at Bouncer vs ZeroBounce pricing and see the difference.
Bouncer offers two models of pricing plans. Pay-as-you-go plan and Monthly plan. In the Pay-as-you-go model, Verifying 5,000 emails will cost you $35 and include features like bulk email verification, single verification, real-time verification, verification through API, and premium support.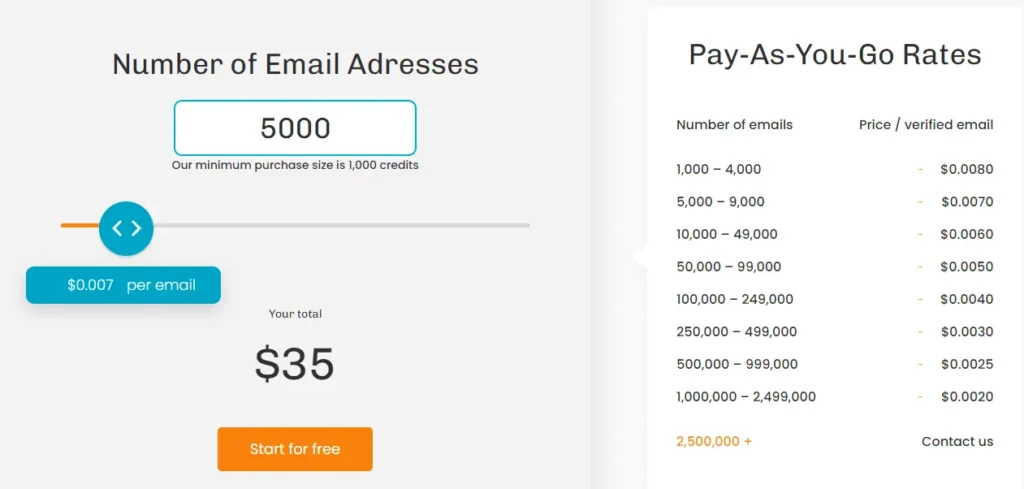 The monthly plan starts at $50/ per month and verifies up to 10,000 emails per month. Bouncer offer fair and reasonable pricing plans that can be suitable for all businesses.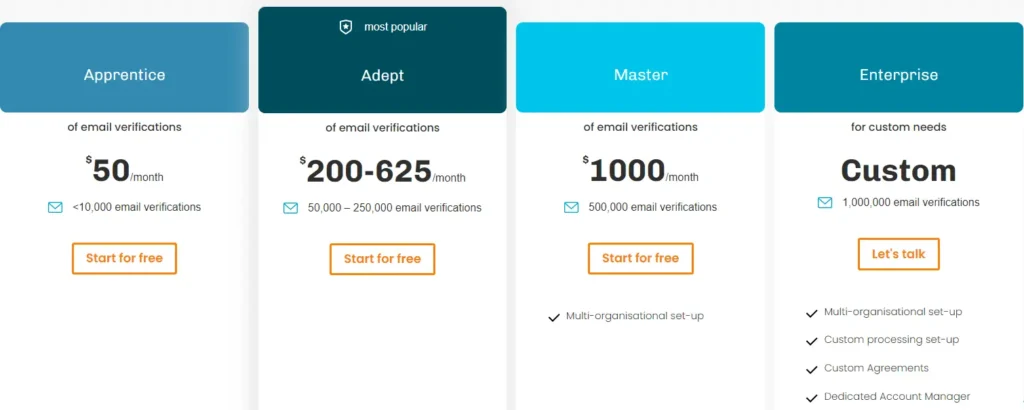 On the other hand, ZeroBounce also offers similar types of pricing plans. You will get two pricing models in ZeroBounce. Pay-As-You-Go and Monthly Plan.
In the ZeroBounce Pay-As-You-Go model, verifying 5,000 emails will cost you $39 and includes all email validation features. It uses one credit to verify one email address.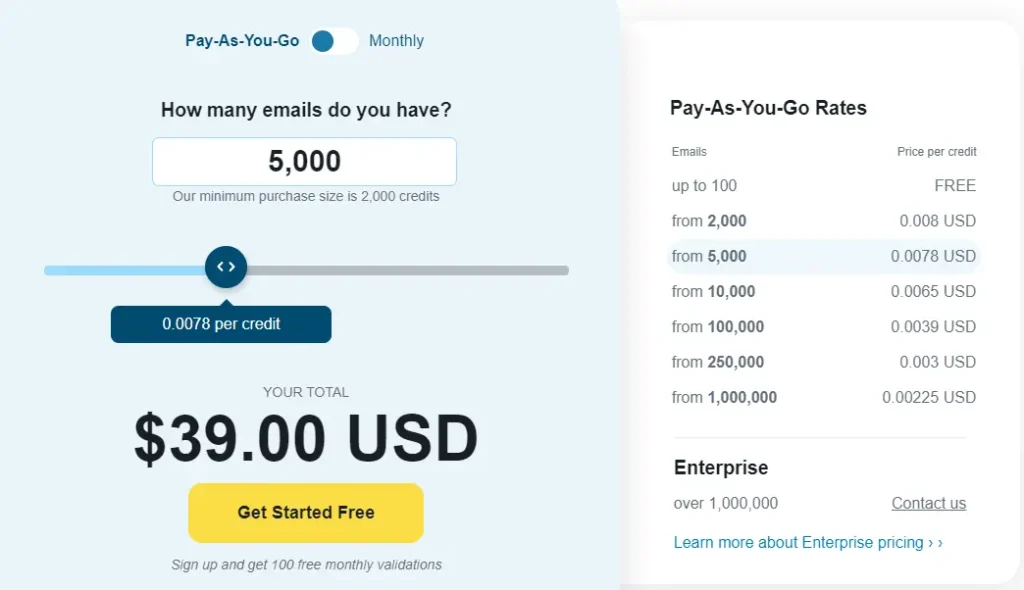 But when you compare the Zerobounce monthly plan Vs Bouncer monthly plan, you will able to see major differences in pricing. ZeroBounce monthly plan will cost you $64 to verify 10,000 emails.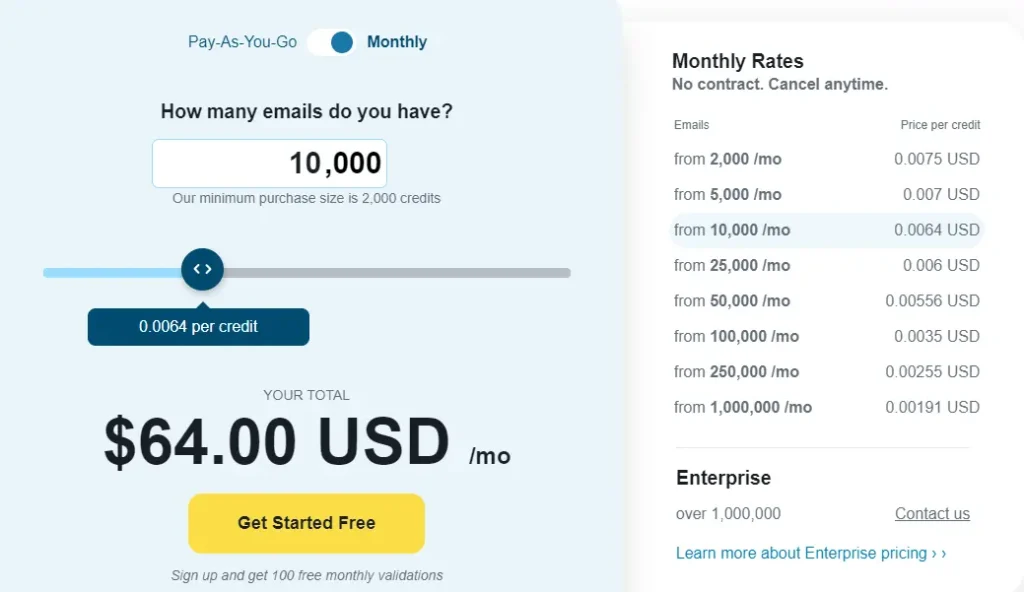 Winner: In terms of pricing Bouncer is the clear winner when you compare with Zerobounce.
Bouncer vs ZeroBounce: Pros & Cons
In this section, we will assess the pros and cons of Bouncer and ZeroBounce.
Pros

Cons

Leading email verification tool, boasting 99.5%+ accuracy

Generates comprehensive reports for bounce issues

Offers budget-friendly pricing options

Responsive customer support team

Credits never expire

No charges for invalid syntax addresses

User-friendly interface

Supports bulk uploads

Ensures security and GDPR compliance

Recognized with prestigious email verification awards

Takes longer to process data compared to competitors
Pros

Cons

Get 100 email verification free credits

Swift and precise email validation

Enjoy a 99% accuracy assurance

Real-time email verification

Credits never expire

Flexible volume-based pricing

Multiple API keys for added flexibility

Seamless integration

Attractive discount offers are available

Appears more expensive when compared to competitors
Bouncer vs ZeroBounce: Which Is Better?
Bouncer and ZeroBounce are both popular email verification platforms, each offering unique features and benefits. In this comparison, we'll dive into the key aspects of these services to help you determine which one is the better fit for your email verification needs.
1. Save Money with Bouncer
When you compare Bouncer pricing with Zerobounce, Bouncer offers more affordable pricing. You can save a significant amount of money with Bouncer. In terms of features, user function, and accuracy Bouncer is a much better option compared to Zerobounce.
2. Email Validation
Bouncer and ZeroBounce are platforms that can eliminate bounces, invalid emails, spam complaints, and spam traps, detect abuse emails, catch-all emails, disposable emails, toxic domains, syntax errors, and bots.
However, ZeroBounce goes a step further by offering additional insights such as email score and email activity data. These insights help you gauge the freshness of your email list and determine if it's the ideal choice for your email campaigns.
Winner: Both are the best bulk email verification software but ZeroBounce offers more insight on your database.
3. Highest Accuracy Guaranteed
When it comes to email accuracy, both Bouncer and ZeroBounce claim a 99% accuracy rate. However, in practice, Bouncer tends to be more accurate than ZeroBounce.
When you verify emails with Bouncer, you can expect a 5% bounce rate when sending an actual campaign. In contrast, when using ZeroBounce to verify your list, you may experience a higher bounce rate of 8-9% when sending an actual campaign.
Winner: For the highest email accuracy you can rely on Bouncer.
4. Fast Turnaround Time
Let's compare the processing times for email verification requests. Bouncer generally takes more time to process email verification requests, while ZeroBounce offers a faster turnaround and delivers quick results.
Winner: ZeroBounce has a fast turnaround time compared to Bouncer.
5. Email Verification API
Both platforms provide a fast and secure API service. With API service you can perform real-time email verification and easily identify valid, invalid, and high-risk emails. Both ZeroBounce and Bouncer offer easy API setup, and their API documentation assists you in configuring the service.
Winner: ZeroBounce and Bouncer offer powerful, robust, secure, and ultrafast API services.
6. Email Testing Tools
In ZeroBounce, you have the option to run a complimentary inbox placement test. This feature allows you to determine the placement of your emails in the recipient's inbox, enabling you to make adjustments for optimal deliverability. On the other hand, Bouncer does not offer email testing services.
Winner: ZeroBounce stands out as the clear choice for email testing services.
7. Integration
Both platforms are compatible with the most popular email marketing, CRM, and third-party marketing tools. Such as Aweber, Brevo, Constant Contact, Convertkit, GetResponse, Hubspot, Integrately, Klaviyo, LemList, Mailchimp, MailerLite, Moosend, Pabbly, RapidApi, Zapier, Woodpecker and more.
For integration, you can choose ZeroBounce as well as Bouncer.
8. Email Finder
In ZeroBounce, you have access to an email-finding tool that allows you to effortlessly find email addresses by searching for a prospect's name and domain name. ZeroBounce email finder simplifies the process of finding prospect email addresses. And it does come with an additional credit charge.
In contrast, Bouncer solely focuses on email verification services and does not provide an email-finding service.
Winner: There are multiple email-finding tools available in the market. ZeroBounce is not the best but one of them.
9. Free Tools
ZeroBounce provides a variety of free tools, including List Evaluator, Email Verifier, Email Server Tester, Blacklist Checker, DKIM Generator, DMARC Generator, SPF Generator, and Inbox Placement Tester. In contrast, Bouncer does not offer any free tools.
10. Customer Support
Both tools provide excellent and responsive 24/7 customer support, offering various communication options such as chat, email, and phone support in both ZeroBounce and Bouncer. You can easily reach out to them and get assistance with any questions or issues.
Conclusion
We've explored and compared the features, pricing, accuracy, processing times, and additional services of Bouncer and ZeroBounce. Each platform has its strengths and weaknesses, and the choice between them ultimately depends on your specific needs and priorities.
Consider factors like email accuracy, processing speed, additional services, and pricing to make an informed decision that aligns with your email verification requirements. Both Bouncer and ZeroBounce have their merits, so choose the one that best suits your email verification needs.