Email delivery and spam-related issue are common for every marketer. If you see a sudden drop in open and click-through rate or increase in bounce rate then there will be something wrong with your email deliverability. Email deliverability is a crucial part of email marketing. Depending on email deliverability you can see the success of your email campaign. In this article, we have mentioned the best email deliverability and testing tools to enhance your campaign engagement.
So the first thing I would like to suggest is to choose an Email marketing platform wisely. While choosing email marketing software check their deliverability rate. Rather than coolness and funky features. We have compiled a list of the best and affordable email marketing platform that provides the highest inbox deliverability rate.
How to fix email deliverability and spam-related issue?
With the help of email testing and deliverability tools, you can solve the deliverability issues. Nowadays email testing is not optional but it became mandatory for all marketers. Avoiding spam filters and junk folders is a challenging task for every email marketer. Testing your email before sending it to the client will save you from landing email into spam.
Here are the best email testing tools to improve your email deliverability.
1. GlockApps – Expert Email Deliverability and Monitoring Tool
GlockApps provides a complete email deliverability solution. Expert in getting deliver your message to the customer inbox. It checks all the aspects of deliverability issues including IP, domain, email content, HTML error, email blacklisting, email authentication, spoofing and phishing, inbox placement, spam score, subject line error, and more. It will monitor and fix the deliverability problem before sending an email to the customer. Just you need to send one email or integrate with ESP after that everything will take care of and provide you with a detailed report of your campaign health.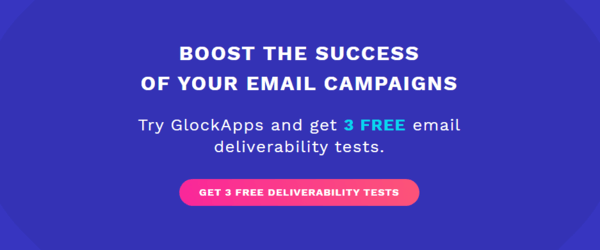 Key Features
Email Spam Checker – It will show you how much percentage of your email landing into the inbox, spam folder, or promotion tab and get reports to improve them.

DMARC Analyzer – Protect your domain from spoofing and phishing. DMARC analyzer detects suspicious activity and eliminates emails that don't have authentication technology.

Uptime Monitor – Monitor SPF, DKIM, and DMARC records' health, and get immediate notification if there are any changes.

Blacklist Monitoring – Get notified if your domain or IP gets blacklisted and take action accordingly.

HTML error – Identify spam content and HTML error to improve delivery.

BIM Inspector – It will make sure your mail will reach the customer.

Email Deliverability Services – Get in touch with GlockApps experts, which will help you to avoid the spam folder and increase your opens, clicks, and conversion rate.

Email Consulting – Schedule an appointment with a deliverability expert and get your answer for email marketing and deliverability-related issue.
Pricing Plan
GlockApps offer a free plan that includes 3 email spam test, 10 IP reputation monitors, Instant alerts, All IP and domain monitoring features, and many more. Start with a free plan and understand the potential of GlockApps.

Paid Plan – Start at $ 59/ month. Offers all free plan features along with 3,600 Email spam tests, 1,200,000 DMARC messages, 20 uptime monitors, 20 IP reputation monitors, and many more.
2. Warmy – Domain and IP Warm-up Tool
Warmy is AI-based email and domain warm up tool. If you have a new domain or IP, want to warm it up this is the best tool that automatically warm-up and gets it ready for the highest deliverability. Warmy increases your sender's reputation by interacting with real people on your behalf.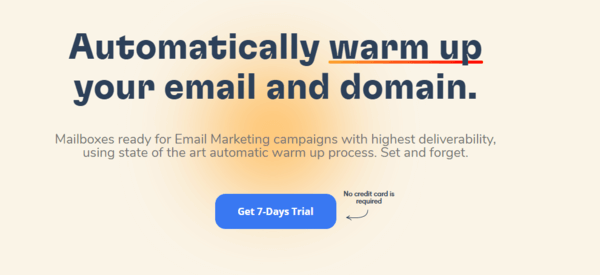 Warmy Key Features
Stay away from spam filters with great email reputation

Takes less than 25 sec to setup your account.

Just connect with your mailbox, rest it will take care.

Real mailbox and real people to increase deliverability.

Clear and transparent process report, stay informed and in control.

Automatically open sent messages and mark them as important to drastically increase sender reputation.

Comfortably integrate with popular email providers like Gmail, Outlook, SendGrid, SendinBlue, etc.

Provides various reports like blacklist reports, domain age reports, and more.

Best customer support team to answer your queries.
Pricing Plan
Free Plan – It offers 7day free trial including all features.

Paid Plan – It starts at $19/ month with unlimited features.
3. Sender Score – Sender Reputation Management Tool
Sender Score is a tool to check your sender reputation. Sender Score provides a number between 0-100 that tells sender reputation and how ISP looks at your email. Mailbox providers monitor a lot of metrics while determining sender reputation. That includes spam complaints, unsubscribes, bounces, blacklists, and more.
What is the right sender score you should have?
If the sender score is below 70 then need to work on your sender's reputation by following email marketing best practices.

If the sender score is between 70 – 80 then also it's not considered as a good sender score, there is room for improvement, and need to optimize your email program.

If the sender score is above 80+ then it's considered as a great sender reputation. Always try to keep the sender score above 95+ to get the highest deliverability. Also, you can apply for the Sender Certification program.
The sender score is completely free to check sender reputation and blacklisting. Make use of this tool to improve inbox deliverability.
4. MyEmailVerifier – Email Verification Tool
Cleaning your email list is very important to improve email deliverability and IP reputation. MyEmailVerifier is the best and cheapest email verification tool. Remove invalid, bounce, spam trap, greylist domain, inactive contacts, fake email addresses from your database. It helps you to keep your list clean and updated to increase the performance of your campaign.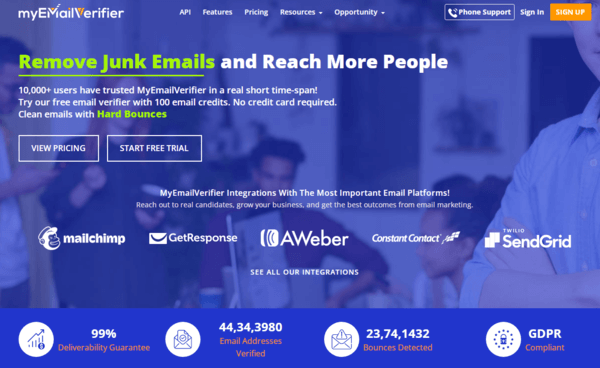 Key Features
Easy and simple to use

Get Up To 60% OFF

Budget-friendly and affordable email verifier

99% deliverability guaranteed

Compliant with the GDPR

Provides high accuracy and cleaned list

99% customer satisfaction

Easy integration with popular email platforms

24/7 Customer Support
Pricing Plan
Free plan – It provides 100 credits for free, makes use of it, and tests the accuracy of the email verifier.

Paid Plan – It starts at $1.44 for 500 email verification, you can pay as you go with affordable pricing for every marketer.
5. GMass Inbox – Free Inbox Placement Testing Tool
GMass inbox is an email deliverability testing tool that tells you where your emails are landing in Gmail. It has 20+ mailboxes with spam filters like Barracuda, Mimecast, and Sophos. It will tell where exactly your email is landing (Primary inbox or promotional tab or update tab or spam folder). If your mails are landing into spam in any of the mailboxes then there is room to improve your email campaign.
GMass Inbox is a free tool along with that it offers many other tools like mail merge, bulk email service, email extractor, email verification, and many more.
6. Mail-tester – Free Spam Score Testing Tool
Mail-tester is a free tool to check spam scores and the overall health of email programs. This is a must-have tool for every email marketer. It will detect spam content, IP, and domain reputation provides you with the spam score and suggestions for improvement. If your spam score is less than 6 then you have to change the content and remove spam words. Keep your spam score above 8 to get the best email performance.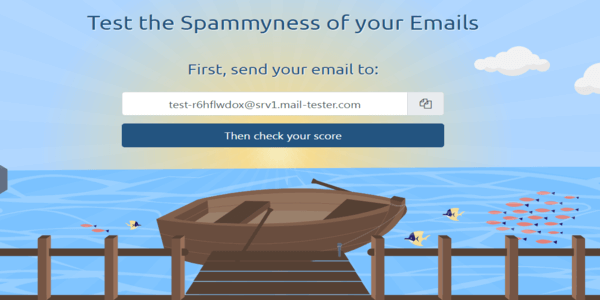 7. SendCheckit – Free Subject Line Testing Tool
Sendcheckit is a subject line testing tool that helps you improve subject and avoid including spam words in the subject line. This is a completely free tool anyone can utilize it to optimize subject line and deliverability.

8. Folderly – Email Deliverability and Spam Checking Tool
Folderly is an AI-based email deliverability management platform. It helps you to increase the open and click-through rate and make sure that your email lands in the customer inbox. Folderly fixes your spam-related issue with just 1 click, analyze your entire email system including spam words, spam filters, sender score, blacklisting, DNS setting, and more. It is a powerful email delivery tool, trusted by Titan, born & bred, Cemtrex, pibox, and more.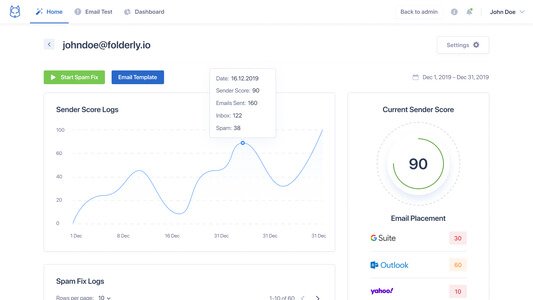 Key Features
Mailbox delivery tool.

Stops emails going to spam.

Analyze all spam words in your email copy.

Check SPF, DMARC, DKIM, and BIMI are set up properly.

Identify email deliverability problems and provide suggestions to fix them.

Easy integration with the most popular ESP.

Make use of the SPF record generator.

Best customer support team to help you.
Pricing Plan
Free Plan – It offers 7 days free trial and

Paid plan – For cold outreach (B2B) it cost you$ 160/month. And for B2c $8000/month with additional features.
9. Mailtrap – HTML/CSS Validation Tool
Mailtrap is a deliverability testing tool. It checks any spam element in your HTML and CSS. With Mailtrap you can validate your design code and do the changes according to their suggestion. And it is also check how your email is displaying in email clients. Mailtrap identifies issues related to design that harms your email performance.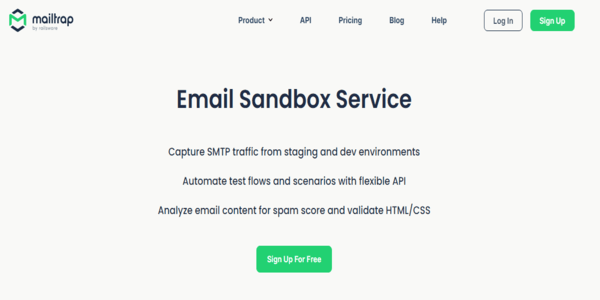 Key Features
Easy to setup and use

HTML code validation tool

Test your email in different email clients and devices

Get suggestions to improve your email design

Shared virtual inboxes
Pricing Plan
The free plan provides 500 test emails per month with all features and Paid Plan starts at $9.99 for 5000 test emails per month. Make use of the free tool and see the result after implementing it.
10. SocketLabs – SMTP Relay Service and Delivery Tool
SocketLabs provides a reliable SMTP relay service that scales your email deliverability. Just use the SMTP relay service it will take care of all your delivery-related issues.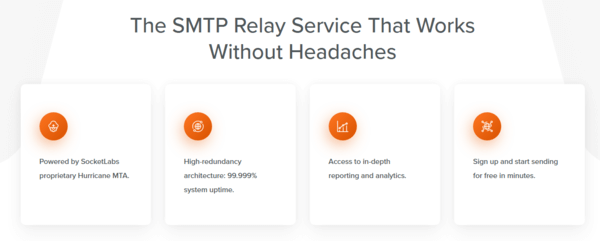 Key Features
Offers best SMTP relay service

Safe and reliable email delivery

Actionable insights

Provides dedicated an IP address

Automated IP Warmup

Suppression List Management

DKIM, SPF, and DMARC Support

Personalized support and consulting
Pricing Plan
SocketLabs offers 30 days free trial after that it will charge $39.95 for 40,000 emails per month. Pick any plan based on your need.
11. SendForensics – Email Deliverability and Security Tool
SendForensics provides advance email deliverability and security solution that help you to avoid spam folders and increase sales engagement. Just send an email to SendForensics ids, it will analyze the entire email infrastructure, content and give you a report and suggestions to improve your email program.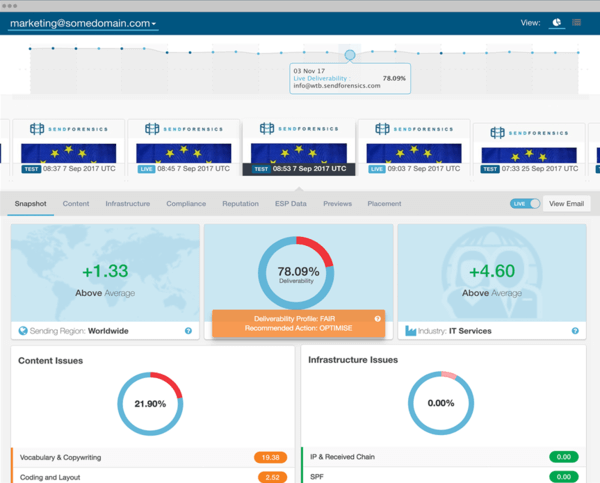 Key Features
Provides unique Pre & Post-Send report

Content Analysis & Optimisation

Infrastructure Analysis & Optimisation

ISP Reputation Analysis

Live Inbox Placement Testing

Email Client Preview Testing

Blacklist & Whitelist Monitoring

DMARC Compliance Verification

ESP Engagement Data Analysis

Deliverability Alerts
Pricing Plan
SendForensics offers free deliverability solution with limited features like testing, monitoring & deliverability alerts.

Paid pan starts at $39.00 /month with additional features like 2 Sending domains, content and infrastructure analysis, Blacklist monitoring, Inbox placement testing, ISP reputation analysis, and more.
12. MXToolbox – Mail Server Testing Tool
MXToolbox is a free mail server testing tool. With this tool you can check DNS MX records, domain, and IP blacklisting, SPF and DMARC records, reverse DNS (PTR) records, email health, and analyze an email header. Useful tool to solve deliverability and spam-related issues.

Key Features
Mail server testing

DMARC Record check

Blacklist check

SMTP Diagnostics

Inbound and outbound Mailflow monitoring

Email Health check option

Email Header Analyzer
Pricing Plan
It's a free tool to check the mail server status. But if you are looking for detailed delivery status then you can go for a paid plan that costs you $129 per month with problem-solving features.
13. Spamcheck by Postmark – Free Spam Checking Tool
Spamcheck is a simple and best free tool to check the spam score of your email. Just paste your email content and check your spam score for free. If the spam score is close to 5 or more then there is a high possibility your emails will land to spam.
14. Refine by Moosend – Subject Line Testing Tool
Moosend is a popular email marketing platform that provides end-to-end email marketing solutions. It also offers a free effective subject line testing tool to increase your open and click-through rate. Test your subject line and get an idea of how much open rate you can expect from your campaign.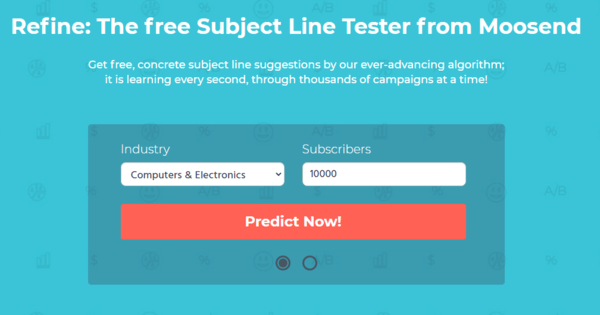 15. VWO – A/B Testing Tool
VMO is the best A/B testing and multivariate testing tools. Launch a new test through the VMO editor and find the winning campaign versions. Compare to other tools, this provides more efficient and effective results.

16. CoSchedule Headline Studio – Subject Line Optimizer
CoSchedule is a most effective headline and subject line analyzer tool that helps boost your traffic and open rate. Make use of this free tool to improve your subject line and optimize based on suggestions.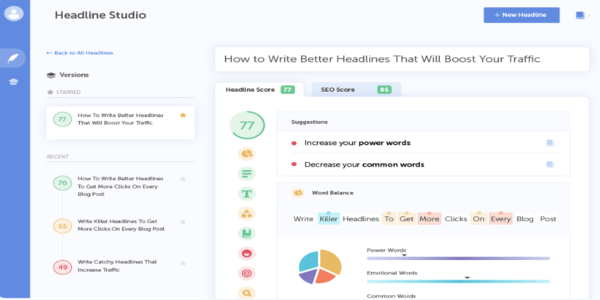 Conclusion
Email deliverability is a pretty complex subject and most people just ignore it. There are plenty of free and paid email deliverability tool that improves your deliverability and campaign performance. Choose a tool based on your deliverability issue that serves your purpose. Mentioned free email testing tools are useful and effective. Use these free email tools as a first step towards finding deliverability issues. After that use, the advanced level paid tool to improve your email performance drastically.