The holiday season is the best opportunity to increase sales and revenue. Every year holiday sales increases by 3.5%. A lot of company offers huge discount during the holiday season. Email marketing is one of the great ways to win back customers at a lower cost. According to Shopify, email marketing alone generates 28% of revenue during the holiday season. Holiday email marketing will give you an additional boost to your sales.
Email marketing plays a key role in promoting holiday season offer, especially for Black Friday, Cyber Monday, Christmas, and New Year. In this article, you will learn the best strategies and tips that will help you to make the most out of email marketing and boost your seasonal sales. We have also included holiday email marketing examples to get a better idea while creating the campaign.
Here are the Holiday Email Marketing Tips and Strategies to Boost your Sales and Revenue
1. Create Holiday List Calendar
Before planning a complete holiday email marketing strategy. Decide which all holiday you want to target in a year. Every country has its own holiday season and peak time for sales.
Create an email marketing calendar and list out all the holidays you want to target. Then start building a strategy based on a holiday theme.
If you are in the USA, the most important season is the end of November to early January, a two-month promotion time that make huge profit and sales for the year.
2. Analyze Last Year Performance
Reviewing past year's performance of the holiday season campaign give you a better idea of what to change this year. Nobody knows your audience better than you.
Instead of thinking ahead look back to your past holiday campaign performance and identify a top-performing subject line, call to action, promotional emails that lead you to higher conversion and sales. Now this year also replicate the same thing that worked well last year but makes some change according to trend and seasonality.
3. Keep Eye on Your Competitors
Subscribe to competitors' newsletters and look into their email newsletter strategy. Check how they write an email, subject line, CTA, etc., and use it in your email campaign. Do not send the same competitor newsletter to your subscriber, because it will damage your brand reputation. Just use the idea and create a newsletter better than your competitor.
If you have not subscribed to any of your competitors then use these tools Milled or MailCharts to analyze competitor newsletters.
4. Run Pre-Holiday Email Marketing Testing
Pre-testing is very important to run a successful holiday campaign. During the pre-testing period figure out the right holiday campaign strategy.
Few tests you should be conducted:
Test your Subject line: During this test, you will be able to identify the right subject line for your holiday email marketing campaign. Test be like offer vs. non-offer, personalize vs. generic, emoji's vs. non-emoji's, theme-based subject line vs. non-theme based subject line, short vs. long subject line, etc.
Promotion type: Identity what type of promotion strategy works better for your holiday campaign like $ off vs. % off, Shipping charge vs. free delivery, buy more save more, referral bonus, etc.
Time: Check the best time to send email to get more open rates during the holiday season. By sending emails at different times you can identify the right sending time for your business.

5. Offer Best Price During Holiday Season
The holiday season is mainly known for huge discount and clearance sales. Don't disappoint your customer to keep them engaged offer huge discounts than usual. Black Friday and Cyber Monday are the best time to provide deep discounts and attract more customers.
Email Marketing is the best and easiest way to reach your existing customer. Offer the best discount to loyal customers and get more sales.
6. Keep Simple and Clear Holiday Email Template
Create a simple and clear email that captures customer attention and drives more conversion. Focus on one thing that you want to tell your customer. Never offer too many things in one email.
Content should be simple, clear, eye-catching, and easy to ready. Customers will be having only two options either avail of the offer or ignore it. Usually, people just glance at the email, so create eye-catching emails that grab customer attention.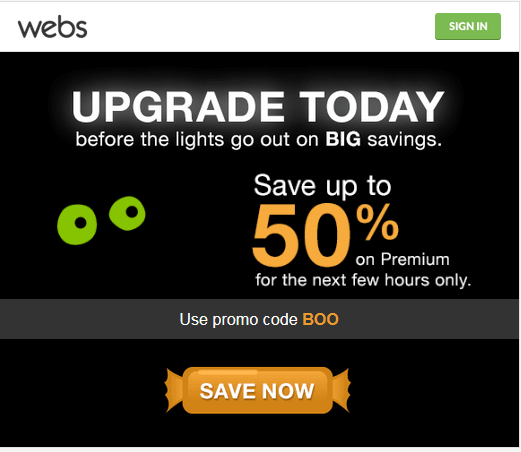 The above email is the perfect example of a holiday email template. Use this eye-catching creative and get more conversion.
7. Build Smart Email Workflow
Create a different workflow especially for the holiday campaign. Keep all customers in one list and nature them by adding into smart holiday email workflow. If your brand typically sends two or three emails a week. During the holiday period increase the frequency of your email.
Sometimes you can send two emails per day. For instance, on Thanksgiving day – send one email in the morning and another email in the evening. That way customers will see your offer two times that will grab their attention. Don't send the same content which you sent in the morning. Write different email copy based on holiday themes. Use this strategy for crucial occasions like Thanksgiving Day, Halloween, Black Friday, Cyber Monday, Christmas, etc.
8. Email List Segment
Sending emails to the right audience is very important in a holiday email marketing campaign. List segmentation will give you an opportunity to target the right audience who are interested in your offer.
Segment your list based on subscriber, loyal customer, location, industry, offer vs. non-offer, open vs. not open, clicked vs. not clicked, male vs. female, new customer vs. old customer, active vs. non-active, website visitor vs. non-website visitor, purchase frequency, abundant cart customer, etc.
For a holiday email marketing campaign, segment the list whom you want to give a huge discount, identify the right audience based on their interaction with your website. That shows buying intent for your product and services.
9. Trigger Holiday Email Campaign
Most of the marketers forget to implement trigger campaigns during the holiday season. A trigger campaign based on website interaction will help you to get more sales.
For instance, if your customer is surfing around your website, after a while you can trigger an email campaign with the best discount and offer.

Another example, triggering a campaign based on an abundant cart list.
Observe each and every customer interaction and trigger campaigns that drive more conversion. In the holiday season, you need to be more aggressive in your promotion strategy to reach your sales goal.
10. Write Best Holiday Email Subject line
The subject line will decide your email campaign effectiveness. To drive more visitors to your website you should have an optimized subject line to increase the open rate.
Make use of "power words" like order now, limited time, hot deal, last minute, last chance, promotion, saving, deals, discounts, best offer, 50% off, etc. during the holiday season. Also, you can use relevant emojis in your email subject line.
Another strategy is using a personalized subject line. Including the First name in the subject line increases the open rate by 26%. So make use of personalized tokens in your email marketing software.
Holiday Subject line Examples
Best (Cyber) Monday Ever!

Cyber Monday is here!

[Extended] Last Chance to Grab 65% OFF!

Cyber Monday Sale|Flash Sale|Flat 65% Off On Hosting

Get Your Black Friday Upgrade Deal Now

Black Friday is finally here.

Flash Sale Hours|Flat 65% Off On Hosting

[EARLY ACCESS] Get DigitalTech Black Friday Deal Now!

Get Early Access to Our Black Friday Deals!

Who else wants 30% off (only 72 hrs left)?

24 hours before it's gone forever

Black Friday sale extended! For now…

Flat 55% off deal inside this email, just for you

Get Hosting at 25% OFF (expires soon!)

Save room for Thanksgiving deals

A chance to win $100 inside!

You Unlocked Our Halloween Sale Early!

Prices Jump $350 Tonight.

More Deals For Cyber Monday! 9 Hours Left
11. Holiday Theme Campaigns
During the holiday season, many of the businesses change their home page or website theme based on holidays. Same thing you can create for your holiday email marketing campaign. Theme based email templates provide you with higher engagement than normal email. The best email examples from GoDaddy.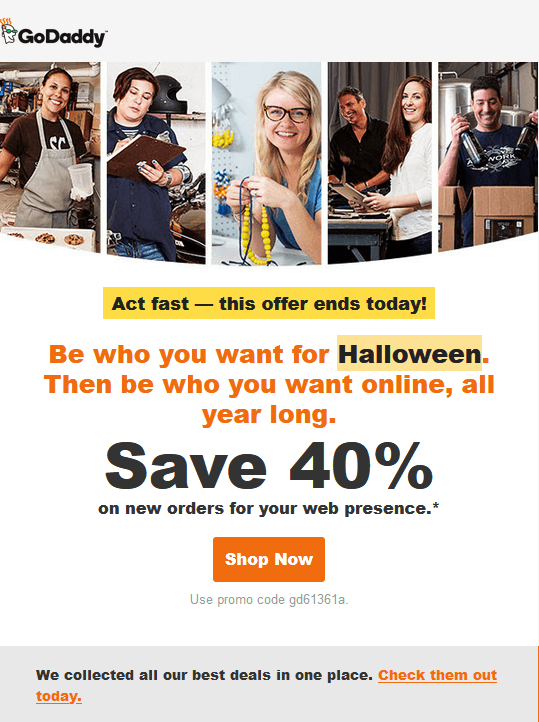 12. Create Sense of Urgency
Creating a sense of urgency in your email is the best way to boost your holiday sales. Create a valuable offer with an urgency that encourages visitors to buy your product.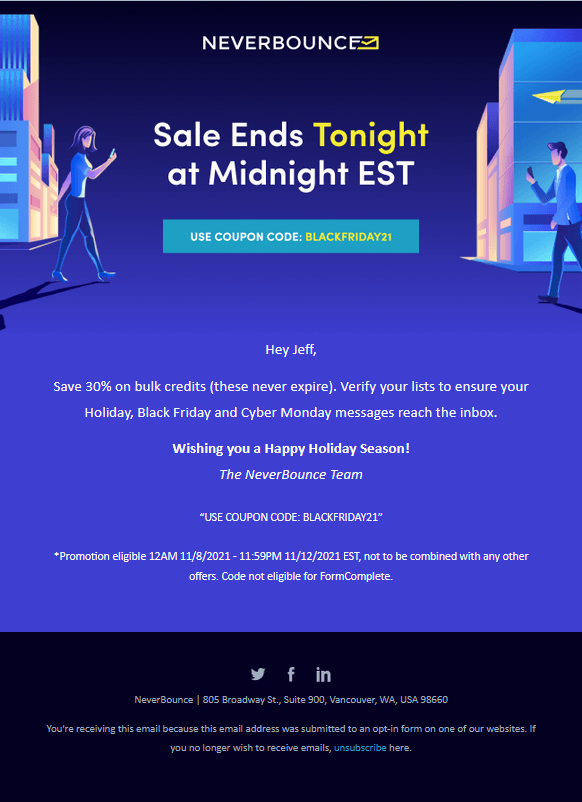 Another strategy is a reminder email. Time based offers are valid for a certain period of time, send a reminder email by saying the offer is "ending soon" or "1 hour left" which create panic and encourages customer to grab an offer within a limited period of time.
13. Specific Product Page
A holiday email campaign should be targeted to the specific product page you want to promote. Get website traffic to your best-selling product rather than the home page.
If you have too many products then segment your list and provide relevant offers to your customer. And also create a dedicated land page based on list segmentation.
14. Abandoned Cart Emails
Target abandoned cart customers by creating different segments and offering them special discounts to buy your product. Abandoned cart emails will help you to get the highest open rate and sales. Use abandoned cart emails to boost your holiday sales.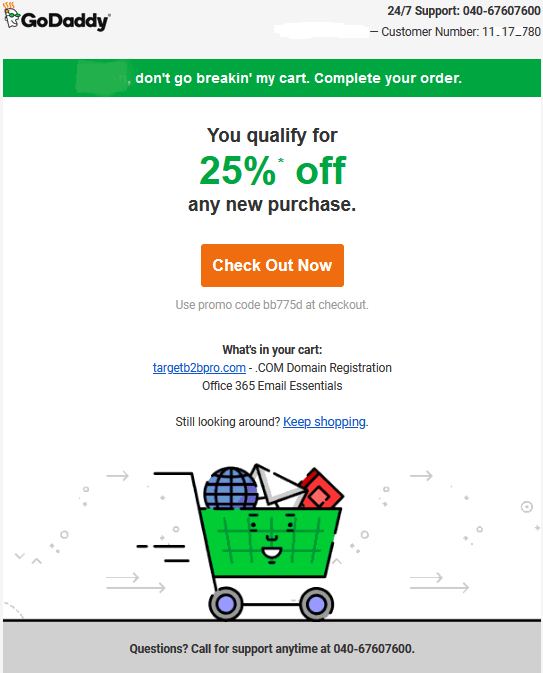 15. Track User Action
When you send a holiday email marketing campaign, track every action of the customer. Analyze how customers are interacting with the offer and plan how to optimize to get better performance from the campaign.
Create a trigger campaign with the tracking information, provide a personal touch and create the best holiday campaign.
16. Mobile Optimized Email
As everybody knows that your email should be mobile optimized. Because most of the people use mobile to check their emails. According to Statista 2020, 52% of people browse through mobile phones. So always use the mobile-responsive email that enhances customer experience, as a result, you will get outstanding performance from the campaign.
17. Add Social Sharing Button
Best way to get more exposure to your holiday email marketing campaign. Use the social sharing button in your email template and make your customer as your promoter. Usually, when customers see discounts or offer they share them with their friends and family. By including sharing button in your email makes customers' jobs easy.
18. Include Gif Image
Create eye-catching and attractive emails by including Gif images in your holiday marketing campaign.
19. Give Something Back
The holiday season is the best time to give something back to your customer. Provide free gifts, discounts, vouchers, free shipping that make customers happy and stick to your brand.
20. Have a Backup Plan Ready
Always keep ready with your backup plan, any time you can face uncertainty.
Suppose, if you have used the wrong promo code in the campaign or any grammatical error or website loading issue that creates a bad customer experience. So you should be ready with an apology email before the situation gets worst.

If your Black Friday/Cyber Monday campaign didn't work as expected. It is always best to have the next campaign ready to deploy if needed.

If you get the expected results from your campaign, then also give customers more time to take benefit of your offer. For example Extended offer, Limited period offer, Ending soon offer.

Conclusion
There is a lot of opportunities to optimize your holiday email marketing campaign. Implement a strategy that is relevant to your business. All the mentioned tips and strategy works for all the business. Make use of holiday email marketing ideas to get higher sales than last year.
The holiday season is a good time to increase profit and sales. So provide more importance to holiday email marketing campaigns. If you have any ideas then just comment below.