Personalization is trending all over the internet marketing, including personalizing websites, social media, Ads, and email personalization. All marketers trying this technique to increase conversions and sales.
Email personalization is an essential part of email marketing success. Personalized email makes prospects more engaged and massively improves email marketing performance. Using personal information of prospects and creating targeted emails will help you to increase open and click-through rates. And also prospects feel more special when they see the personalized emails in their inbox.
Some facts you should know before personalizing your email
Based on personalized experience 71% of customers take the decision to open and read the email. (

Dynamic Yield

)

Treat the customer as a person, not a number, because 84% of customers buy from personalized brands. (

Salesforce

)

90% of customers share their personal information to get discounts or goodies. (

SmarterHQ

)
An email with a personalized subject line produces a 26% more open rate and a 130% higher click-through rate compared to the subject line without personalization. Email Marketing Benchmarks report
1. From Name
From Name is the most important element of the email, that prospects can see once it reached their inbox. Many desktop and mobile users can see highlighted from name that helps to recognize the brand. 68% of Americans decide to open emails based on from name. So provide more importance to form name and personalize it.
Almost all email marketing platforms provide an option to personalize from name. But the question is what we can include in the form name?
You can use Company name or Brand name

You can use the CEO name or Owner name

You can use Offer names like BlackFriday offer,

You can use the Sales representative name

You can use the Topic name ( digital marketing tips, email marketing tricks, ad optimization, etc.)

You can use the Department name (sales, marketing, operational, etc.)
For Example

2. Personalize Salutation
This is the most popular method of personalizing email. Nowadays almost all marketers use this technique of personalization. Highlighting customer name or prospect name in the salutation provides a better user experience.
Before including the name in the email template you should format it properly. Name should not be in all caps or small letters, it should be in the proper format like Mike, Tracy, Vincent, or Sara. 
For Example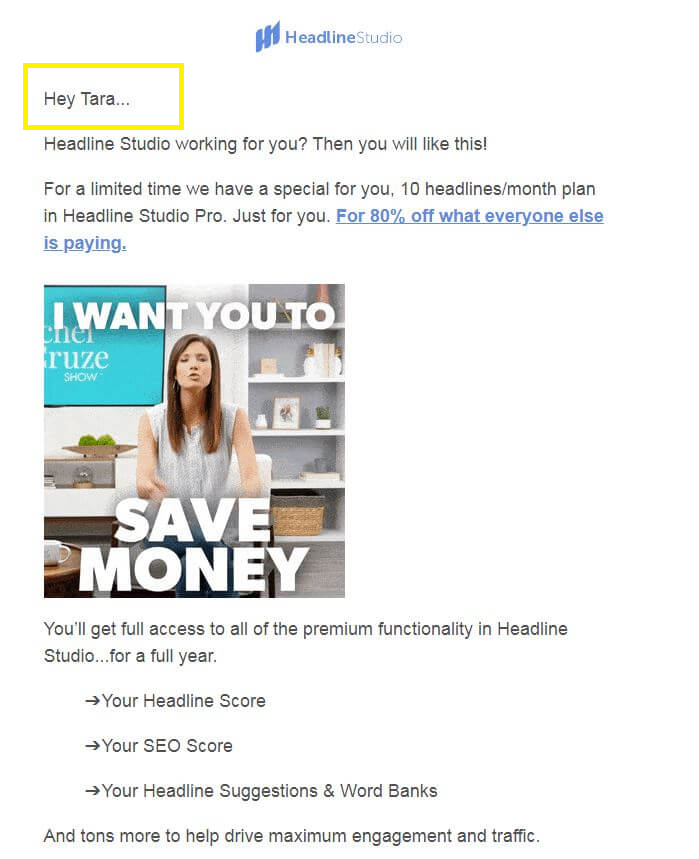 3. Subject line Personalization
Subject line is the key part of an email marketing campaign. Subject line with the personalization element offers a higher open rate and click-through rate. Personalizing subject line creates curiosity among prospects to open an email.
What all information you can include in the subject line?
Prospects Name

Prospects Company Name

Location

Downloaded content title

Website visited pages

Birthday and anniversary date

Transaction history
Few examples for the subject lines

– Tara, missed this? Snag your deal quick!
– Tara, do you write headlines or titles??
– A special promotion for Tara
– Could you let me know, Tara?
– Hey Tara! You earned half off!
4. Personalize Preheader Content
After the subject line, preheader content is the crucial element of email marketing. Most of the customers read emails on mobile but in many of the mobile devices, the preheader takes more space than the subject line. So always consider preheader for personalization. It will give you a few extra mileage for your campaign.

5. Image or Banner Personalization
This is the new trick to grab the attention of customers. Including customer name in the banner or image looks different and attract more customer attention. But how to create it? By using NiftyImages you can create dynamic images easily and effectively.
6. Email Domain
Email domain you can use for personalization. For B2C customers use generic ids like gmail.com, yahoo.com, hotmail, aol.com, etc. You can try to provide offers to only Gmail users and will see the difference in results. 
Also, it is more effective with B2B customers. You can target a particular company with their domain. And provide a special discount or offer to get more engagement and sales.
7. Personalized Timing
Personalize timing for each customer based on time zone and previous interaction, you can do it with marketing automation software. The major player in this space like Hubspot, Marketo, GetResponse, Aweber, Mailchimp provides this feature to optimize your send time. Also, you can select the perfect time based on past interactions with your campaign. Try this feature to optimize timing and get more engagement with customers.
8. Website Interaction
When customers download any of your website content or interact with any page. Based on that information you can personalize your next email. Send related to previous information consumed by customers. Create step by step nurture campaign that helps customers to learn more about your product and services.
9. Make use of Gravatar Profile Image
If you have the Gravatar profile of each customer, then you can use their Gravatar profile in email. Including Frist name and Gravatar profile makes a great combination, because it looks more special and different from other marketing emails.
10. Birthday and Anniversary
If you know customer personal information like birthday, anniversary then you can make a greeting email or special offer email on that occasion. This will create a memorable experience for customers and an opportunity to get more conversions. Here are the free responsive email templates you can use for the next campaign.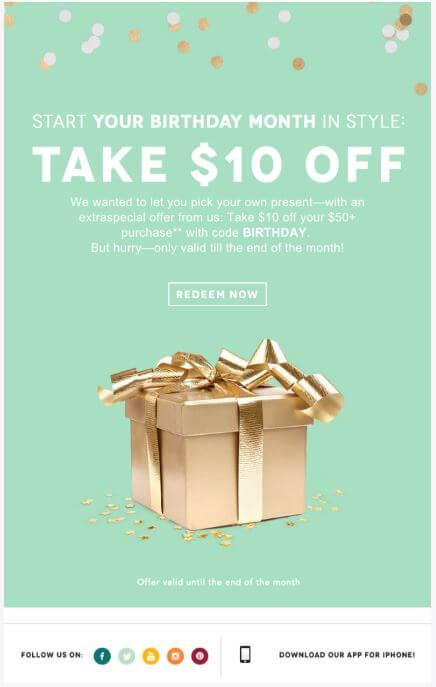 11. Purchased History
This information will help you to send suggestion emails based on previous purchases. Make use of purchase history and build a relevant offer or recommendation email that will lead to higher conversion and sales.
12. CTA Personalization
CTA is the most impactful component of email marketing. Once the customer reads the email CTA is the key to redirecting them into a relevant landing page or website page. Without effective and personalize CTA you can not make customers click on it. Segment list based on subscribers, leads, and customers. And personalize CTA according to the buyer's journey. You can use dynamic CTA and browser history to improve the user experience.
For instance, when you sending a promotional offer of 10% off on the computer accessories in your eCommerce store, personalize the CTA button based on which computer items specifically the customer has browsed previously.
Conclusion
Start personalizing your email beyond name and get enormous results. By personalizing email you can stand out from the crowded inbox. Implement these tips in your next marketing campaign you will definitely see the difference in results. Keep using new ways to improve customer engagement and interaction. If you have any new ideas or thoughts kindly suggest them in the comment below.