Email templates are the backbone of every email campaign. For every new campaign, marketers design attractive and unique templates to impress customers. 95% of customers love unique designed templates and they remember brands based on email design. If you want to get more interaction with your email campaign then you need to focus on design and content. A well-designed and responsive email template provide higher interaction and conversion rate. Now a day's most customer uses the mobile phone to check their email. So always make sure that pick a responsive email template for your campaign.
Designing a responsive email template from the scratch is a difficult task and time-consuming. When you design a unique email template for every campaign, sometimes you drain with your design ideas. So that's why we have compiled a list of free sources for responsive email templates.
Download 1000+ free responsive email templates and use them in your next campaign
1. BEE Free
BEE has the awesome drag & drop editor for designing mobile-friendly and responsive emails. It has over 200+ free email templates. A simple and easy-to-use platform for designing beautiful emails. Once you are finished with the design, just export a zip file that includes HTML and your images. And use it in your ESP platform.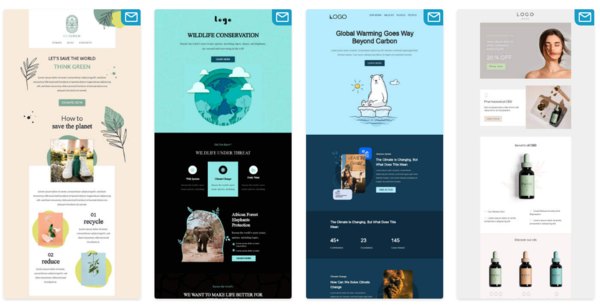 Stripo is an email design platform that provides free responsive email templates. In the free plan itself, you will get access to 1400+ email templates. You can also edit custom modules and design mobile-friendly templates. With just one click it can easily integrate with your email marketing platform. You can also test your email messages across 90+ devices and email clients.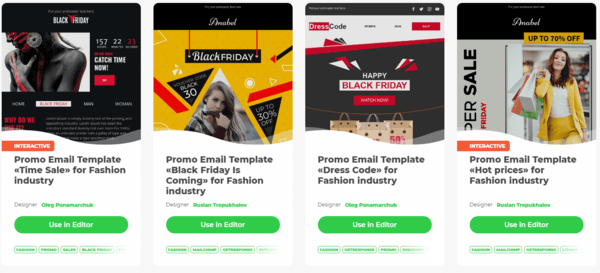 3. Unlayer
With the Unlayer you can create beautiful, responsive emails and web pages without coding and designing skills. Its online drag and drop builder will help to create responsive emails and save a lot of time. Comfortably integrate with the popular email marketing platform. It has ready to go template for every requirement.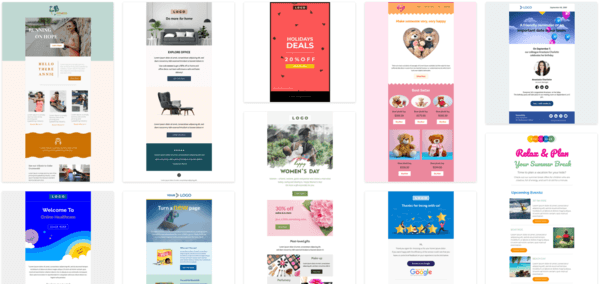 4. Knak
Knak is another email template designing platform. Create beautiful brand emails and landing pages in minutes. Offers 50+ free templates for e-newsletters, email marketing campaigns, promotional emails, and more. Easily integrate email templates with Salesforce Marketing Cloud, Pardot, Marketo, Eloqua Adobe Campaign, and more.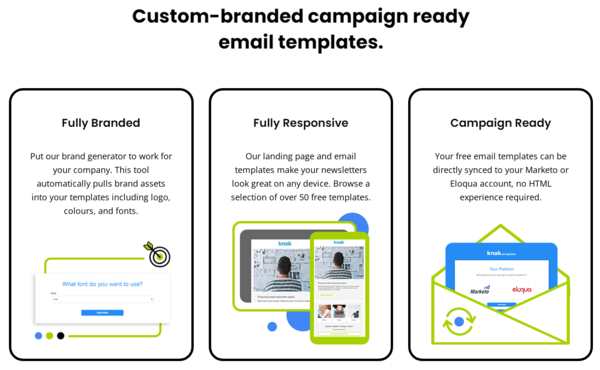 5. TOPOL.io
TOPOL.io offers a free responsive email design template. It has a lot of new variety of email templates that grab customer attention. Also easy to create and export templates into HTML. Use their API to integrate with any email marketing platform and create attractive and good-looking emails. It has over 30+ email templates available for free.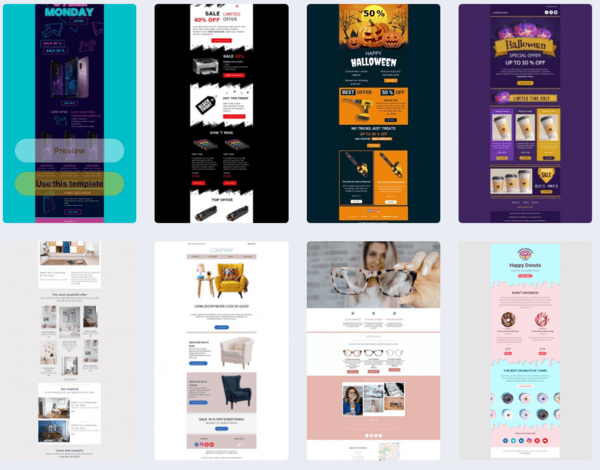 6. Dyspatch
Dyspatch is one of the leading email creating platforms that help the marketing team deliver the next-gen interactive experiences. Increase engagement with dynamic and interactive email design. Create mobile-friendly and responsive emails without writing code. Flexible integration with email service providers. Also preview your email design with email clients, devices, and even dark mode.

7. 99Designs
99Designs is another source that offers 45+ free email templates. Make use of this platform to create appealing email templates and stay connected with your customer.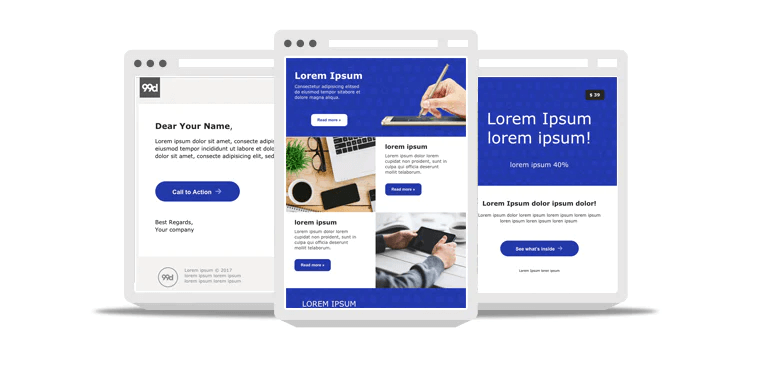 8. GraphicsFuel
GraphicsFuel provides free email templates, images, graphics, logos, vectors, and more. It is the best source for marketers and designers to find relevant design and creative. It offers a clean and crisp email template that includes multiple modules, comes with a PSD file.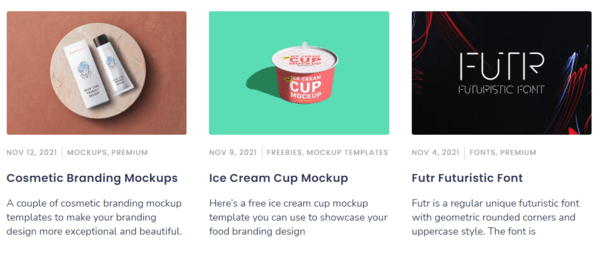 9. Campaign Monitor
Campaign Monitor is wonderful email marketing software along with that it offers attractive and appealing email templates. All Campaign Monitor templates are responsive, optimized, and mobile-friendly. You will get here best-designed template to grab customer attention.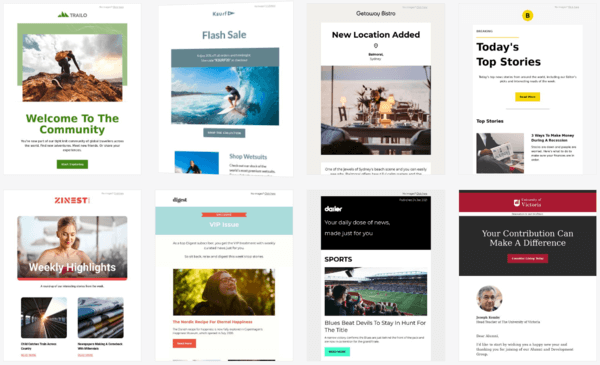 10. Litmus
Litmus is another best source to grab free email templates. It has over 36+ free modern email templates that help you to keep your customer engaged. Litmus provides templates based on the requirement, it has a template for the announcement, product lunch, ecommerce, account management, promotion, and marketing emails.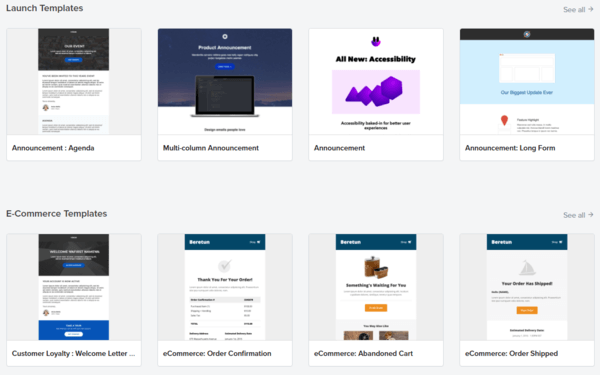 11. Pixelbuddha
Pixelbuddha is a free and premium design source for marketers and designers. Here you will get 16 free responsive and ready-made HTML templates that can be easily used in your campaign. Apart from email templates it also offers animation, vectors, photos, effects, graphics, logo, and more.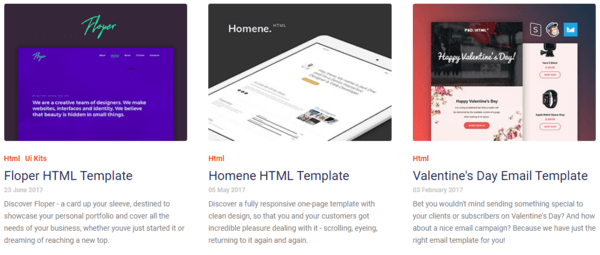 12. ActiveCampaign
ActiveCampaign is a superb email marketing platform, provides excellent email marketing features that produce higher responses. ActiveCampaign has a great collection of email templates that can be customized according to your requirement. It offers over 125+ email templates that are new, optimized, and user-friendly emails.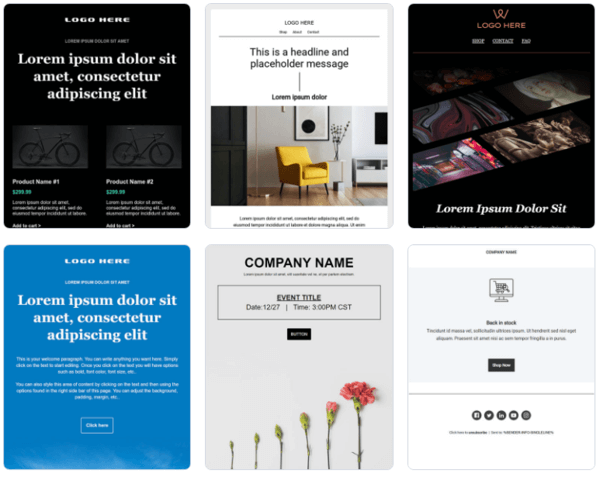 13. Colorlib
Colorlib offers a wide range of WordPress themes, website templates, and email templates. Just download free email templates and use them in your next campaign.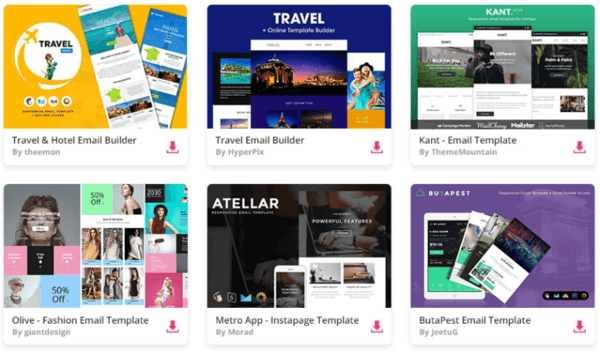 14.  CakeEmail
Basically, CakeEmail provides email marketing and transactional email services. It also has a good collection of free newsletter templates that can download and use for your marketing campaign.

15. SendGrid
SendGrid is a leading email marketing platform that offers email automation, SMTP service, email validation, signup form, and more. In SendGrid you will get a professionally designed free responsive email template for every occasion, choose and download any of the templates from its platform.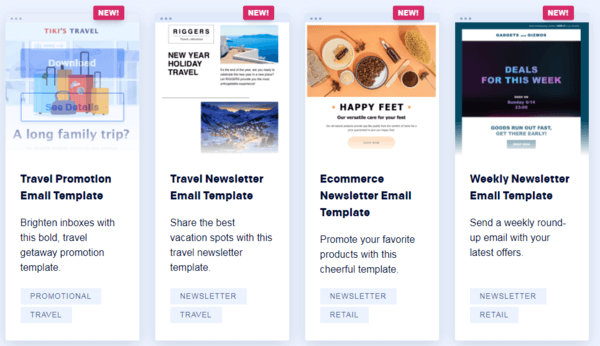 16. MailBakery
MailBakery is another source of finding responsive newsletter templates for free. It provides dedicated design and coding services for email newsletter templates. Capable of designing dynamic and complicated coding templates. It has attractive and beautiful designed templates for every business. It offers free templates, as well as premium templates, use according to your design requirement.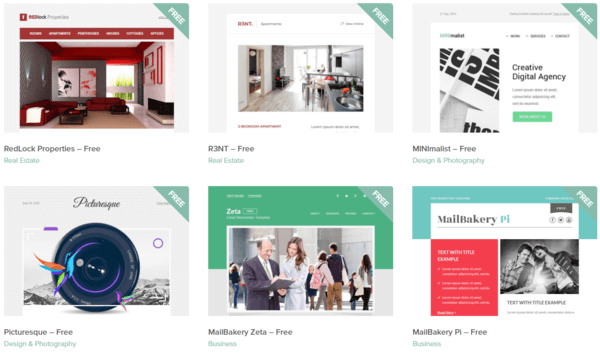 17. W3Layouts
W3Layouts provides mainly WordPress themes and website templates built with the latest design techniques. It has a beautiful collection of email templates that you can use in your campaign.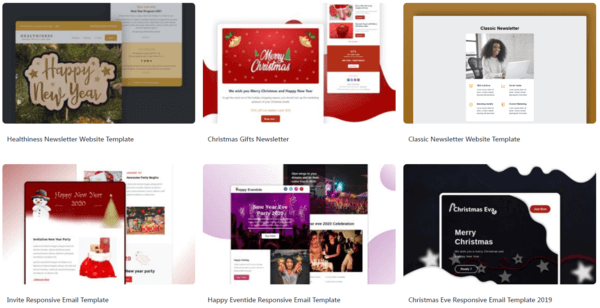 18. ZippyPixels
ZippyPixels has a lot of web templates, mockups, graphics, logos, and email template collections. Make use of the ZippyPixels design store and pick your design according to your requirements. But when it comes to free, it has only one email template specially designed for MailChimp and Campaign Monitor.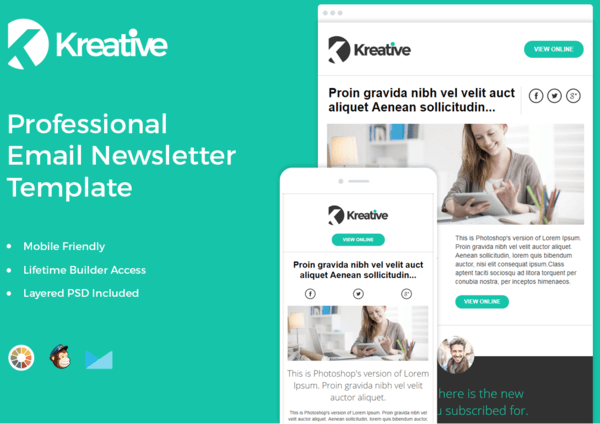 19. GetResponse
GetResponse is one of the powerful tools for email marketing that has everything to run an online business. It has 500+ responsive design collections that can be used in any of your email marketing campaigns. Just signup for free and take a look at the beautiful template collection.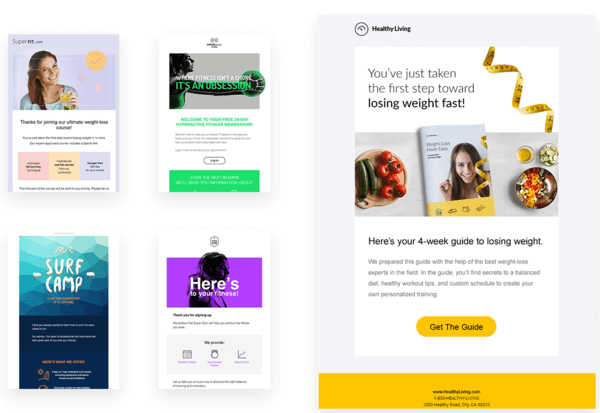 20. Vero
Vero is the best free HTML & MJML templates provider. Get a responsive email template for free and help your team to send more emails quickly and efficiently. Select any template and download it in HTML or MJML format.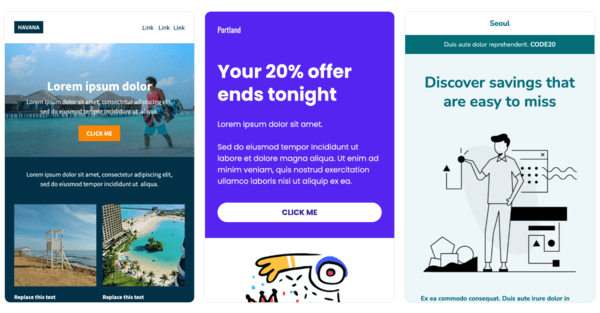 Conclusion
All mentioned site in this article offers free responsive email template. Now at least stop sending boring emails, make use of all the resources to design an attractive, creative, responsive, and appealing email that converts leads into a customer. The success of any email marketing campaign depends on content design and target audience. Give importance to design and list segmentation that will produce a higher conversion rate. If you know any other free source for email templates, just comment below.