You've come to the right place if you're looking for a way to send bulk emails to promote your products and services. This comprehensive guide will walk you through every step of sending bulk emails at a lower cost. After reading this article you will able to send 100,000 emails at the lowest cost.
Every marketer wants to send bulk emails to maximize sales and ROI. But some marketer uses bulk emails for spamming and they fail to deliver messages to subscribers' inbox. Every day 333 billion emails are sent and received. In that, only 28% of emails actually reach the inbox. Every day, an estimated 135.4 billion spam emails are sent. So marketers must look into these statistics carefully before sending mass emails.
In this step-by-step guide, you will understand how to send bulk emails. And also a factor to be considered while sending bulk emails. Sending mass emails is challenging and sometimes it is risky but if you follow email marketing best practices then it is an easy task.
What is bulk email?
Bulk email is the practice of sending the same message to a large number of people. It's also known as mass emailing.
The bulk email includes:
Sending a newsletter to subscribers

Sending promotional or offer emails to a large number of groups

Sending new updates regarding products and services

Sending emails without personalization

Sending retention emails to an existing customer
Are bulk emails and transactional emails the same?
No. Bulk emails are sent to acquire new prospects or customers. And also sending the same message to a huge number of contacts.
Whereas transactional emails are sent to existing customers based on a specific event or action taken by users.
For Example, Once you ordered products in an online store. After that, you will receive order confirmation emails. It's called transactional emails.
Another example is, Once you make the payment you will receive payment confirmation emails. This is also called transactional emails.
In a transactional email, email content changes based on the user's purchase or order. That's why its a different from bulk emails.
Is bulk email the same as spam?
No. Sending bulk emails is not spam. Sending emails without the prospect's permission is called unsolicited and spam emails. Most of the spammers send emails in bulk which does not mean bulk email is spam.
Bulk email is sending relevant emails to opt-in or permission-based contacts. It can be sending the same message to 10k, 20k, and even 100k contacts. Every country has spam laws based on that you should decide to send mass emails.
In Europe, sending emails without permission is illegal. You will get penalized according to GDPR law. You should take consent before sending it to prospects.
In the United States, you should follow CAN-SPAM law in that for every email you send there needs to be an unsubscribe link. You should send emails to only opt-in contact who subscribe to your blog or website.
These are the major spam laws you should follow. Each country has its own spam laws. You can read about the spam laws of your target countries. If you strictly follow spam laws guidelines then your email can not be considered as spam.
How does bulk email work?
Bulk email works the same way as you send emails from Gmail or Outlook. The only difference is in Gmail and Outlook you can send one email at a time. But in bulk email, you can send as many emails at a time with personalization.
Factor to be considered while sending bulk emails
1. Email Authentication
Before sending bulk email campaigns you must update SPF, DKIM, and DMRCA records. So that you can prevent your domain from phishing and fraudulent activities.
2. Warmup Your Email
While starting your campaign you need to warmup your email domain by sending fewer contacts. You can use email warmup tools to warmup your domain effectively. Warm up process helps you to boost your email deliverability.
3. Permission-based Contacts
Always send emails to permission-based contacts. Permission-based contacts are opt-in contacts who are subscribed to your blog or website. Never buy a list or third-party contacts it harms your sender reputation and deliverability. Most of email marketing software providers do not allow you to send emails to purchased lists.
4. Make Changes in Email Content
While sending mass emails do not use only one template. Use multiple templates if you are sending more than 10,000 emails. At least create 4-5 different templates and change them in regular intervals.
Make use of A/B testing features it helps you to optimize your campaign and prevent your email from spam filters.
5. SPAM LAW Guidelines
Every country has spam laws that you need to follow carefully to avoid penalties. Sending bulk emails is not important but reaching to the right audience is very important. If you want to send emails without facing any legal obligation then you need to follow spam laws.
Here are the major countries' spam laws guidelines have to understand.
6. Keep Your List Clean
If you are sending a large number of contacts then you need to make sure your list is clean and up to date. A high bounce rate can impact your campaign results. Make use of email verification software that helps you to reduce bounce rates and improve response rates.
7. Email Personalization
In today's world everywhere you can see personalization and email personalization is one of them. Email personalization is not just including the customer's name in an email. There are many ways you can personalize your emails. That includes customer behavior, interest, industry, country, engagements, buying patterns, and more.
8. Avoid Spam Words
Never use spam words in your email body and subject line while sending mass emails. Because spam filters are more sophisticated can easily identify emails as spam. These are spam words you should avoid using in your email.
Free

Credit

Cash

Discount

Act now

Dollars

Million and Billion

Extra

Prize

Cheap

Clearance and more.

9. Use an Engaging Subject line
Writing subject lines sometimes becomes a headache. You will run out of ideas to write the subject line. And start using the same subject line for every campaign. Never do this mistake, use an engaging subject line for every campaign. With a catchy subject line, you can easily increase the open rate and campaign performance.
You can use a free email subject line generator to create an engaging subject line.
10. Test Email Spam Score
For every email campaign, you need to check your email spam score to get better deliverability. You can use GlockApps for free to test your email spam score. Email spam score matter most when sending bulk emails.
How to send bulk emails?
Now coming to the point, How to send bulk emails? There are many email marketing software available to send bulk emails. But today I will share with you the cheapest method of sending mass emails. Basically, there are 4 methods you can use to send bulk emails at the lowest price.
1. Bulk Email Marketing Software
2. SMTP Server Provider
3. Desktop-Based Bulk Email Service
4. Setup Own Email Marketing Platform
Let's check out each method in detail.
#Method 1. Bulk Email Marketing Software
As you are aware there are many email marketing software which is effortlessly available with super features like segmentation, email builder, automation, heatmap, send time optimization, A/B testing, advance reporting, personalization, and more.
We are not considering major players in email marketing platforms like GetResponse, Moosend, AWeber, ActiveCampaign, and many others. Due to the fact they may not be suitable for sending bulk emails in a cost-effective way.
Now, what is the option to send bulk emails?
Mail250 is a simple and fantastic bulk email marketing platform. At a nominal cost, you can send millions of emails. Create an account with Mail250 to maximize your profits by sending bulk emails. Read Mail250 review here.
Why you should use Mail250?
To send millions of emails at the lower price

You can upload unlimited contacts

Simple and easy-to-use interface

Easy to start and setup

Designed to send only mass emails

To minimize your marketing cost
Pricing Plans
Mail250 offers an affordable pricing plan that is suitable for startups, small businesses, affiliate marketers, and bloggers. It comes with two standard pricing plans. Startup Plan and SMB Plan.
1. Startup Plans
Mail250 Startup Plans start at $20/ month that includes Unlimited contacts, Send up to 100,000 emails, SMTP support, Automated Warmup, Email Scheduling, Technical Support, SPF/DKIM, and more.
Here are the details of the pricing plan. Choose the plans that best suit your requirements.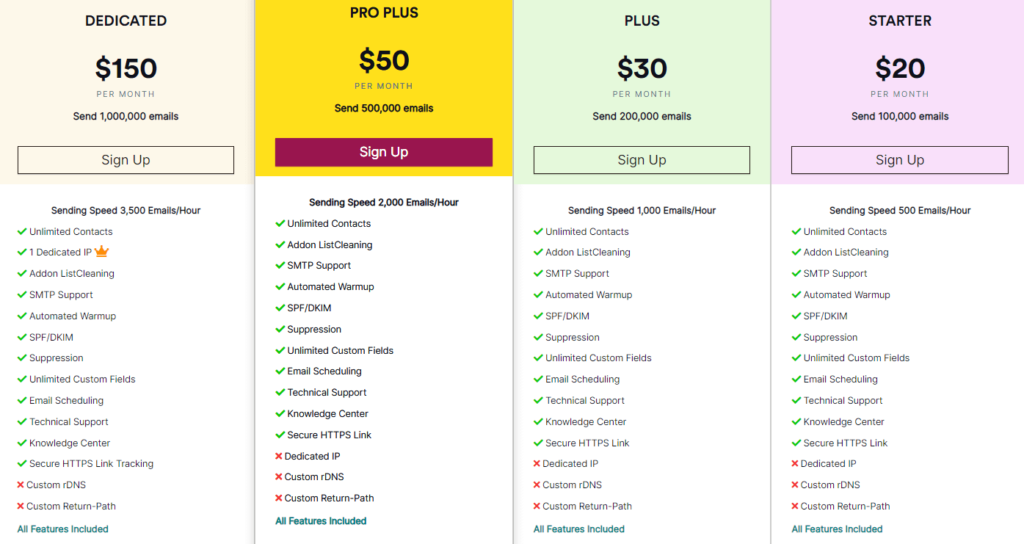 2. SMB Plans
Mail250 SMB Plans are suitable for the enterprise, experienced marketers, and high-volume senders.
Here are the pricing details.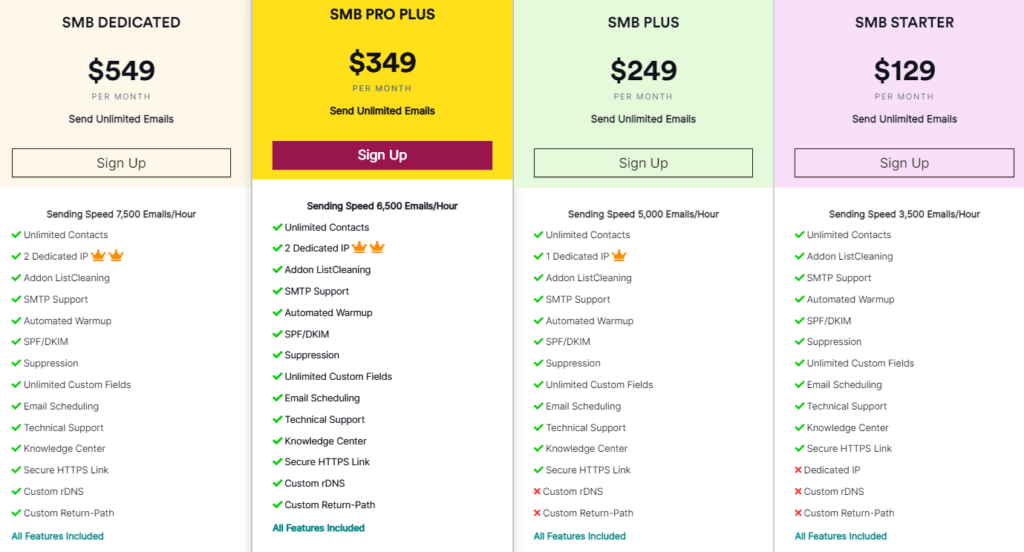 Pay only for sending your emails not for features. Mail250 has excellent AI-power infrastructure to boost your email deliverability.
How to use Mail250 to send bulk emails?
Use these four quick steps to send bulk emails the right way:
#Step 1: Signup for a free and Create an account
First, create an account in Mail250 for free then setup your email setting.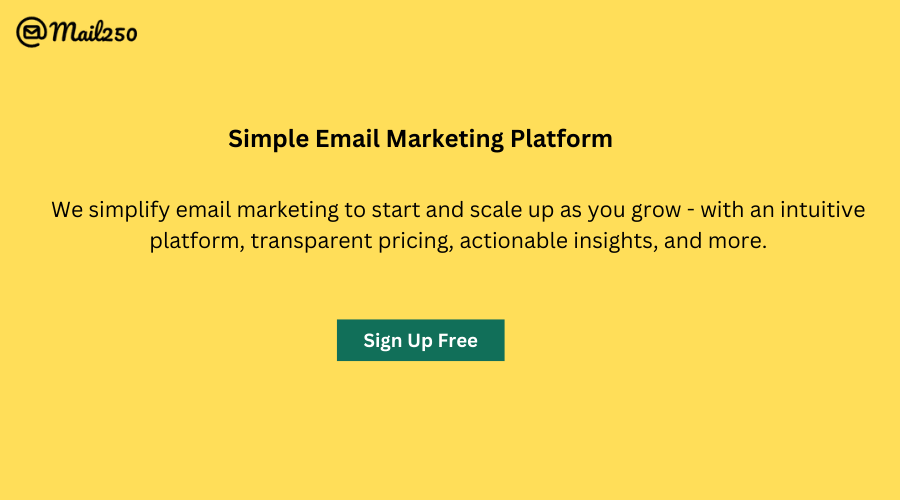 #Step 2: Upload the contact list
Import verified contacts in the Mail250 platform.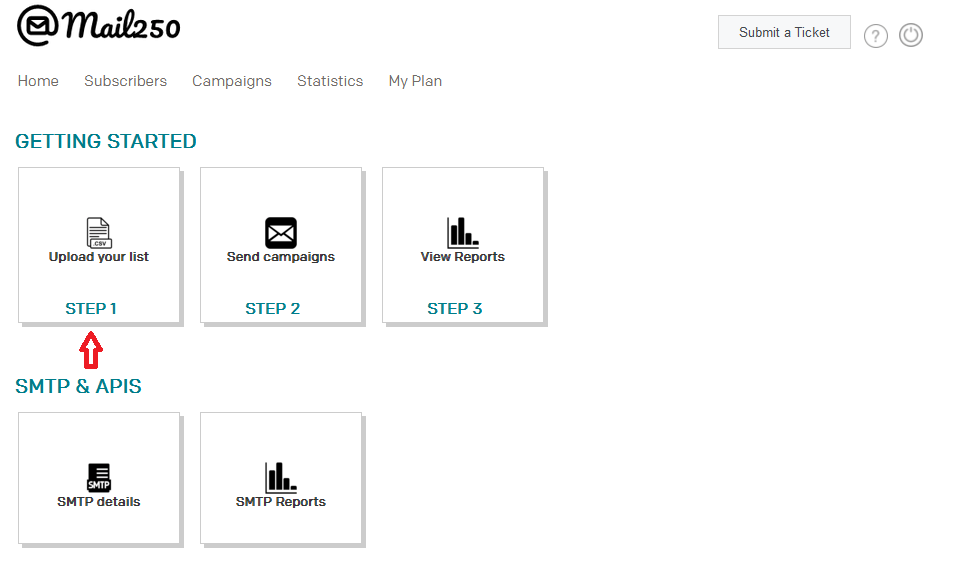 #Step 3: Create an email campaign
Provide sender name, email address, and reply to email address. Then create a template and add a subject line.
After that, add your target list in the campaign.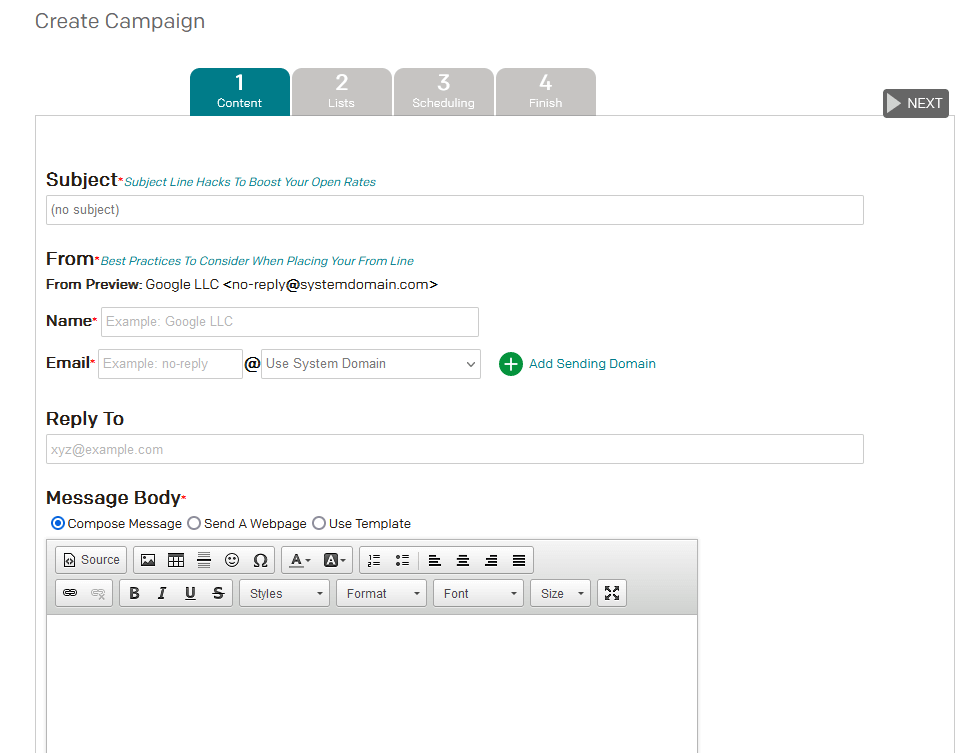 #Step 4: Send your campaign
It's time to send a campaign. You will get two options to send now and send later.
In Send Now, you can send a campaign immediately. 
In Send Later, you can schedule a campaign for future dates and times.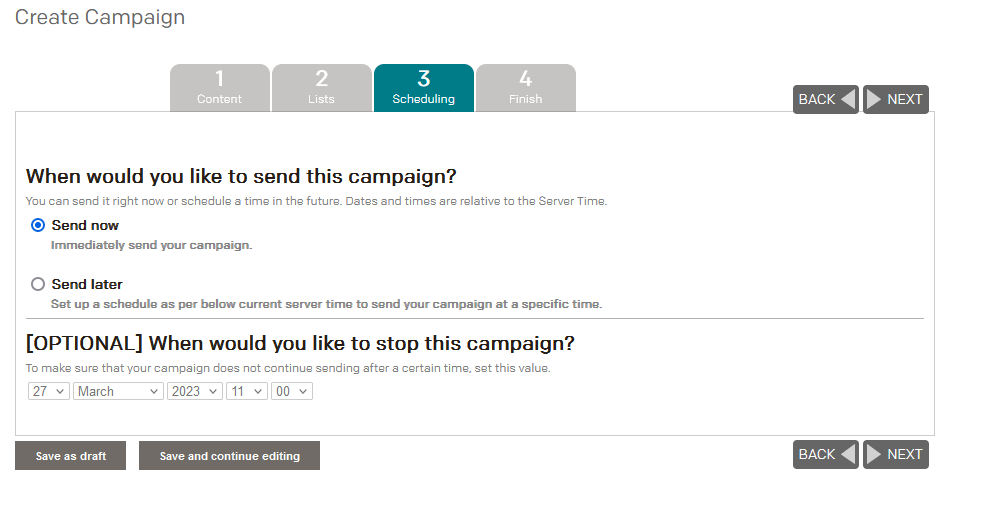 Mail250 is the cheapest bulk email service available in that market. So make use of bulk email service and maximize the ROI of your email campaign.
#Method 2: SMTP Server Provider
By using an SMTP server provider you can send mass email campaigns. SMTP means (Simple Mail Transfer Protocol) which is a standard protocol used for sending emails on the internet.
The best SMTP server provider is Amazon SES.
Amazon SES is a reliable and flexible SMTP service for developers and marketers to send marketing emails, automated emails, and transactional emails.
Amazon SES offers up to 62,000 emails/month for free. But it's available for Amazon EC2 users. otherwise, you can send 2000 emails /month.
However, Amazon SES pricing is the lowest in the industry. To send 1000 emails, it will cost you $0.10.
Similarly, to send 100,000 emails, it will cost you just $10.
But cath is you will not get front end system to send emails. Either you have to rely on EmailOctopus, Sendy, BigMailer, MailWizz, and more. These email marketing tools are designed to integrate with Amazon SES.
Even though using the additional tools, Amazon SES still costs you cheaper than major players in the market like Mailchimp, Converkit, Constant Contact, Hubspot, Pardot, and more.
These are the other SMTP server provider you can also consider to send mass emails.
SendGrid

MailGun

SparkPost

ElasticEmail

SMTP2Go
#Method 3: Desktop-Based Bulk Email Service
This is another method you can use to send mass emails. Download and install bulk email software on your desktop. For this directly you can not start sending emails because most of ISPs (internet service providers) do not allow outgoing port 25 to send emails.
However, to send emails from the desktop app you need to purchase bulk email service providers like Mail250, Amazon SES, or SMTP2Go. Use their SMTP login credential to send mass emails. It is still worth sending bulk emails at a lower cost.
These are the Desktop based bulk email software you can try.
This is not an effective and reliable method of sending an email campaign. Because it will directly impact your IP and email reputation. It's complicated to maintain and might face deliverability issues.
#Method 4: Setup Own Email Marketing Platform
I know it's not an easy method to setup your own email marketing platform. But it's possible and a reliable solution to send bulk emails. Benefits of using your own email marketing platform.
Using Mautic you can setup complete marketing automation software. Mautic is a free open-source platform that is available for everyone. To use this you should have technical knowledge. It's not recommended for beginners.
It's suitable for sending automation emails, bulk emails, trigged-based emails, transaction emails, newsletter emails, and more.
Here is the complete video you can watch to setup the Mautic marketing automation platform.
Conclusion
We tried to cover all possibilities of sending bulk emails. If you are looking for an immediate solution for bulk emails then Mail250 is the best option for sending tons of emails. But never forget to follow the email marketing best practice to maximize your campaign performance.
Make use of this guide to send an email campaign that generates higher profits and sales. In this guide, we have mentioned the easy and complicated methods of sending emails. But you can choose any method that is suitable for your business.