Inbox placement plays a major role in the success of email marketing campaigns. The inbox placement tests ensure your reaching to designated inboxes. Every marketer should run an inbox placement test to get a better campaign response. Deliverability metrics are the most important factor to be considered by marketers. 
Every marketer faces email deliverability issues due to sending a high volume of emails and not following email marketing best practices. But few of them follow every best practice of email marketing then also their email fails to reach client inboxes. 
Because email deliverability depends on these factors email authentication, sending IP, sender reputation, spam score, content, email engagement, blacklisting, HTML code, and more. If everything is perfect then there is a high chance of delivering your messages to the client's primary inbox.
What is inbox placement?
Inbox placement is the placement of your email in the customer's inbox. Email client service providers like Gmail, AOL, Yahoo, Outlook, Apple Mail, and more. They have different inboxes for different content categories.
For Example: In Gmail, you will get a primary, promotions tab, social, and spam folder. Based on your email content and sender reputation Gmail algorithm will decide your inbox placement.
Suppose you are sending promotional content or discount email, Gmail can identify it as a promotional email and deliver it to the promotions inbox.
In some cases, based on a bad sender reputation Gmail bot identifies the email as spam that directly goes to the spam folder.
Similarly, every email client has their own algorithm to prevent client inbox. The number of emails that reach the customer's primary or focused inbox you will see a higher success rate from your email campaigns.
How to improve inbox placement?
If your campaign gets a meager response rate then there is scope for improving inbox placement. Email deliverability, content, and inbox placement are responsible for low engagement rates. These are the best practice you can follow to improve inbox placement.
List cleaning to avoid spam and blacklisting
Clean your list regularly to maintain high email deliverability. List cleaning is an important factor to improve your inbox placement. Remove bounce, inactive, spam trap, unengaged contacts, and spam complaints from your email list. Maintain email list hygiene to run a successful email program.
Make use of email verification software to clean your email list. It helps to remove inactive, spam traps, hard bounce, invalid, catch-all emails, spelling errors, and greylisted domains. Sending emails to a verified and accurate list provides more confidence to markers. Easily your emails can escape from spam folder.
Create a seed list to identify any deliverability issue
A seed list is the list of email addresses of your internal contacts that include colleagues, friends, and relatives. Send test emails to the seed list and see the inbox placement of each person by asking personally. With this activity, you will be able to identify any deliverability issue in your email.
This is the must-have step for every email marketer to improve the inbox placement of your email. A seed list is the first step you should follow before sending your actual emails.
If you are receiving spam complaints regularly that means subscribers are not interested in your content or your unsubscribe link might not be working. First, you should check the unsubscribe link and stop bombarding emails to subscribers.
Second, you should revise your email content strategy and need to think beyond promotional emails. You should also maintain email frequency to once a week or once in 15 days. This way you can reduce spam complaints and improve inbox placement.
Keep eye on your engagement metrics
Your engagement metrics are the sign of your email campaign performance. Engagement metrics matter the most for email deliverability. In recent times, spam filters have become more sophisticated and determine your engagement metrics to decide your inbox placement.
Even though you write engaging content. However, subscribers are not opening or clicking on your email which affects your email deliverability. Engagement metrics are open, clicks, adding to safe sender list, forward rate, reply rate, and more. These are the factors ISPs consider before inbox placement. A higher engagement rate automatically improves your inbox placement.
Always provide attention to engagement metrics. A sudden drop in engagement rate is a serious issue for marketers. Generally, the engagement rate reduces gradually so take the right action when it happens. It is always better to use tools like GlockApps that take care of your email delivery and inbox placement.
Provide an option to update preference
You should give authority to your subscriber to update their preference. Implementing the email preference page provides an option for subscribers to pick a choice of content and email frequency they are interested in.
By providing an email preference option, you can plan a content strategy to engage subscribers. This way you can effortlessly maintain high email deliverability and inbox placement. Many marketers do not consider these best practices. Without informing subscribers they start bombarding emails which leads to spam.
On the preference page, you should tell the subscriber what type of content they will be receiving and what time and day they can expect your email. This way subscribers will recognize and provide greater importance to your email.
List segmentation is the most common factor for improving inbox placement. Segmenting the audience list into groups creates more impact on an email marketing campaign. There are 3 ways you can segment your audience list.
1. Demographic includes age, marital status, family size, occupation, education, income, religion, and more.
2. Behavioral includes open, clicks, website activity, lead score, unengaged, unsubscribe, bounce, inactivity, purchase, loyal, and more.
3. Geographic includes city, state, country, region, zip code, and more.
This is the best way of segmenting a list to run an effective email campaign. To get better deliverability exclude contacts who're inactive and have not been engaged for three months.
Most of the ESPs automatically remove unsubscribes and bounces from your list. So you should make the right segment to deliver the right content that improves your email interaction.
Email authentication is the technical solution that makes sure your email is not forged. Basically, it is a process of verifying the email that comes from who it belongs. Email authentication is used to prevent phishing and fraudulent activities.
Your email must authenticate with SPF, DKIM, and DMARC. In case your email is not authenticated with the technical standards then you might face deliverability issues.
Take the help of a website developer and updated domain records according to email authenticate standards. These are the common tactics to improve inbox placement.
Read more on improving your email deliverability here.
How to test inbox placement before sending a campaign?
In order to achieve better inbox placement, you can test with GMass and Glock Apps.
GMass is a reputed email deliverability tester that shows you the real-time inbox placement of your emails. GMass is a completely free email delivery tool you can use to make better inbox placement.
Works well with all email clients. If your email reaches to primary inbox then you should not worry about it. That means everything is fine in your email program.
If your email reaches the spam or promotional folder then you should consider there is some issue. To investigate further you should check it in Glock Apps which provides detailed inbox insights.
These are steps you can follow to test your inbox placement in GMass.
#Step1. Go to the GMass inbox website. Copy the seed list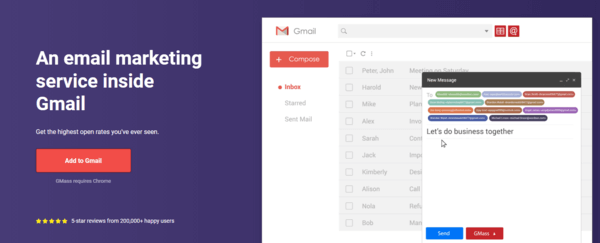 #Step 2: Send your actual email to seed list contacts from your email marketing platform

#Step 3: Go back to the GMass inbox website and see the real-time inbox placement.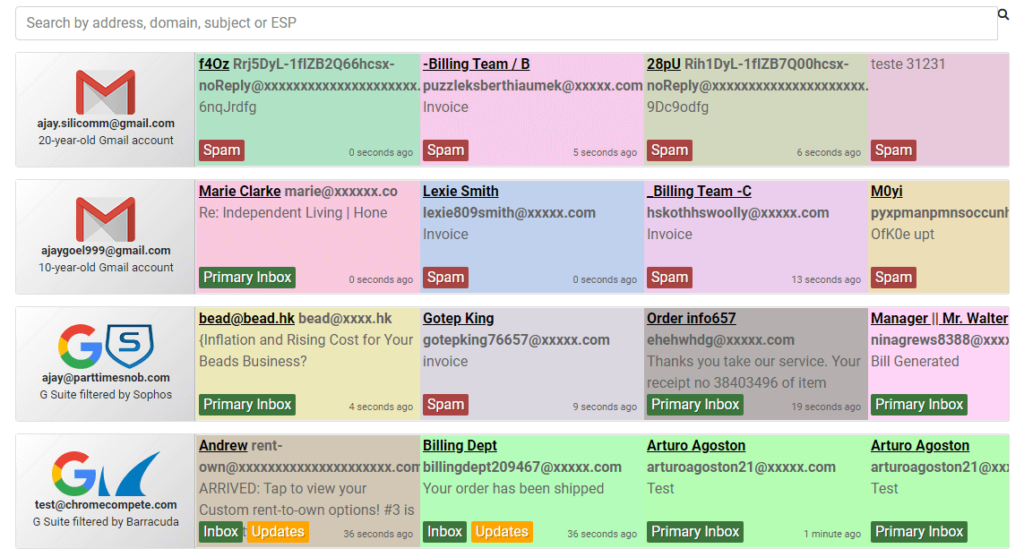 Test and Improve inbox placement by using Glock Apps
This is another method, If you need detailed inbox insight of your email program. Glock Apps is a great inbox insight tool that identifies delivery issues and provides recommendations to enhance your email deliverability.
Glock Apps has every tool you need to maximize email deliverability.
Email Deliverability Test

Blacklist Monitor

DMARC Analyzer

Template Editor

Automatic Inbox Tests

Uptime Monitor
These are the steps you should follow to test your inbox placement in Glock Apps.
#Step1: Sign in to the "Glock Apps account" and Get 3 FREE Spam Tests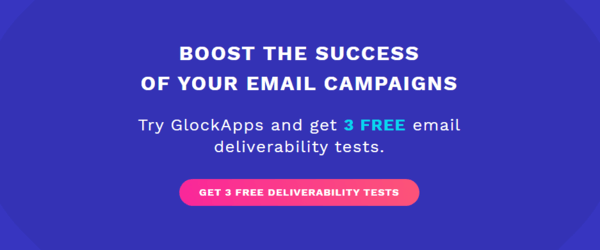 #Step 2: Click on the "Inbox Insights tab" and "Create New Test"

#Step 3: Choose the spam filter and email client you want to test your email.
It's better to select all the spam filters available in Glock Apps that help you to get overall email deliverability insights.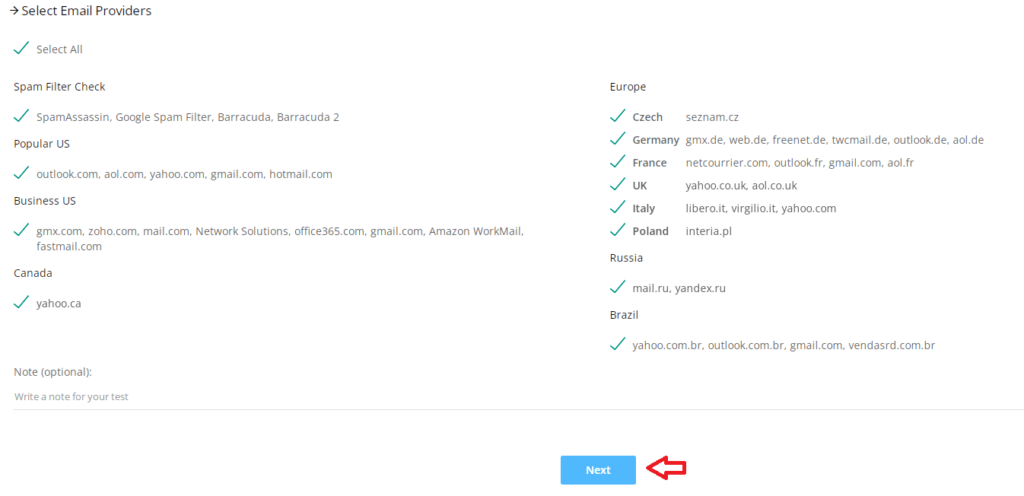 #Step 4: Copy the "ID string"
Copy the ID String and place it anywhere in the email body.
#Step 5: Copy the "Seed list" and Send
Once you copy the seed list, upload the list to your email marketing platform and send the actual email campaign to these contacts.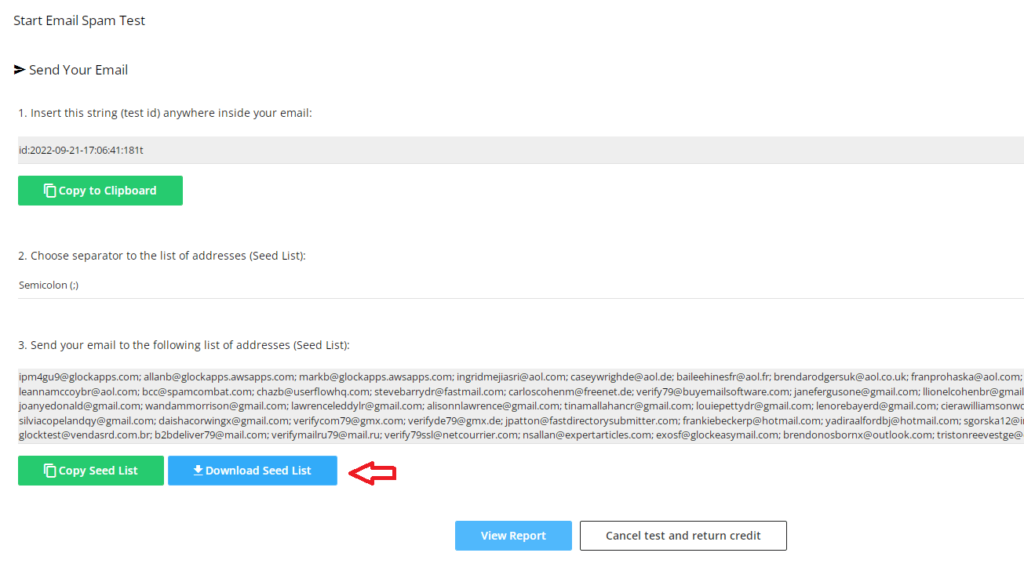 #Step 6: Go back to Glock Apps and click on "View Reports"
Once you send the campaign, after a few minutes you will get detailed inbox insights.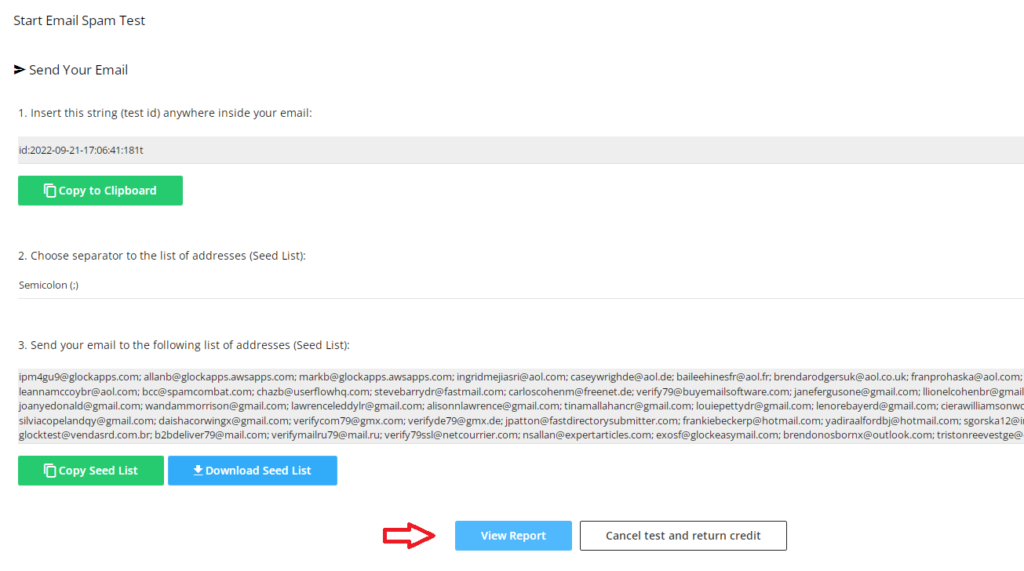 Review the complete deliverability insights. According to the suggestion do the changes to get better deliverability.
Your email will undergo several tests that include email authentication records, IP sender score, IP blacklisting, email spam score, HTML issues, inbox placement, and more.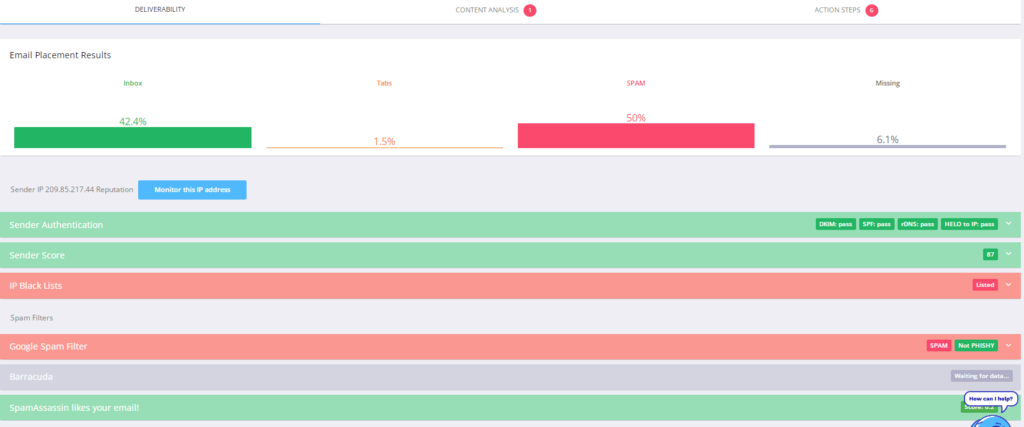 If there is any issue with your email program. Glock Apps easily identifies errors and provide you with suggestion that improves your inbox placement.
Conclusion
As you know email deliverability is a crucial part of email marketing. Even though you are running a successful email campaign then also you should not ignore testing your inbox placement and spam score. As a best practice each time you should run inbox placement tests that make sure your email landing in the primary inbox. Follow each step mentioned in this article and maximize your inbox placement drastically.