Are your emails getting blocked in Gmail?
If yes, then you are in right place to get a complete solution for your problem. Gmail blacklist or domain black list is one of the most common issues for email marketers. Since Gmail has configured a more aggressive spam filter that automatically detects bulk email sender, suspicious emails, low sender scores, high bounce rate, etc. These are the common reason for email getting blocked in Gmail.
Sending emails to Gmail users becomes more challenging in today's world. But if you maintain email deliverability best practice your email never gets blocked in Gmail. You should always send engaging and personalized emails to Gmail users. That will help you increase sender reputation and avoid getting blocked in Gmail.
How to check your IP address or domain blacklisted in Gmail?
There are many ways to check IP or domain blacklisting. below are the common methods to check IP or domain blacklisting.
Check for the '500' error code in your SMTP server logs.

Check the reason for blocking in your bounced messages

Run IP or domain blacklisting test

Check your sender reputation in the Sender score

Identifies large volume sending user

Check the spam score of your newsletter or email

Verify whether the DNS record configure correctly or not

Check for the sudden increase in hard bounce and soft bounce metrics
Why are emails getting blocked in Gmail?
Once you understand the problem it's easy to get a solution. There are multiple reasons why your emails getting blocked in Gmail. Let us look into it.
High volume email sent from new IP address

Sudden increase in email sending volume

High bounce rate

Spam complaints from Gmail users

Incorrect DNS setting

Low sender reputation

IP blacklisting on other public authorities like Spamhaus, SURBL, URIBL, etc.

Daily sending quota exceeded.
When Gmail blocks your email, you will receive a "421" or "550" undelivered error.
What is the "421" error code?
"421" error code is a temporary failure and SMTP server tries to resend your emails. If you identify and fix the issue you can stop getting 421 errors. If you are unable to resolve 421 errors then Gmail will decide to block your emails.
Example of a 421 error:
" 421 4.7.0 [167.89.55.59 15] Our system has detected that this message is suspicious
due to the nature of the content and/or the links within. To best protect our users from spam,
the message has been blocked. Please visit https://support.google.com/mail/answer/188131
for more information. u22si16671234pfl.244 – gsmtp "
What is the "550" error code?
"550" error code is a permanent failure that you need to check more carefully. Every error code gives you the reason why you are getting a failure message. Just read the reason and find out the solution.
Example of a 550 error:
" 550-5.7.1 likely unsolicited mail. To reduce the amount of spam sent to Gmail,
550-5.7.1 this message has been blocked. Please visit
550-5.7.1 https://support.google.com/mail/?p=UnsolicitedMessageError
550 5.7.1 for more information. gw19-20020a17090b0a5300b001d653c53a03si4102535pjb.11 – gsmtp "
Here you can see the complete list of Gmail's SMTP error codes.
How to request removal from Gmail's Blacklist?
If your email domain or IP address is blacklisted in Gmail then you should request Google to remove it from the blacklists. Here is the complete process you should follow to remove from the Gmail blacklist.
#Step1
First, you need to follow Google email sending guidelines. Give more importance to the below section in the email sending guideline.
Authentication: Send authenticated emails

Unsubscribe: Make sure every email you send has an unsubscribe link.

Correct Email formatting: Follow email format best practices and use proper format to avoid email blacklisting.

Keep eye on third-party sender and affiliate marketing program
After following the email sending guidelines then you can fill out Bulk Sender Contact Form.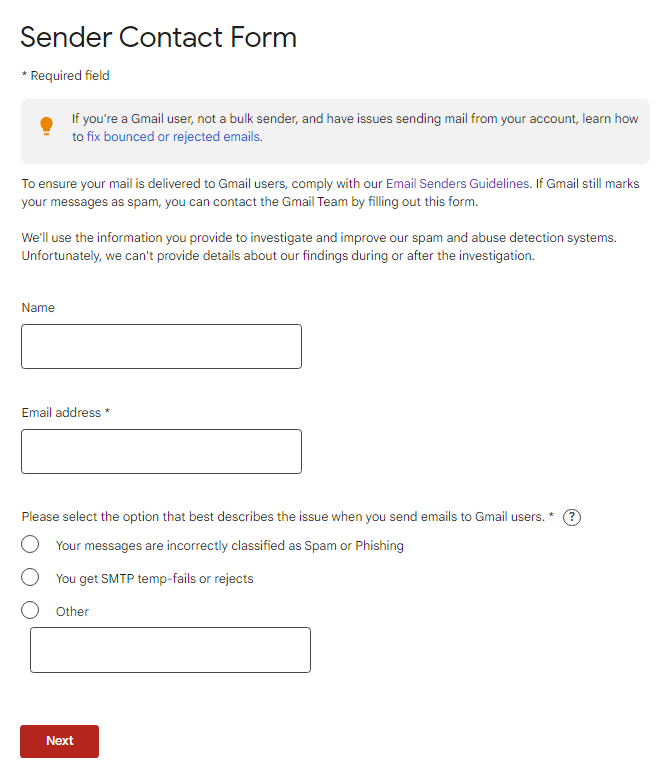 #Step2
Click on "Next". Here you have to write two versions of your problem short one and a detailed one.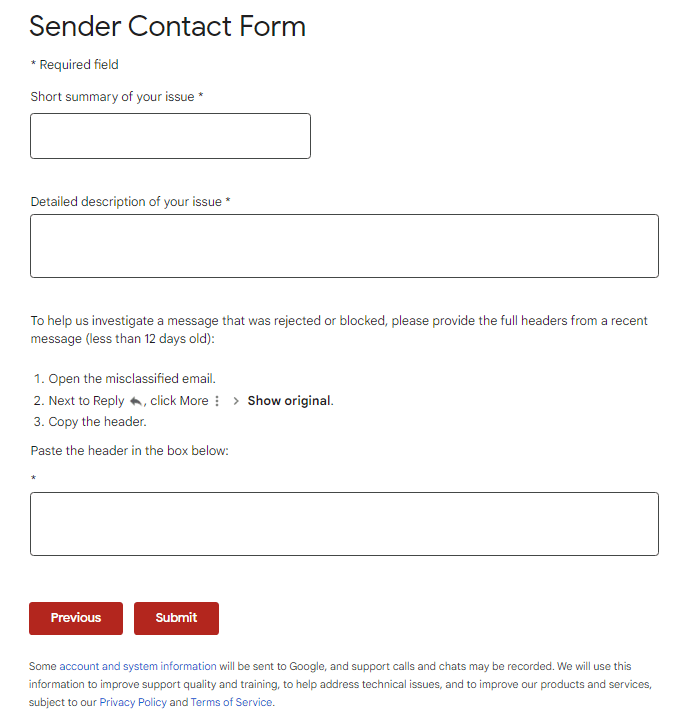 #Step3
You have to show the real messages you sent to Gmail users that should not be older than 12 days. Now you can submit your form.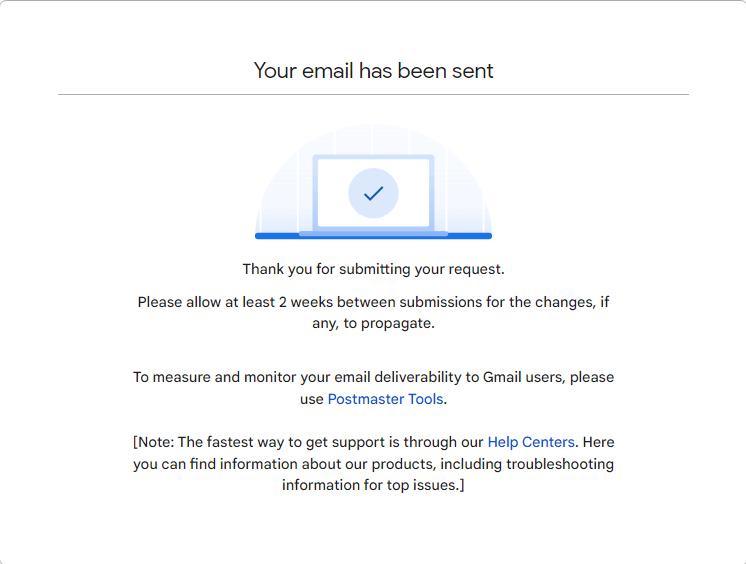 After submission, it will go through the process and takes up to 15 days to remove your domain or IP address from Gmail's blacklist.
Pro tip
Make use of Google postmaster to analyze complete email deliverability metrics and help Gmail to understand your email sending pattern. In Google postmaster, you will get access to several dashboards such as:
Spam Rate Dashboard

Domain and IP Reputation Dashboard

Feedback Loop Dashboard

Authentication Dashboard

Delivery Errors Dashboard
Google postmaster provides you with complete metrics of Gmail users that will help you to monitor and improve email derivability.
How do I solve the complete email deliverability problem?
The easiest method is using GlockApps. Create a free account and get three free spam tests!
You'll always know if your IP blacklisting affects your email deliverability, and it will send instant alerts so you could start the delisting process right away. GlockApps offer outstanding features
Detects blacklisted IP address or domain

Identify email authentication error

Offer email spam test

Provide suggestions to optimize content

Check complete email deliverability

Track inbox placement of all major mailbox providers
Make use of email deliverability tools and delist your domain or IP address from Gmail.