Email list hygiene plays a massive role in a successful email marketing program. Therefore cleaning the email list regularly becomes most important to maintain list hygiene. Response and engagement rate of email program depends on how you maintain your email list.
But the problem is every marketer is not able to maintain email list hygiene due to:
Lack of knowledge

Not supportive email marketing system

No time to clean the list

No dedicated resources

Not using marketing automation

Lack of segmentation features
These are the common reason of marketers for not maintaining email list hygiene. So we have come up with the best practices for maintaining email list hygiene. At end of this article, you will learn to maintain a healthy email list that produces higher engagement and sales.
What is an Email List?
Email list is a number of contact information available in your database. That includes email, contact name, titles, geography, phone number, and more. You can use this information to segment your list to get better results.
This email list can be called as a subscriber list or Opt-in list, who are interested in your product and services and gave you permission to send emails.
How to Build an Email List?
There are many ways to collect the email address of subscribers. But the most commonly used method is landing page and form. Offer exciting pieces of content or guide to your website visitors and capture the contact information of your audience. Here are the 35 ways to build an email list effectively.
What is Email List Hygiene?
Email list hygiene means keeping the email list clean and updated. A well-segmented and clean email list are more powerful than a non-segmented list. A cleaning email list is one of the best practices of email marketing.
How to Clean Email List?
According to research, every year 20-30% of contacts reduce due to opt-out, bounced, unengaged contacts, and losing interest in your product.
Because of that, email list cleaning becomes most important to generate new leads and re-engage inactive subscribers. Not only that list cleaning also helps you to improve email deliverability and avoid your emails landing into spam.
Use these 4 best practices to maintain email list hygiene
1. Use the Double Opt-In method
A double opt-in is also called as a confirm opt-in. It's one of the best ways of collecting new leads and sending confirmation emails with a confirmation link. Once leads confirm their email address then you can start sending personalized emails to them. By this method, you can maintain list hygiene and avoid spam complaints.
Benefits of using double opt-in contacts
Get the valid email address of the subscriber

Avoid fake email address submission

Avoid bot submission

Improve email deliverability and sender reputation

Reduce spam complaints

Avoid GDPR related issues
In email marketing, double opt-in contacts are more effective than single opt-in. With the double opt-in method, you will get quality leads that help you to generate a higher return on investment. A double opt-in method is more effective to maintain email list hygiene.
2. Remove Hard Bounce and Unsubscribes
This is the common best practice of email list hygiene. Basically when a subscriber changes their job, company, and location, then their email address gets changed. That leads to producing hard bounce and contacts become invalid. And when subscribers lose their interest in your content or product then they will unsubscribe. Removing hard bounce and unsubscribe emails is mandatory in the list cleaning process.
These are the common problems you will face if you don't remove hard bounce and unsubscribes
Negative impact on overall email deliverability

Increase in spam complaints

Poor sender reputation

Email clients always treat your emails as a junk or spam

ESPs can block your email account

Negative impact on your domain reputation
At present, email marketing software has the capability of detecting hard bounce and unsubscribed emails automatically. It just stops sending emails to hard bounce and unsubscribed contacts. Best email marketing software keeps your email list clean and maintains the highest email deliverability. So choose your email marketing software wisely by considering these factors.
But email marketing system cannot delete hard and unsubscribe emails from your contacts list. It will keep all the contacts in the system. You have to setup a process to delete hard bounce and unsubscribed emails. You can delete it manually or use automation workflows.
3. Monitor Engagement and Re-Engage Inactive Users
Email engagement is another factor you should consider while the list cleansing process. Open rate and click rate will give you a rough idea about your email marketing performance. Always keep track of open, clicks, bounce, unsubscribe, and sales. Whenever you see a low open rate and high bounce rate then it's time to clean your email list.
When subscriber never opens your emails those subscribers consider as inactive contacts. Those contacts also impact your email engagement and deliverability. Instead of deleting inactive contacts you should segment them separately and try to send re-engagement campaigns.
Tips to send Re-engagement campaigns
Send personalized emails to gain their attention

Send fresh and interesting content

Treat them special ad send a discount offer

Send re-subscribe emails

Ask directly if they want to continue with the subscription
Examples of Re-engagement emails
Duolingo: "We Miss You!"
Send an emotional email that tells your concern about subscribers.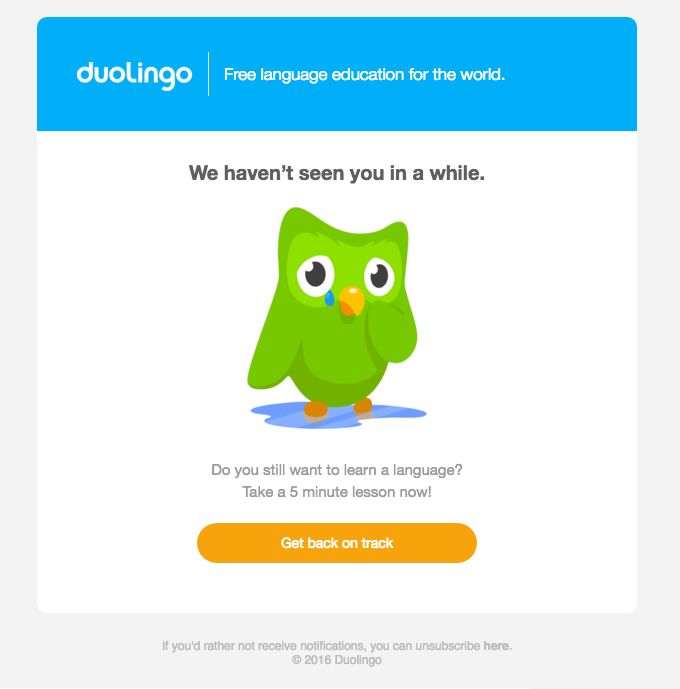 (Source: Really Good Emails)
Marie TV: Is this goodbye?
Let's allow subscribers to choose their preferences.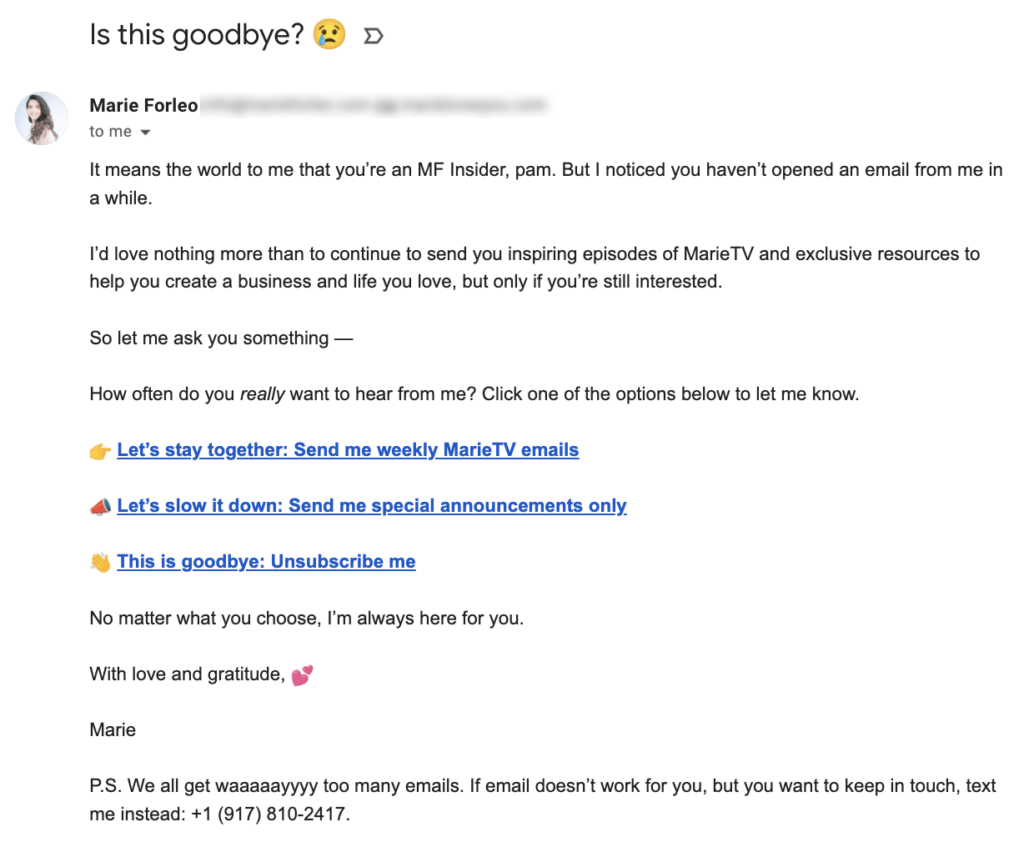 (Source: Marie TV)
Evernote: Today's the day! Come back for 50% off
Offer huge discounts, so subscribers can come back.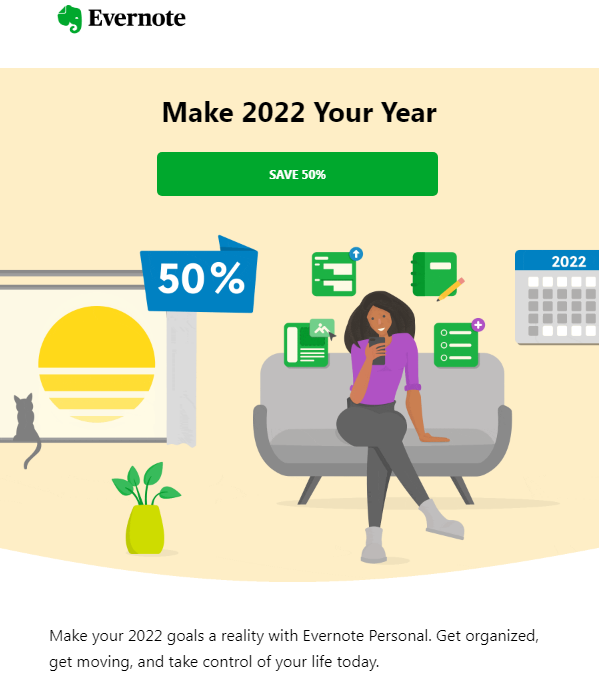 (Source: Evernote)
Aweber: We haven't seen you in a while
Checking with subscribers if they facing any problems.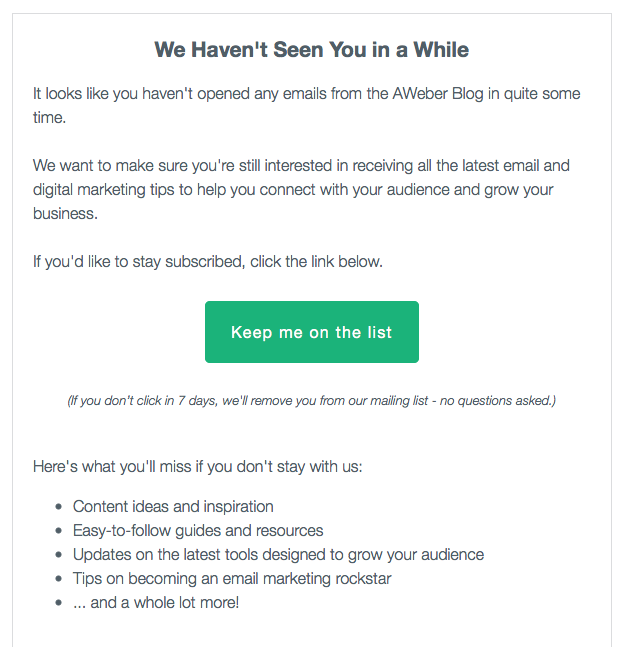 (Source: Aweber)
4. Remove Inactive Subscribers
After sending a re-engagement campaign if your subscriber not responding to your emails. Then it's time to remove subscribe from your email list. Otherwise, it will cost you more money and damage your sender reputation. Even though it's a tough decision to make, you should focus more on active contacts to generate higher revenue.
Delete contacts that have unengaged for 6 – 12 months. Remember that a quality list is more effective than quantity.
Conclusion
Email list hygiene will make email marketing a more effective and powerful channel. Maintaining email list health and keeping contacts up to date is the best practice of email marketing. Follow email list hygiene best practices and make your email list healthy.