Bulk email marketing is a powerful and highly effective digital marketing strategy that has transformed how businesses connect with their audience. When done right, bulk emails produce the highest revenue compared to other digital marketing channels. However, sending bulk emails is a challenging task because bulk emails often land in the spam folder. To address this problem, we've curated top-performing bulk email marketing software with the best deliverability rates.
In this article, we will show you how to send bulk emails without spamming and recommend the best bulk email marketing software for mass email campaigns.
How to send bulk emails without spamming?
Sending bulk emails without getting flagged as spam involves several best practices to maintain deliverability and engagement. Let's see what things need to be followed to send bulk emails.
1. Use Permission-Based Lists
Email lists play a vital role in email marketing. Always make a practice of using permission-based lists. Send emails to people who have subscribed to your newsletter or content. These people are more engaging compared to unknown people.
So never purchase an email list to send bulk emails. It gives immediate results but not for the long run. To send bulk email campaigns for the long term you should use a permission-based list.
2. Segmentation
Segment your list based on subscriber preferences, behavior, and demographics. Send targeted emails to segmented lists with relevant content and increase conversion.
3. Use a Reputable Email Service Provider (ESP)
Select a trusted ESP with a strong sender reputation. ESPs like GetResponse, AWeber, Moosend, or MailerLite often have built-in tools to help maintain deliverability.
4. Authentication
Use email authentication protocols like SPF (Sender Policy Framework) and DKIM (DomainKeys Identified Mail) to confirm the authenticity of your emails. This helps prevent spoofing and phishing.
5. Avoid Spammy Content
Craft your emails carefully. Avoid using excessive spam words, capitalization, excessive punctuation, and misleading subject lines. Always provide valuable and relevant content.
6. Consistent Sending Frequency
Maintain a consistent sending schedule to prevent spikes in your email volume. Increase your sending volume gradually to prevent triggering spam filters. Make use of email warmup tools to maintain email frequency and warm up your domain.
7. Unsubscribe Option
Add a visible and easily accessible unsubscribe option in every email. Unsubscribe link is essential in email marketing. Emails without this option are considered as unsolicited emails.
8. Monitoring and Analytics
Constantly monitor your email campaigns using analytics to track open rates, click-through rates, and bounce rates. Make use of performance data and tweak your strategies accordingly.
9. Feedback Loops
Set up feedback loops with ISPs (Internet Service Providers) to receive notifications about recipient complaints. Address these complaints promptly to maintain a good sender reputation. Most email marketing platform has these in place, so there's no need to worry.
10. List Hygiene
Regularly clean your email list by deleting inactive or bounced email addresses. This helps ensure you're sending to engaged recipients. Learn how to maintain list hygiene.
11. Avoid Attachments
Do not use attachments in your emails. Because it can trigger spam filters. Instead, use links to hosted files or cloud storage services.
12. Test Before Sending
Use spam-checking tools and send test emails to different email providers to see how your emails are filtered. If everything looks good then send your email campaign.
13. Comply with Regulations
Familiarize yourself with email marketing laws like CAN-SPAM (in the United States) and GDPR (in the European Union) and ensure compliance.
By following these best practices, you can send bulk emails effectively without triggering spam filters and maintain a positive sender reputation, which is crucial for the long-term success of your email marketing campaigns.
15 Best Bulk Email Marketing Software to Reach Larger Audiences
Now it is time to reveal the best bulk email marketing platform you should consider to send bulk emails.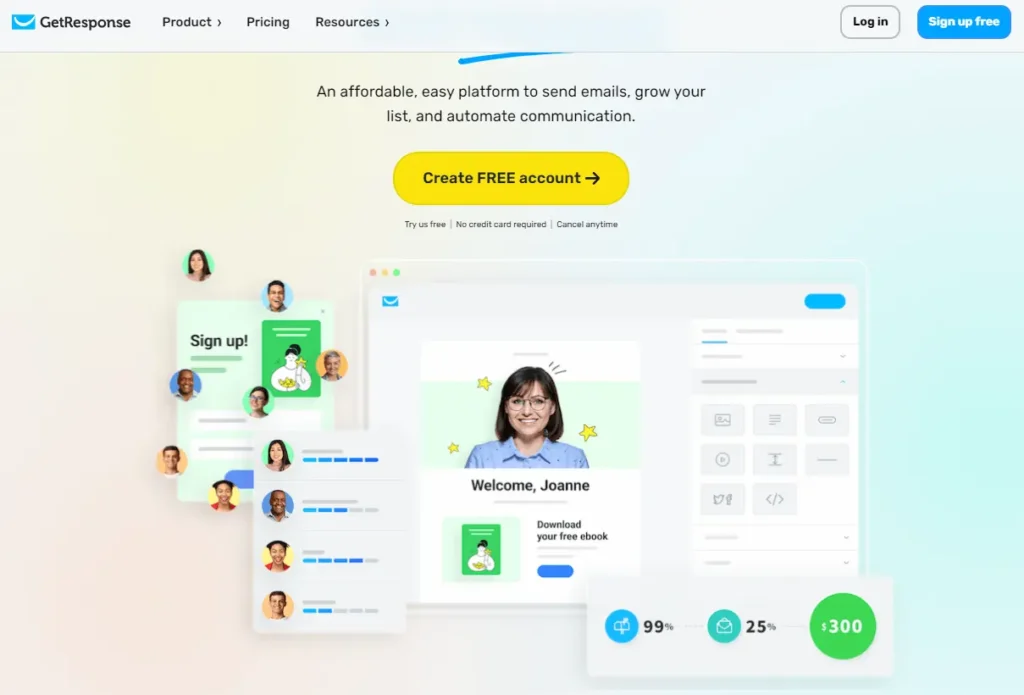 GetResponse is an excellent bulk email marketing software for those who want to go beyond email marketing. It has an easy email marketing interface and automation in place that converts any subscribers into paying customers.
GetResponse is an AI-powered email marketing platform with 99% email deliverability record. It has 400k trusted happy customers worldwide. The platform offers Autoresponders, Marketing Automation, Website builder, Landing pages, Forms and popups, AI email generator, AI campaign generator, Paid ads, Webinar builder, and many more that boost your marketing campaign.
Be sure to check out our GetResponse review to find out more about what to expect.
Best Features
AI email generator to create interactive email with no time.

AI campaign generator to create high converting sales funnel including a custom landing page, welcome email, and newsletter in record time.

Best-in-class marketing automation to engage and guide every step of the customer journey.

100+ Integration support with marketing tools and an e-commerce store to grow conversions by 202%.

Effortlessly conduct webinars, and create paid ads campaigns, SMS campaigns, and web push notifications from a single platform.
GetResponse Pricing Plans
Create an account and try all features free for 30 days.
This plan starts at $15.58/mo for 1000 contacts, including features like an AI email generator, Unlimited newsletters, Autoresponders, an AI campaign generator, Website and landing pages, Signup forms, and popups.
Most recommended for startups, beginners, freelancers, online business owners, affiliate marketers, and more.
This plan starts at $48.38/mo for 1000 contacts and includes all email marketing plan features. Additionally, you will receive marketing automation, Event-based automation, Webinars, Advanced segmentation, Contact scoring, and Sales funnels.
Most recommended for B2B marketers, online store businesses, eCommerce marketers, SAAS businesses, IT, consulting, and product-based companies.
This plan starts at $97.58/mo for 1,000 contacts and includes all email marketing and marketing automation plan features. Additionally, you will receive Quick transactional emails, eCommerce segmentation, Abandoned cart recovery, Promo codes, Product recommendations, and Web push notifications.
Mainly recommended for eCommerce, Retail, and B2C businesses.
Find out more about GetResponse here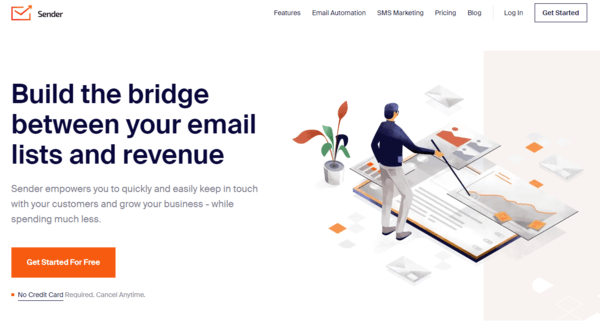 With Sender, you can send bulk emails, email automation, and SMS without prior experience in email marketing. You can send up to 15,000 emails per month and add up to 2,500 subscribers for free.
Sender is a more user-friendly platform that has tools like drag-and-drop to design beautiful emails, a personalization tag to make your email more engaging, and an a/b testing feature. Also, you can create customized reports based on your marketing activity.
Check out our review of Sender to understand its pros and cons.
Best Features
User-friendly platform for beginners.

Simple and affordable pricing plans.

Effective Email and SMS marketing platform.
Sender Pricing Plans
Paid plan starts at $8 per month with basic features. But the Professional plan is the value for money that will cost you $29/month and send up to 60k emails, free SMS, animated countdown timers, advanced automation, priority support, and dedicated IPs available.
Find out more about Sender here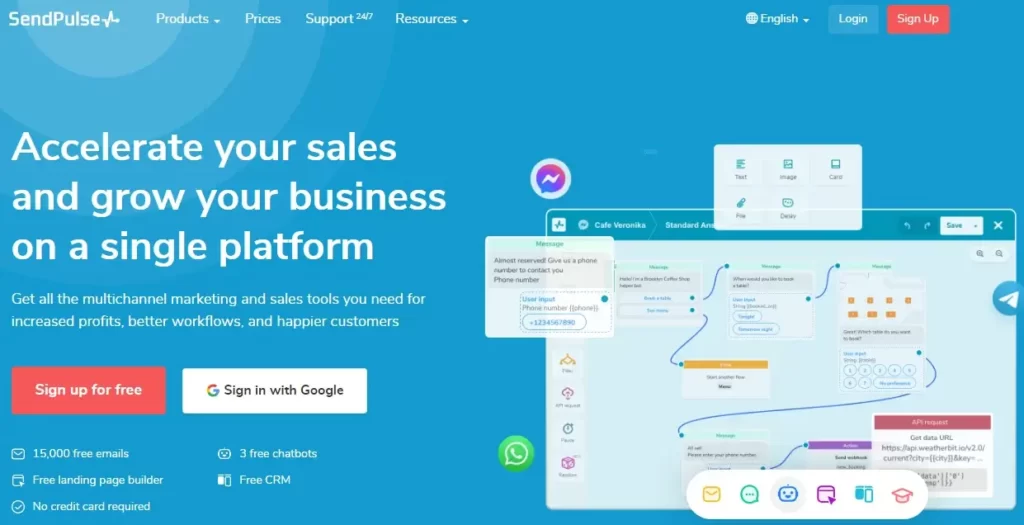 SendPulse is a multi-channel marketing platform and the best platform for sending bulk emails. Bulk emails are best for promoting products, flash sales, product updates, newsletters, and the ultimate goal of increasing sales. SendPulse has all the capability and a better email delivery rate for bulk email marketing.
SendPulse comes with valuable tools to create optimized emails, automate email and SMS marketing, send transactional emails, capture leads through interactive forms and landing pages, and send web push notifications to increase website traffic. You can also implement a chatbot on your website through the SendPluse platform.
We've written a full SendPulse review, so make sure you check it out if you're interested in their services.
Best Features
Multi-channel marketing platform that has email marketing, SMS marketing, Chatbot, web push notifications, email automation, CRM, etc.

Best bulk email and SMS marketing platform to skyrocket your sales

Create a professional online course with SendPlus and sell it through the entire marketing system

Get pre-built responsive and optimized 130+ email templates

Select any plan and send unlimited emails
SendPulse Pricing Plans
Add up to 500 subscribers and send 15,000 emails per month
Start at $ 6.40 /month, send unlimited emails, 10 workflows, 3 landing pages, 100 email verification, 100 sender email addresses, and 3 user accounts. Ideal for beginners.
Start at $ 7.68 /month, send unlimited emails, 50 workflows, 10 landing pages, 1000 email verification, 300 sender email addresses, and 10 user accounts.
Start at $ 10.75 /month, send unlimited emails, unlimited workflows, unlimited landing pages, depending on the email verification plan, 300 sender email addresses, and unlimited user accounts.
In Sendpulse you also get Pay-as-you-go plans, to use email marketing services according to your needs.
Find out more about SendPulse here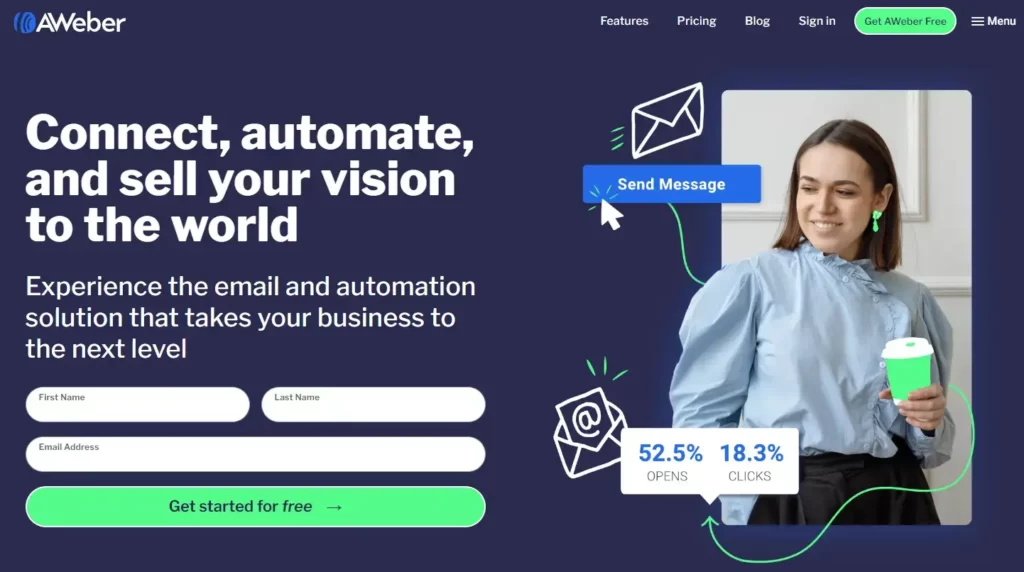 AWeber is an experienced email marketing platform that can be used for bulk email campaigns. In AWeber, you will get all modern marketing features in one single platform. Such as email marketing, landing page builder, signup forms, eCommerce tools, email automation, push notifications, AI email writing, split testing, YouTube automation, blog automation, Auto newsletter, segmentation, dynamic content, and more.
AWeber provides industry-leading email infrastructure that lands every email recipient's inbox. Increase your reach with the AWeber email marketing tools and generate high revenue for your business.
Best Features
User-friendly, intuitive interface and lightning-fast builder.

750+ integration options, so seamlessly connect to the tools you already use.

Get dynamic content and segmentation for better custom experiences.

AI writing assistant to build engaging and convincing emails.

24/7 expert support team available to help you out.
AWeber Pricing Plans
Create an AWeber account for free and upload up to 500 subscribers, 1 email list, 1 landing page, 1 email automation, and basic email support.
The paid plan starts at $12.50/month and uploads unlimited subscribers, 1 email list, 3 landing pages, 3 email automation, 3 users, 1 custom segment, 24/7 Support, and Advanced message analytics.
These plans are recommended for beginners and startups.
Find out more about AWeber here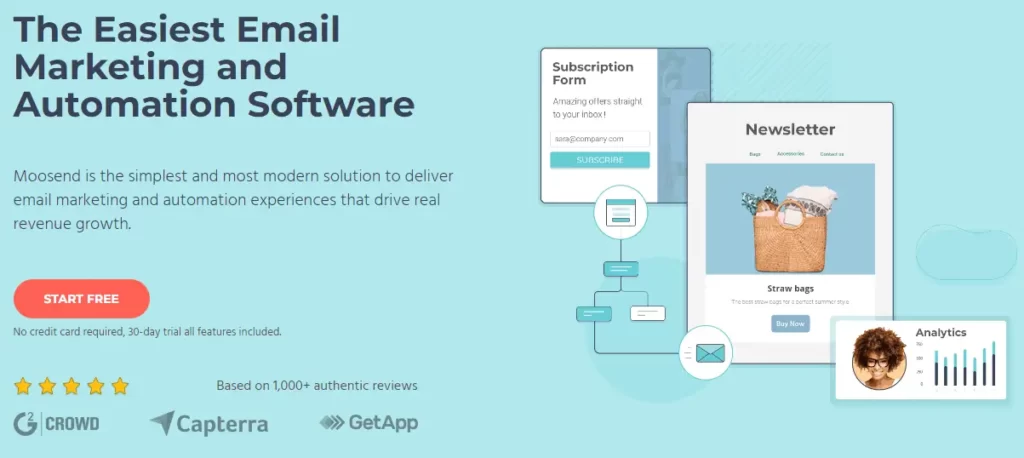 Moosend is one of the popular email marketing software with all the latest email marketing features. Its simple and modern marketing function easily helps you to send bulk emails with the highest email deliverability.
Moosend comes with the latest features like Drag & Drop editor, Subject Line A/B Testing, Content A/B Testing, Countdown Timers, AI Subject Line Optimizer, 100+ Triggers, Automation Templates, Workflow Builder, and more.
Read the complete Moosend review right here.
Best Features
Simple and modern email marketing solution to enhance your marketing reach.

Value for money email marketing tool to beginners, startups, and small business owners.

100+ pre-built workflow to automate ideal prospect behavior.

One-click integration with your website or e-commerce platforms like WooCommerce, Magento, PrestaShop,

Shopify, ThriveCart, OpenCart, Drupal, WordPress, and more.
Moosend Pricing Plans
Offer 30-day free trial and explore all the features.
It starts at just $ 9/month for 500 contacts and gets unlimited features. Pricing purely depends on the number of subscribers.
Find out more about Moosend here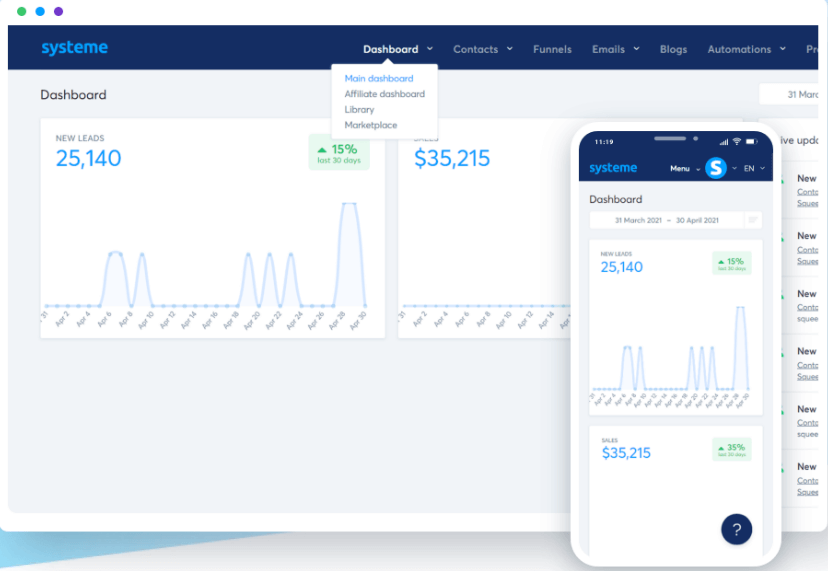 Systeme.io is an all-in-one marketing tool that has everything to run your online business. With Systeme.io you can send email blasts, create automated sales funnels, build websites, manage affiliates, create online courses, automate entire marketing, and more.
Systeme.io is trusted by more than 300,000+ entrepreneurs including Course creators, Freelancers, Consultants, and Small business owners to grow their business.
Learn how to launch an online business with Systeme.io here.
Best Features
Simple and user-friendly marketing platform that helps you build online business.

Guarantee the highest open rate with an outstanding email deliverability record.

Systeme.io offers all the necessary tools in a single platform.

Integrated with your sales funnels and websites, send email effortlessly and save time.
Systeme.io Pricing Plans
It is a free plan that includes 2,000 contacts, Unlimited emails, 3 Sales funnels, 1 Automation rules, A/B tests, 24/7 email support, Custom domains, and more.
Paid plans start at $27/month and offer 5,000 contacts, Unlimited emails, 50 Sales funnels, 5 Automation rules, A/B tests, 24/7 email support, Custom domains, and more.
Paid plans start at $97/month and offer Unlimited contacts, Unlimited emails, Unlimited sales funnels, Unlimited Automation rules, A/B tests, 24/7 email support, Custom domains, and more.
Find out more about Systeme.io here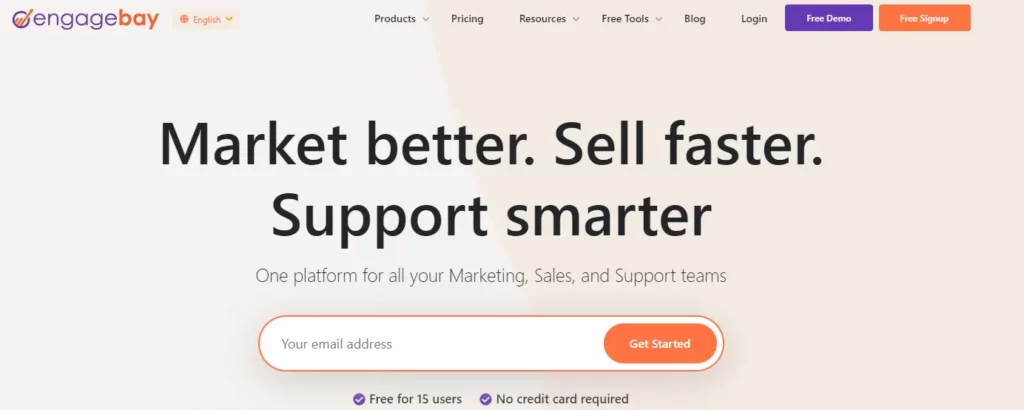 Engagebay is the best CRM software that includes email marketing, marketing automation, email template builder, landing page builder, lead generation tools, social suite, and more. So your marketing team can elevate their efforts.
Quit shelling out thousands for various marketing, sales, and support tools. Explore the world's most cost-effective all-in-one solution. EngageBay's CRM software offers the most comprehensive business solution.
Best Features
Best free all-in-one CRM software for marketing, sales, and support.

EngageBay's email broadcast for optimized outreach.

At both the account and campaign levels, you can access metrics like email open rates, link clicks, bounced emails, emails marked as spam, and unsubscribe rates.

Enjoy a free email autoresponder system for automated, high-quality engagement with your leads and prospects.
Engagebay Pricing Plans
Sign up for a free account to test the email marketing function
Pricing starts at $ 12.74 per month and scales up to custom pricing based on the services you want.
Find out more about Engagebay here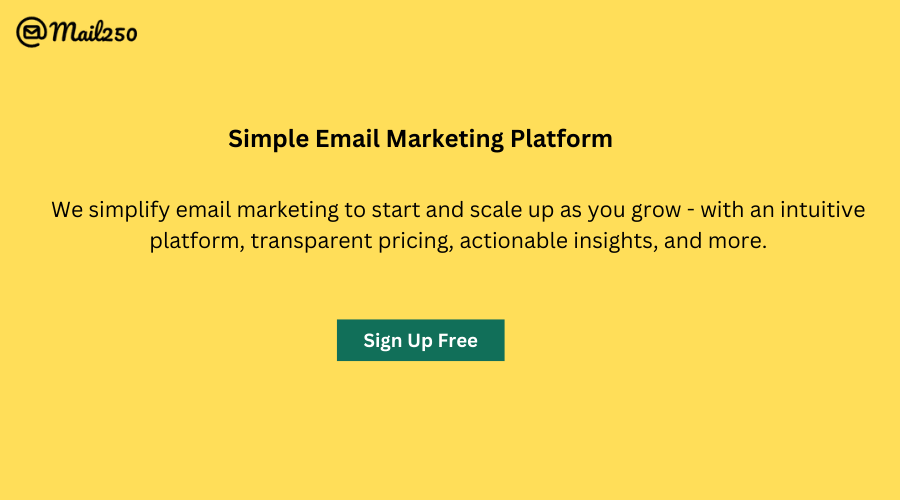 Mail250 is one of the bulk email marketing software you can use for mass emailing. It is mainly made for bulk email marketing to reduce marketing costs and scale up your business. If you're running a cold email marketing campaign then you can consider the Mail250 email marketing platform.
Mail250 is a simple and basic email marketing platform you can use for sending bulk emails. However, it offers low email deliverability compared to other email marketing software. Its interface is quite simple, which may not appeal to most marketers.
Find out everything about Mail250 in the detailed review.
Best Features
Simple and easy-to-use email marketing platform.

Best for bulk email marketing, cold email campaigns, and email list cleaning.

An extremely affordable bulk email marketing platform suitable for any business.
Mail250 Pricing Plans
Paid Plans start at $20/month with 100,000 email sending limit and add unlimited contact list.
Find out more about Mail250 here

Mailchimp is a leading email marketing platform that no one can ignore. Its simple user-friendly interface, easy-to-use function, and over 100 pre-built email templates give you enough confidence to send mass email campaigns.
Mailchimp has all the email marketing and automation features that help send email campaigns with ease.
Best Features
#1 email marketing and automation platform.

Seamlessly create dynamic and personalize content without doing extra work.

Schedule posts, create designs, and manage social media campaigns from a single platform.
Mailchimp Pricing Plans
Mailchimp's paid plan starts at $9.20/ month for 500 subscribers and 5000 emails. This plan isn't suitable for bulk email marketing. Consider upgrading to a higher plan that aligns with your budget.
Find out more about Mailchimp here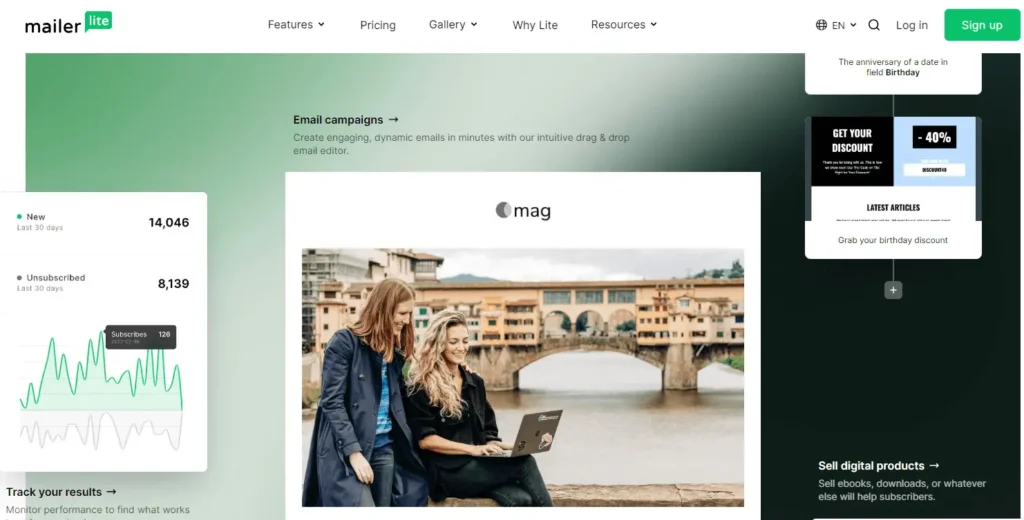 MailerLite is a fantastic bulk email marketing software that has an intuitive, simple, and flexible email marketing functionality. With MailerLite you can collect subscribers, strengthen customer relationships, automate workflows, and monetize your audience with advanced email marketing features.
More than 1,442,296 companies are fully satisfied with the MailerLite email marketing platform. Read more about MailerLite here.
Best Features
Make use of a transactional email service to send invoices, order updates, and password resets.

Let MailerLite manage the lead collection, payments, and automated delivery of paid subscription emails.

Get round-the-clock customer support for help whenever you require it.

Easily connect other web apps with MailerLite to streamline data sharing, automate workflows, and improve the customer experience.
MailerLite Pricing Plans
Offer 30 days free trial that includes 1,000 subscribers and 12000 emails/month.
Start at $9/month which includes 500 subscribers and unlimited emails/month.
Find out more about MailerLite here
Mailmodo is a new era of bulk email marketing platforms to consider for your marketing campaigns. Its stunning email builder helps you create beautiful and engaging emails. Compatible with 1000+ tools to transfer and manage information. Run highly targeted campaigns with audience segmentation. Make everything on auto-pilot. Achieve excellent email delivery with expert guidance. Mailmodo offers all the features to help you reach your marketing goals.
Over 10,000 marketers rely on Mailmodo for their email marketing, including clients such as upGrad, Housing.com, Monster, Boat, Slide, Nestway, and others. Learn more about Mailmodo here.
Best Features
Create AMP emails with the Mailmodo email marketing platform.

Instantly send unlimited personalized bulk emails.

Achieve superior inbox placements with managed email deliverability.

Utilize an AI-based email marketing platform to create content effortlessly.
Mailmodo Pricing Plans
Offer 21 days for free
Start at $39/month for 2500 contacts, send 20,000 emails, basic features, and access to chat and email support.
Find out more about Mailmodo here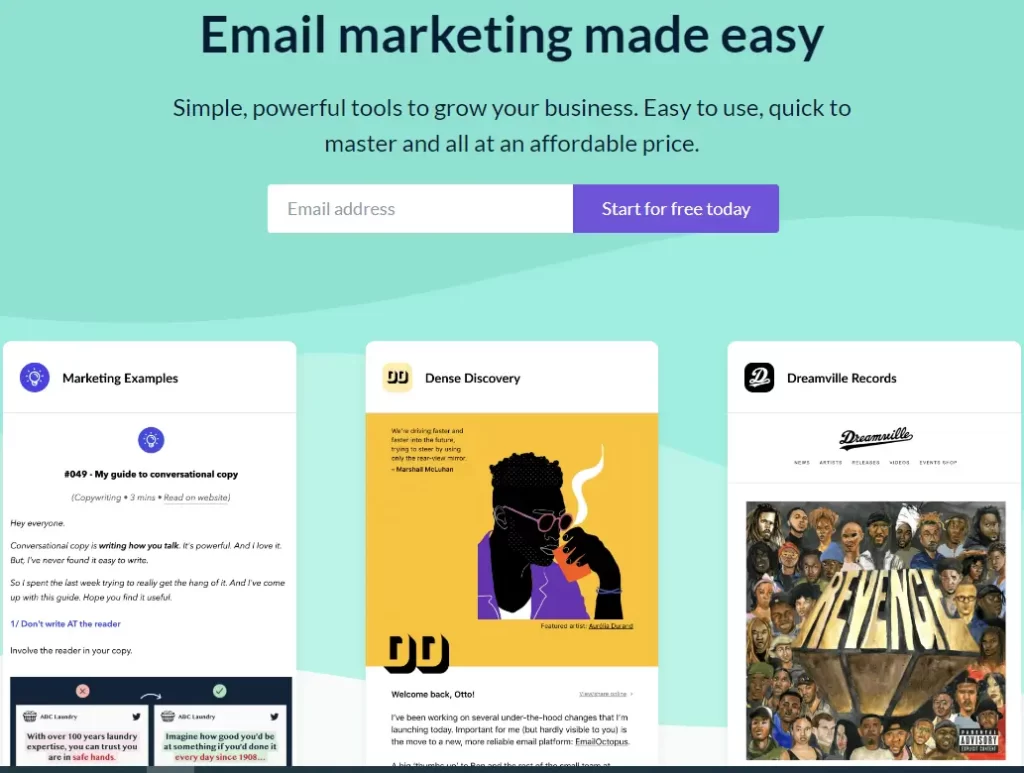 If you are looking for affordable bulk email marketing software then EmailOctopus is for you. It will help you send bulk emails with simple and powerful tools. It has a great collection email template that will engage your audience.
Use EmailOctopus automation to save time and achieve your desired results. It's a cost-effective tool.
Take a deep dive into the complete EmailOctopus review here.
Best Features
Affordable email marketing platform.

Streamlined and robust email marketing service.

Generate unlimited landing pages and forms.

Compatible with Amazon SES for bulk email campaigns.
EmailOctopus Pricing Plans
Add 2,500 subscribers and send 10,000 emails for free.
Start at $8/month for 5000 subscribers, 10,000 emails, and unlimited landing pages and forms.
Find out more about EmailOctopus here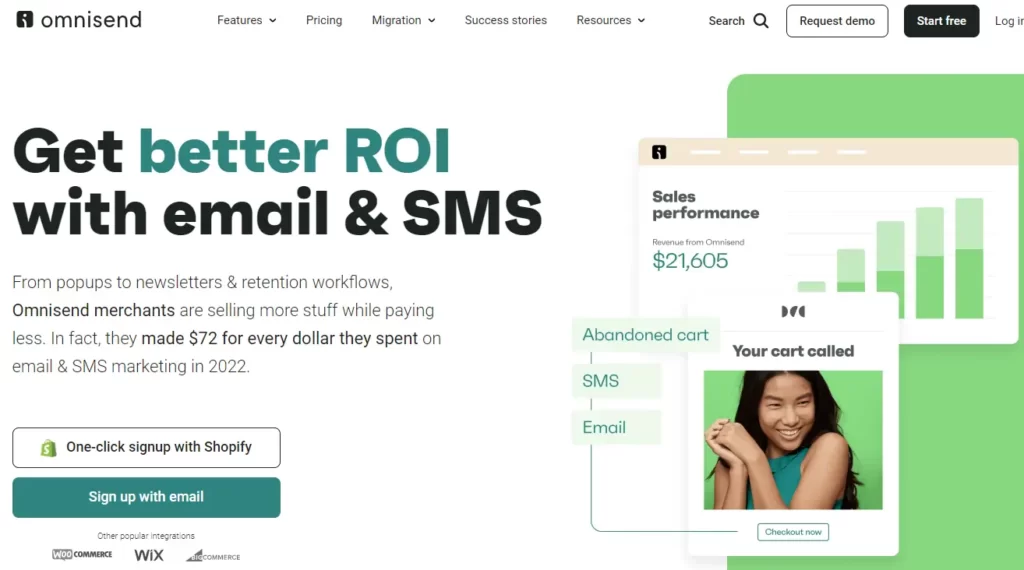 If you are running an online store or ecommerce website then Omnisend is the perfect ecommerce marketing platform. With its all-in-one capabilities, Omnisend offers an array of tools and features designed to enhance the success of e-commerce businesses.
From email marketing to automation, SMS campaigns to segmentation, Omnisend provides a seamless, integrated experience that enables businesses to engage, convert, and retain customers with remarkable efficiency.
Check out the Omnisend review for all the details.
Best Features
Create and send personalized email campaigns with ease.

Create automated workflows to nurture leads and boost conversions.

Reach customers through SMS messages to increase engagement.

Seamlessly connect with popular e-commerce platforms like Shopify, BigCommerce, and WooCommerce.

Recover lost sales through automated cart abandonment emails.
Omnisend Pricing Plans
Upload 250 contacts and send 500 emails/month.
Start at $16/month, including 500 contact uploads, send 6000 emails, 60 SMS, and unlimited web push notifications.
Find out more about Omnisend here

SendX is a robust tool for bulk email marketing. It helps you grow your email list, send campaigns, automate marketing, create unlimited emails, landing pages, forms, and much more.
Over 3,000 business depends on Sendx to drive marketing, sales, and customer retention. For more details read the in-depth SendX review here.
Best Features
Best email deliverability and engagement rate.

Send unlimited emails with all the features.

50+ proven landing page templates to convert subscribers and grow your email list.

Powerful reporting and analytics to measure your campaign success.
SendX Pricing Plans
Try 14-day for free with all the features.
Start at $7.49/month for 1000 contacts and send unlimited emails.
Find out more about SendX here

GMass is the bulk email software for Gmail. GMass simplifies scheduling emails, sending mass emails, running mail merge campaigns, and more using Gmail! GMass offers the highest email deliverability and never lets your email go to spam.
Send automated emails from your Gmail account. Create responsive content by using personalized tags. It has more than 300,000+ happy users including Uber, Twitter, Linkedin, Google, and more. Try GMass extension for free.
Best Features
Surpass Gmail's restrictions – send virtually limitless emails.

Transform Gmail account into a cold email and email marketing platform.

Integrate to Google Sheets for sending personalized mass emails using data from any spreadsheet column.

The simplest method to send cold email sequences is through Gmail.
GMass Pricing Plans
Install the GMass extension to your Gmail account and start sending bulk emails to your audience.
Start at $19.95 / month and include Unlimited contacts, Unlimited campaigns, Mail merge personalization, Spam Solver, Sequences and follow-ups, A/B testing, and High-priority support.
Find out more about GMass here
Final Thoughts
In the ever-evolving landscape of digital marketing, the quest for the best bulk email marketing software is a vital pursuit for businesses looking to engage their audience effectively. The 15 options presented here represent a diverse range of features, capabilities, and pricing structures. Each platform has its unique strengths and may cater to specific business needs.
As you explore these options, consider the scale of your campaigns, your budget, and your desired level of automation. From powerful email marketing tools that offer robust automation and personalization to those emphasizing simplicity and ease of use, there's a solution to suit your objectives.
Ultimately, the best bulk email marketing software is the one that aligns seamlessly with your marketing strategy and resonates with your specific business goals. Whether you're a growing e-commerce brand, a small business looking to expand its reach, or a seasoned marketer seeking advanced automation features, the key is to evaluate these platforms with your unique needs in mind. With the right choice, you'll be well on your way to crafting compelling email campaigns, nurturing customer relationships, and achieving your marketing goals.