Is Stripo worth considering if you already have an email marketing platform for creating templates? In this Stripo review, we will explore its features, benefits, pricing, discounts, strengths and weaknesses, alternatives, customer reviews, and overall value to help you decide.
If you're looking for a solution to make interactive and attractive email templates without the need for coding skills or a dedicated team, consider using Stripo. It will help you create engaging emails and speed up your email template creation process.
What is Stripo?
Stripo is basically a premium email template editor with advanced features and technology. Stripo is way ahead of any other email template creator in the market. Thanks to its user-friendly drag-and-drop editor, you can swiftly craft interactive, engaging, dynamic, AMP emails, and any design you desire.
One best thing about Stripo is you can access 1400+ email templates for free. Simply create a Stripo.email account to access and use these beautiful design templates for your email campaigns.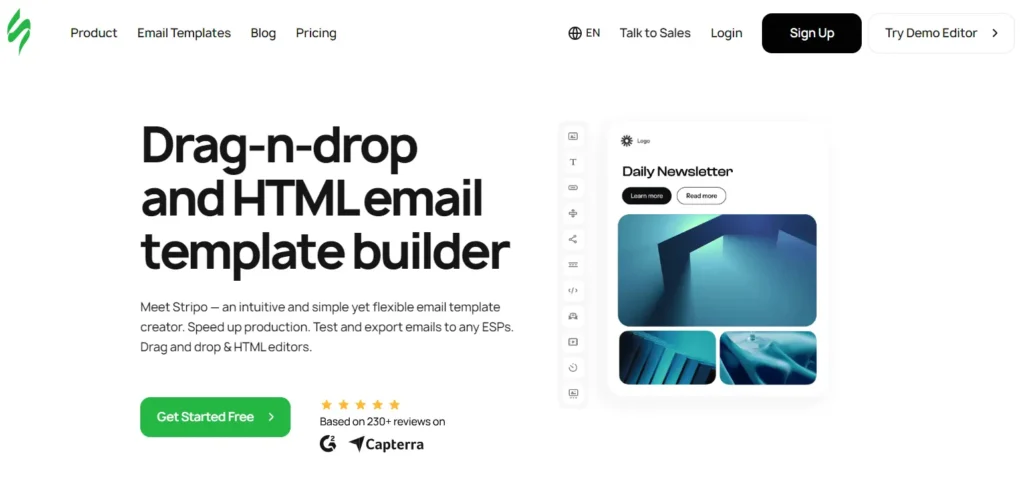 Stripo Review
If you're short on time, you can read this Stripo overview in this section to quickly grasp the key points for making your decision.
Stripo is solely designed for crafting interactive and responsive emails. Sending emails is not possible directly through Stripo. To do that, you must integrate Stripo with your email marketing platform. Alternatively, you can export your design in HTML, PDF, or Image format and then import it into your Email Service Provider (ESP).
Stripo is worth using for free. Because it offers 1400 email templates across all industry categories. These templates cover a wide range of purposes, including welcome emails, abandoned cart emails, cold emails, festival emails, holiday emails, webinar emails, survey emails, and more.
Is it worth going for the paid plans?
The choice of using Stripo depends on your email requirements and audience. Their paid plan starts at just $15. If you're sending daily, highly interactive emails to engage customers, it's advisable to opt for a paid plan that offers more features and access to premium email templates.
Stripo.email is highly recommended for Digital marketing agencies, eCommerce, Retail, SaaS, Edutech, Software companies, Fintech, Food-tech companies and many others. These businesses regularly send emails with interactive and responsive designs to convert more audience into customers.
With Stripo.email, you'll never run out of ideas for email template designs. You'll have access to the latest, highly responsive, and optimized designs. In today's fast-paced competitive world, nobody wants to see boring emails. People prefer creative designs that grab their attention and influence their buying decisions. Choosing Stripo is a smart move to create stunning email templates and boost your email conversion rates.
How does Stripo Work?
It is an easy-to-use tool within 4 steps, you can complete your email design.
#Step 1: Signup Stripo account
Once you log in you will get a dashboard like this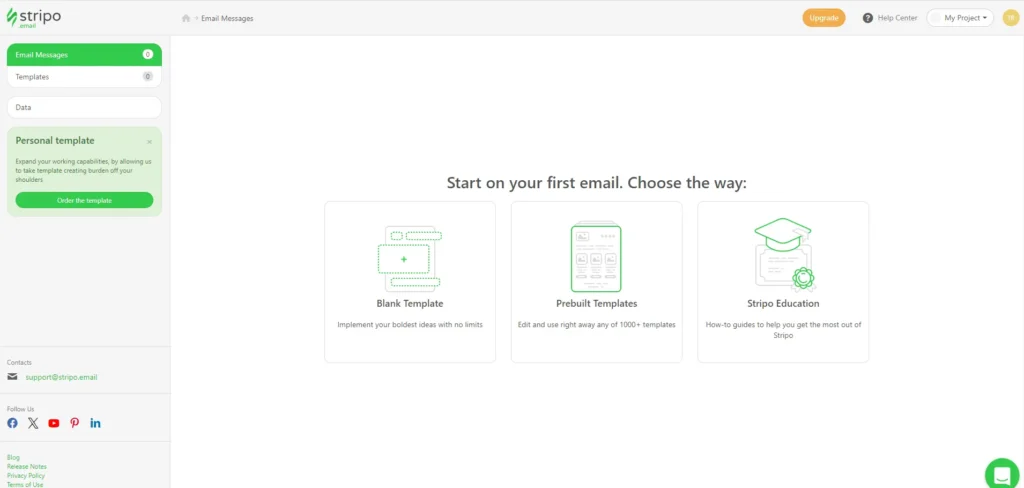 You'll have two options: Blank Template and Prebuilt Template. Click on the option that suits your preference.
#Step 2: Stripo Email Template Library
If you select the pre-built option, you will find a wide array of email design choices.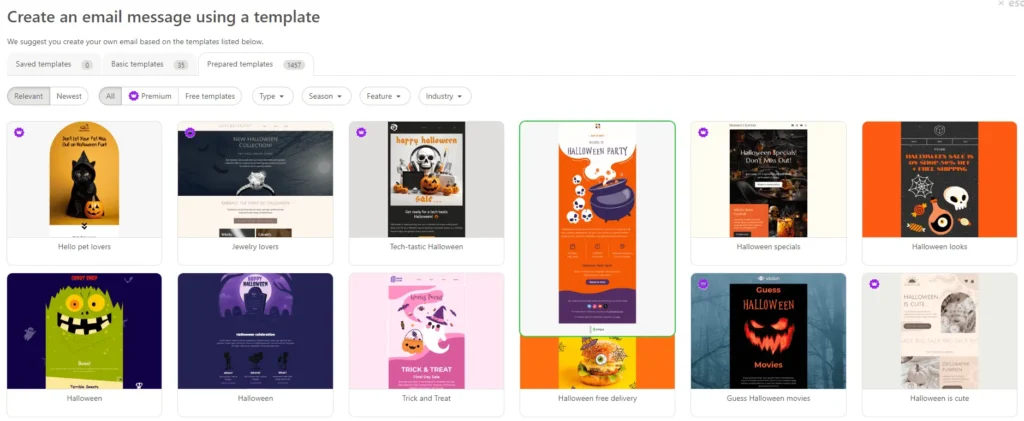 Pick any email template that you prefer and proceed to the next step.
#Step 3: Design an email with a simple drag-and-drop editor
In this email editor, you'll have access to all the structures, blocks, and modules for designing interactive emails, including Header, Footer, Images, Text, Buttons, Videos, Social Media Icons, HTML, Forms, Spacers, Timers, and more. Take a look here.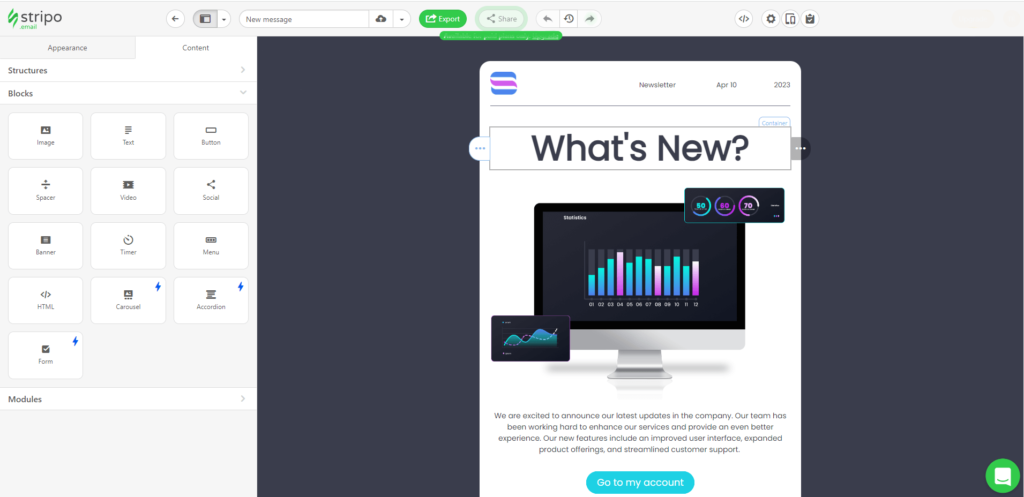 #Step 4: Save and Export the Email Template
You will have two options: 'Export to File' and 'Export to ESP
With this option, you need to export the file and then import it into your ESP.
This option allows you to directly import email templates into your email marketing platform, saving you more time. But it is available only in the paid plan.
Best Features of Stripo
Here, we have listed the top features of Stripo for your review.
1. Stripo Editor
Stripo is a simple and intuitive drag-and-drop editor that has every element of creating highly interactive and engaging emails. Without coding and development skills you can create a stunning email template.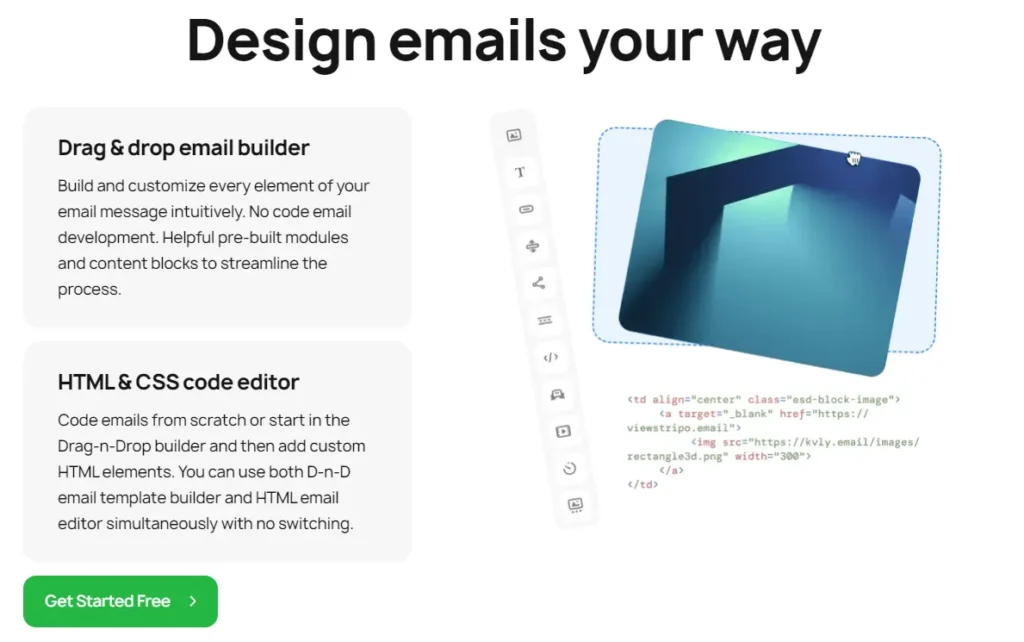 It has pre-built modules and a content block to add text, header, image, logos, video, button, dynamic image, count-down timer, social icons, forms, carousel, accordion, and many more options you will not get in any other drag-and-drop builder.
Notable Modules and Elements
With this option, you can add forms to your email and collect information directly from your emails.
With this option, you can add slides to your emails. That will look like an interactive website that tempts users to click on it. This kind of email always gets a high click-through and conversion rate.
You will get the module to add a countdown timer. Create urgency by adding a countdown timer and increase the engagement rate of your promotional emails.
With Stripo, you can easily create accordions to hide content in your emails. Just provide a header and hide the content beneath it. When the user clicks on the header, they'll be able to view the rest of the content. While accordions are commonly used for FAQ sections, you can incorporate this feature into your emails using the Stripo editor.
2. Stripo Plugin
With Stripo Plugin, you can add Stripo email editor to your website, CRM, SaaS, ESP, and other tools that require an advanced drag-and-drop email builder. More than 130 companies have implemented Stripo email editor on their website.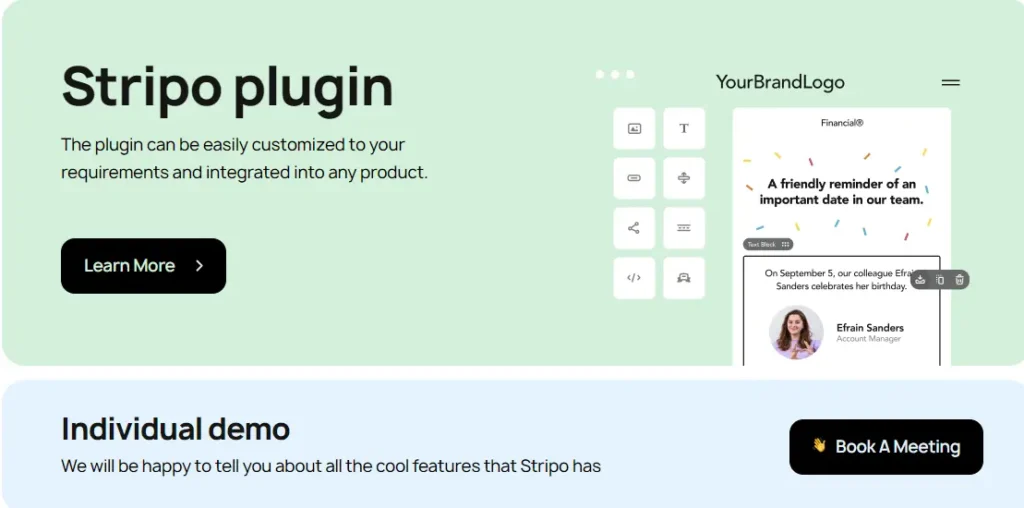 Learn how to add Stripo plugin to your ESP.
3. Order a Custom Template
Stripo.email platform offers the option to order custom email templates that align perfectly with your brand. The Stripo team will handle the creation, coding, or re-coding based on your specifications. Simply provide them with the necessary details through a brief.
4. Email Templates Library
Stripo platform has a vast email template library. Freely you can access 1400+ HTML email templates. Email templates are categorized into free, premium, type, industry, season, features, and integration that will help you choose the perfect email template.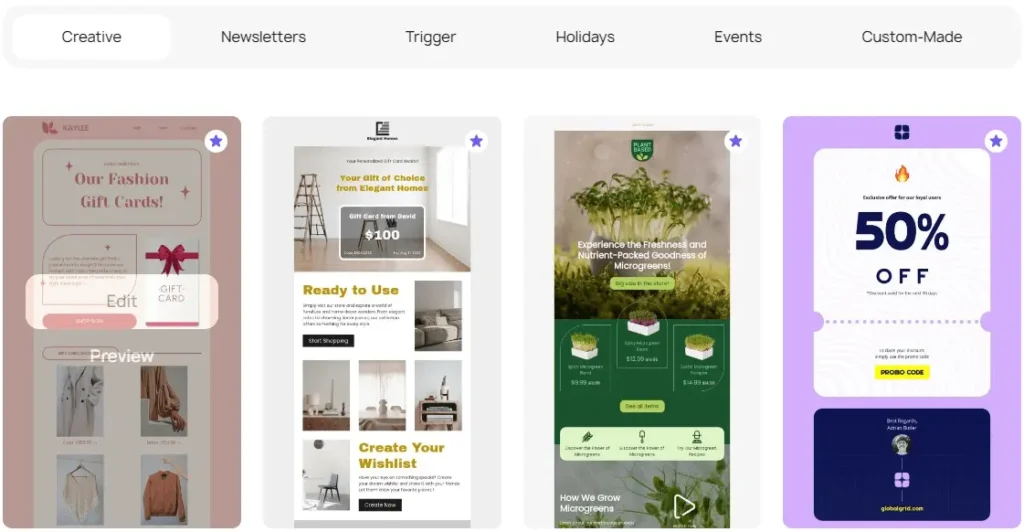 You can filter the email template library based on the type of email you are looking for. Such types are Abandoned carts, Alerts and notifications, Announcements, B2B, Cold Emails, Coming Soon, Confirmations, Coupons, Creative, Customer service, Delivery, Discounts, Email Digest, Event reminders, and more.
If you're in search of email templates tailored to a specific industry, Stripo's email design library has templates to cover virtually every sector. Whether it's Agriculture, Airline, Art Gallery, Auto & Moto, Beauty and Personal Care, Beverages, Books and stationery, Business, Church, Construction, Crowdfunding, E-commerce, Education, Fashion, Finance, Fitness, or many more, you'll find templates to suit your needs.
If you want to send a promotional campaign for a particular holiday or festival season, you'll find a variety of templates to promote events like Black Friday, Halloween, Thanksgiving, Christmas, April Fools' Day, Cyber Monday, Diwali, Global Shopping Festival, Independence Day, Mother's Day, New Year, and many others.
In Stripo, you can filter out templates based on the feature you're looking for. Such as 3D graphic, AI-powered, AMP, AMP Form, Accordion Menu, CSS Animations, Carousel, Countdown timer, GIF animation, Gamification, and more.
5. Create AMP Email Templates
AMP has a proven record of increasing conversions by 520% and enhancing your CTOR from 6 to 17%. Stripo has 100+ collections of AMP email templates so that you create AMP emails without extra effort.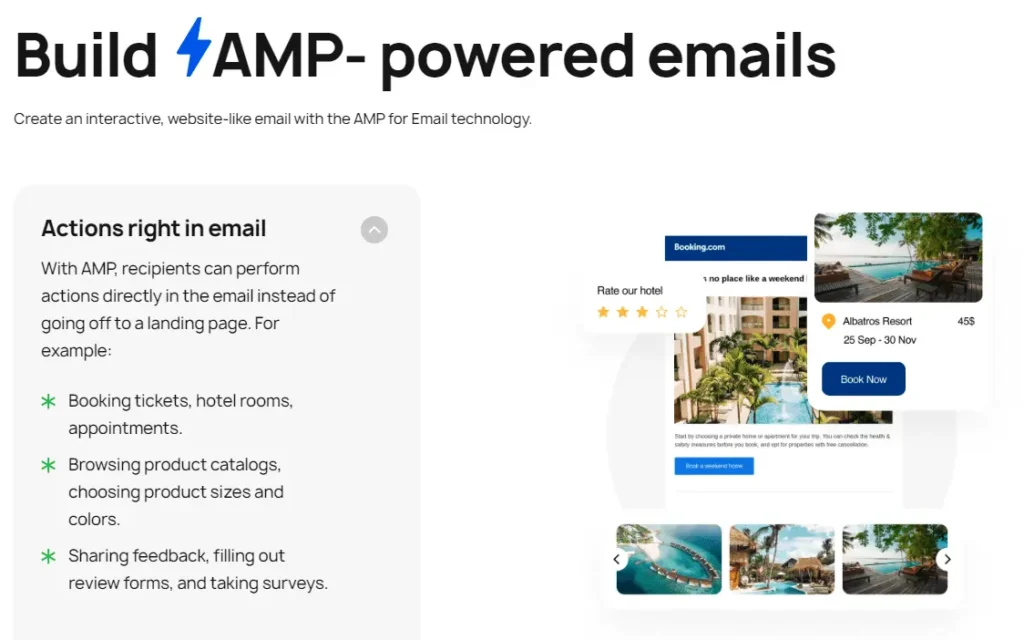 Creating customized AMP emails is very simple in the Stripo drag-and-drop editor. You can quickly create interactive emails to enhance your campaign's conversion rates.
What is AMP email?
AMP email is a framework, introduced by Google, that empowers marketers to add interactive and dynamic elements to their emails. With this email format, you can seamlessly incorporate forms for collecting data directly within the email. Likewise, you can create survey polls with options like Yes or No and gather responses without needing to open a separate survey link.
AMP email is primarily utilized for crafting interactive emails, featuring elements such as forms, polls, slides, customer feedback, interactive calendars, quizzes, rewards, and more. All of this is achievable through Stripo.
It's important to note that AMP email is compatible with Gmail and Yahoo Mail but not supported by Apple Mail, Outlook, and other email clients.
6. Easy to Preview and Test Email Template
Using the Stripo editor, you can effortlessly preview your emails across various email clients, including Gmail, Yahoo, Apple Email, Outlook, and 90 different combinations of popular devices.
All the email templates available in Stripo are tested with Email on Acid. So no need to worry about rendering issues. Just use a pre-built template and edit your content.
7. Email Export and Other Options
Once you are done with the email design, you will get multiple options to export emails.
Directly export to Gmail or Outlook.

Export as HTML code for use in your Email Service Provider (ESP).

Export in PDF or Image format, which can be shared with your design team for creating an emailer.

Integrate your ESP with Stripo to create a template directly within your email marketing platform.
These are the convenient options you will get in Stripo to create responsive email templates.
8. Integration
Stripo is highly compatible with a wide range of email marketing software providers. You can seamlessly integrate Stripo with over 80 Email Service Providers (ESPs), including popular options like Outlook, Gmail, Mailchimp, Zapier, Brevo, AWeber, Klaviyo, SendGrid, GetResponse, Hubspot, SendPulse, Moosend, ActiveCampaign, Salesforce Marketing Cloud, and many others.
9. Free Tools
Stripo also offers a couple of free tools that are helpful in creating outstanding email marketing campaigns.
Email signature generator
Effortlessly generate stunning email signatures with Stripo's free email signature generator.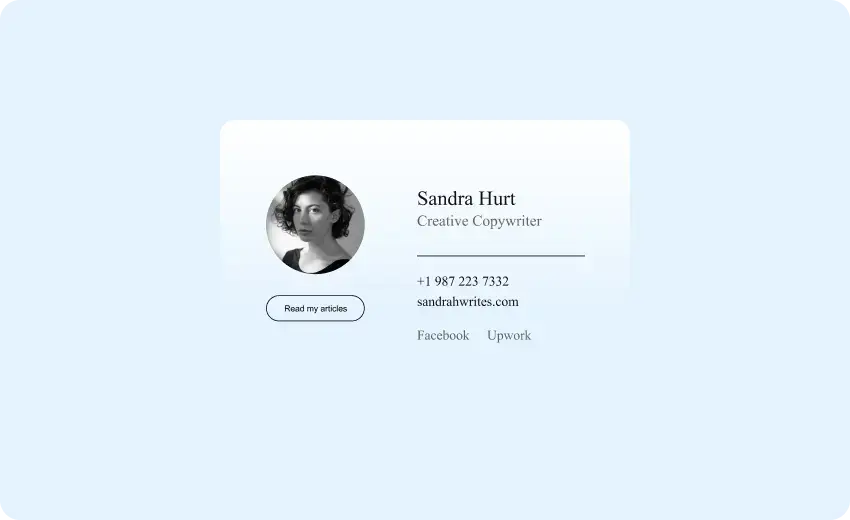 Craft a Gmail promo that enhances email previews in the Gmail Promotions tab with deal badges, product carousels, and more.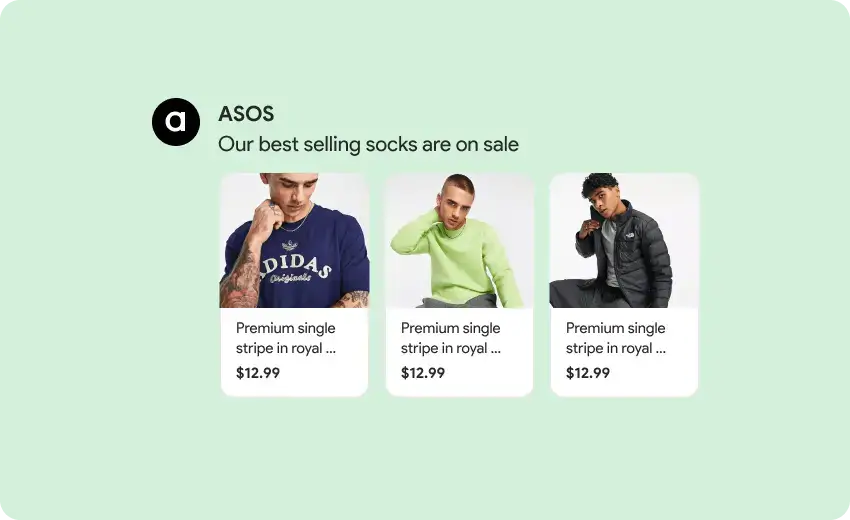 Email campaigns holiday calendar
Make use of the Stripo calendar and improve your email campaign planning.
Add puzzles, quizzes, and other custom games to your newsletters with an interactive module generator.
Branded email template generator
Create a set of email templates tailored to your brand's design styles in just 3 easy clicks, and it's absolutely free.
Email client testing tool
You can preview emails on over 80 devices and email clients to ensure they render properly.
Even if you don't have a plan to purchase Stripo, you can still take advantage of these free tools to simplify your work.
10. Customer Support
Stripo has an exceptional support team that can be reached through various channels, including email, chat, phone, Google Meet, and Zoom meetings. Their responsive support team is your go-to resource for addressing any questions or concerns.
So why wait? Start using Stripo now
Stripo Pricing Plans Reviews
Stripo's editor and plugin provide affordable pricing plans. Let's take a look at the pricing plans.
Free Plan
Just sign up and create a free account in Stripo.email. Enjoy these features
1 user

4 exports

5 test emails a day

10 stored emails

Access to email template library
This is a recommended plan for email marketing beginners who simply want to create emails for learning purposes.
Basic Plan
It is a paid plan, starting at $15/ month. Features include
1 user

50 exports

50 test emails a day

50 stored emails

Premium templates

Sharing preview links
You can view the complete pricing plan here.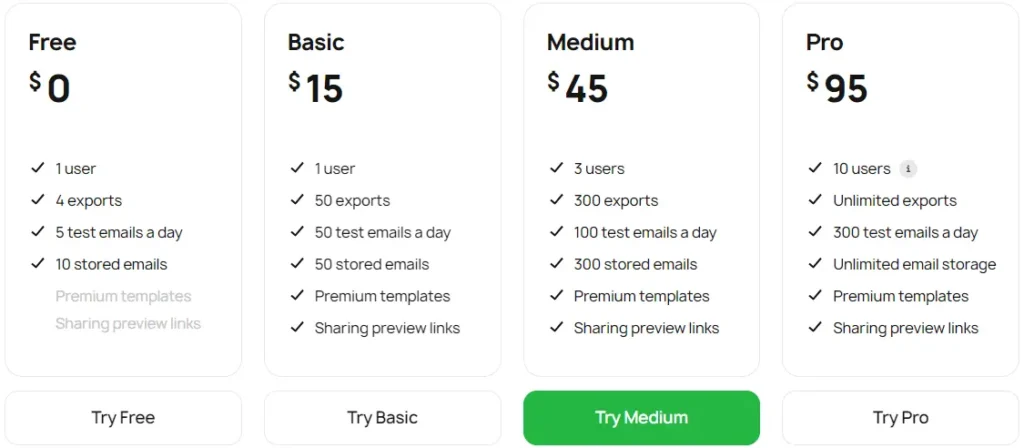 Stripo Pros and Cons
Let's review the pros and cons of Stripo.
Pros

Cons

Smart and advanced email editor

Get 1400+ free responsive email templates

Use 100+ AMP email templates and save time

Export email into HTML, PDF, Image, and ESP

Integrate with any email marketing platform

All pre-built templates are tested on Email On Acid

You have the choice to request a template for intricate designs

Fair pricing plan to fit any business

No cons have been identified in Stripo
Stripo Customer Reviews
Let's take a look at customer reviews and gather their valuable feedback.
Is Stripo the right tool for your business?
If your business frequently sends email marketing campaigns with interactive designs and often struggles with template ideas, choosing the Stripo paid plan is a smart move.
With pre-built templates for various industries, Stripo helps you save time on design. Their editor goes beyond the capabilities of typical Email Service Provider (ESP) drag-and-drop editors.
Final Stripo Reviews and Ratings

Final Thoughts | Is Stripo Worth Buying?
Stripo offers a robust set of tools and features for email marketing, making it a valuable resource for businesses and marketers. With a wide range of pre-built templates, a user-friendly drag-and-drop editor, and support for AMP emails, Stripo streamlines the email creation process.
Its free plan is ideal for beginners and learning purposes. The paid plans are well-suited for businesses that regularly send email marketing campaigns with interactive designs. With reasonable pricing and impressive features, Stripo is certainly worth considering for enhancing your email marketing efforts.
Stripo Alternatives
These are some Stripo alternatives and competitors available in the market you can try.
Frequently asked questions
1. How long can I use a FREE subscription?
The FREE subscription remains free for as long as you wish. It's free for a lifetime.
2. Are there any discounts?
Yes. When you purchase the annual plan, you'll get a 20% discount.
3. What are the support team's working hours?
There is support available in the UTC+3 time zone from 8:30 to midnight during business days.
4. Is my data secure?
Absolutely. Your data stored in Stripo is completely secure. They employ cutting-edge technology to ensure the highest level of data security.
5. What is the refund policy?
If you've paid for Stripo.email but haven't used it for the full month, you have the option to request a refund within 30 days and receive your payment back.