If you are looking for the best AI writing tools, then we are here to take a look at the popular AI writing tool called Writesonic. Writesonic is an AI-powered writing tool that helps content creators, marketers, and businesses to create high-quality content quickly and easily. Let's review the Writesonic AI writing tool.
In this Writesonic review, we'll delve into various aspects of Writesonic, such as its significant features, pricing plans, content generation process, content quality, accuracy, pros and cons, available discounts and offers, customer feedback, user ratings, as well as alternatives to the tool.
What is the use of Writesonic AI writing tools?
AI writing tools are becoming increasingly popular as they can help individuals and businesses create high-quality content quickly and efficiently. AI writing tools have various uses across different industries, including:
Content creation: Writesonic can generate high-quality content for blog posts, social media, and website copy.
Marketing: Writesonic can assist in creating ad copy, email newsletters, and other marketing materials.
SEO: Writesonic AI writing tools can help optimize website content for search engines by generating relevant keywords and phrases.
Product descriptions: E-commerce businesses can use Writesonic to create product descriptions that are informative and engaging.
Language translation: AI writing tools can translate content into different languages quickly and accurately.
Personalized communication: Writesonic can help businesses create personalized communication with their customers, such as chatbot responses and email templates.
Overall, the Writesonic AI writing tool can improve content creation efficiency, consistency, and quality while reducing the time and effort required for manual content creation.
Signup to Writesonic and get 10,000 free words!
Writesonic Review
Crafting a high-quality piece of content typically involves extensive research, creativity, and several hours of effort. However, what if you could generate complete articles in less than 10 minutes? With Writesonic, this is now possible!
Generate SEO-optimized and plagiarism-free content for your blogs, ads, emails, essays, Facebook ads, Google Ads, Quora answers, and website copy with Writesonic. Over 1,000,000 marketing teams, agencies, and freelancers have placed their trust in Writesonic. The platform has garnered over 10,000 5-star ratings from satisfied users. Writesonic has served numerous clients including Spotify, Meesho, Schnider Electric, Genesys, Tech Mahindra, Trivago, Zoho, Amazon, and many more.

How does Writesonic work?
Writesonic works by utilizing advanced AI algorithms to analyze the user's input and generate high-quality content that meets their specific needs. Here are the step-by-step instructions for using Writesonic:
1. Sign up for an account on Writesonic's website.
2. Select the type of content you wish to create, such as a blog post or social media content.
3. Enter relevant keywords or phrases related to your desired topic.
4. Select the appropriate template and writing style for your content.
5. Review the content ideas generated by Writesonic and select the best option for your needs.
6. Customize the content further as desired, such as adding or removing sentences or paragraphs.
7. Check for any grammatical errors or typos using the in-built editing tool.
8. Download the finished content in your preferred formats, such as a Word document or PDF.
9. Publish the content on your website, blog, or social media platform.
With these easy steps, you can create high-quality content quickly and efficiently with the help of Writesonic's AI-powered writing tool.
Best features of Writesonic
Writesonic provides 80+ Powerful AI Writing Tools at your Fingertips. Here are some of the best features of Writesonic:
Writesonic's AI writer is a cutting-edge tool that can generate long-form content in seconds, making copywriting and research a breeze. With this powerful tool, you can quickly create SEO-optimized content of up to 2000+ words in one go. This means you can save significant amounts of time on content creation and focus on other critical aspects of your business or marketing strategy.
By utilizing advanced machine learning algorithms, Writesonic's AI writer can generate high-quality content that is both engaging and informative. AI articles and blog writer one of the outstanding features of Writesonic that many people like to use it.
With Writesonic's paraphrasing tool, rewriting sentences, paragraphs, essays, and even entire articles is a breeze. Simply click a button, and the tool will generate 100% unique and plagiarism-free content for you.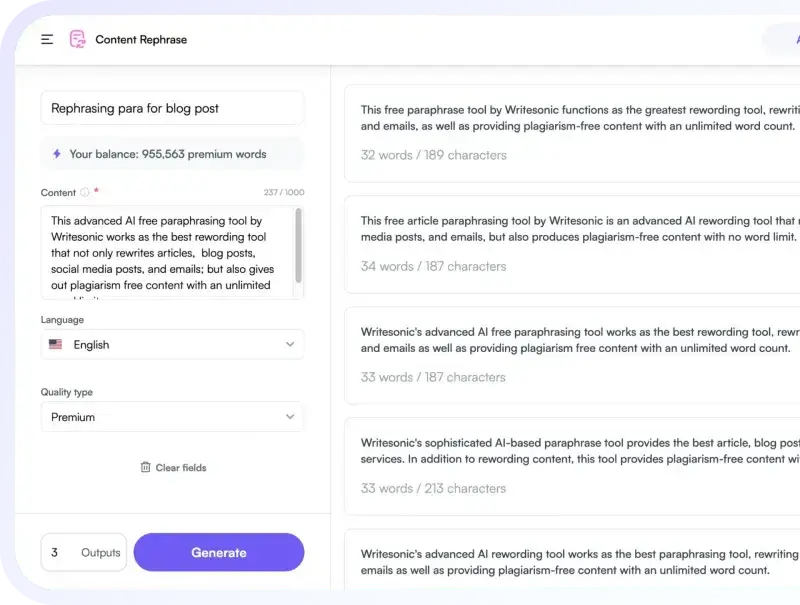 Writesonic's AI Text Expander is a powerful tool that can expand your sentences instantly, helping you to create longer and more complex sentences in multiple languages. With this tool, users can easily create more in-depth and engaging content in a fraction of the time it would take to do so manually. Whether you need to expand a single sentence or an entire document, Writesonic's AI sentence expander is the fastest and easiest way to achieve your writing goals.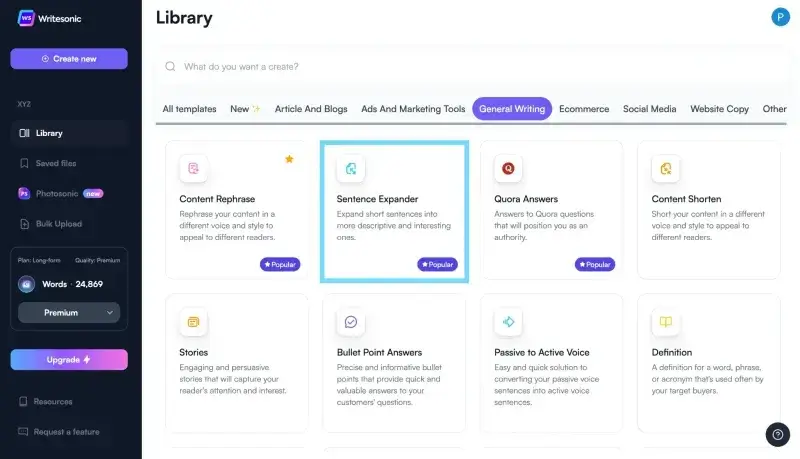 With Writesonic's Text Summarizer tool, users can quickly and easily generate well-written summaries of their text copy without altering the original tone. This powerful tool can help users to write short and unique summaries in a matter of seconds, saving them time and effort while ensuring that their content remains engaging and informative. Whether you need to summarize a long article or a short blog post, Writesonic's Text Summarizer is the perfect solution for creating concise and effective summaries.
With Writesonic's AI product description generator, users can create high-converting and compelling product descriptions in seconds. This powerful tool makes it easy to generate SEO-friendly and high-quality product descriptions that are sure to engage potential customers and drive sales.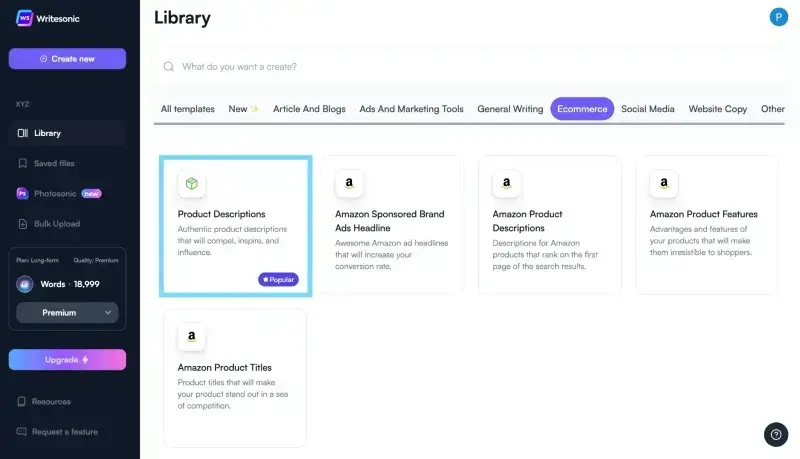 Whether you need to create descriptions for a single product or an entire catalog, Writesonic's product description generator can help you to get the job done quickly and effectively. With this tool, you can save time and focus on other important aspects of your business while still ensuring that your product descriptions are top-notch.
By integrating Surfer with Writesonic, you can create a powerful content writing workflow that is designed to help them rank #1 on search engines. This integration makes it possible to save 30+ hours every week by streamlining the process of generating, editing, and publishing SEO content.
With the combined power of Surfer's SEO optimization tools and Writesonic's AI-powered content generation, you can create high-quality, optimized content that is sure to perform well in search engine rankings. Whether you're a blogger, marketer, or business owner, the Surfer and Writesonic integration can help you to take your content strategy to the next level and achieve your goals more efficiently.
With Writesonic's Facebook Ad Generator, creating attention-grabbing Facebook ad copy that gets more conversion and results. This powerful tool makes it possible to create high-converting ad copy in just seconds, so you can engage your audience and achieve your advertising goals.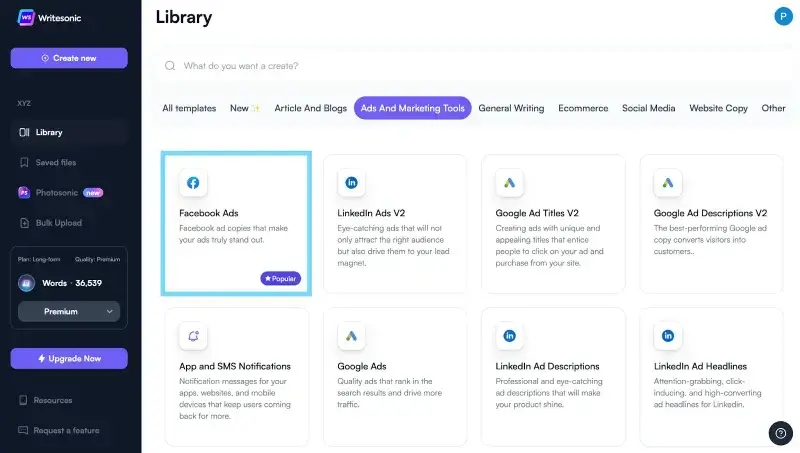 Whether you're a marketer or business owner, the Facebook Ad Generator can help you to save time and streamline your ad copy creation process. With its AI-powered capabilities, you can rest assured that your ad copy will be optimized for maximum impact and results.
Crafting persuasive ad copy that drives conversions can be a challenging task. However, with Writesonic's cutting-edge ad copy tools for Google, and other advertising channels, you can create high-quality ad copy that boosts your click-through rates, increases conversions, and lowers your cost-per-click.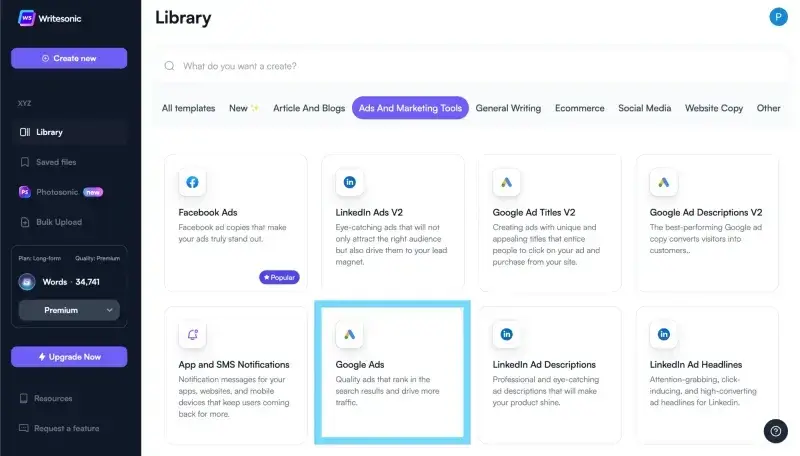 With Writesonic ad copy tools, your brand can achieve immediate results and drive better ROI for your advertising campaigns.
Generate high-converting landing pages in just a few clicks with the website copy generator from Writesonic! Upgrade your copywriting skills by instantly creating a professional and top-quality landing page with the help of Writesonic's AI landing page generator.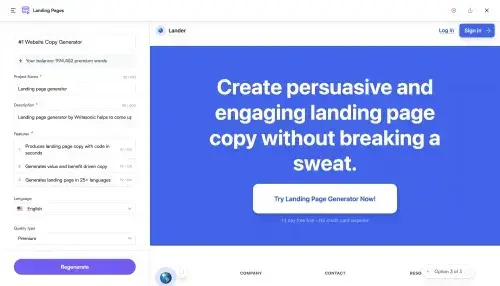 Generate fresh and unique blog post ideas instantly with Writesonic's Blog Idea Generator. No more struggling with brainstorming, get inspired with trendy and interesting topics for your blog in seconds!
Produces highly accurate and quality content
Writesonic produces premium-quality content with a high degree of accuracy. It produces content based on keywords and topics provided by you.
These features make Writesonic an ideal tool for businesses, marketers, and individuals looking to generate high-quality content quickly and efficiently.
Writesonic Pricing Plans Reviews
Writesonic offers different pricing plans to suit various business needs. Here are the pricing plans offered by Writesonic:
1. Premium Plan
This plan costs $19.00 per month when billed monthly and $12.67 per month when billed annually. It includes GPT-3.5,60000 words, 1 user, unlimited content generation, AI sentence expander, AI text summarizer, API access, and priority support.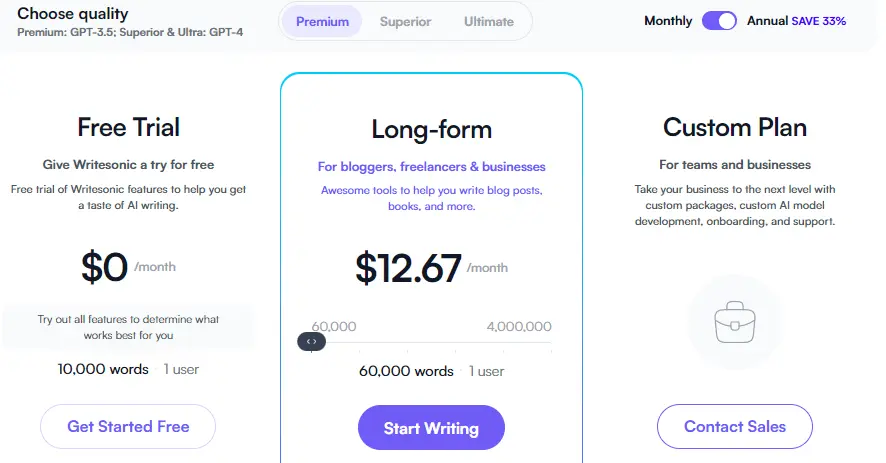 2. Superior Plan
This plan costs $19.00 per month when billed monthly and $12.67 per month when billed annually. It includes GPT-4 and GPT-4+, 30000 words, 1 user, AI blog writer, Facebook ad generator, Google ads generator, product description generator API access, and priority support.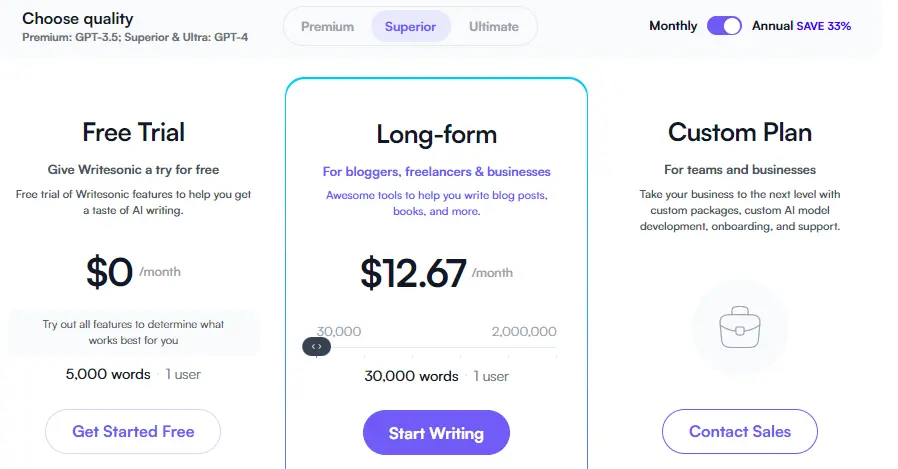 3. Ultimate Plan
This plan costs $19.00 per month when billed monthly and $12.67 per month when billed annually. It includes GPT-4 and GPT-4+, 15000 words, 1 user, AI blog writer, Facebook ad generator, Google ads generator, product description generator API access, and priority support.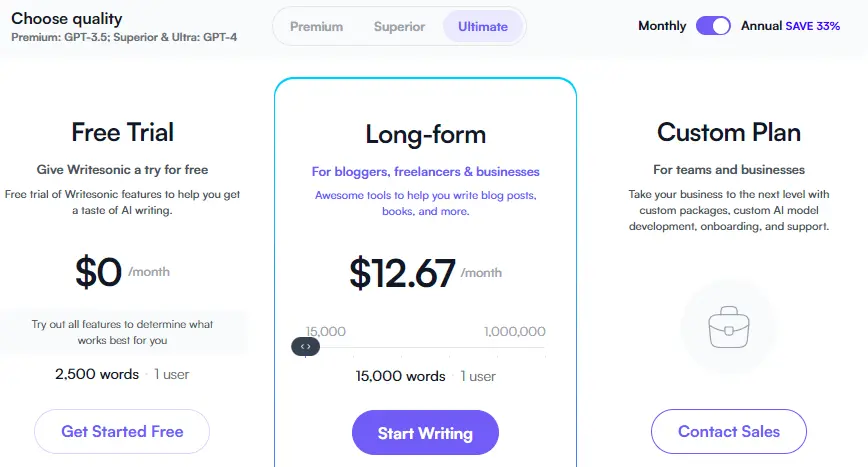 In addition to these plans, Writesonic also offers a free trial for new users to try out the platform before committing to a paid plan.
Discounts and Offers
Writesonic offers discounts and promotions regularly, and users can save up to 50% off the regular price by subscribing to an annual plan.
Writesonic Pros and Cons
One advantage of using Writesonic is its ease of use and the ability to generate content quickly. However, the tool may not be suitable for users who require a high level of customization and control over the generated content.
Pros
AI-powered content generation for various types of content such as blog posts, social media content, product descriptions, and more.

Customizable templates for different types of content.

Ability to generate content ideas based on specific keywords or phrases.

User-friendly interface with an easy-to-use editor and intuitive navigation.

In-built grammar checker and editing tool for error-free content.

Option to save content ideas for future use or to collaborate with team members.

Integration with popular platforms such as WordPress, HubSpot, and more.

Ability to create content in multiple languages.

Affordable pricing plans with a free trial option.
Cons
Limited human touch: While the AI-generated content is impressive in terms of speed and efficiency, it lacks a personal touch that a human writer can provide.

Learning curve: The platform may have a slight learning curve for new users, as the interface and the various features can be overwhelming at first.

Not suitable for all types of content: Although Writesonic can create a wide range of content, it may not be suitable for all types, such as highly technical or specialized writing.

Content: The content generated by Writesonic cannot be edited directly within the platform, and you need to export it to make any necessary changes.
Writesonic Customer Reviews
According to customer reviews, Writesonic is generally well-received, with many users praising its ease of use and the quality of the generated content. The tool has a 4.7 rating on G2 and a 4.6 rating on Trustpilot, indicating high user satisfaction.
Is Writesonic the right tool for your business?
Writesonic is a versatile tool suitable for all those who enjoy writing, with a specific focus on content writers, bloggers, marketing and sales professionals, publishers, e-commerce businesses, startups, students, content creators, and other professionals who require high-quality content in their respective fields.
Final Writesonic Reviews and Ratings
Here are the honest reviews and ratings on Writesonic, based on a couple of months of usage.

Writesonic Alternatives
There are various alternatives to Writesonic available in the market, including:
Each of these platforms offers different features and pricing plans, so it's important to do thorough research to determine which one is the best fit for your needs.
Conclusion
Writesonic appears to be a useful AI-powered content generation tool that can help users save time and effort in creating various types of content. Its various features such as the paraphrasing tool, sentence expander, and product description generator, among others, can benefit different types of users, from content writers, bloggers, marketing professionals, publishers, sales professionals, startups, e-commerce companies, business owners, students, and content creators. Its affordable pricing plans and free trial make it accessible to users with different budgets. Also use Writesonic to make money online.
However, it's important to note that the generated content may not always be perfect and may require editing before publishing. Additionally, the platform may have some limitations, such as the inability to edit content within the platform. Nevertheless, Writesonic is a valuable tool for those looking to streamline their content creation process and improve their content quality.
Frequent Ask Question
Is Writesonic free?
Yes. it's completely free to use. Offer 10000 premium words in a free plan. It allows users to test the capabilities of an AI-powered platform.
---
Which languages does Writesonic support?
Currently Writesonic support 24 languages apart from English. Some of them are French, Spanish, Italian, German, Polish, Portuguese, Dutch, Japanese, Russian, Chinese, and more.
---
Does Writesonic provide an AI Image Generator?
Yes. Writesonic's Photsonic features allow you to create images from text.
---
What is the pricing comparison of Writesonic with other platforms such as Jasper (Jarvis), Simplified, Copy AI, and similar ones?
Writesonic offers a more cost-effective solution compared to Jasper (Jarvis), Simplified, Copy AI, and similar platforms, while also providing a wider range of features.
---
Can AI replace copywriters?
AI can assist copywriters in various ways such as generating ideas, expanding sentences, creating product descriptions, and generating ad copies. However, it cannot fully replace copywriters as it lacks human creativity, empathy, and subjective decision-making skills.
AI-generated content still requires human editing and quality control to ensure it meets the brand's voice, tone, and messaging. In conclusion, while AI can enhance copywriting processes and improve efficiency, it cannot replace the need for human input and creativity.
---
Can the remaining AI words in the subscription plans be carried over to the following month?
Unused AI words can not be carried forward for the next month. You have to use it within that month. It's better to use all premium words based on the subscription plan. Plan your content strategy in advance and create content through the Writesonic AI writing tool.
---
Is there any discount available on Writesonic?
Yes, Writesonic is currently offering an Easter Offer with up to 50% discount and an additional 20% discount on top of the existing 33% discount on annual plans.