Leadfeeder is one of the leading B2B lead generation software that analyzes your website traffic and provides you with visitors' contact information. But Is it worth buying to increase lead generation efforts? Let's look deeper into our Leadfeeder review to find out.
Every day, numerous people visit your website, but most of them don't fill out your website form. For those visitor you will not have any information, In Google Analytics just you can see how long they stayed, the pages they viewed, and their location. However, this information is of limited use if you don't know who these visitors are.
That's where Leadfeeder comes into play. It's a highly recommended tool for B2B organizations as it identifies the companies that visit your website and provides you with the decision maker's contact information. So you can contact them and convert them into valuable leads.
If you're interested in trying out Leadfeeder, you can sign up for a 14-day free trial with access to all its features.
Leadfeeder Review
LeadFeeder is a startup B2B lead generation platform based in Helsinki, Finland. Also known as Dealfront. Its primary job is to convert website traffic into high-quality leads so that your sales team can focus on the most valuable leads and avoid spending time on invaluable leads.
Leadfeeder is trusted by over 60,000 salespeople, marketers, and agencies, including well-known companies like Pipedrive, Hertz, Eventbrite, BAUER, Meltwater, Framery, and many others, to achieve more sales and revenue. You can try it out for free
Now, you might be wondering how it works. Let's break down step by step how Leadfeeder functions.
How does Leadfeeder Works?
Initially, I was curious about how Leadfeeder identifies who is visiting the website. But then I realized it's not rocket science. It simply uses a combination of website analytics, tracking cookies, and artificial intelligence. That makes it possible to identify which company visiting your website.
#Step 1: Identify Website Visitors
Once you sign in, you'll receive a small tracking code that should be added to every page of your website. Once it's done, Leadfeeder starts capturing the visitor's company, IP address, and location.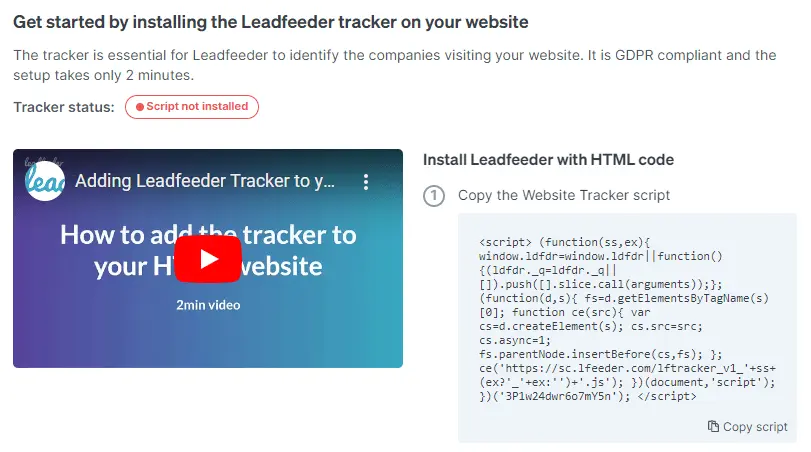 #Step 2: Qualify High Potential Leads
Once Leadfeeder identifies companies, you can filter them out based on your ideal customer profile (ICP). It has a custom filter option, you can segment leads based on location, company, employee, industry, and lead score, and identify potential leads. Here you can learn how to do targeted lead generation.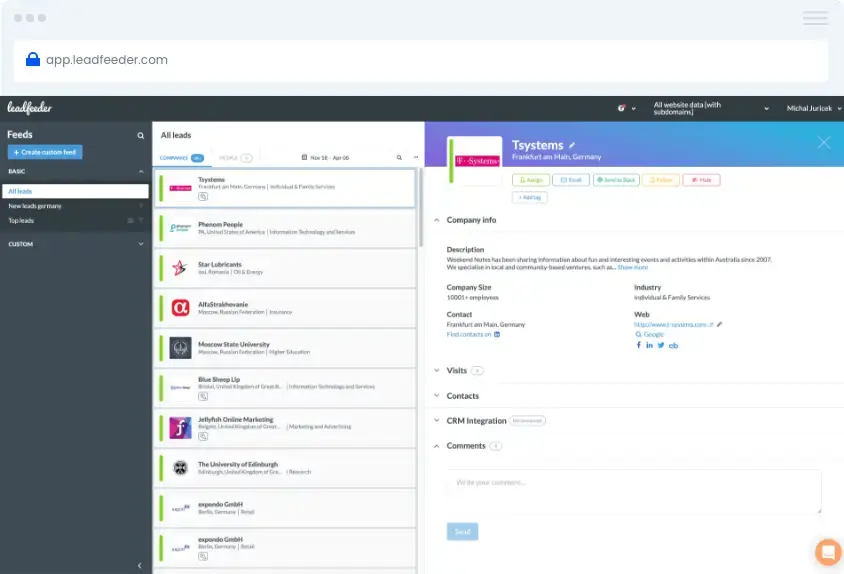 These are filter options you will get in Leadfeeder
Company website

Company Location

Industry

Email and Contact number

Company description

Page visited on your site

Source of traffic and more.
#Step 3: Connect with Decision Makers
Now, let's get in touch with the decision-makers from the companies visiting your website. Leadfeeder offers an internal database that helps you identify the appropriate person from the visiting company. You can easily filter contacts by job role, seniority, or location, and access their email addresses, phone numbers, and LinkedIn profiles.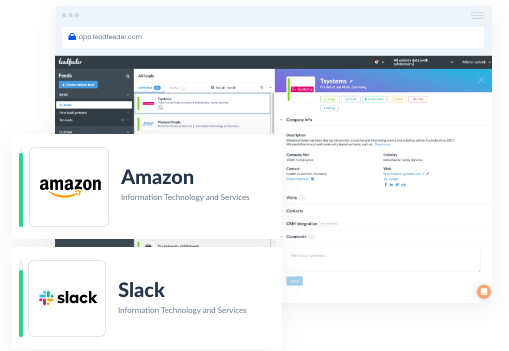 #Step 4: Sync with your CRM
You can seamlessly connect Leadfeeder to your CRM or marketing platform. So automatically leads can transfer to your CRM platform. That enables your sales team to promptly follow up and convert them more efficiently.
Leadfeeder integrates effortlessly with popular CRM and marketing automation tools like HubSpot, Pipedrive, Zoho, Salesforce, Mailchimp, Zoho, ActiveCampaign Zapier, and many others.
LeadFeeder Features
Leadfeeder comes with many powerful features to simplify your lead generation efforts. Let's discover LeadFeeder features in more detail.
1. Robust Contact Database
In Leadfeeder you will get access to millions of decision-maker contact databases. You can directly connect with them through the Leadfeeder platform. No need to buy additional tools to find leads. Its in-house database can provide you with proper contact details to start conversion with leads effortlessly.
2. Automatic Lead Scoring
The Leadfeeder AI algorithm assigns a score to each lead according to website interactions. High-quality leads are prioritized at the top of your list, making it easy for you to connect with them immediately and convert them into sales.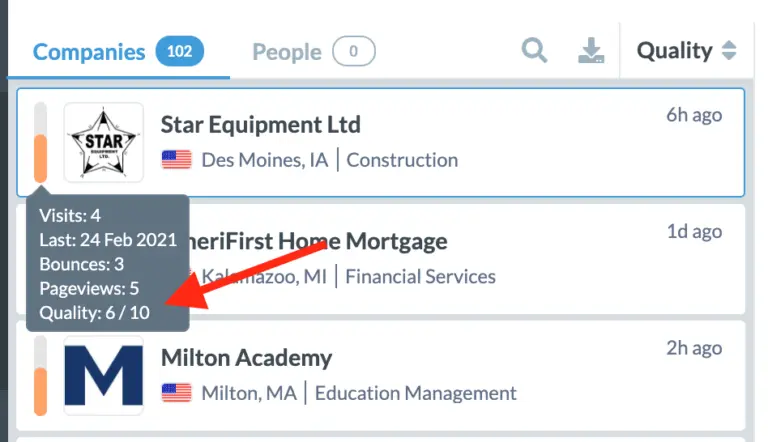 3. Instant Lead Gen
Real-time leads are pushed to your CRM. Whenever visitors come to your website within 5 minutes data is pushed to your CRM with the company name. Then your sales team can contact the decision maker of that company and start conversion.
4. Email Alerts
With Leadfeeder, you have the choice to subscribe to daily or weekly notifications. Daily notifications will keep you informed via email about your website's daily activity and the number of companies that visited.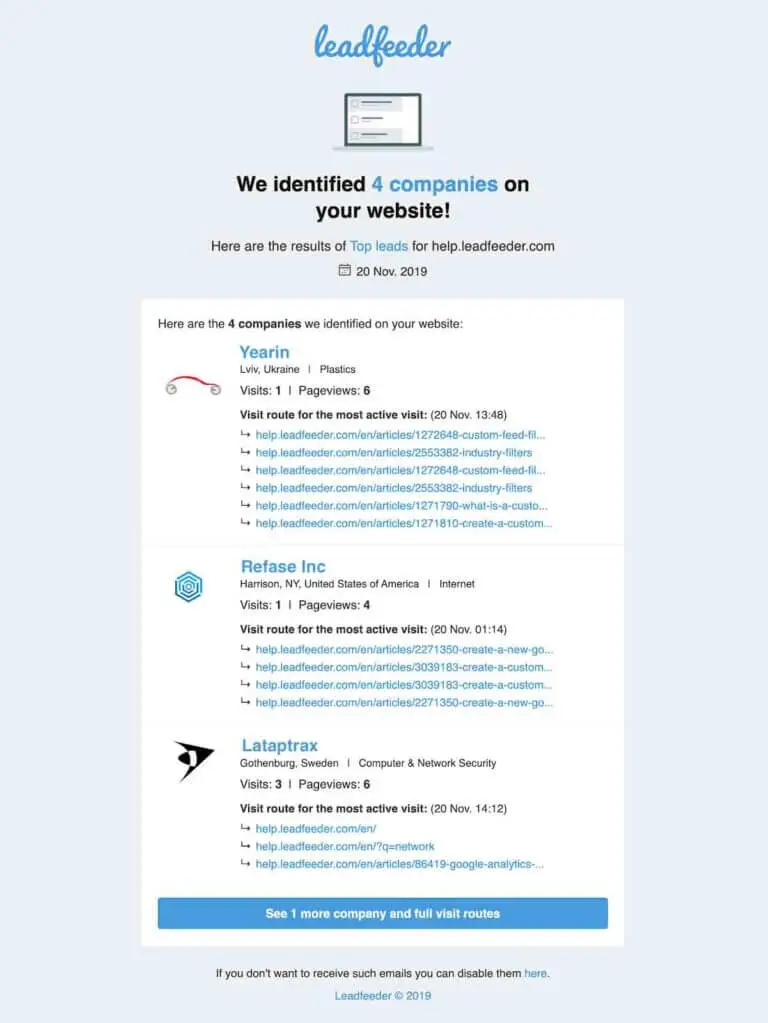 On the other hand, weekly notifications provide a summarized view of the week's website traffic.
Apart from daily and weekly notifications, you can also set up personalized email alerts. For example, when your targeted company visits your website you will get an alert on your email for timely follow-up.
5. Powerful Lead Filters
Your website can receive traffic from various sources, including organic search, email, social media, blogs, Google ads, LinkedIn ads, Facebook ads, and more. Each source brings in different types of visitors. With Leadfeeder, you can filter your leads based on their traffic source, country, industry, page visits, and more. This helps you pinpoint the source of each lead and assess its quality.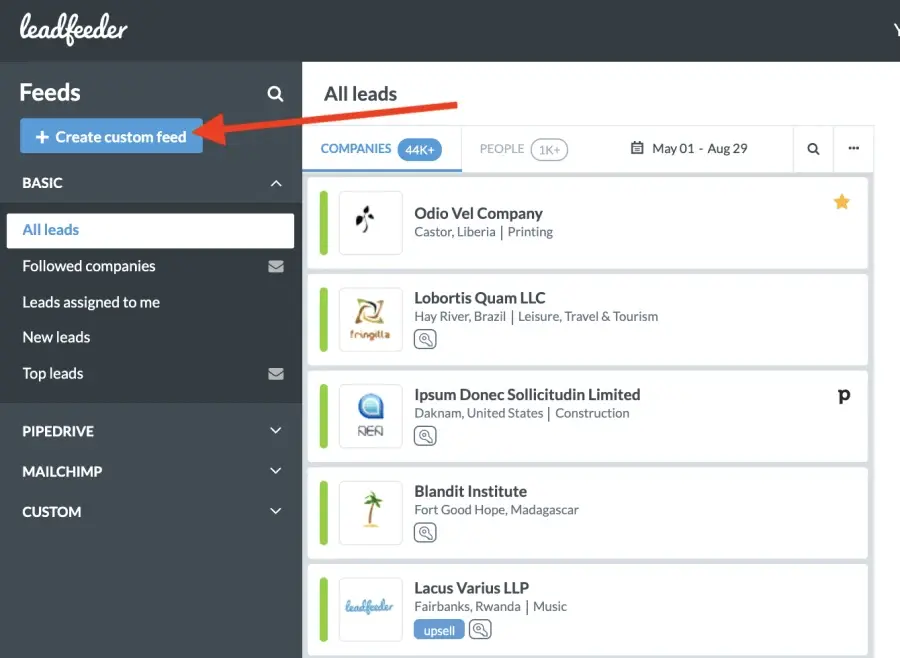 Using the Country lead filter, you can categorize leads and assign them to the appropriate regional sales team for targeted outreach.
6. CRM Integration for Automation
You can easily integrate Leadfeeder into your preferred CRM to automatically add new visitors to your sales pipeline. Leadfeeder offers seamless integration with a wide range of CRM systems, including HubSpot, Pipedrive, Zoho, Salesforce, Mailchimp, ActiveCampaign, Zapier, and more.
7. Analytics and Reporting
Leadfeeder provides a comprehensive view of your website traffic, empowering you to make informed decisions. You can review the history of each visiting company on your website and easily identify which pages are most frequently visited by your audience.
These are Leadfeeder's top features – give them a try for free!
Leadfeeder Pricing Plans Reviews
Leadfeeder offers two pricing plans – Free and Premium.
The free plan offers basic features with no time limit, but it retains data for just the past 7 days and can identify a maximum of 100 companies.
The paid plan is priced at $139 per month if billed annually. Otherwise, it costs you $198 per month for a monthly plan. It includes unlimited features and user access, enabling you to effectively generate high-quality leads from your website traffic.
Pricing is calculated based on how many companies Leadfeeder identifies. If any company visit your website multiple time then it will be considered as one. It also filters out low-quality traffic and ISPs. Let's check out the pricing tier here.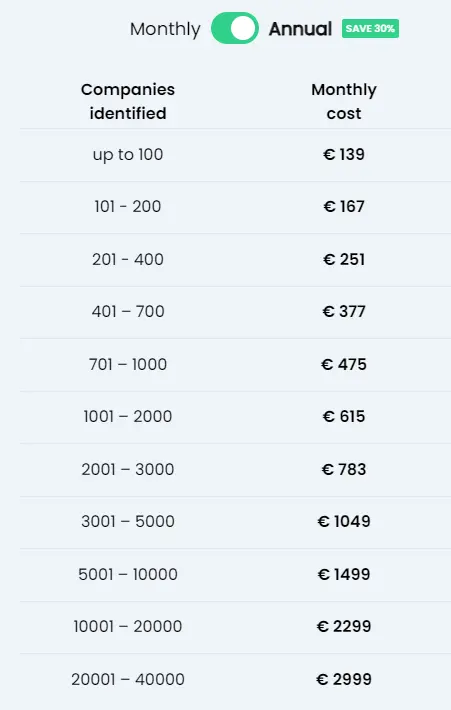 Leadfeeder Pros and Cons
Like any software, Leadfeeder has its own set of pros and cons that you should be aware of. Let's see here.
Pros

Cons

Excellent B2B Lead generation software

Best lead generation platform for account-based marketing

Easy to install tracking code and tracking visitors

Use the advanced filter and find high-quality leads that convert

Get email alerts, so won't miss any opportunity

Unlimited storage and users

Tracking multi-channel lead source

Limited integration with third-party software

Higher pricing plans

Limited contact credits for accessing prospect email and phone numbers
Leadfeeder Customer Reviews
Let's hear from Leadfeeder customers about their experiences with the platform.
Is Leadfeeder the right tool for your business?
If you operate in the B2B space, Leadfeeder stands out as an excellent lead generation tool to consider. With over 60,000 salespeople, marketers, and agencies relying on it. Leadfeeder excels in quality lead generation. These users already adopted account-based marketing that helps them generate high-potential leads.
Final Leadfeeder Reviews and Ratings
After using Leadfeeder for a couple of months here are our reviews and ratings.

Final Thoughts | Is it worth buying?
In this Leadfeeder review, we have tried our best to cover all aspects of Leadfeeder. Ultimately, whether Leadfeeder is worth purchasing depends on your specific needs and goals. If you're in the B2B sector and seek efficient lead generation and visitor tracking, Leadfeeder's robust features could be a valuable asset. However, consider your budget and integration requirements before making a decision.
Frequently Asked Questions
1. Is Leadfeeder compliant with GDPR/CCA?
Yes. Leadfeeder is fully GDPR compliant, and it advises you to include your usage of Leadfeeder alongside mentions of other tools like Google Analytics, in your privacy statements and disclosures.
2. Can I track multiple websites with one login ID?
Obviously, you can track as many websites as you want in one login account. And easily switch from one website to another. But the price will be charged based on per website.
3. Can Leadfeeder identify remote workers?
Leadfeeder can identify companies visiting your website, even if their employees work remotely. Their IP database is continuously updated from multiple sources, enabling them to pinpoint company information and geographic location for website visitors, regardless of their location.
4. What is the difference between Google Analytics Vs Leadfeeder?
Google Analytics and Leadfeeder serve distinct purposes. While Google Analytics provides website traffic and performance data, Leadfeeder focuses on identifying visitor companies and converting B2B leads.
Leadfeeder offers more detailed company-level insights and maximizes lead generation efforts. Whereas Google Analytics is primarily a web analytics platform.
5. What unique capabilities does Leadfeeder offer that are not typically found in marketing automation?
While many marketing automation tools rely on form submissions. Capturing only about 2% of website visits. Leadfeeder is capable of identifying companies that often go unnoticed by these tools.