You're thinking to buy a GrowMeOrganic sales automation tool. That's great! This is a great place to start your search because we have a complete GrowMeOrganic review that will give you all the information you need to make a good decision about whether GrowMeOrganic can help your business.
Sales prospecting and lead generation are important parts of generating revenue for the business. So there are many tools available in the market for lead generation and cold outreach. GrowMeOrganic is one of them that provides complete lead generation solutions. In this GrowMeOrganic review, we're going to look at the features, pros and cons, pricing, customer reviews, overall performance, and alternatives.
GrowMeOrganic Review
GrowMeOrganic is a new generation of sales automation software that allows you to find the email of your potential prospects from the LinkedIn and B2B databases. And send them personalized emails with automated email sequences. It's an ideal solution for brands who want to reach their prospects in a quick and efficient manner. Specially designed to help you and your sales team be more productive and achieve real business growth.
With GrowMeOrganic you can track all your lead generation activity in one place. It has over 15M+ companies and 575M+ professional contacts. You can use it smartly to generate more leads. GrowMeOrganic is well known cold outreach tool, that has more than 1000+ clientele including CrowdFunding, Influencee, StageYou, Unacademy, SpreadMIX, and many more.
How does GrowMeOrganic work?
To use GrowMeOrganic no need to have any prior experience. Just watch this video, and you will understand the whole concept of GrowMeOrganic and how effectively it will help your business to grow faster.
Best Features of GrowMeOrganic
GrowMeOrganic offer extraordinary features that will help the sales, marketing, and lead generation team to generate more leads and deals. Let's review GrowMeOrganic features one by one.
Find your ideal prospect on Linkedin. GrowMeOrganic chrome extension is capable of finding unlimited contacts from Linkedin. You can use this tool to find the email, phone numbers, and company details of your prospect. Its powerful extension can help to get verified emails in bulk.
GrowMeOrganic chrome extension is compatible with both free and paid LinkedIn accounts, such as Sales Navigator, Recruiter Lite, and Recruiter Professional.
Once you sign up to GrowMeOrganic, you will get access to 575M+ professional contacts. Find relevant prospects by sorting data by industry, company size, location, contact name, and more. Connect with accurate contacts more effectively, convert more quickly and drive revenue for your business.
Export businesses from any industry

Find contacts of employees from any company

Convert the company name to the website

Update missing information in your current database
The right B2B database enrichment tool makes it easy to find leads, determine the right company segment, and convert them to sales. If you're in charge of finding prospects, then GrowMeOrganic is a must-have tool. You can also learn effective ways of building an email list.
Find emails of any professionals based on their name and company. GrowMeOrganic allows you to find emails in bulk by simply uploading the name and company list. here are the best email finder tools.
Google MyBusiness Scraper
GrowMeOrganic offers another best feature which is the GMB extractor. It helps to extract local business contact details from Google Maps. You can easily extract data by any keyword, city, and country from Google MyBusiness. It is a very effective tool to get verified contacts and reach out to local businesses.
Just upload a list of websites you want to target. GrowMeOrganic's web scraper quickly extracts prospects' email addresses, phone numbers, and social media links. It produces great results and increases the sales team's productivity.
GrowMeOrganic Drip Campaigns is one of the best automated email marketing services in the industry. In minutes, you can easily set up email drip campaigns and reach out to prospects with personalized content.
There are no restrictions. Send an unlimited number of emails, upload an unlimited number of contacts, and add an unlimited number of accounts. Simply connect to your email clients, such as Outlook, Gmail, Yahoo, or any SMTP. Rest GrowMeOrganic will handle and deliver your message to the client's inbox.
GrowMeOrganic also offers a couple of free marketing tools that help you to verify emails, design beautiful graphics, and create effective cold email campaigns.
Cold Email Templates

Free Email Designer Tool

Free Graphics Designer Tool

Free Email Validation
These tools are completely free no need to sign up. Just use it to get better results from your campaign.
GrowMeOrganic Pricing Plans Reviews
GrowMeOrganic offer unlimited credits with affordable pricing plans. It has 3 pricing plans, Starter, Growth, and Pro. Each plan has additional features choose your plans according to your needs.
It is best for occasional users. Who occasionally search for leads. Pricing starts at $39 / per month and comes with limited features like 1 user access, connect 1 LinkedIn account, 2000 LinkedIn exports, 2000 data enrichments, scarp website up to 2000, 5 active campaigns, connect 2 email clients, and more.
It is a good fit for a sales and marketing team who continually looking for new clients. Pricing starts at $79 / per month and comes with unlimited features. That includes 5 user access, connect up to 5 LinkedIn accounts, unlimited LinkedIn exports, unlimited data enrichments, unlimited website scarp, unlimited campaigns, unlimited email clients, and more.
Pricing starts at $159 / per month and comes with unlimited features. Additional features you get in this plan are access to unlimited users and connect unlimited LinkedIn accounts with GrowMeOrganic. Check here for detailed pricing comparisons.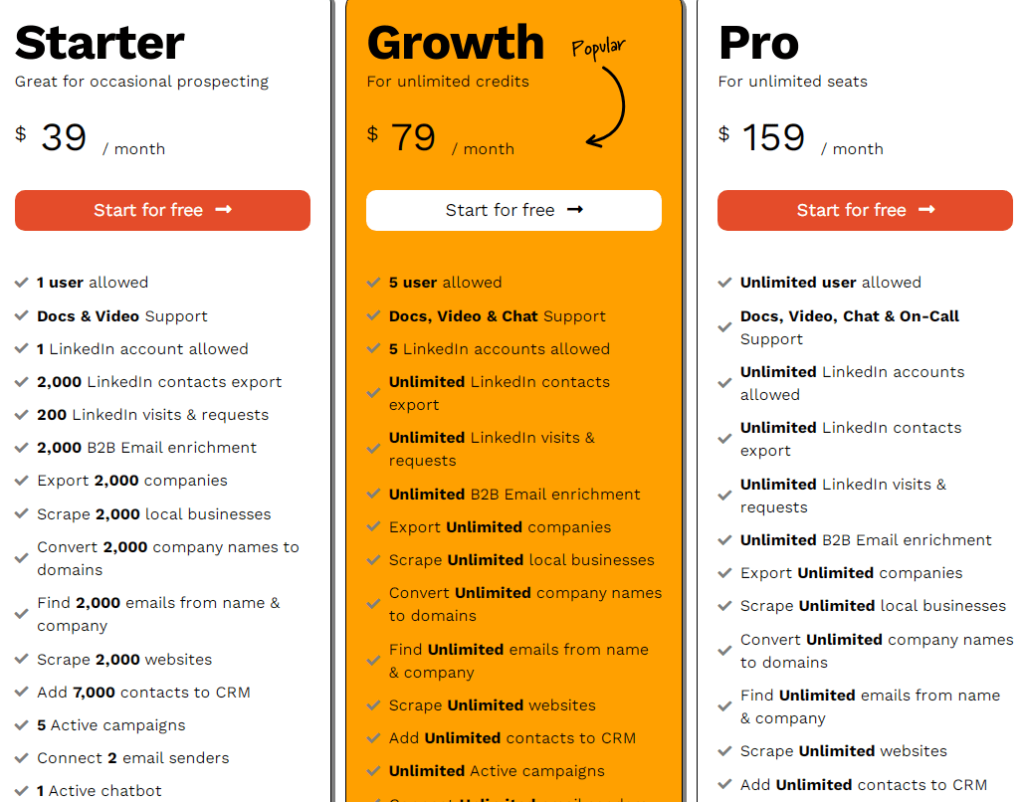 GrowMeOrganic Pros and Cons
Pros and cons are the best factors to consider in any software. GrowMeOrganic has some advantages and disadvantages. Let's dive into more details.
Pros
Best email finder and prospecting tools

Cost-effective and reasonable pricing plans

Powerful chrome extension to find out leads

Find unlimited emails and phone numbers from Linkedin, social media, or any website

It has an extensive database of 15M+ companies & 575M+ professionals

Reach out to prospects with personalized messages

Send unlimited emails from the GrowMeOrganic platform

Connect any tools with API/Webhooks

Send automated emails and increase prospects engagements

Offer highly accurate and verified data

Provides real-time email verification
Cons
Credit card required for 14 days free trial

Weak customer support

Sometimes you will not get all the emails of prospects
GrowMeOrganic Customer Reviews
Will GrowMeOrganic offer the best sales automation tools? Don't just take our word for it. Here is what real clients have to say about GrowMeOrganic.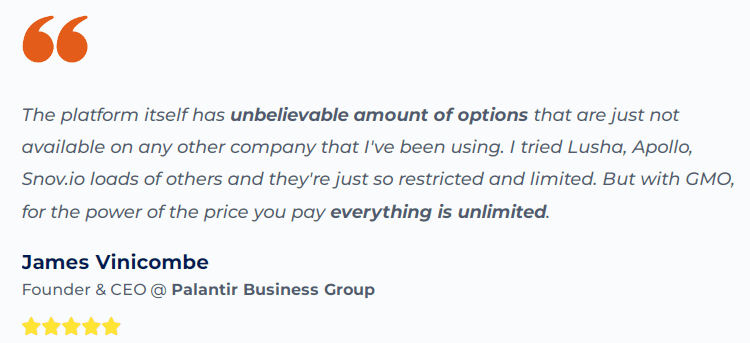 Is GrowMeOrganic the right tool for your business?
GrowMeOrganic prospecting tool for everyone who is looking for new leads for their business. This is the perfect tool for sales, lead generation, recruiters, business development, outreach professionals, and more.
Final GrowMeOrganic Reviews and Ratings
GrowMeOrganic is an easy-to-use sales automation tool that includes everything you need to run an automated sales outreach campaign and increase your lead volume. Let's look into reviews and ratings.