Are you looking for the perfect LinkedIn Sales Navigator lead extraction tool? Then Evaboot is one of the famous lead-scrapping tools for LinkedIn. In this Evaboot review, we'll look at whether it's worth buying or not. We will go through each element of Evaboot including features, how it works, pricing, customer reviews, alternatives, pros, and cons.
Linkedin is the most effective b2b lead generation channel. LinkedIn lead generation is most popular among sales and marketing teams. To use LinkedIn more efficiently you need a powerful LinkedIn extraction tool to identify prospect contact information and email. So you can contact prospects to promote your products and services. Now, let's take a look at the Evaboot lead generation platform.
Evaboot Review
Evaboot is the smartest platform for extracting clean data and emails from LinkedIn Sales Navigator. With the help of a chrome extension, you can effortlessly extract data, find emails and build lead lists in just one click. You can use it to increase your productivity and avoid collecting emails manually.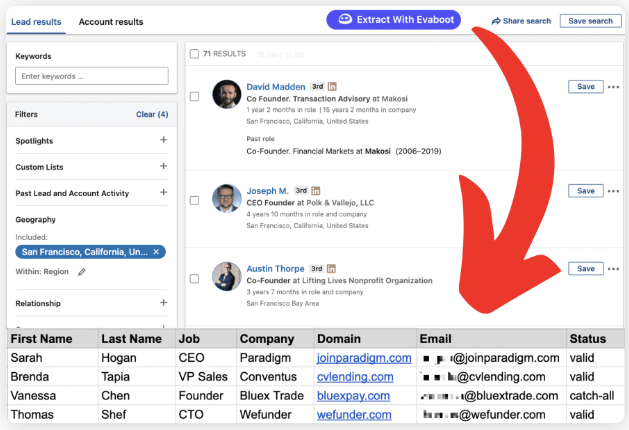 More than 1000+ companies use Evaboot to find emails and save time. That includes Uber, UiPath, Airtable, Contentful, mongoDB, and more. It helped many clients to speed up their list-building activity.
How does Evaboot works?
It is one of the simple lead generation tools to operate. Here are four steps you can follow to extract leads for the Linkedin sales navigator.
#Step 1: Install the Evaboot chrome extension
Go to the chrome store and install the Evaboot chrome extension in your browser.

#Step 2: Go to your Linkedin Sales Navigator account
Once you log in to your Linkedin account you will able to see the Evaboot extension.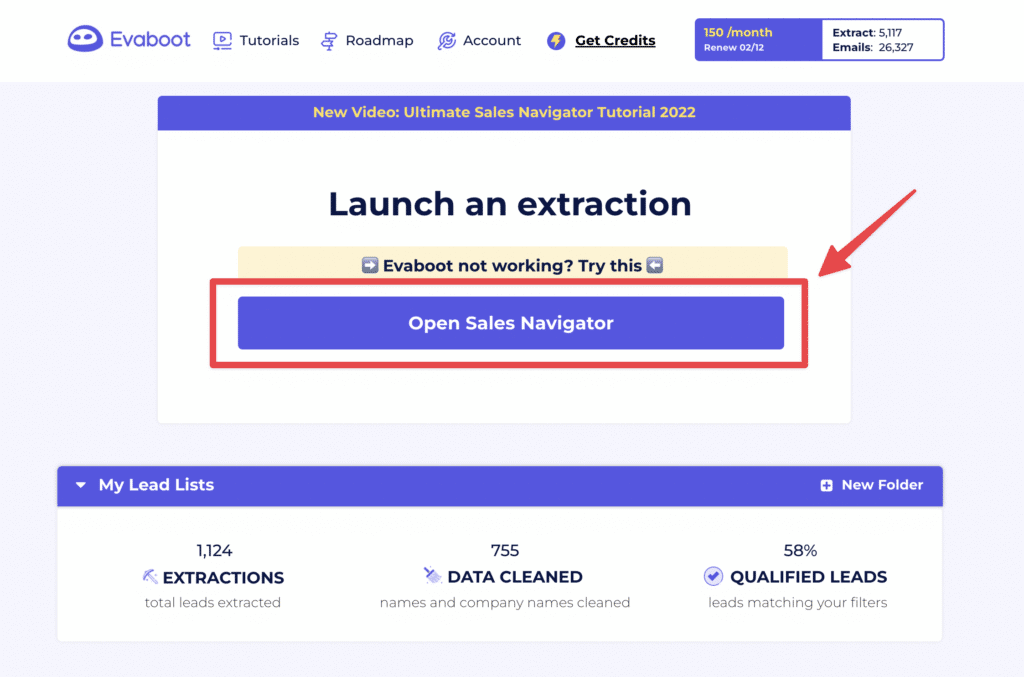 #Step 3: Find your leads and extract data
As usual search for your target leads. Once you find the search results click on the "Evaboot extension icon" at top of the screen. Give the list name and then all leads will be extracted to the Evaboot account.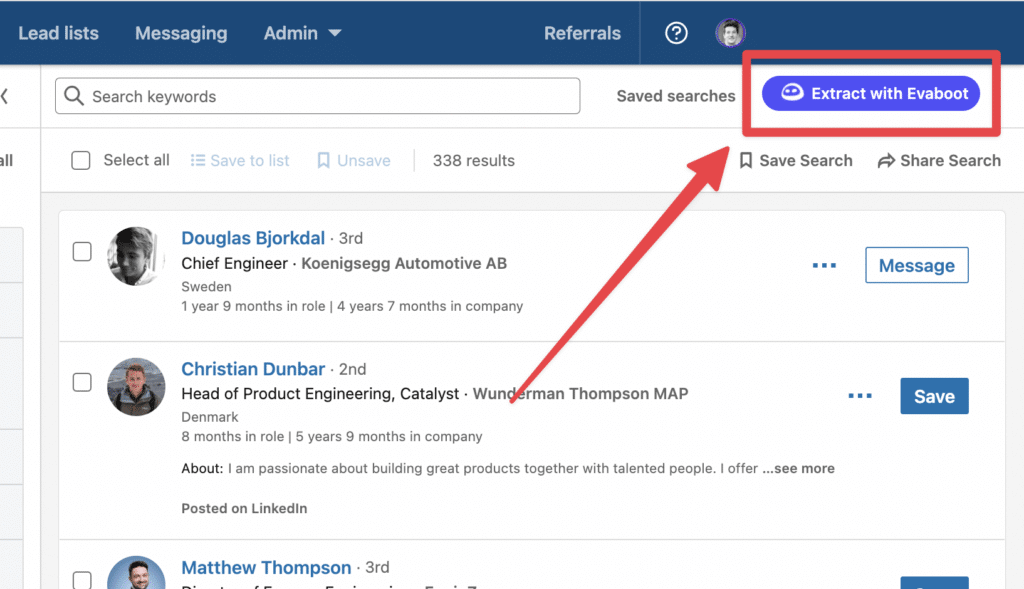 Suppose if want data without emails, from here you can directly export the data to CSV.

#Step 4: Finding email addresses of prospects
Once you extract leads from Sales Navigator. All the leads are stored in the Evaboot account. Now select the list from which you want to find emails. Just click on "find emails" and within a minute you will get all the professional email addresses.

The extraction time will be delayed, depending on the volume of the leads list.
Watch the video for more details.
Best Features of Evaboot
Evaboot is the complete LinkedIn lead extraction platform that offers outstanding features to enhance your list-building activity. Let's see the one-by-one best features of Evaboot.
You can extract Linkedin Sales Navigator data with just one click. Seamlessly export LinkedIn search results, lead data, and company data. That includes LinkedIn fields such as name, job title, LinkedIn URL, location, industry, website, company name, revenue, employee, etc.
Just install the Evaboot chrome extension and get 1000 free credits to export Linkedin leads.
Evaboot is capable of cleaning data without human interruption. There is no need to manually format the data because it will automatically remove special characters and emojis from the first name, last name, and company names and provide you with clean data for the cold outreach campaign.
Once the leads get extracted you will see around 30% of sales navigator results mismatch with contacts, titles, and companies. Because many people do not update their LinkedIn profile and their current company.
But Evaboot identifies those leads and informs you about mismatched leads. So you can easily filter those leads and remove them from your list.
Evaboot Linkedin email finder helps you to get any professional's email address. It uses various sources, and patterns to find the accurate email addresses of leads. Once you extract data from Linkedin you can comfortably find email addresses in bulk. It will take only a few minutes to find the emails address of thousands of leads.
Whatever emails you find in Evaboot, it automatically goes through the verification process and detects all invalid, dead, or catch-all emails. Its inbuilt email verifier helps you to keep your list clean and accurate for higher email deliverability.
You Might Also Like These Related Posts:
Evaboot Pricing Plans Reviews
Evaboot provides customized pricing plans based on your needs. It is available in two pricing options. The first is Extract + Emails, and the second is Extract Only.
In the Extract + Emails plan, you can extract data with emails. And in Extract only plan you can only extract data from Linkedin without emails. You can use any plan based on your requirement.
Pricing for Extract + Emails
Evaboot's Extract + Emails plan starts at $49/ per month for extracting 2000 leads with emails. It goes up to $199/per month for 20,000 leads with emails.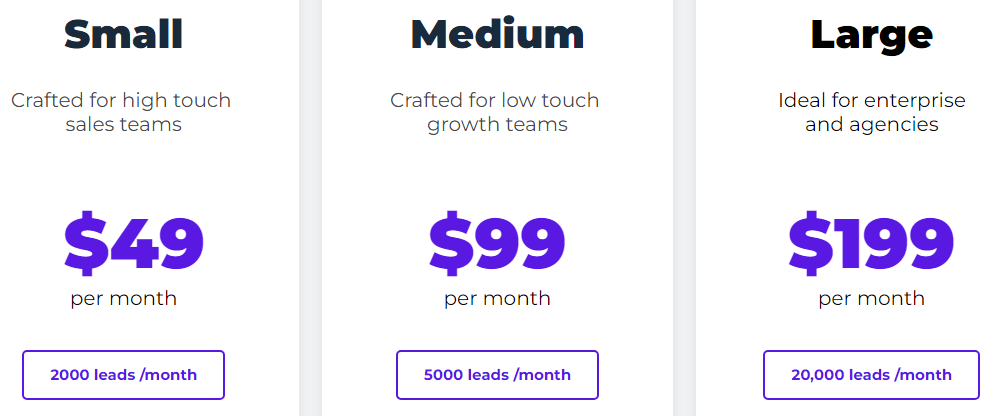 Evaboot's Extract Only plan starts at $29/ per month for extracting 2000 leads without emails. It goes up to $99/per month for 20,000 leads without emails.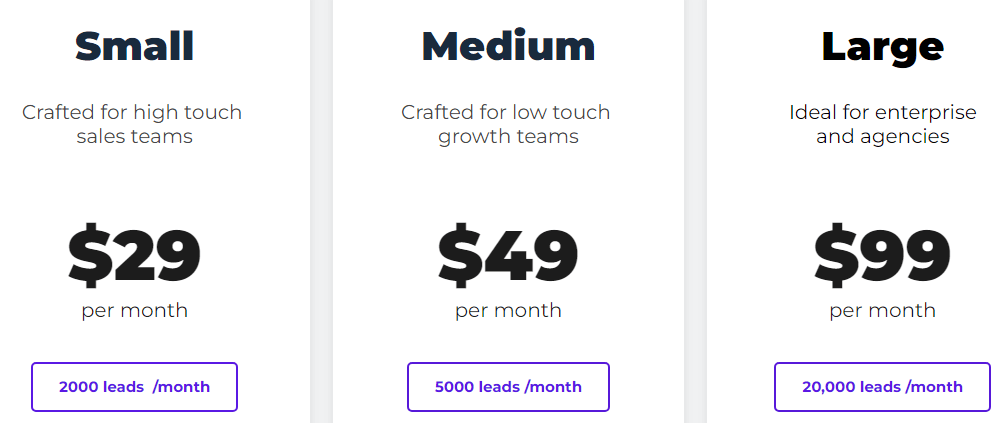 Evaboot Pros and Cons
Let's look at the Pros and Cons of Evaboot
Pros
Signup and get 1000 credits for free

Powerful chrome extension

Extract Linkedin leads in a second

Safe and secure lead scraping platform

Offer a competitive pricing plan

Manage and scalable lead generation platform

Get all details of Linkedin leads including email address

Instantly build a B2B targeted leads list

Provide informative content and tutorials
Cons
Only works on the Linkedin sales navigator

Sometimes extract mismatch contacts

Low email accuracy

Sometimes platform stops working

Slow. It takes 2 hours to extract 2500 leads

Lack of customer support
These are the cons that are easily ignorable because it happens sometimes not every time. But email accuracy is the most important part you should consider. If email accuracy is the priority for you then you should check for other alternatives like PhantomBuster, SalesQL, Dux-Soup, Waalaxy, etc.
Evaboot Customer Reviews
Most of the Evaboot customers are satisfied with the platform. They appreciate the platform's speed, reliability, and capability. It helped them to save hours and increase productivity.
Is Evaboot the right tool for your business?
Yes, It is the best tool for extracting Linkedin Sales Navigator data. If you are a Sales Navigator user and want to extract Linkedin data into CSV. Then definitely you should try using the Evaboot lead scraping platform.
If you are a sales professional, marketing professional, digital marketer, freelancer, lead generation professional, or business development professional then it's the right tool for generating more leads and deals.
Final Evaboot Reviews and Ratings
We have used many LinkedIn lead-generation platforms and this is one of our favorite tools. Based on our observation this is the final verdict on Evaboot.

Evaboot Alternatives
Since Linkedin email finder is a very competitive market. There are many alternatives to Evaboot that you can consider. Here are the best Evaboot alternatives that will allow you to launch your 100% automated and efficient lead machine.
Conclusion
In conclusion, Evaboot is a great tool for anyone looking to streamline their LinkedIn sales navigation process. With its comprehensive search capabilities and intuitive interface, it provides users with an easy way to target potential leads and contacts while saving time. Whether you're an individual or small business owner, Evaboot can help you take your networking efforts to the next level. Try it out today and see how much easier connecting with prospects on LinkedIn can be!