Still, figuring out whether to go with Dripify or not? Then this Dripify review will help you to make the right decision to grow your business faster. We will discuss each feature, pricing, pros, and cons, alternatives, customer reviews, and whether is it worth or not.
One of the biggest challenges you'll face in your digital marketing efforts is lead generation, especially on social media platforms. For b2b lead generation Linkedin is the best source to find potential clients. The experts at Dripify know that LinkedIn is the most effective source of new business leads and information, so they built the most advanced platform on top of LinkedIn to make it easier than ever.
To use Linkedin effectively you need LinkedIn automation tools. Dripify makes LinkedIn a more efficient prospecting tool for your team to find new business opportunities.
Dripify Review
Dripify allows you to automate your entire sales funnel — from cold outreach to viral social media sharing of content. With Dripify sales reps can build a targeted profile of prospects using information pulled from their existing LinkedIn profiles.
For example, when a sales rep launches one of the hundreds of drip campaigns they have created in the platform they can see who they have contacted and how they reached out. They can then see which connections have been added or removed as a result of a particular campaign.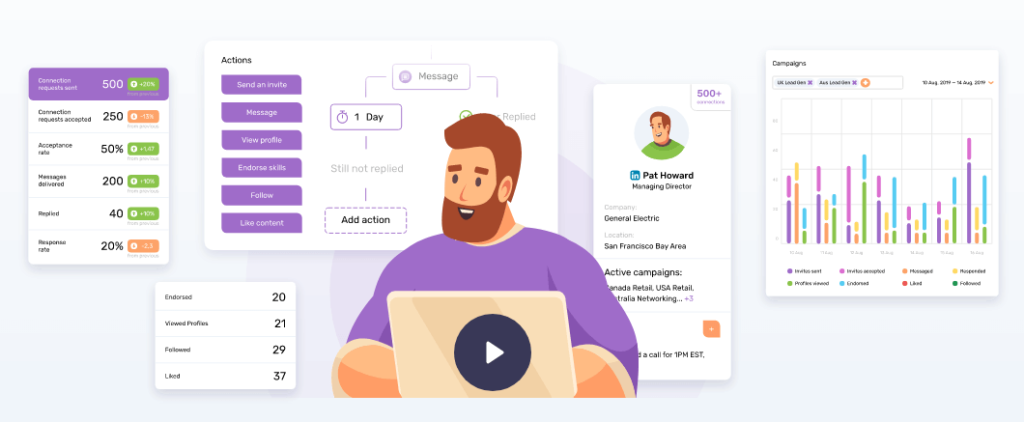 Dripify is a supercharged LinkedIn lead-generation platform that increases the sales and revenue of your business. Smoothly works on Linkedin Free, Premium, Sales Navigator, and Recruiter. Autopilot the entire LinkedIn prospecting process and make it work while you sleep. It is one of the safest and most trusted brands in the industry.
How does Dripify works?
Best features of Dripify
Dripify offers outstanding LinkedIn automation and prospecting features to enhance your business. Let's see them one by one in detail.
With Dripify, you can easily automate the sales funnel by using a variety of LinkedIn actions, then set time delays, select smart conditions, and boost LinkedIn lead generation. How does Dripify works? here are the 3 simple steps
#1. Import Leads
Add leads to your lead generation campaign directly from the LinkedIn profile link. Just paste the target audience profile link in Dripify. It will automatically collect the email and phone numbers of prospects. You can also import your target list CSV file into the platform.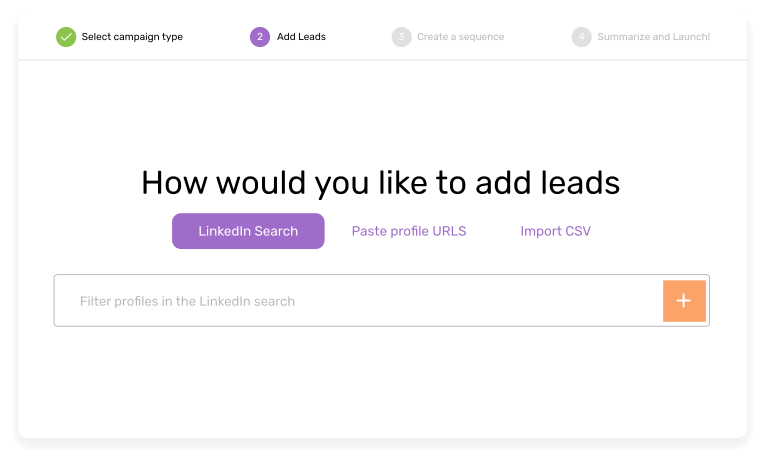 #2. Create a Sequence
Create a prospecting sequence using Linkedin actions such as sending invites, messages, viewing profiles, endorsing skills, following, liking content, setting a time delay, and selecting triggers from your user-friendly control panel. Create an automated sequence to help you grow your lead list.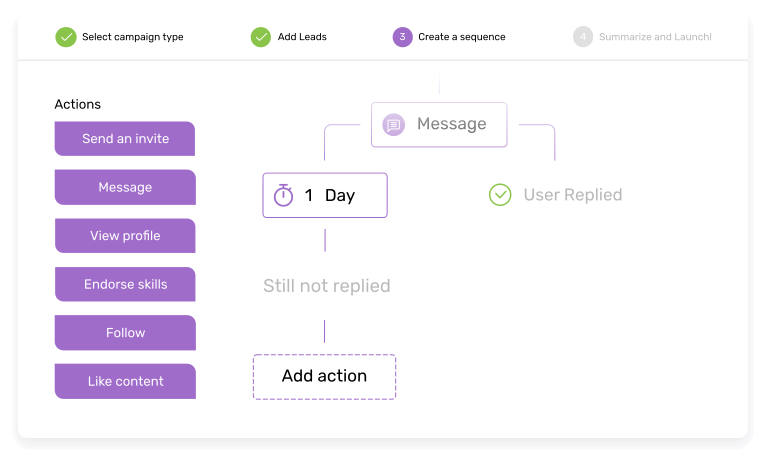 #3. Summarize and Launch
Now it s time to launch your automation campaign. Review campaign settings, choose smart workflows that meet your needs, and integrate with your marketing platforms like Hubspot, Zapier, Google Sheets, or other software. Run the campaign to achieve exceptional results.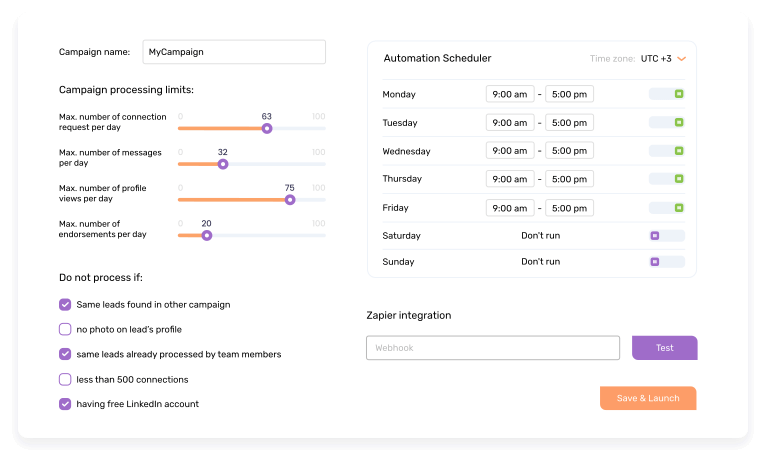 A/B testing is one of the great features of Dripify. Test different audiences, connection request notes, and message templates in different campaigns to see which works best.
You can effortlessly manage an entire sale team by assigning roles and viewing their LinkedIn performance from the Dripify dashboard.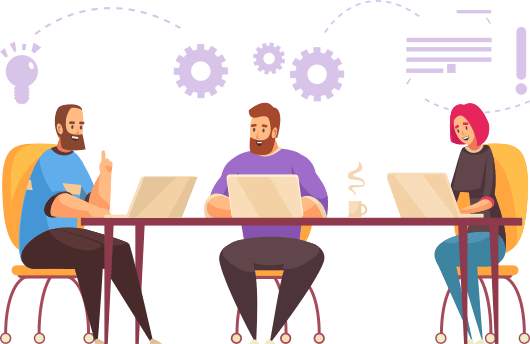 Dripify's advanced safety algorithm helps you keep your Linkedin account safe and risk-free. Get a unique IP address assigned to your Dripify account from your local region to ensure that all LinkedIn actions are done naturally and without suspicion.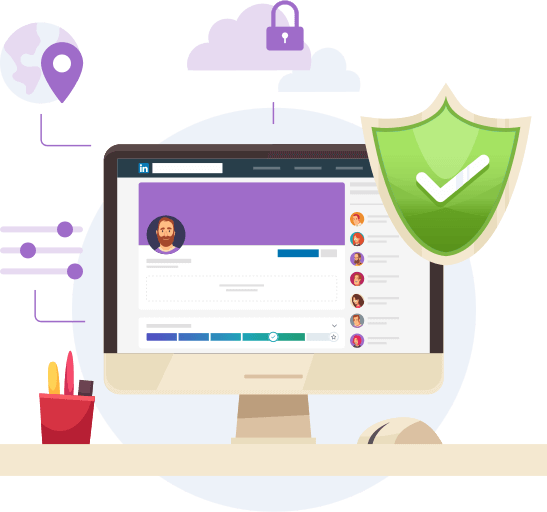 Dripify's automated actions include a combination of page views and button clicks with random delays to ensure that your LinkedIn activity looks natural.
You can also take control of your LinkedIn account by setting up a daily connecting and messaging limit to avoid having your account flagged.
In just a few clicks, export LinkedIn prospect information such as contact name, job title, email, phone, company name, and more to a CSV file. Filter and export required data for other marketing campaigns with ease.
This is one of the most effective Linkedin lead generation features. Directly from your Dripify account, you can manage lead conversations and responses. It is beneficial to provide immediate responses to your leads in order to keep them engaged.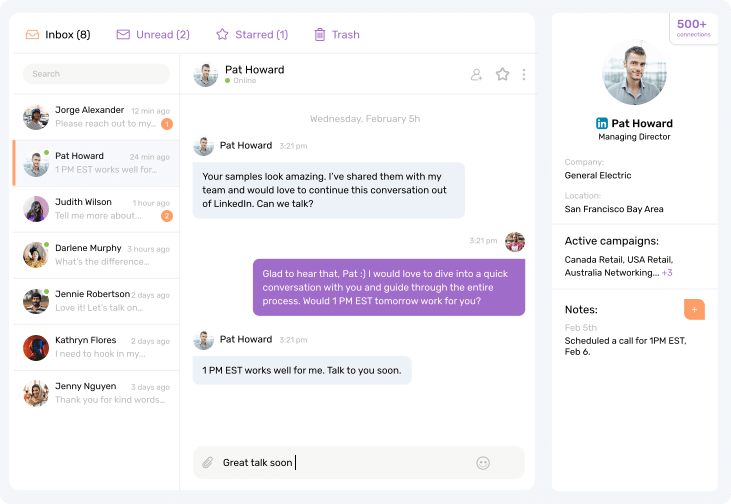 Go Beyond the Linkedin Limit
Dripify allows you to send 500+ connection requests per week without negatively impacting your LinkedIn account.
View detailed LinkedIn stats and metrics such as LinkedIn engagement rate, profile usage statistics, and campaign activity from your control panel.
In your detailed LinkedIn report, evaluate the performance of your Dripify campaigns, keeping an eye on the invitation acceptance rate, response rate, and other critical metrics, and comparing these figures to the previous time period.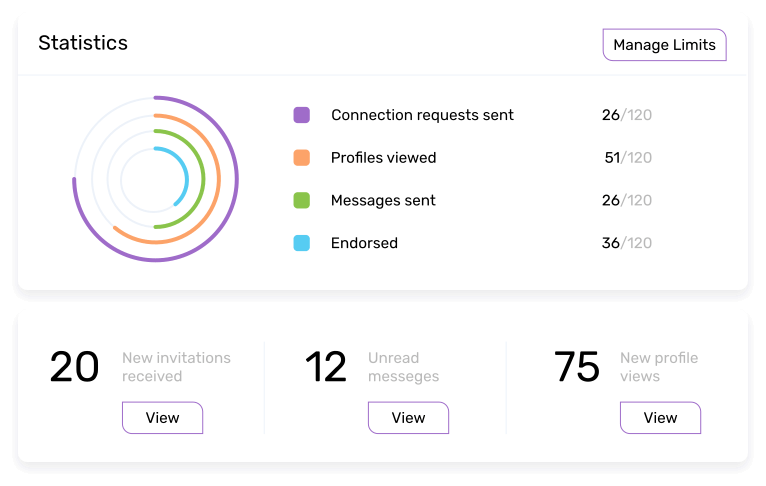 Dripify is compatible with more than 2000 software like Google Sheets, Hubspot CRM, Zoho, SalesForce, Asana, and more through Zapier with just a few clicks.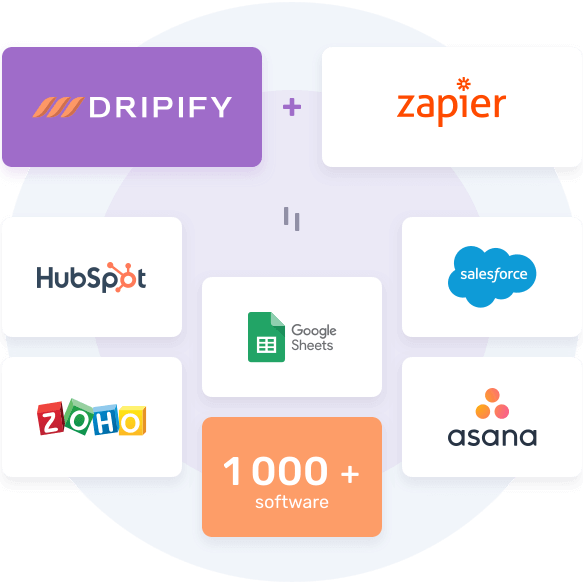 Dripify Pricing Plans Reviews
Pricing is the main factor in decision-making. Dripify provides reasonable and affordable pricing plans that help you to automate LinkedIn lead generation.
Dripify free plan offers 7-days free trial with all features. There are 3 paid pricing plans Basic, Pro, and Advance. Let's dive into more details.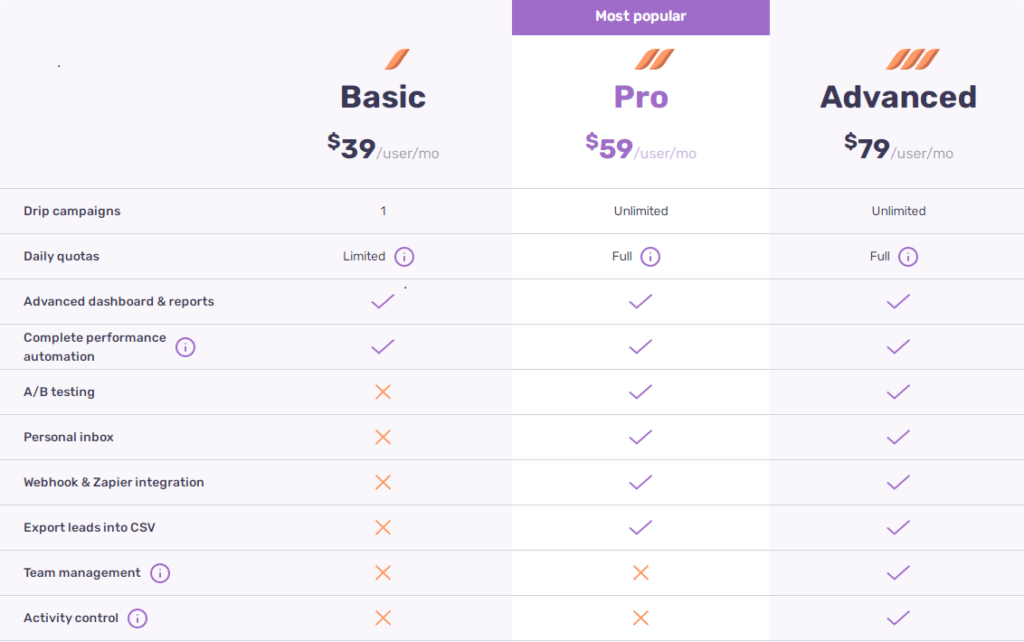 Dripify Pros and Cons
Pros and cons are the best part of the review article to understand the advantages and disadvantages of the platform. Let's look at Dripify's pros and cons.
Pros
Powerful multifunctional LinkedIn automation tool

Help your sales team to generate more leads

Simple to manage and operate

Send invitations beyond LinkedIn limits

Secure and safest LinkedIn prospecting tool

Easy to find Linkedin contacts email and phone number

Effectively works on Linkedin Free, Premium, Sales Navigator, and Recruiter

Connect with more than 2000 marketing and sales software

Great knowledge resources and product tutorials

Superior customer support
Cons
Pricing is on the higher end

The integration process is lengthy

It does not offer an email sequence
Dripify Customer Reviews
Dripify has an excellent customer base. Every user has their own opinion and experience. Let's have a look at customer reviews.
Is Dripify the right tool for your business?
Yes. Dripify is the most effective and secure LinkedIn automation tool on the market. This platform can benefit any professional. If you want to generate more leads and business opportunities, this is the tool for you.
It is designed for lead generation and saves the time of busy professionals such as Co-founders, CEOs, business owners, CMO, VP of sales, VP of marketing, business development, demand generation, recruiters, and marketing agencies.
You Might Be Interested In These Related Posts:
Final Dripify Reviews and Ratings
Dripify reviews and ratings are based on features, pricing, ease of use, support, and functionality. It is a useful tool, just try for 7 days then take your own decision.

Dripify Alternatives
Linkedin automation is gaining more popularity due to its great lead generation capability. Every platform has alternatives and competitors. Here are some Dripify alternatives to consider.
Conclusion
In this Dripify review, we have tried to explain all aspects of the platform. It's a reputed and standard LinkedIn automation platform. But there are a few drawbacks that you can ignore. I've seen many people use Dripify and experience tremendous growth in sales and revenue.
It justifies the investment in terms of ROI. Go ahead and increase your company's leads and profits.