Dripify and PhantomBuster are two of the most popular and versatile LinkedIn automation tools in today's marketplace. Both are convenient for autopilot Linkedin tasks such as sending connection requests, sending messages, scrapping LinkedIn profiles, sending follow-up messages, building prospect lists, posting content, liking, commenting, and more. Today we will compare Dripify vs PhantomBuster, and understand who is better among them.
Why do you need LinkedIn automation tools?
LinkedIn marketing has been a game changer for millions of businesses, allowing them to reach out to their target prospects and close sales. To use Linkedin to the full extent you need a Linkedin automation tool. Because LinkedIn can be used for a variety of purposes such as posting content, creating a profile, finding jobs, sending messages, joining groups, connecting with prospects, scraping data, finding the right audience, and ultimately generating leads and sales. All of these tasks are time-consuming and require more manual labor. That's why Linkedin automation tools like Dripify and Phantombuster are available in the market to make your job easier.
Dripify and PhantomBuster are the must-have tools for digital marketers who are serious about their Linkedin strategy. But the question is which one to choose Dripify or PhantomBuster?
In this Dripify vs PhantomBuster article, we will review each product's pros and cons, features, pricing, customer service, and reliability. Then we will decide which one would be the right fit for your business.
Dripify vs Phantombuster: Overview
Dripify and Phantombuster both are known for their LinkedIn automation and prospecting platform. As you know all Linkedin automation platforms are not the same. There are a few differences in terms of features, functionality, limits, pricing, ease of use, and other factors. Let's go over the features and capabilities of each software.
What is Dripify?
LinkedIn is one of the most powerful tools for sales teams to close more deals and increase their bottom line. But it can be difficult to keep up with all the data and tasks that come with LinkedIn prospecting. That's why Dripify has created a revolutionary automation tool designed to do all the work for you, taking your LinkedIn game to an entirely new level!
Dripify is compatible with Linkedin Free, Premium, Sales Navigator, and Recruiter. Create a fully automated sales funnel by using a variety of LinkedIn actions, then set time delays, select smart conditions, and increase LinkedIn lead generation. It is trusted by Fortune 500 companies to small-size businesses to increase lead generation efforts.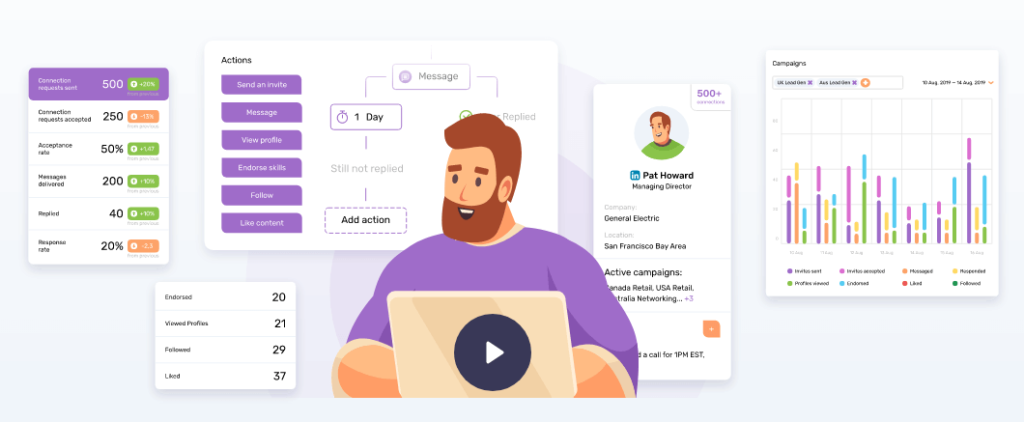 Main features of Dripify
Create an automated Linkedin campaign

Export email and phone numbers of Linkedin profiles

Track and analyze campaign report

Respond to messages directly from the Dripify platform

Advanced algorithm to protect your LinkedIn account

Run A/B testing campaign

Scarp and extract the contact details of prospects

Go beyond LinkedIn's limit

Easy integration with existing tools
What is PhantomBuster?
PhantomBuster is a powerful automated lead generation tool that helps you generate leads from a wide range of networks and websites. Learn in this article how Phantombuster can help you quickly and easily find your target ideal prospects so that you can reach out to them and increase your sales.
PhantomBuster works on all major social media networks such as Linkedin, Google maps, Twitter, Instagram, Facebook, GitHub, Reddit, Yellow Pages, and more. You can scrap social media profiles and build a prospect list for your lead generation. PhantomBuster is trusted by more than 100,000 businesses that include Side, Upflow, Qonto, Pinterest, Germinal, and more.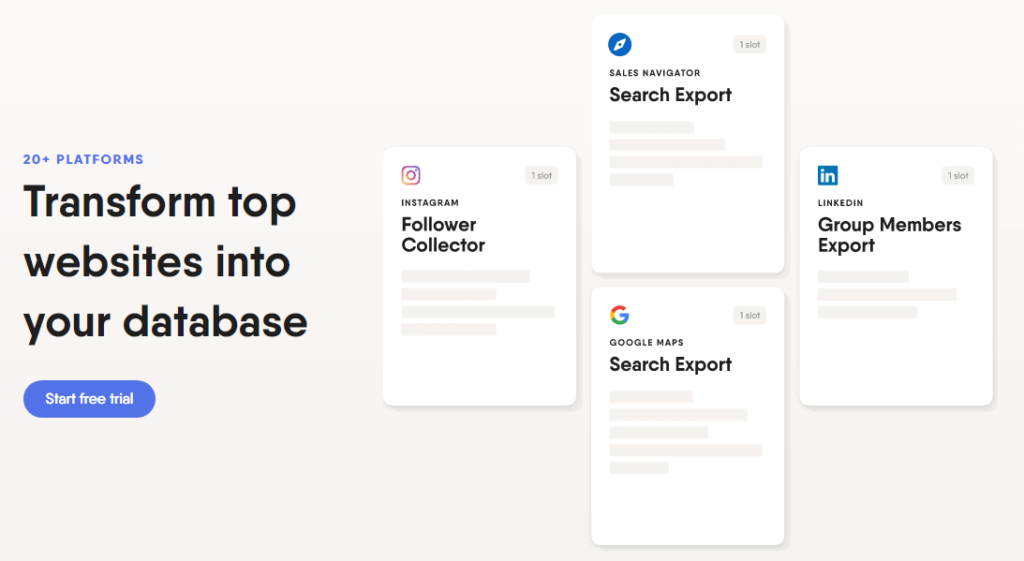 Main features of PhantomBuster
Extract leads from any corner of the web

Data enrichment to fill in the missing information in your database

Automate outreach campaign and scale your lead generation

Automate complete LinkedIn activity

Real-time performance report to take quick action

Auto connect, send personalized messages on Linkedin

Extract data from 20+ social media platforms

100+ pre-built automation to start the task

Code-free tool that can use anybody

24/7 support and generate leads while you sleep
Let's compare the features of Dripify vs PhantomBuster
If you want to quickly glance at the difference between Dripify vs PhantomBuster. You can just look at this comparison table to get an overview of which one to choose.
| | | |
| --- | --- | --- |
| Features and Actions | Dripify | PhantomBuster |
| Free Trial | 7 days | 14 days |
| Starting Pricing | 59$ / month | $112 / month |
| Compatibility with | Linkedin Free, Premium, Sales Navigator, and Recruiter Lite | Linkedin Free and Sales Navigator, Facebook, Twitter, Instagram, Google Maps |
| Linkedin Automation | Yes | Yes |
| Find Email and Phone Numbers | Yes | Yes |
| Tracking and Reporting | Yes | Yes |
| Leads export / import | Yes | Yes |
| A/B Testing | Yes | No |
| Auto Connect | Yes | Yes |
| Like & Comment | Yes | Yes |
| Send Messages | Yes | Yes |
| Data Enrichment | No | Yes |
| Safety & Security | Yes | Yes |
| LinkedIn Profile Scraper | Yes | Yes |
| Integrations | Yes | Yes (limited) |
| 24/7 Customer Support | Yes | Yes |
What is the pricing difference between Dripify vs PhantomBuster?
Both Dripify and PhantomBuster are software that allows you to create drip campaigns. However, there are some key differences between the two products which can impact your business. Pricing is one of them. In this table, we're going to compare the pricing of PhantomBuster vs Dripify, so that you can make an informed decision about which product is budget friendly for you.
Dripify Pricing Plans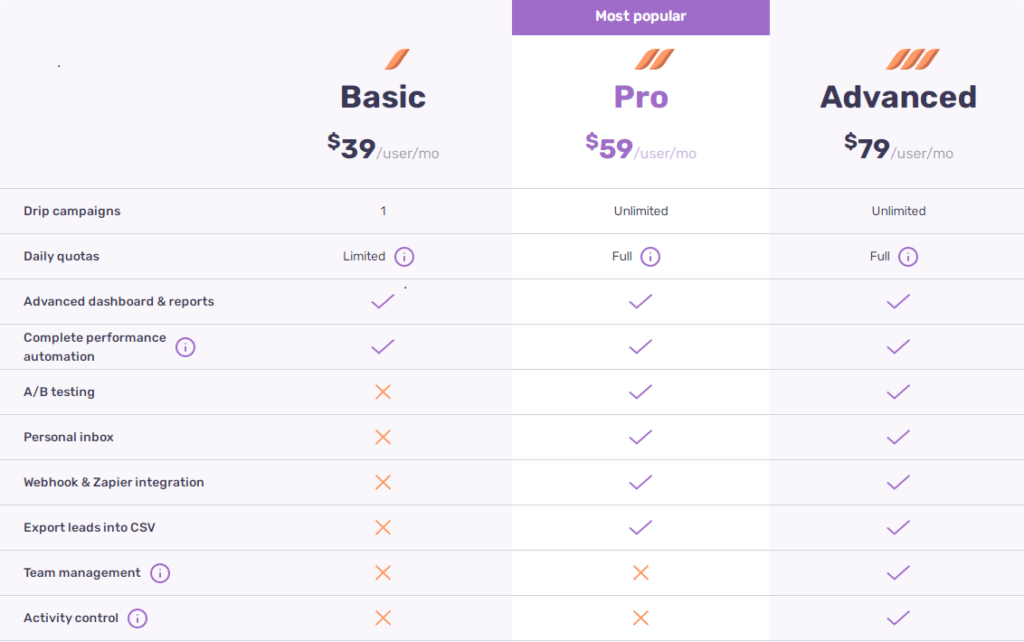 PhantomBuster Pricing Plans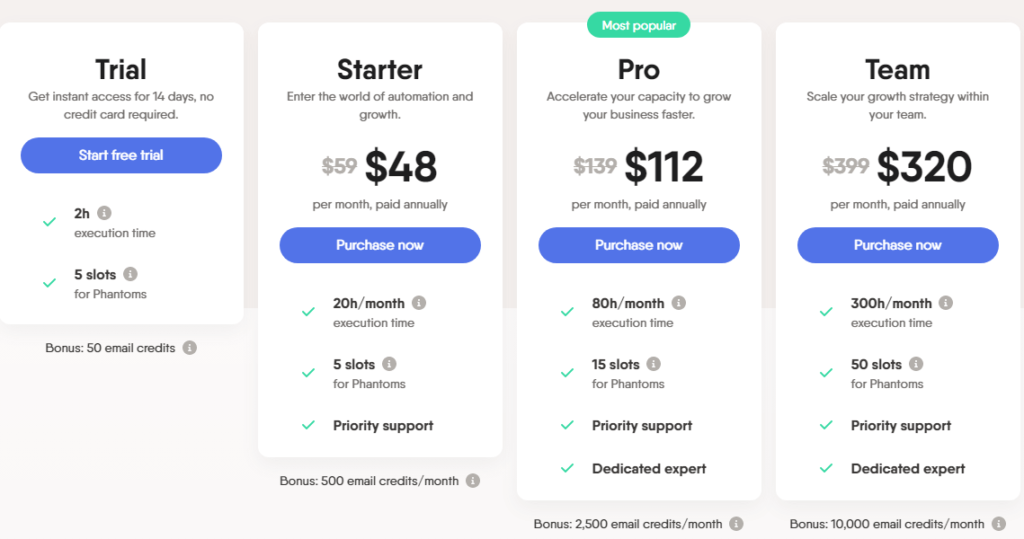 Dripify and PhantomBuster both have different pricing structures. Dripify is the cheapest Linkedin automation tool that will cost you just $39/per month with basic functions. Whereas PhantomBuster is an expensive lead generation tool that cost you based on action and workflow. It cost you $48/per month with the required features.
Dripify vs PhantomBuster: Customer Reviews
Always it is important to know what customers have to say about the PhantomBuster and Dripify. Let's look at customer reviews.
Dripify Customer Reviews
PhantomBuster Customer Reviews
Which one to choose Dripify or PhantomBuster?
Now we'll look at the main differences between Dripify and PhantomBuster in detail. Then decide which one is the best. Let's get started.
Dripify free plan offers 7 days free trial with unlimited features. You can explore all Dripify features for free. But in PhantomBuster free plan you will get 14 days free trial with 5 workflows and limited features.
Linkedin Automation and Prospecting
Dripify works on only Linkedin and you can autopilot your Linkedin task. Whereas PhantomBuster works on Linkedin, Facebook, Twitter, Instagram, Google Maps, Yellow Pages, and many other social media networks. Mainly used for scrap profiles and building contact lists. And also you can use ready-made flows to perform tasks like auto-connect, like, commenting, posting, and other tasks.
Dripify works on Linkedin Free, Premium, Sales Navigator, and Recruiter versions. Whereas PhantomBuster works on Linkedin Free and Sales Navigator. Normally salespeople have Linkedin free or Sales Navigator, but you can still use it effectively to generate leads for your business.
With Dripify, you can bypass Linkedin limits without harming your Linkedin account. It uses advanced technology to increase weekly limits. Usually, you can send up to 100 connection requests weekly. But in Dripify you can send 500 connection requests weekly.
Whereas PhantomBuster follow standard LinkedIn limitation and you can send up to 100 connection request weekly.
In Dripify you can test your messages with two different versions. Its easy-to-use A/B testing features allow you to experiment with your messages to get outstanding results. Whereas PhantomBuster does not have features like A/B testing to experiment.
Dripify offers all Linkedin automation features that are useful for the Linkedin lead generation strategy. It is specifically designed for Linkedin automation and lead generation.
PhantomBuster, on the other hand, is an all-in-one lead-generation platform that works across multiple social media networks. It can be used for multiple purposes. PhantomBuster has more features than Dripify. However, you will not receive all of the automation features in a single plan. You have to select the appropriate plan based on your needs.
Reliability and Ease of Use
Dripify is more user-friendly and simple to use than PhantomBuster. For beginners, PhantomBuster is a bit complicated and difficult to use. Once you get to hang on it is super easy to handle.
Keep your Account Safe and Secure
Dripify follows all the Linkedin guidelines apart from bypassing LinkedIn limits. It will keep your account secure with an inbuilt limitation setup, so you can connect with the audience without hesitation.
Whereas PhantomBuster also follows social media platform guidelines. But there is no automated limit set as Dripify. You need to strictly take care of guidelines and keep your activity within limits.
Pricing is the most important factor to be considered. If you are looking for a budget-friendly Linkedin automation tool then Dripify is the perfect fit for you. If you are looking all in one lead generation tool then PhantomBuster is the best option available in the market.
To be fair there is a huge difference between Dripify and PhantomBuster pricing. Both the platform's basic plan does not provide the best features. Either you have to go for Dripify pro plan that cost $59/month and includes all the required features.
In PhantomBuster, the pro plan costs $112/month, which is nearly double the price of Dripify. But you will get more lead generation and extracting features than Dripify.
Final Thoughts on PhantomBuster vs Dripify
Both the LinkedIn lead generation tool has great features and functionality. But in terms of pricing Dripify is the way cheaper option to start autopilot LinkedIn lead generation.
PhantomBuster cannot be overlooked because it provides an all-in-one lead generation solution. If your company wants to connect more people with more social media platforms, PhantomBuster is the way to go. PhantomBuster is a jack of all trades when it comes to lead generation. If you have a large requirement, you can consider PhantomBuster.
I would recommend that you try both PhantomBuster and Dripify's free versions before deciding which is best for you. Both are excellent tools, but they serve different purposes. I hope this article assisted you in choosing the right tools. Now the decision is up to you to choose the right Linkedin automation and prospecting tools to scale your lead generation efforts.