If you are looking for an affordable email marketing solution and are unsure about choosing between GetResponse and Sender. Then this GetResponse vs Sender in-depth comparison guide will provide you with enough information to make the right buying decision.
In this comparison, we will cover each aspect of GetResponse and Sender.net including features, functionality, pros and cons, pricing, customer support, and more.
Without wasting any more time, let's begin.
GetResponse vs Sender: Overview
GetResponse vs Sender: A comparative overview of email marketing platforms to assist in making an informed choice for your business.
What is GetResponse?
GetResponse is the most famous email marketing platform that is affordable, easy to use, and reliable. You can use GetResponse to send emails, build email lists, automate communication, send SMS, build websites, create landing pages, conduct webinars, send web push notifications, create a sales funnel, run paid ads, and many more things to run an online business effectively.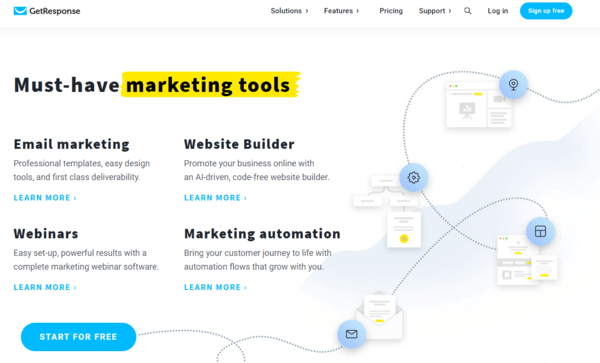 GetResponse is the trusted marketing communication platform for both small and large brands. Gained over 350,000+ happy customers. Notable names like RedBull, IKEA, Strip, Zendesk, Revolut, Carrefour, and more. GetResponse to drive effective marketing strategies, leading to increased revenue for businesses. Take a look at the GetResponse review for a comprehensive overview.
What is Sender.net?
Sender.net is a cost-effective email marketing solution that is suitable for startups, beginners, small business owners, bloggers, and affiliate marketers to achieve their business goals. Sender is known for simple features like smart automation, high email deliverability, easy integration, SMS marketing, push notification, pre-built landing pages, and email designs.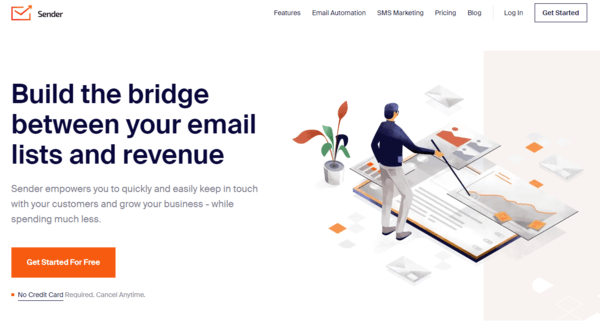 Over 180,000+ companies use Sender for their effective email marketing. Some of the known companies like Disney, Deloitte, Honeywell, HP, PizzaHut, WWF, and more trust Sender for email marketing solutions. Check out the Sender.net Review to understand its capabilities.
GetResponse vs Sender: Feature Comparison
This feature-by-feature analysis to help you find out the strengths of each email marketing platform.
| | | |
| --- | --- | --- |
| Core Features | GetResponse | Sender |
| Free plan | Free-Forever | Free-Forever |
| Email marketing | Yes | Yes |
| Pre-built email templates | Yes | Yes |
| Signup forms and pop-ups | Yes | Yes |
| Marketing Automation | Yes (Advanced) | Yes |
| Conversion Funnels | Yes | No |
| Landing pages | Yes | Yes |
| A/B Testing | Yes | Yes |
| Live web chats | Yes | No |
| Webinars | Yes | No |
| Web push notifications | Yes | Yes |
| SMS marketing | Yes (In Max Plan | Yes |
| Built-in image editor | Yes | No |
| Free stock photos | Yes | No |
| Send time and delivery optimization | Yes | Yes |
| Countdown timer | Yes | Yes |
| Dedicated IP address | Yes (In Max Plan) | Yes |
| Lead scoring | Yes | No |
| Website Builder | Yes | No |
| Facebook Ads | Yes | No |
| Google Ads | Yes | No |
| Web event tracking | Yes | Yes |
| 24/7 support | Yes | Yes |
This chart clearly illustrates the distinction between GetResponse and Sender. GetResponse offers a wide array of features suitable for growing businesses. Whereas Sender provides more limited features that align with specific needs.
GetResponse vs Sender: Pricing
Pricing is the initial factor most buyers consider before purchasing any product or service. GetResponse and Sender offer competitive pricing plans that anyone can afford. Let's see the comparison between GetResponse vs Sender pricing options.
GetResponse pricing starts at $15.58/mo that includes all necessary features like Unlimited newsletters, AI email generator, Autoresponders, Basic segmentation, Website and landing pages, forms, and more. Its pricing goes up to $97.58/mo depending on features and number of subscribers.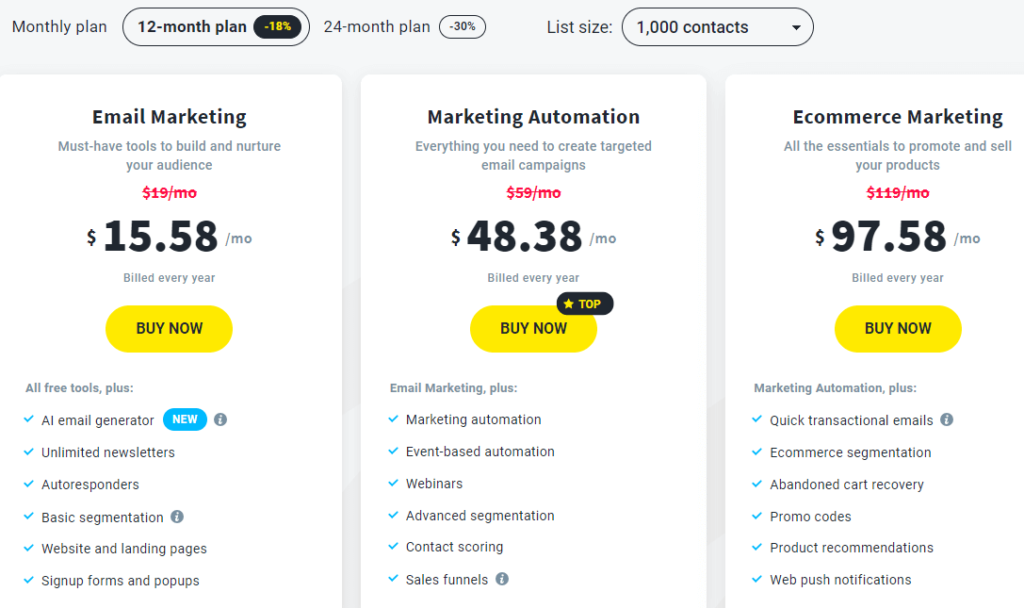 Opting for an annual plan will give you an 18% discount, while a 2-year plan comes with a 30% discount.
On the other hand, Sender.net offer the cheapest pricing plans compared to GetResponse. Sender pricing starts at $8.33/mo that includes basic features like adding up to 1000 subscribers, send 12000 emails/month, automation features, SMS, and more.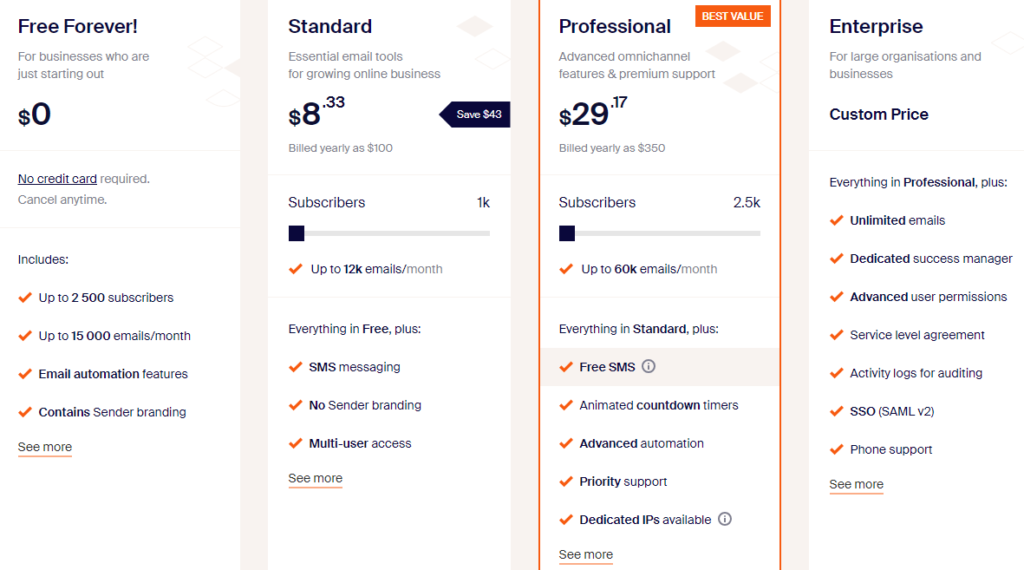 Going for a higher plan will cost you $29.17/mo, including features like Free SMS, Animated countdown timers, Advanced automation, Priority support, and Dedicated IPs.
Sender is more affordable than GetResponse. In Sender at less cost, you can have more features. That's why users switch from Getrsponse to Sender to save costs on marketing.
Clearly, Sender emerges as the winner in the pricing aspect.
GetResponse vs Sender: Pros & Cons
Explore the strengths and weaknesses of GetResponse and Sender. Here's a concise overview of their respective pros and cons.
GetResponse Pros & Cons
Pros

Cons

User-friendly campaign builder

Pre-designed marketing automation templates

Extensive collection of responsive email templates

Simple creation of sales funnels and customer journeys

Convenient Paid ads creation through GetResponse

99% email deliverability rate

Round-the-clock chat and email support

Advanced and dependable email infrastructure

Effortless webinar setup

Efficient AI email generator

API integration is somewhat slow

Comparatively higher cost compared to competitors
Sender Pros & Cons
Pros

Cons

Excellent email deliverability

Robust marketing automation capabilities

Send up to 15,000 emails per month for free

Access to pre-designed email templates at no cost

Competitive pricing compared to alternative platforms

Strong SMS marketing functionality

GDPR Compliance

24/7 chat support availability

Sender time optimization feature

Complex setup procedure

Occasional sluggish performance

Basic reporting
GetResponse vs Sender: Which Is Better?
Now comes the moment to choose between GetResponse and Sender for your purchase.
1. Free Plan
GetResponse and Sender both offer free forever plan. In GetResponse's free plan, you can add up to 500 contacts, send 2500 emails per month, 1 landing Page, website builder, landing page and forms, and more.
Just create an account in GetResponse and try it for free!
Whereas in Sender.net free plan you can add up to 2500 subscribers, send up to 15000 emails per month, email automation, spam check, and more. In Sender free plan you can upload more contacts and send more emails compare to GetResponse.
In this comparison, Sender.net emerges as the clear winner.
2. Interface
GetResponse and Sender both offer an intuitive interface. But the GetResponse interface is much smoother and faster compare to Sender. Whereas the Sender interface is a bit sluggish and takes time to load.
In this comparison, GetResponse clearly takes the lead.
3. Landing pages and Forms
On both platforms, you will get a ready-made landing page design and form. You can customize it according to your need and also create it from scratch. But GetResponse has 200+ great collection of landing pages.
However, in Sender, you will find a limited collection and the need to craft templates from scratch, which can be time-consuming and require a certain level of expertise.
If your business relies on landing pages, then GetResponse is the ideal choice for you.
4. Automation
Automation is a crucial element in modern marketing for optimal outcomes. Both GetResponse and Sender offer time-saving automation features. GetResponse provides a user-friendly visual automation editor that simplifies setup and displays the complete customer journey
In GetResponse, you can create automation based on customer behavior, add unlimited tags, track engagement scores, assign points, send personalized messages, and much more.
On the other hand, Sender provides intelligent automation workflows that send messages at the optimal time. It features ready-made workflows, customizable triggers, integrations with Shopify and WooCommerce, real-time reports, and additional functionalities.
GetResponse offers a more advanced automation workflow than Sender.net.
5. SMS Marketing
SMS campaigns are a rapid and effective means of customer communication, boasting a proven 98% open rate.
In GetResponse, SMS marketing is exclusively available in the MAX plan. The regular plan does not include SMS marketing services. For further details, booking a demo will provide a comprehensive understanding of GetResponse's SMS service.
Whereas, In Sender, you will get bulk SMS sending option starting from the basic plan which is much more affordable than GetResponse.
If your business relies on SMS marketing, Sender.net proves to be an excellent option.
6. Integration
Both platforms seamlessly integrate with various CRM, eCommerce, marketing platforms, and third-party apps. GetResponse offers compatibility with over 100 online tools, including Shopify, ThriveCart, Zapier, PayPal, Stripe, LeadsBridge, Vidyard, ClickMeeting, Facebook Lead Ads, Google Ads, Bing Ads, ZeroBounce, Bouncer, and many others.
Similarly, Sender also connects with prominent online tools such as WordPress, PrestaShop, WooCommerce, Magento, Shopify, Zapier, and more.
Both platforms are equipped to integrate with a wide range of platforms and tools.
7. Deliverability
Both GetResponse and Sender ensure outstanding email deliverability. GetResponse boasts a guaranteed 99% email delivery rate, while Sender provides dedicated support to uphold high deliverability.
Both platforms you can trust for higher open rates and ensure effective email delivery.
8. Reporting
Email reporting is the best way to understand your campaign performance. GetResponse email analytics provides you with excellent insights to make the right decision.
GetResponse's email reports cover:
Open and click-through rates

Bounce and unsubscribe rates

Device and email domain trends

Daily and monthly average subscription rates

Click maps tracing user clicks within emails

Marketing automation and autoresponder reports

Contacts reports
On the other hand, Sender provides essential email reports encompassing open rate, click rate, bounce rate, unsubscribe rate, spam reports, browser and operating system user data, and eCommerce-oriented reports.
9. Support
Both platforms deliver exceptional 24/7 customer support. GetResponse offers around-the-clock live chat, email assistance, and a dedicated account manager for the MAX plan. Customer support is available in over 10 languages.
Similarly, Sender offers 24/7 Chat Support. And offer Dedicated Success Manager and Phone Support in their Professional and Enterprise plans.
10. Other Features
GetResponse offers certain features that are not available on Sender.net. These unique functionalities can provide distinct advantages in your marketing efforts.
Create compelling emails quickly using GetResponse's GPT-powered email generator. Enhance your email marketing with subject lines and content optimized for your industry and goals.
Many GetResponse users leveraging the AI email generator have experienced an 85% reduction in email creation time. So why wait, try GetResponse AI Email Generator.
Utilize GetResponse to effortlessly craft webinars and connect with your audience for higher engagement and conversions.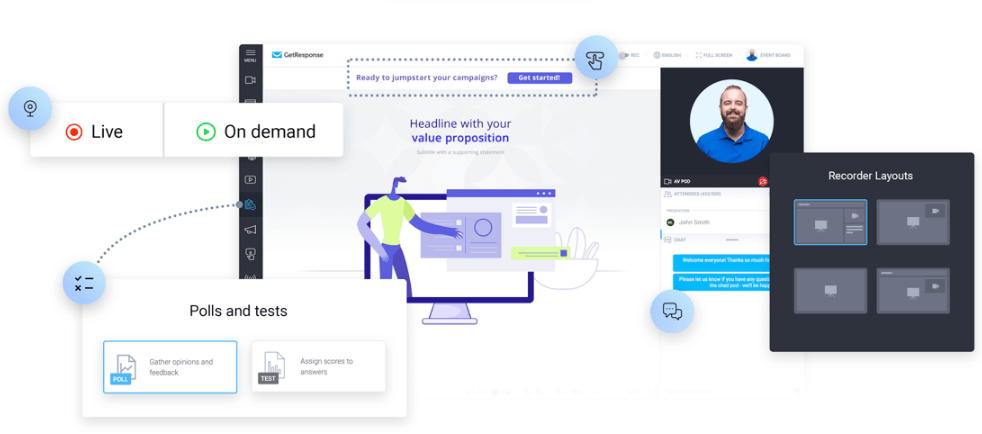 With the capability to host unlimited webinars, accommodate up to 1,000 live attendees, store up to 20 hours of webinar recordings, and effectively promote your products. GetResponse empowers you to maximize your webinar strategy.
Effortlessly manage Google and Meta ads through your GetResponse account, and utilize insights from your email marketing campaigns for precise targeting. Seamlessly connect your Facebook Pixel with GetResponse in a single click, enabling you to execute retargeting ads that draw visitors back to your page.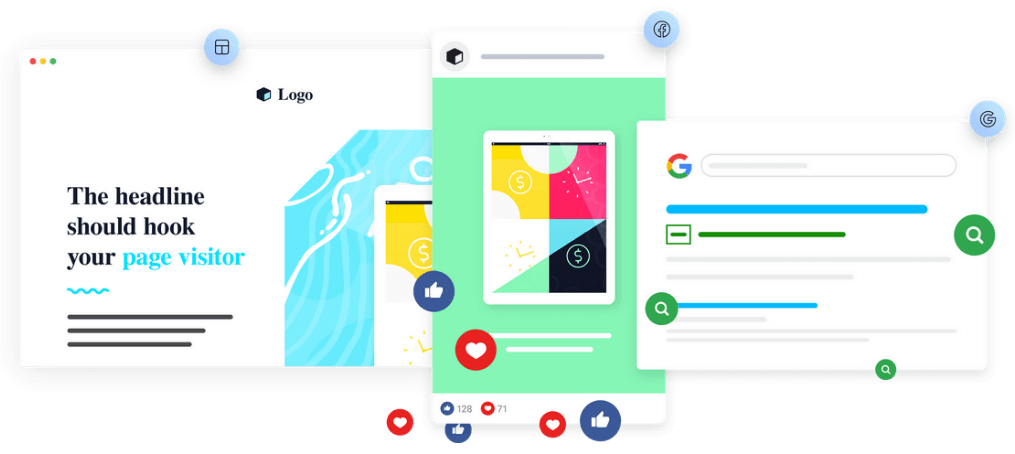 Implement GetResponse Chats directly onto your website. Enabling real-time conversations with page visitors and subscribers fosters stronger connections and accelerates their conversion process.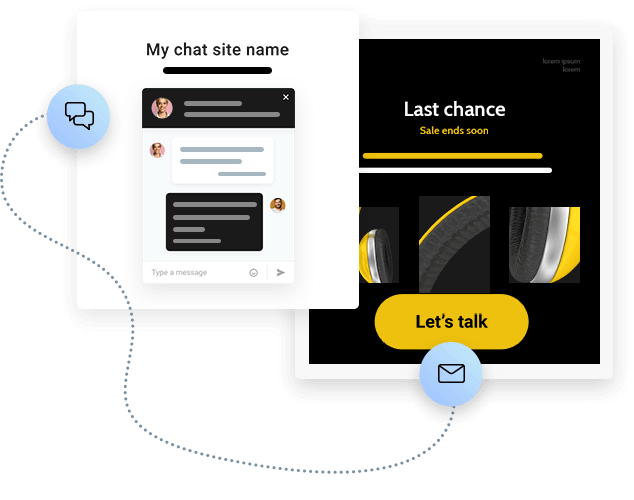 Easily include a live chat window on your landing page with just a click. Engage in live discussions with page visitors, regardless of whether they've subscribed to your email list. Live chat provides an instant avenue to connect with your customers.
Conclusion
Both GetResponse and Sender.net present compelling options for your email marketing needs. While GetResponse excels in areas like advanced automation, AI-powered email generation, and comprehensive integration capabilities. Sender.net stands out with its affordability, SMS marketing inclusivity, and strong customer support.
Your choice should ultimately align with your specific business requirements and priorities.