Earning $5000 every month is tough. Reaching that goal through freelancing or a part-time job might seem impossible and a bit scary. In this article, you'll learn how to make $5000 per month. We will share profitable business ideas and give you a clear plan to grow your business and make money online.
Making $5,000 a Month: A Step-by-Step Guide
If you look at it closely, making $5000 a month is within reach.
Here's a way to reach $5000 per month:
Sell 1000 products for $5 each

Sell 100 products for $50 each

Sell 10 products for $500 each
Lots of people are already doing this and making more than $5000 consistently. The key is having the right product or service.
For example, Financial Freedom For the Rest of Us course cost just $7.
People are ready to pay if they get valuable insights as you promised.
To make it happen, you require the right tool that can craft valuable content and persuade subscribers to purchase products or services.
Everything starts with your choice
Lots of folks aren't happy with their jobs. Research indicates that just 15% of full-time employees feel happy with their work. That means 85% are either searching for new employment or exploring side gigs like freelancing, blogging, and affiliate marketing.
I believe you are one of the 85% of people. If you have the skills, there's an excellent opportunity you can make passive income online. This switch could bring you more job satisfaction, flexibility, and financial freedom.
In this article, we'll explain how you can break free from traditional work routines through these side hustles:
1. Coaching
2. Consulting or starting an agency
3. Setting up an ecommerce store
4. Dropshipping
5. Affiliate marketing
6. Starting a blog
7. Creating courses
8. Creating a membership site
You will understand each business model that is best suitable for you. Learn from fellow business owners, figure out what you need to do to get started, and pick the best platform to support your side business.
Ready to take charge? Continue reading to learn precisely how to earn some extra money on your own terms.
#Step 1: Build Your Own Product or Service
Everyone has their unique talents and abilities – the trick is recognizing where your strengths shine.
Begin by taking a moment to reflect. Note down your skills and expertise, transforming them into actionable abilities.
Your skill is precious because developing those skills need effort, time, talent, and experience that only you can do. With your skills, you can easily make money online if you have the right qualification to validate your expertise. You can effortlessly make $5000 a month by providing your skills as services or freelancing.
Ready to explore lucrative niches that can turn your abilities into income? Keep reading!
1. Coaching
Coaching is the best way to make money online. Coaching offers a rewarding path to earn money by sharing your expertise and guiding others. Whether it's life coaching, business coaching, or specialized fields like health and wellness, your insights can make a significant impact on clients' lives.
You set your rates, conduct sessions in person or online, and help individuals achieve their goals. Through personalized support and actionable advice, coaching not only generates income but also provides a platform to make a positive difference.
Aboul Hasan created a thriving consulting and coaching business, serving over 10,000 clients so far. He specializes in utilizing "Digital Marketing" to drive remarkable business growth.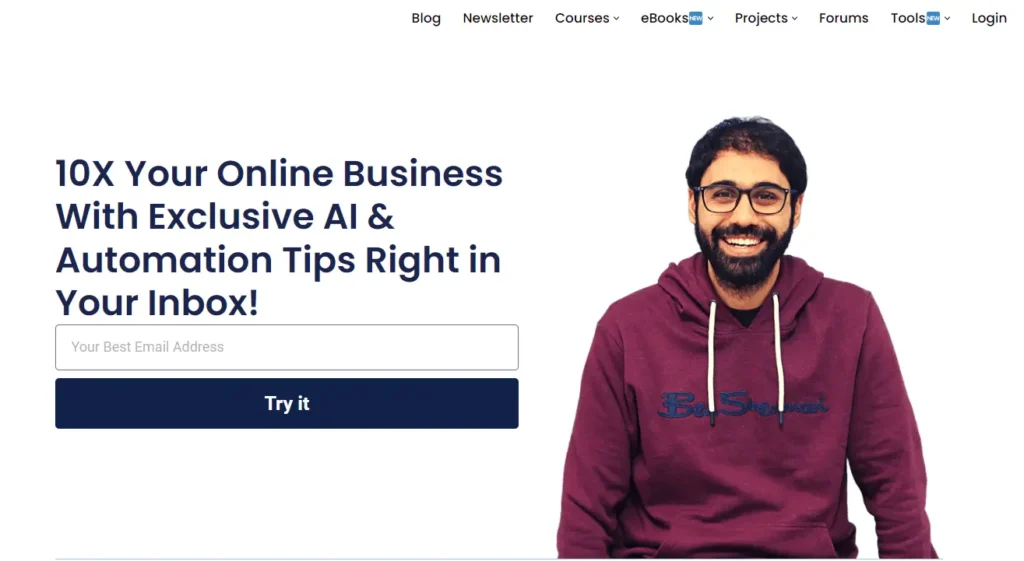 When you assist other businesses in achieving success, just like Hasan, you'll receive compensation – it's that simple.
Get FREE access to the first video of Business Coach
2. Marketing Agency
Creating your own marketing agency is another avenue to generate $5,000 from your expertise. By offering strategic marketing services to businesses, you can capitalize on your skills and insights. This involves tasks such as social media management, content creation, and digital advertising.
As your agency gains clients and reputation, the potential for consistent income growth becomes promising. It's a direct way to monetize your expertise and provide valuable services to companies seeking to enhance their online presence and reach.
Take Niel Patel as an example – he began a digital marketing consultancy due to his skills in digital marketing.
He honed his SEO expertise to meet his client's needs.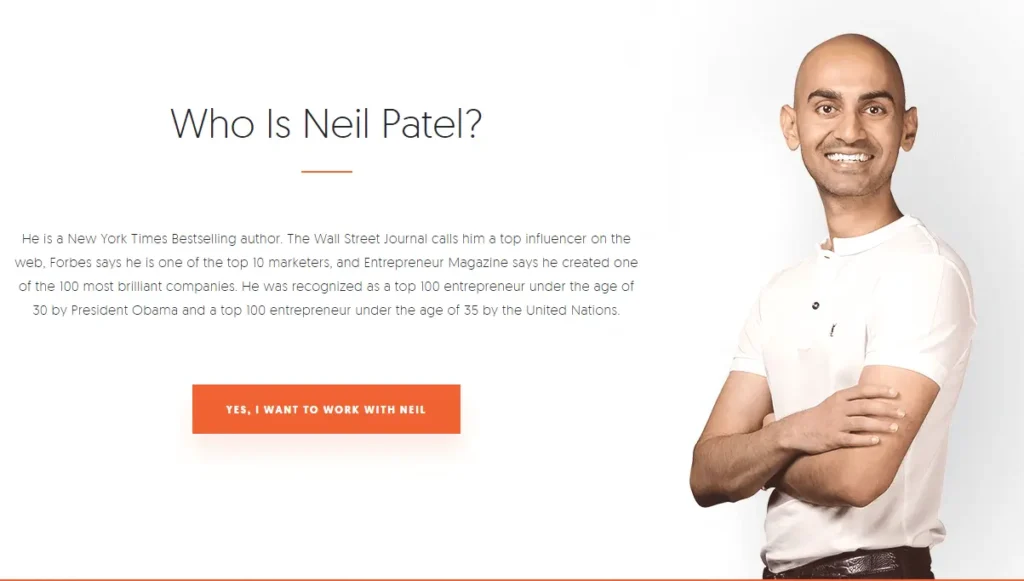 Even new digital marketers make around $70,000 annually, about $5,833 per month.
If this aligns with your skills, why not give it a shot?
3. Selling physical products
If transforming your skills into a business isn't feasible, there's still a way to make $5,000 per month. You can sell physical products without the need for a warehouse or hefty expenses.
Traditional eCommerce online business
In a traditional eCommerce business, you need to either purchase or make products and then sell them to customers. If you're starting today, it might take a bit of time to reach $5000 per month.
Traditional eCommerce marketing can be effective for earning money, but it requires startup capital. Getting a loan or external investment can be risky if you're just starting out.
Fortunately, there are alternative paths to achieve success in eCommerce.
4. Dropshipping
Dropshipping is a top choice for earning extra money. It lets you sell products without keeping them in stock. Instead, the supplier sends products straight to customers. This eliminates inventory and shipping hassles, making it a low-risk option. You can focus on marketing and sales, making it an attractive way to boost your income.
Tze Hing Chan found dropshipping success with his Shopify business, Subtle Asian Treats. He picked boba tea plushies as his product and made a $19,000 profit within 2 months.
In this method, you just need to focus on sales and marketing to bring in customers. Dropshipping companies handle the rest from production to delivery of customer. You can earn money by keeping your profit margin.
5. Affiliate marketing
Affiliate marketing stands as the most widely used method for earning money on the internet. It involves promoting the products or services of others, and for every sale made through your referral, you earn a commission.
For example, if you're part of an affiliate program for a fitness brand and someone buys their product via your link, you get a cut of the sale. It's a potent way to monetize your online presence, as many successful online entrepreneurs have demonstrated through their affiliate marketing success stories.
Here are the top affiliate programs you can join right now!
6. Earn money with a blog
Earning money with a blog is a practical way to generate income. By sharing valuable content on a topic you're passionate about, you can attract readers and build a loyal audience. Learn how to write valuable content that converts.
As your blog gains traction, you can monetize through methods like displaying ads, sponsored posts, and affiliate marketing. Successful bloggers have demonstrated the potential to earn a substantial income through their writing and online presence.
7. Creating courses
Crafting online courses offers another avenue to transform your skills into income. With online courses, you package your expertise into structured lessons that people can access and learn from.
These courses can cover a wide range of topics and can be sold to individuals seeking to acquire new skills or knowledge. As digital products, online courses offer scalability, allowing you to reach a broad audience while generating revenue around the clock.
If you're unsure how to make a course, you can join "How to Create a course and sell it for up to $997 in the next 7 days"
8. Creating a membership site
Establishing a membership site is a smart strategy for earning money online. By offering exclusive content, resources, or services, you can attract subscribers who pay a recurring fee to access these perks.
This approach creates a steady stream of income as long as you continue delivering value to your members. Whether it's specialized knowledge, premium resources, or a supportive community, membership sites provide a platform to monetize your expertise while fostering a loyal audience.
For example, Smart Blogger offers a membership site named Serious Bloggers Only, filled with special content.
#Step 2: Promotion and marketing to help you earn $5,000 a month
1. Boost Your Earnings with a Sales Funnel
Sales funnel marketing stands out as one of the most potent methods to boost your business. By guiding potential customers through a series of steps, from awareness to purchase, you can optimize conversions and maximize sales.
This approach strategically targets different stages of the customer journey, delivering personalized messages and incentives to nudge prospects towards becoming paying customers. With its systematic and personalized approach, sales funnel marketing is a highly effective way to enhance your business's visibility and revenue.
To create a Sales funnel, pick a suitable tool with ready-to-use templates that you can customize. Platforms like Systeme.io or ClickFunnels are great choices for crafting effective sales funnels.
Ready to build high-converting sales funnels? Click here.
2. Drive traffic to your pages
To attract visitors to your pages, leverage cost-effective marketing channels like SEO, running your affiliate program, Facebook, and pay-per-click (PPC) advertising. These strategies can help you achieve a healthier financial outlook by efficiently managing expenses and increasing income.
Learn more on how to get free traffic to your pages.
3. Lead Magnets: Turn Proven Value into Sales
If you're aiming to attract new customers, lead magnets are your go-to solution. These valuable resources such as eBooks, guides, or templates, entice potential customers by offering something beneficial in exchange for their contact information.
This not only establishes a connection but also builds trust. This makes them more likely to connect with your business. As a tried-and-true strategy, lead magnets stand out as the most effective method to expand your customer base and foster meaningful relationships.
For crafting a strong lead magnet, consider using PLR websites like PLR Lime, InDigitalWorks, BuyQualityPLR, and others to create free resources.
4. Landing Pages: Your One-Stop Conversion Solution
Landing pages are another crucial element within sales funnels. These dedicated pages are designed to capture visitor attention and guide them towards a specific action, like signing up or making a purchase.
With a clear focus and persuasive content, landing pages can significantly impact conversion rates. They act as a bridge between potential customers and your offerings, making them a pivotal component in driving successful sales funnels.
#Step 3: Opt for an All-in-One Marketing Platform
When you begin an online business, your regular expenses typically appear as follows:
Web hosting: $100-$200 per year

Email automation software: $180 per year

Basic CRM software for better lead conversion: Around $300 per year

For selling courses or webinars, a dedicated hosting platform costs about $960 annually
In total, it adds up to around $1640. Additionally, you'll need to allocate funds for advertising and other services that can boost conversions and sales. However, if you're a beginner, these costs might seem like a significant investment.
What's the ideal solution for all of these?
The ideal answer to this is Systeme.io. Systeme.io serves as an all-in-one marketing platform, providing everything necessary to efficiently run an online business:
Hosting for websites

Affiliate marketing capabilities

Email marketing with automation

Easy-to-use, visual website and landing page builders

Tools for creating sales funnels and automating processes

A variety of templates for websites, landing pages, and sales funnels

Managing customer relationships with behavioral lead tagging

Support for membership sites, courses, and webinars

Features for blogging and dropshipping

And much more!
Systeme.io provides an affordable solution designed to save you thousands of dollars. It easily helps you to make $5000 per month without spending too much money on any tool.
Now, let's check out the available pricing plans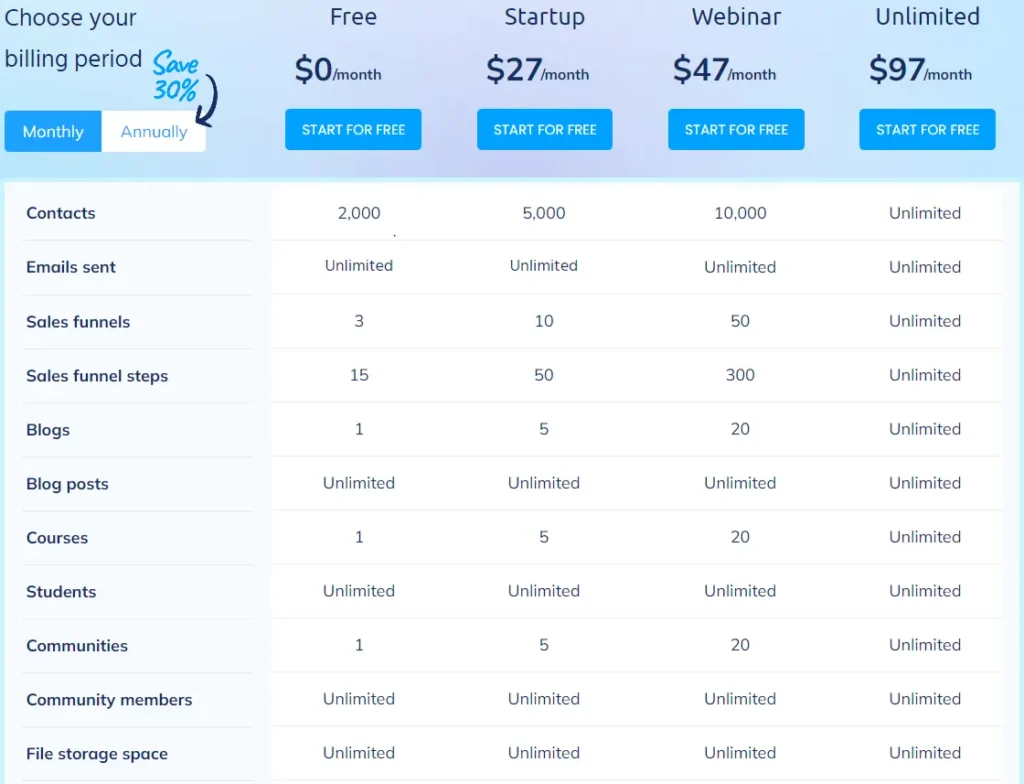 You'll see that systeme.io provides complete website and sales funnel capabilities for free.
All plans include these features:
Unlimited email sending

Unlimited blog posts

Unlimited membership site members

Unlimited file storage

Ability to set deadlines with Deadline funnel

Support for affiliate programs

Round-the-clock email support

Seamless integration with Stripe and PayPal
You can cancel your subscription whenever you want, and if you opt for an annual payment, you'll save an additional 30%.
Conclusion
Exploring different avenues to monetize your skills and expertise can lead to financial success. Whether through freelancing, affiliate marketing, creating online courses, or utilizing effective sales funnel strategies, there are various opportunities to generate income online.
By choosing the right tools and platforms, such as Systeme.io, you can streamline your efforts and maximize your earnings. Join for free, and you'll soon be on track to earning $5,000 a month! Remember that consistent effort and a clear plan can pave the way to achieving your financial goals.