Email marketing is the most effective method of promoting affiliate links. It's highly effective and can lead to high volumes of sales in a short period of time. Email is one of the least expensive ways to promote affiliate links. It can easily connect with any market niche audience. Best for one-on-one communication with immediate response and results. In this guide, we will teach you the step-by-step way to launch an affiliate email marketing campaign.
In recent times, affiliate marketing is becoming more and more popular each year and this is due to the fact that it helps you earn passive income from the sales made by you. However, the question remains — how do you launch an affiliate email marketing campaign? There are several steps you should consider while setting up your first affiliate email marketing campaign.
How to start your first affiliate email campaign?
When you are starting off with an email marketing campaign, it is essential to be aware of the various elements involved in sending an email campaign. You must also be aware of the right time to send an email campaign. So in this article, I will be sharing how you can start your journey to launching an affiliate email marketing campaign that can boost your sales and affiliate revenue.
1. Look for an Email Service Provider that Allows Affiliate Links
Affiliate marketing is an excellent way to make money online. But before you get started, you need to find an email provider that allows affiliate links. This is not as easy as it sounds, because many email providers don't allow or support affiliate links. Here is the list of email service providers that allow you to include affiliate links in emails.
Top 8 Email Service Providers for Affiliate Marketing Campaigns
How To Find an Email Provider That Allows Affiliate Links: A blog about what to look for in a provider to help you with your email marketing.
2. Choose the Best Affiliate Product to Promote
Before you can promote your affiliate products successfully, it is essential that you choose the right affiliate product to promote. There are several things you need to consider while choosing the best affiliate products. These includes
Relevant to your industry or target market
Your subscribers are more likely to engage with relevant content. When you send them relevant content they get the value they expect, but it also shows them that you care about them and their interests. So include affiliate product that is relevant for your subscriber.
Promote the product that is best in the industry. The product should be trustworthy and reliable for the customer. Create an informative sequence that is useful for subscribers to understand the product. Suppose you're promoting email marketing software, then create a sequence like how to create effective email marketing campaigns or how to boost the open and click rate. And include your relevant article or content that is helpful for your subscriber.
Check that the product you've chosen is profitable enough. Before you begin affiliate email marketing, perform a proper ROI calculation. Because the average conversion rate from email marketing is 2.6%. Make appropriate plans for your affiliate marketing campaign.
3. Create an Eye-catching Email Newsletter
Create a beautiful email design for the affiliate email newsletter. Email design should be clean and responsive. Keep it simple don't try to add extra design or graphics. But make your content more interesting and engaging so that your audience can take a specific action. Use these email newsletter best practices to increase clicks and conversion rates. This is a perfect example of a clean and simple email.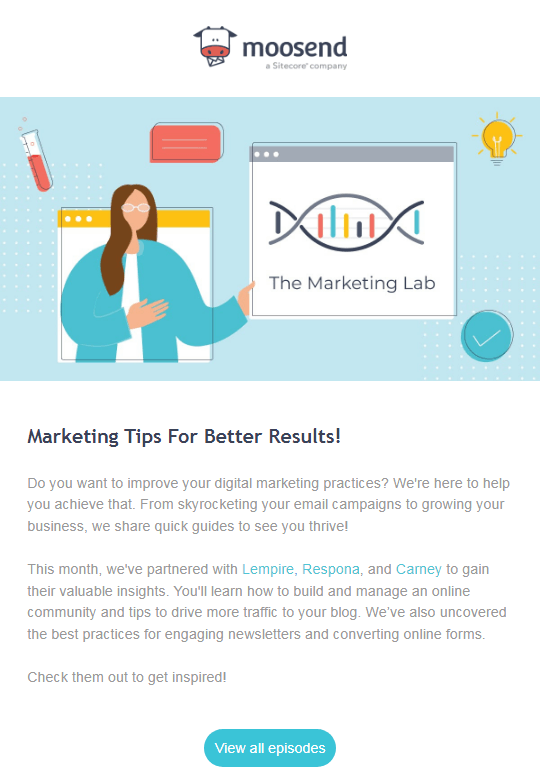 4. Send Personalized Emails to Establish a Relationship
According to the GetResponse benchmark report, personalization emails generate 26% higher open rates than standard campaigns. In affiliate email campaign personalization become more powerful to boost open and click-through rate. Personalization can be used in 12 different ways to increase engagement.
5. Create an Effective Email Sequence
Email sequence or drip campaign is most important to convert subscribers into customers. Always send informative emails, don't send emails with just affiliate links. People ignore affiliate emails and do not like to receive third-party product emails. Instead, create useful articles or blogs based on the affiliate product.
Assume you're promoting email marketing software. Then write articles or blogs about topics such as the best email marketing software for bloggers, how to send bulk emails for free, how to use email marketing to generate higher revenue, and so on. these are just examples create content according to your niche. These type of content will help the subscriber to understand available products in the market and their usage.
Then, using a drip email campaign, create an informative email sequence and promote affiliate links. The email sequence should be as follows:
#Email 1: Welcome email
Inform subscribers about your blog or company, as well as how frequently you send emails, so they can check their inboxes. Here is the perfect example of a welcome email.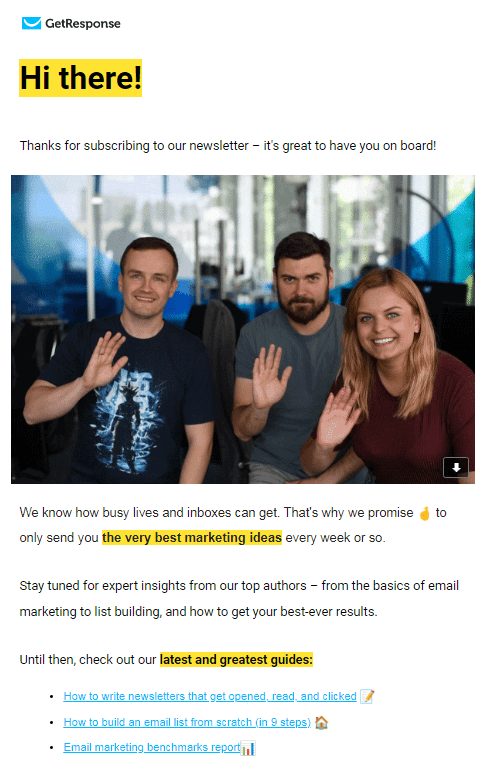 #Email 2: Send informative emails
Send educational content such as ebooks, blogs, articles, infographics, video tutorials, and so on. See the below example and create similar types of content.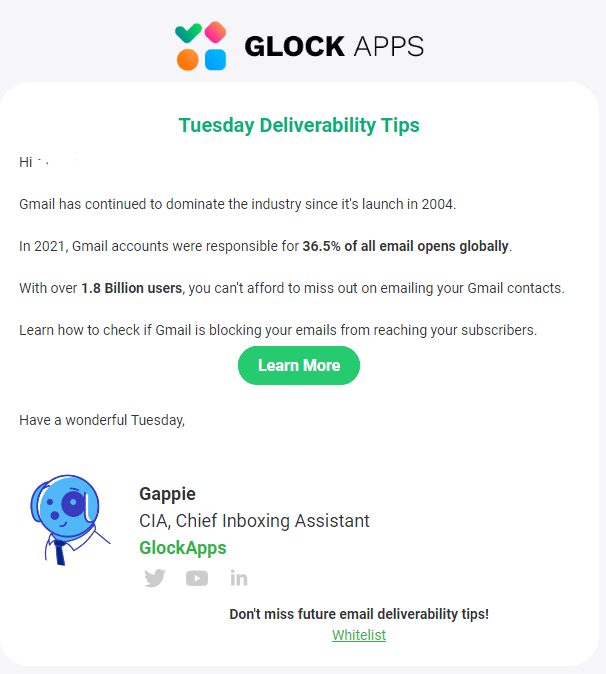 #Email 3: Send a report or statistics about your niche industry
This type of content is helpful to new subscribers to understand the industry overview.
#Email 4: Promote affiliate links
Send an email regarding what is the best product available in the market. This is the complete promotion email you can send to your new subscriber and get the conversion for your affiliate products. See the below example of the promotional email.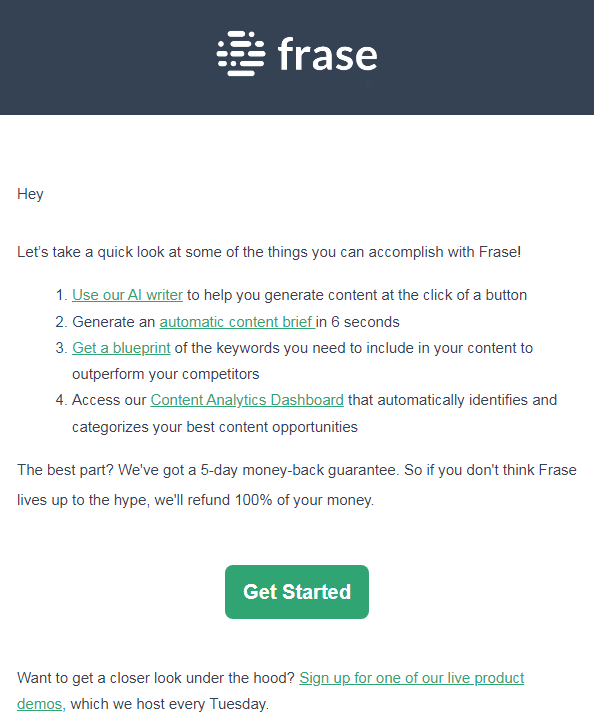 #Email 5: Again send informative emails
In your email sequence always include 80% informative emails and 20% promotional emails. That will help you to maintain a subscriber list with higher engagement.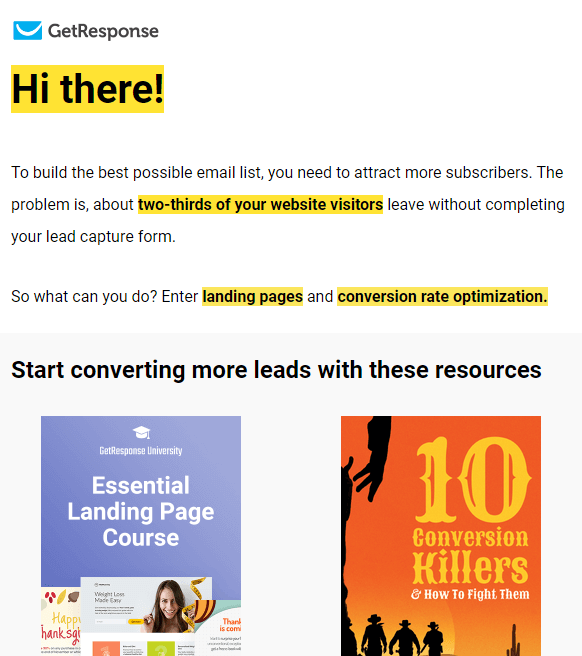 Follow these email sequences and avoid sending promotional emails too frequently. Here are some more suggestions for creating informative email sequences.
6. Monitor the Performance of Your Affiliate Email Marketing Campaigns
Keep an eye on email tracking to learn about the performance of your affiliate marketing campaign. You should be aware of the number of emails sent and the number of people who subscribe to affiliate products. Examine the effectiveness of each email sequence you've created. Compare which email newsletter generates the most opens, clicks, and conversions.
Make the necessary changes to ensure that your email campaign produces outstanding results. Use the most effective email content to increase conversion.
7. Take Advantage of the Holiday Season
People are always on the lookout for great deals during the holidays. So leverage the holiday season for your affiliate email marketing campaign. Do not include holiday offers in your current email sequence. Create a separate affiliate email campaign to leverage the holiday season.
Create offers like Halloween offers, Thanksgiving, Cyber Monday, Black Friday, Christmas offers, Summer season offers, and more. Most of the affiliate products have their own offers, make use of it and get higher conversion and commissions during the season. Check out the list of ideas for holiday email campaigns.
8. Provide Valuable Content
Affiliate email marketing is not just promoting affiliate products. But creating valuable content for your audience. Valuable content is the key factor in running a successful affiliate marketing campaign. The audience can engage with your content not because of what type of affiliate product or discount you offer.
First, you must establish trust with your target audience. This is achievable by producing high-quality content such as blogs, videos, tutorials, ebooks, infographics, and more. Once you've established trust, you can recommend products that are relevant to your audience. If the audience like it then they will definitely pay for it. This way you can earn a good affiliate commission.
9. Re-connect with Unengaged Subscriber
Send re-engagement emails to subscribers who do not open emails. These subscribers are either not interested in your content or not getting your emails in their inbox. Wait for 90 days then segment the list based on not open or unengaged contacts.
Create a new email sequence for these subscribers by offering exciting content or a discount. If they continue to ignore your emails, it's better to stop sending emails to them because it can harm your sender reputation and deliverability.
10. Use Social Proof and Facts
You can include social proof or some facts about the product while promoting affiliate products. You should describe how this product helped these many users to increase their revenue. Include social proof content in your email that help the subscriber to make the buying decision. Include content like customer reviews, product reviews, benefits of products, testimonials, and more. See the below example of social proof emails.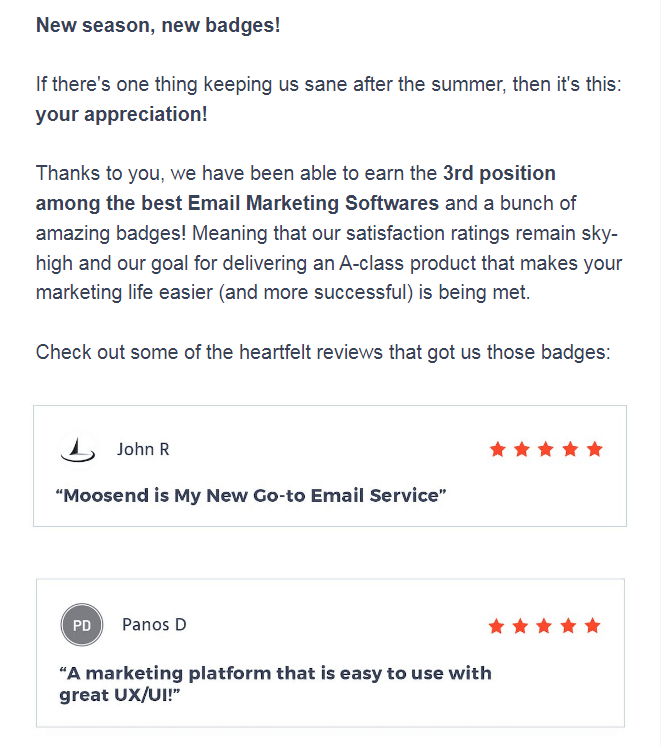 (Source Moosend)
This type of content build trust and confidence among the audience to buy products. Use these strategies while creating an affiliate newsletter campaign.
Final Thoughts
Starting an affiliate email marketing campaign is very easy if you have the right set of tools in place. Getting conversion from the campaign is the most important task. Using valuable and engaging content that can be easily achievable.
In addition, concentrate on acquiring new subscribers. New subscribers like to purchase affiliate products. Use email marketing to promote affiliate products and get higher conversion and commission. I hope this step-by-step guide will assist you in getting the most out of your affiliate email marketing campaign.