Email marketing automation is one of the most personal ways of communicating with customers, through a direct exchange of messages. Marketing automation has become the best way to deliver the right messages, to the right people, at the right time. For this reason, using email marketing in communication has become an indispensable tool in the dissemination of products and services.
This article will cover 20 email automation triggers you can use to influence people to purchase products and services and successively improve your marketing and sales results.

1. Welcome Email Trigger to New Subscribers
The welcome email is one of the basic methods of sending an autoresponder email. Once the user signup or downloads content immediately a message should be sent to get more interaction with the new subscriber and give them more information based on their interest. Mostly these types of mail are
– Introduction email
– Thank you email
– Product details email
– Onboarding email
Here is the best example of welcome triggers email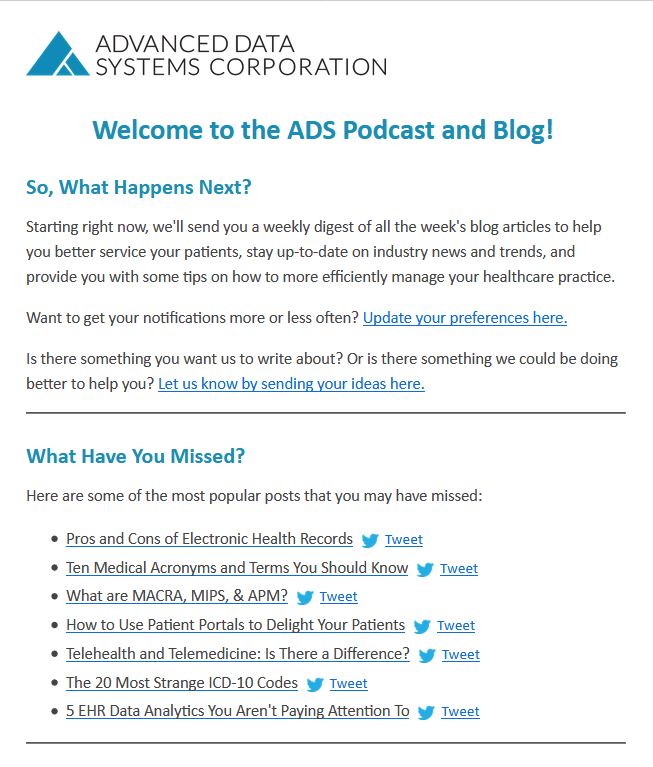 2. Inactive Contacts
Reach out to the customer who purchased from your business before but never come back. And one more criterion for inactive contacts is downloaded and submitted the form but never purchased any product from your business.
Try to send a discount or free trial message to get more engagement and it will help you to move your prospect into the sales funnel.
Re-engaging email automation example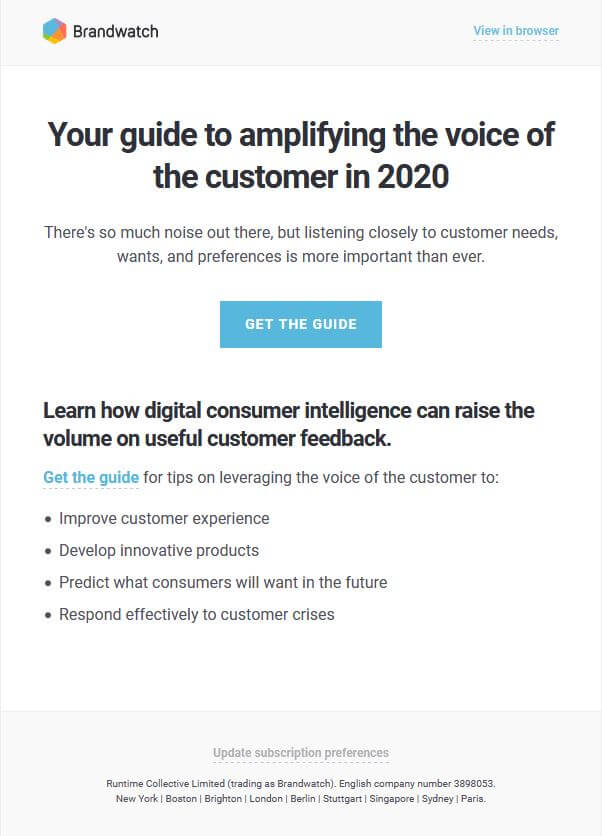 3. Announcements
If any event occurs in your company you should connect with your active contacts by sending announcement mail. A few of the examples are webinars, trade shows, latest updates, new product launches, etc.
Webinar invitation email example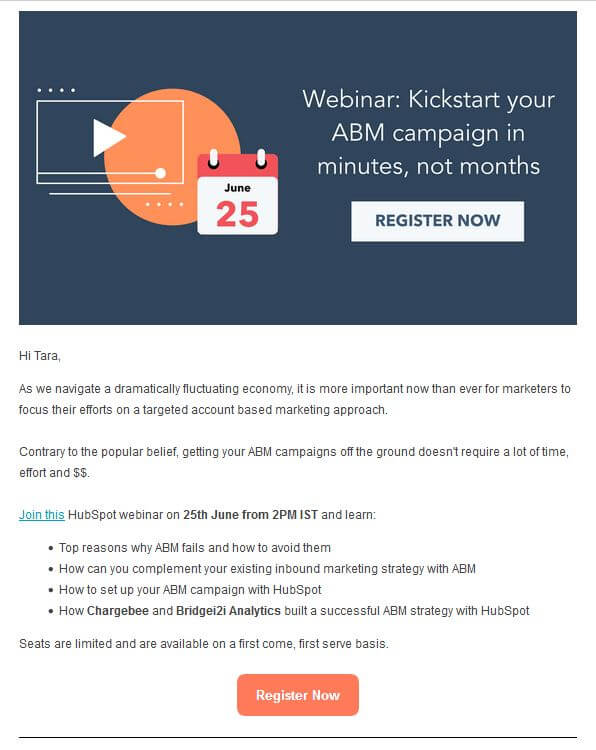 4. RSVP Confirmation
Send a confirmation email to registered users and provide information about the event. like location, timing, speaker, topic, and more.
5. Reminders
Event reminders should be automated based on the time frame you have for the event. You can send 2 reminder emails to registered users. This kind of email you can trigger

One week left email

On the event day, one day left or a few hours left

The best example for Reminders emails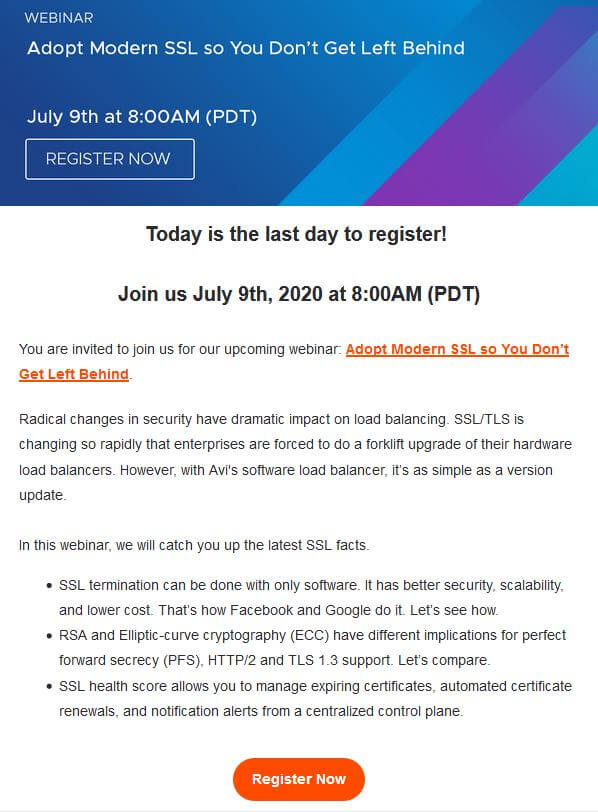 6. Webinar Follow-Up
This you can automate once the event gets over. There will be two criteria, one who attended the event and one who registered but not attended the event. Send them two separate messages

For Attendees – Send thank mail for attending the event

Registered but not attended – Send we missed you email with event recording and content
7. Trigger Based on Location
Knowing where your customer lives can be powerful information. If you are targeting a specific location then create criteria based on location and send personalized mail.
8. Frequency Adjustments
You can adjust automation email frequency, people who engage less send them fewer emails. With this, you can control the unsubscribe rate and you will get more interaction with your prospects.
9. Page view and Product view
You can set up trigger emails based on page view and particular product view. When prospects visit the product page or contact us page 3-5 times a week. That means the prospect has buying intentions. So you can send automated emails once visitors match these criteria and offer a demo or free trial request.
Free trial request email example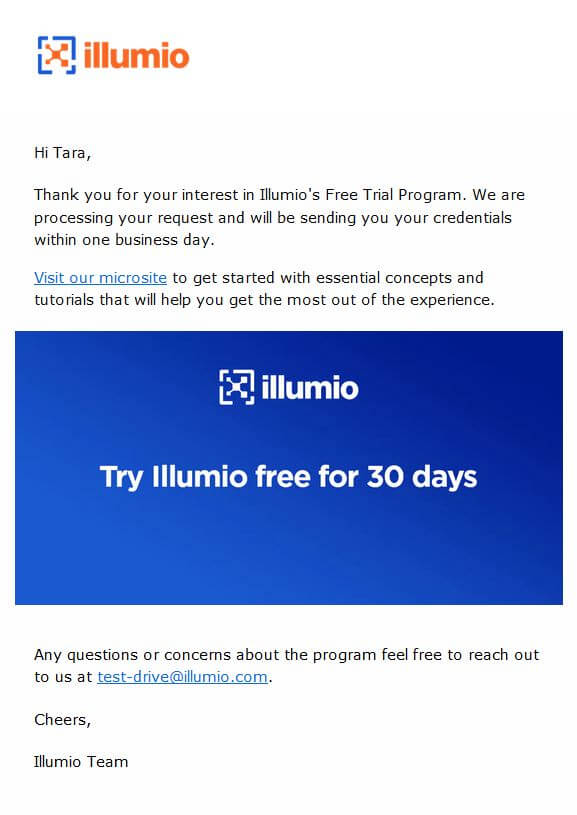 10. Abandoned Cart Trigger
This is one of the popular trigger emails you get when you add any product to your cart after a few hours or one day you get a trigger email saying "empty your cart" with a special discount. This helps the customer to convert into a paying customer.
11. Purchase Order Confirmation
Once customers complete the order, send them an order confirmation mail with the order details like shipment, reward point, product details, price, and other information related to the order.
12. Expiration Notice
If you are providing your customer a free trial or any membership subscription, then you can trigger an expiry notice email to your subscriber. This email has to trigger before the expiry date. Some of the emails like 5 days left to expire your free trial.
13. Renewal Notice
Once a customer purchased a subscription service for a month, but the second month he/ she didn't renew your services then automated emails should be sent to them by saying renew your subscription.
14. Feedback Email
Feedback email should be automated, once the customer interacts with the customer support team then an automated email should be sent to the customer.
15. Product Review Email
Once the customer receives the product, after a few days product review email should be sent to the customer. This will help you understand whether customers liked your product or not. Based on the review you can improve your product and services.
16. New Blog Post Alerts
If you are posting a blog on your website, then you can create a new blog post email automation trigger. Once you post a blog on your website automatically an email trigger should be sent to your subscribers.
17. Reward and Points Status Update
Reward and points update email you can include in an automated workflow so that customers will receive every month and understand their points and reward details.
18. Specific Link Clicked on the Campaign
If prospects clicked on a specific link, you can trigger an automated email based on the link clicked. Set criteria like, suppose a prospect clicked on an email link 5 times, then send another series of a nurture campaign specifically to those prospects.
19. Retarget Site Visitors
If a customer viewed any of your products and spent some time reviewing that page. Then after an hour or day, you can automate email based on product viewed and time spent. This will encourage customers to purchase an item they viewed on your website.
20. Updated Information Emails
If the customer changes their account setting or personal setting, immediately notification emails should be sent based on the changes.

Conclusion
For email automation triggers you should have a clear understanding of your target audience behaviour, and the action should be set for each behaviour of the customer. As a priority, you should plan the buyer journey and each step of buyer behaviour before purchasing any product and services. If this is understood and applied via email automation, the chances of selling and engaging with your audience are greatly increased.
We hope this article has helped you understand how to use email triggers in marketing automation. Try to understand how they work and, after that, think about how you can use them to help boost your marketing strategy and sell more.