However, you have the world's best website for your company or you have implemented a personalized form to capture visitor contact details. But still, the majority of website visitors leave without providing an email address. So now the question is how to collect the emails of website visitors who don't fill out your site form.
Don't worry, we will walk you through a few tactics that will help to collect the email address of website visitors who didn't fill out your form. In this article, we have briefly explained the process of how you can easily collect website visitor information who avoid filling out your website form.
Every day, different kinds of visitors visit the website. Some are genuine buyers, some are looking for information, and some are scammers or spammers who provide fake email addresses and have no intention of purchasing products.
The majority of marketers collect visitor email addresses via gated content and popup forms. Following that, launch a lead nurturing campaign to qualify leads and convert them into sales. This is a traditional method of gathering contact information and running nurturing campaigns. And what about those potential visitors who visit your website but do not take any action? So we have listed complete techniques to capture visitor information without form.
How to collect contact details of website visitors who do not fill out your website form?
Most of the marketers believe that the people who do not fill out a form, will not get their information. You can find out just how much traffic you received and what percentage of visitors converted. But that is not true, using website lead capture tools is one of the most effective ways to collect contact information of those visitors. These lead capture tools are designed to collect the email addresses of website visitors who do not fill out the form.
Here are the Top Website Lead Capture Tools (It's not a form builder)
MobileMonkey is a next-generation sales outreach platform. That is capable of capturing anonymous website visitor contact details effectively. MobileMonkey has an extensive database of 100 million opt-in internet users. It thoroughly scans your website traffic and provides you with the Name, Email, Page URL, and IP location of your visitor who does not fill out your site form. Once you have visitor contact details, you can use MobileMonkey to create an automated drip campaign and convert visitors into leads.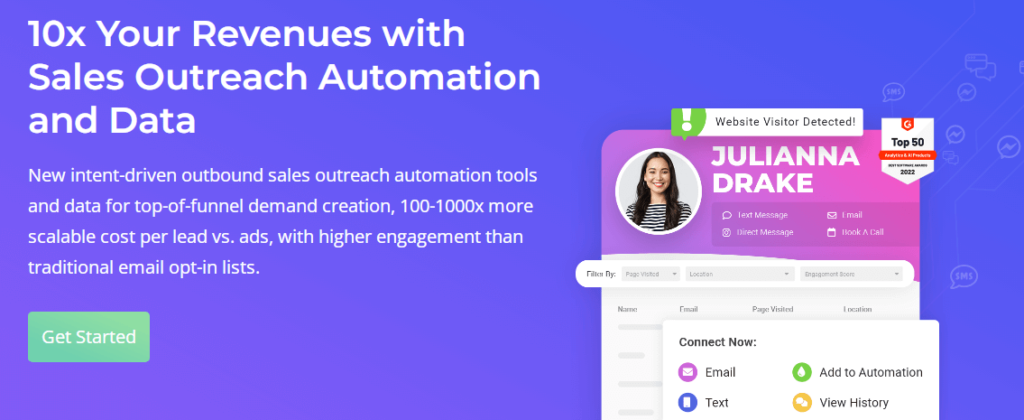 MobileMonkey is the best tool to collect the email address of visitors who do not fill out your website form. Just implement MobileMonkey on your website and generate 10X leads without forms.
Leadfeeder is another website tracking and lead-capturing tool that you can consider. How does it work? It captures visitor IP addresses and identifies which companies visited your website. Once you've determined the company name, go to Linkedin, visit their website, or use an email finder tool.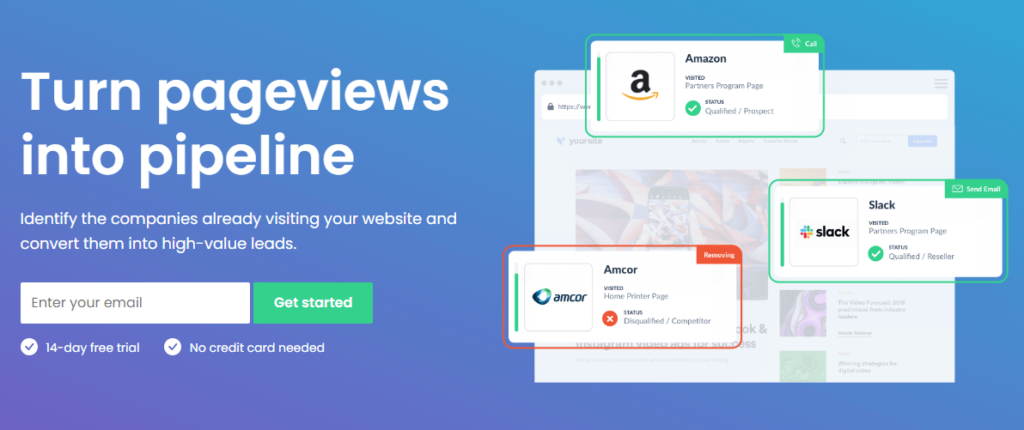 Sometimes you may get an email address and social media profile in Leadfeeder itself. If you want to increase your website conversion, Leadfeeder is the best tool for you. It provides a 14-day free trial, so give it a shot and turn visitors into leads.
GrowMeOrganic is a popular email finding and sales automation tool. It's not a direct website tracking or leads capture tool. But it is a useful tool to identify the contact information of prospects. In LeadFeeder you will get company details. Then use GrowMeOrganic to find out visitor names, email addresses, phone numbers, job titles, locations, and other details. For more information read the GrowMeOrganic review here.

After collecting the contact information of website visitors. You can start sending lead nurturing campaigns or automated follow-up emails by using GrowMeOrganic.
UpLead is another alternative you can use to identify email, phone numbers, titles, employee size, revenue size, location, technology, and more. This is the best email finding software and database provider in the market that will help you to find visitor contact details.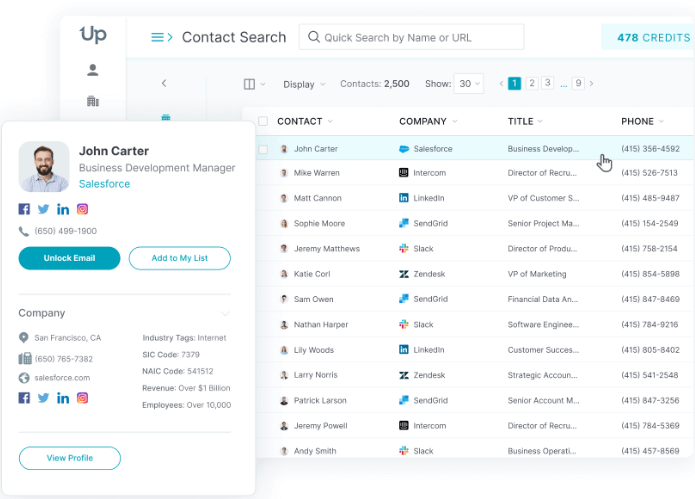 In UpLead, you will get access to 106 million b2b contacts with an accuracy of 95%. Get access to quality prospects by using UpLead.
SalesQL is an excellent Linkedin email finder tool with affordable pricing plans. By using SalesQL you can easily find out website visitor email addresses and phone numbers. But it does not track website visitors. For that, you should rely on MobileMokey or Leadfeeder. Both are outstanding website visitor-tracking tools.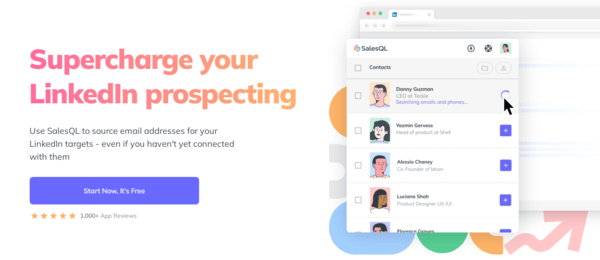 Once you know the visitor company details, SalesQL will help you in finding email and phone numbers from Linkedin. Want to learn more about how SalesQL works? Click here.
Final Thoughts
If you want to boost the number of leads on your website. The first step is to integrate MobileMonkey or LeadFeeder into your website. Both tools are effective at gathering visitor information without requiring them to fill out a form. Utilize new-generation tools to aggressively increase your lead pipeline.
In this article, we have examined five ways that you can find site visitors' contact details, who do not fill out your website form. Hopefully, this information will help you improve your website conversion rate and generate more leads. If you learn anything new and useful or have any other thoughts on this topic, we'd love to hear from you.