Are you in a dilemma about choosing the best lead generation platform among PhantomBuster vs Octopus CRM?
Welcome to the exciting world of lead generation and prospecting, where finding quality leads can feel like searching for a needle in a haystack. We know the struggle – countless hours spent sifting through data and engaging in manual tasks, leaving little time for the creative aspects of growing your business.
But fear not, because in the realm of automation, two powerful players are here to save the day: PhantomBuster and Octopus CRM. These lead-generation tools are designed to simplify your life and help you reclaim those precious hours.
In this blog post, we will compare the difference between PhantomBuster vs Octopus CRM, putting their capabilities head-to-head. We'll explore their unique features, functionalities, and how they can revolutionize your lead generation efforts. By the end of this blog, you'll have all the insights you need to choose the perfect platform for your business, paving the way to greater efficiency and success.
So buckle up, and let's dive into the epic showdown of PhantomBuster vs. Octopus CRM – may the best lead generation champion emerge victorious!
PhantomBuster vs Octopus CRM: Overview
What is PhantomBuster?
Streamline your lead generation with PhantomBuster's 100+ automation tools that cover everything from collecting email addresses on LinkedIn to auto-following on Twitter and sending messages on Facebook. Free up time and boost efficiency effortlessly. Read the PhantomBuster in-depth review.
What is Octopus CRM?
Octopus CRM simplifies prospecting on LinkedIn with its powerful user-friendly automation software. Send personalized connection requests, bypass invite limits with email requests, bulk message 1st level connections, endorse skills automatically, and visit profiles effortlessly to grow your business effectively. Read more in Octopus CRM reviews.
PhantomBuster vs Octopus CRM: Feature Comparison
When it comes to lead generation tools, both PhantomBuster and Octopus CRM are strong contenders with impressive features and functionalities. So, let's take a closer look at each platform by exploring their offerings one by one.
| | | |
| --- | --- | --- |
| Features and Actions | | |
| Free Trial | 14 days | 7 days |
| Starting Pricing | $56 / month | $6.99 / month |
| Compatibility with | LinkedIn Free and Sales Navigator, Facebook, Twitter, Instagram, Google Maps, etc. | LinkedIn Free, Premium, and Sales Navigator |
| LinkedIn automation | Yes | Yes |
| Find Email and Phone Numbers | Yes | No |
| Tracking and Reporting | Yes | Yes |
| Leads Export / Import | Yes | Yes |
| Auto Connect | Yes | No |
| Like & comment | Yes | No |
| Send Messages | Yes | Yes |
| Data Enrichment | Yes | Yes |
| Safety & Security | Yes | Yes |
| LinkedIn Profile Scraper | Yes | No |
| Integrations | Yes | Yes |
| 24/7 customer support | Chat, email, and phone | Only email support |
| Explore More | Explore PhantomBuster | Explore Octopus CRM |
PhantomBuster vs Octopus CRM: Pricing
In terms of pricing, Octopus CRM offers a budget-friendly pricing plan that any professional can use to build a leads list and increase their Linkedin presence.
Octopus CRM pricing plans start at $6.99 with only basic feature that is not good enough. To fulfill your needs you should go for the Unlimited plan which cost you $24.99/ month. Remember it works only on Linkedin which limits your lead generation opportunity.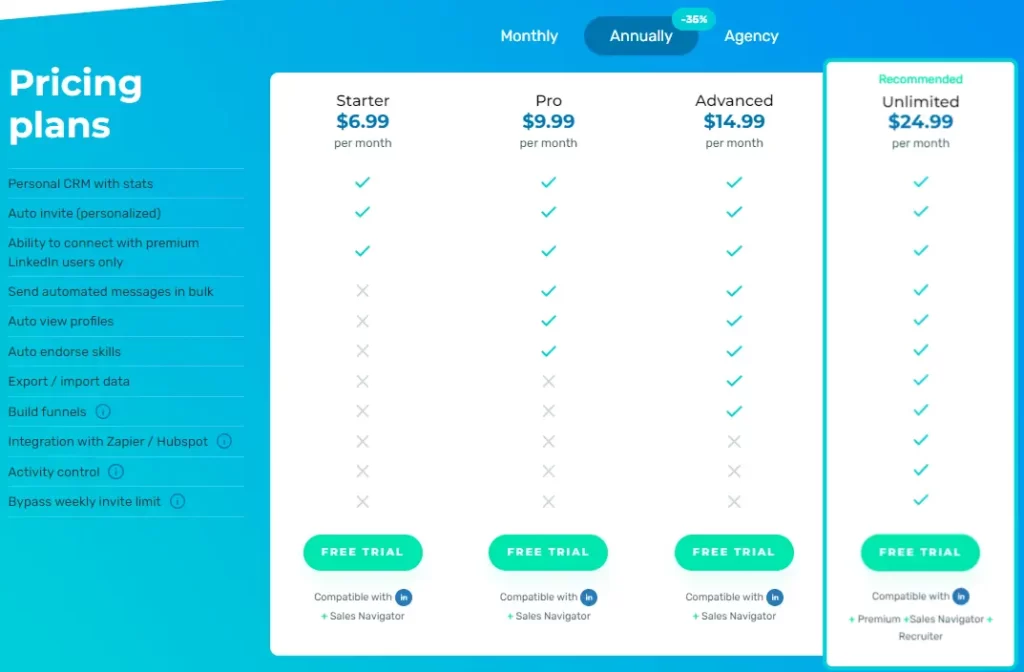 Whereas in PhantomBuster, pricing is a bit higher side but it's worth the investment. Because apart from Linkedin you can also automate other social media platforms like Twitter, Facebook, Reddit, Google Maps, YouTube, and more.
PhantomBuster pricing plans start at $56, it includes 5 Phantoms, enabling automation for multiple platforms like LinkedIn, Twitter, Facebook, Reddit, Instagram, and more. The pro plan is the most recommended plan that can accelerate your capacity to grow your business faster.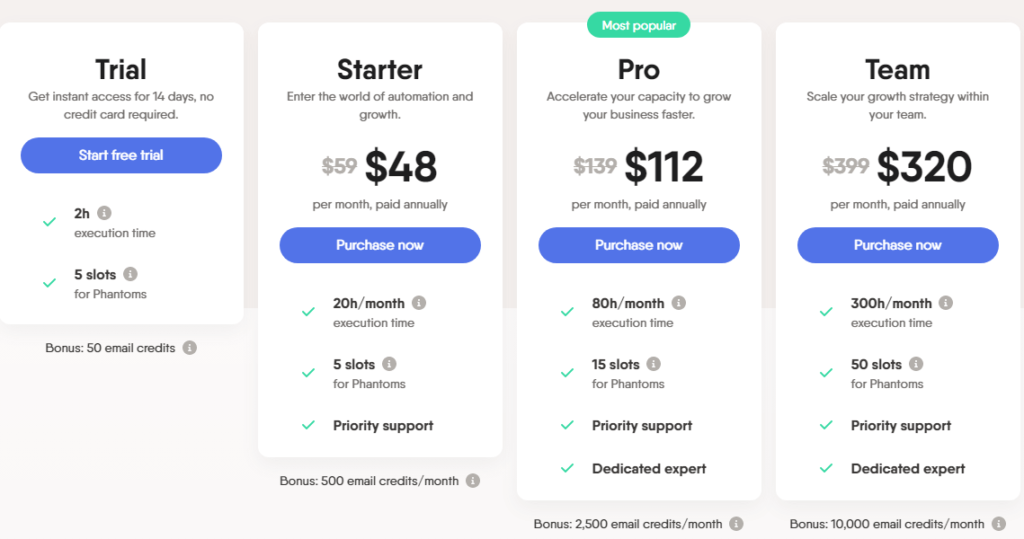 PhantomBuster vs Octopus CRM: Pros & Cons
Find out the strengths and weaknesses of two leading automation tools – PhantomBuster and Octopus CRM. As we look into their respective advantages and limitations that will help you make an informed choice for your lead generation and marketing endeavors.
PhantomBuster Pros & Cons
Pros

Cons

Get 14 free trials and 50 email credits

Extract leads from any website or social media

Data enrichment with email and other information

Send outreach campaign

Automate entire lead generation efforts

More than 100+ automation workflows

Accurate and reliable lead generation platform

Pricing is higher side compared to competitors

Need to follow restrictions
Octopus CRM Pros & Cons
Pros

Cons

All-In-One LinkedIn Automation Tool

Fair Pricing plans

Automate the entire LinkedIn activity

A useful tool to connect, send messages, and generate leads

Analyse performance and stats

Simple to integrate with other marketing platforms

Works only on LinkedIn

You should always log in to LinkedIn to access Octopus CRM

Limited features compare to competitors

Limited free trial
PhantomBuster vs Octopus CRM: Which Is Better?
1. Interface
PhantomBuster's interface is pretty simple to use. All features are right in front of you to click and choose. An easy option is available to extract leads, enrich data, send campaigns, and more. The platform is too fast and responsive.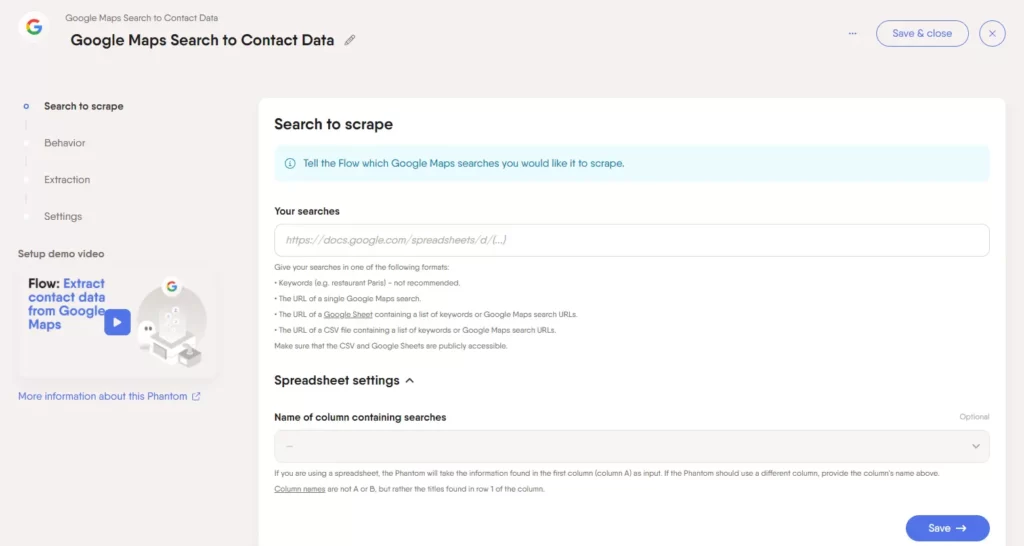 On the other hand, Octopus CRM has a user-friendly interface to some extent but not as simple as PhantomBuster's. Octopus CRM is a bit sluggish and takes too much time to load.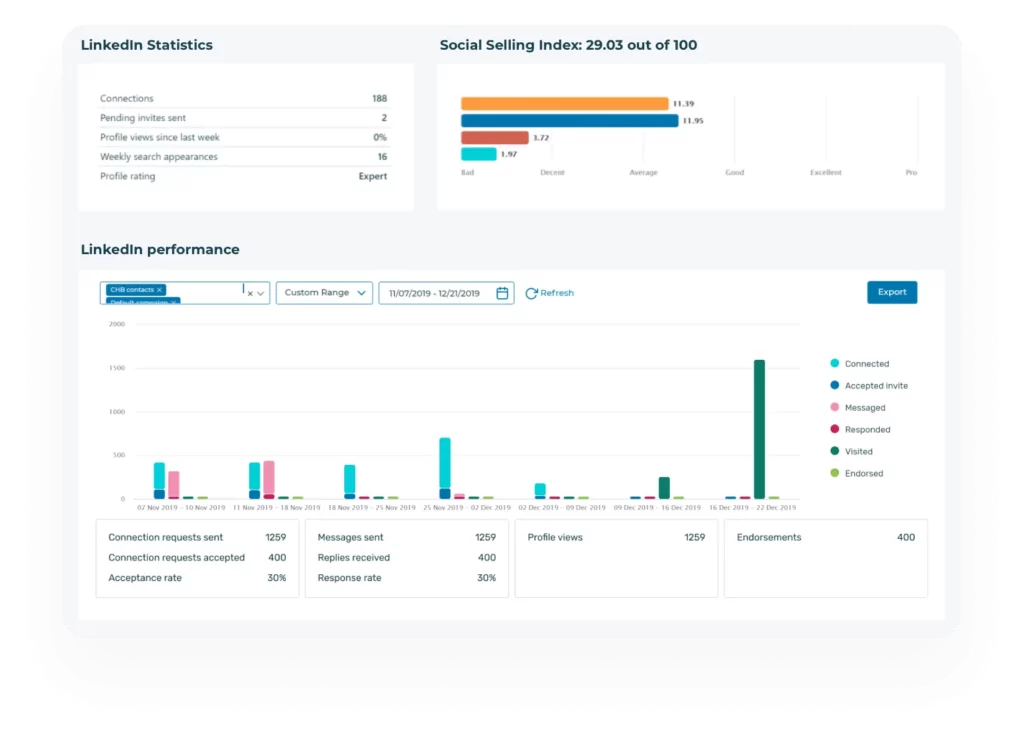 Winner: PhantomBuster. They have a user-friendly interface that's very easy to navigate.
2. Features
PhantomBuster excels with its extensive range of 100+ automation tools, covering various social media platforms like LinkedIn, Twitter, Facebook, Reddit, and more. It empowers users to automate a wide array of actions, from collecting email addresses to engaging with prospects effortlessly.
Octopus CRM, though efficient on LinkedIn, lacks the diversity of PhantomBuster's multi-platform automation. It offers personalized connection requests and bulk messaging for 1st level connections, but its scope is limited to LinkedIn alone.
Ultimately, your choice between the two will depend on your preference for multi-platform automation (PhantomBuster) or a focused approach on LinkedIn (Octopus CRM).
3. Compatible
PhantomBuster stands out with its broad compatibility, supporting various social media platforms such as LinkedIn, Twitter, Facebook, Reddit, Google Maps, and YouTube. This versatility allows users to automate tasks across multiple networks seamlessly.
In contrast, Octopus CRM is designed explicitly for LinkedIn automation. Making it a robust choice for professionals looking to optimize their LinkedIn prospecting efforts. However, it may not cover the extensive range of platforms that PhantomBuster offers.
4. PhantomBuster vs. Octopus CRM – What Can You Automate?
PhantomBuster impresses with its vast array of automation possibilities, ranging from LinkedIn profile visits, connection requests, and message sending to Twitter engagement, Facebook actions, Reddit tasks, and more. It covers a diverse range of social media activities.
While specialized in LinkedIn automation, Octopus CRM allows users to automate personalized connection requests, email-based connection requests, bulk messaging to 1st level connections, and automatic profile endorsements, enhancing LinkedIn prospecting.
In summary, PhantomBuster offers a broader spectrum of automation across various platforms, while Octopus CRM focuses on optimizing LinkedIn-related tasks for more targeted lead generation.
5. Accuracy and Reliability
PhantomBuster boasts a reputation for delivering high accuracy and reliability in its automation processes. Users can trust the platform to execute tasks precisely, ensuring consistent results across multiple social media networks.
While efficient on LinkedIn, Octopus CRM may encounter occasional limitations in its accuracy and reliability. While it remains dependable for LinkedIn automation, it may not match the robustness found in PhantomBuster's multi-platform capabilities.
In conclusion, PhantomBuster offers a more dependable and accurate automation experience, while Octopus CRM excels in delivering reliable results within the LinkedIn ecosystem.
6. Integration
PhantomBuster offers direct integrations with various platforms, including HubSpot, Snov.io, Hunter.io, Dropcontact, lemlist, Zapier, and Make (formerly Integromat). In contrast, Octopus CRM has limited direct integration support with only HubSpot and Zapier available.
7. Send Outreach Campaign
With PhantomBuster, create personalized outreach campaigns to engage prospects on various social platforms and track your success for informed decisions. Meanwhile, Octopus CRM limits automation to LinkedIn messages only.
8. Customer support
PhantomBuster provides prompt and priority support with a dedicated account consultant, ensuring a personalized experience. On the other hand, Octopus CRM offers limited customer support options.
Conclusion
Both PhantomBuster and Octopus CRM offer unique strengths and functionalities. PhantomBuster impresses with its diverse automation capabilities, spanning multiple social media platforms and broad integration support. It ensures high accuracy and reliability, backed by prompt customer support.
On the other hand, Octopus CRM shines as a dedicated LinkedIn automation tool, providing efficient connection requests and messaging on the platform. While it offers limited integration options, it serves as a valuable tool for LinkedIn prospecting.
Ultimately, the choice between the two will depend on individual preferences and business needs. For those seeking comprehensive automation across various platforms. PhantomBuster emerges as the top choice. However, if optimizing LinkedIn-related tasks is the priority, Octopus CRM offers a focused and user-friendly solution.