Looking for an efficient tool to streamline your LinkedIn tasks? Read our Octopus CRM review and discover how this automation software can boost your productivity and optimize your strategy!
In today's digital age, social media platforms have become essential tools for professionals to network and market themselves. LinkedIn, in particular, has emerged as the go-to platform for professionals to connect with peers and potential clients. However, with the increasing competition, it has become challenging to stand out and make meaningful connections without investing significant time and effort. That's where Octopus CRM comes in handy. They streamline and automate various LinkedIn tasks, allowing professionals to focus on more critical tasks.
Octopus CRM is a LinkedIn automation tool that has gained immense popularity among professionals. It offers a range of automation features that can help users save time, increase efficiency, and achieve their networking and marketing goals on LinkedIn. What sets Octopus CRM apart from other automation tools is its affordability. It is an excellent option for professionals who are looking for a cost-effective LinkedIn automation solution without compromising on features or quality.
In this Octopus CRM review, we will explore its's features, benefits, pricing, customer reviews, pros, and cons in detail, and why it is an excellent choice for professionals looking for an affordable LinkedIn automation platform.
Octopus CRM Review
Octopus CRM is a powerful LinkedIn automation tool that helps professionals automate various tasks on the platform, such as connecting with potential clients, sending personalized messages, and generating leads. It is a cloud-based software that is easy to use and can be accessed from anywhere with an internet connection.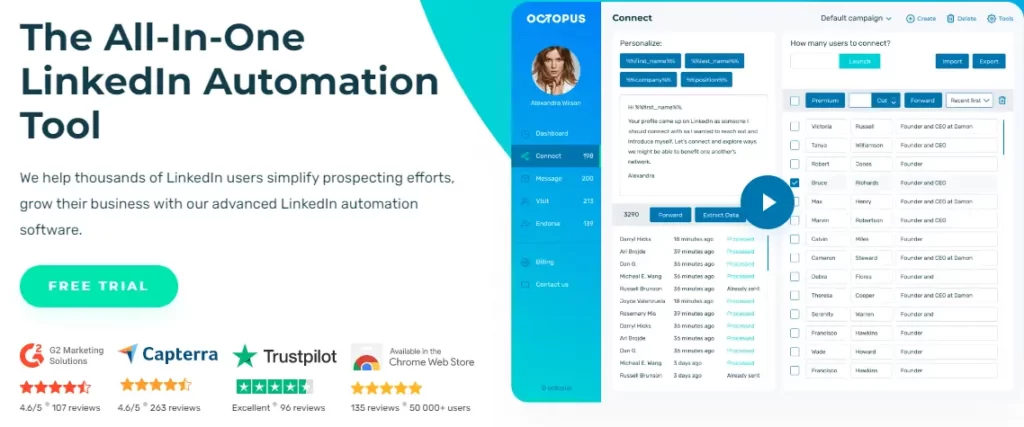 It offers a range of automation features, including profile views, connection requests, personalized messaging, auto-follow, auto-unfollow, and lead generation. The tool uses smart algorithms and AI to help users target the right audience, ensuring that their efforts result in maximum engagement and conversion rates.
Overall review, Octopus CRM is an excellent choice for professionals looking to streamline their LinkedIn tasks, increase their efficiency, and generate more leads. Its affordability and range of features make it an attractive option for businesses of all sizes.
Why should you choose Octopus CRM?
There are many reasons why professionals should consider choosing Octopus CRM as their LinkedIn automation tool. Here are some of the top benefits of using Octopus CRM.
1. Affordable: It is a cost-effective solution compared to other LinkedIn automation tools on the market. It offers a range of features at a reasonable price, making it accessible to businesses of all sizes.
2. User-Friendly: It's user-friendly interface is easy to navigate and customize, even for those without extensive technical knowledge. The platform's drag-and-drop feature makes creating and automating campaigns simple and straightforward.
3. Customization: It allows users to personalize their messages and campaigns, ensuring that their outreach is targeted and relevant to their audience. The tool's advanced targeting capabilities and segmentation options make it easier to reach the right people.
4. Automation: Its automation features, such as auto-connection requests, personalized messaging, and lead generation, can help users save time and increase their efficiency on the platform.
5. Analytics: It provides detailed analytics and reporting, allowing users to track their performance and make data-driven decisions.
Overall, Octopus CRM offers a comprehensive and affordable LinkedIn automation solution that can help professionals increase their efficiency and generate more leads on the platform.
How does Octopus CRM Works?
Octopus CRM works smoothly and effectively. Let's see step by step how it works:
Step 1: Create an Account
Firstly, you need to create an account on Octopus CRM's website and connect your LinkedIn account.
Step 2: Set Up Campaigns
After logging in, you can set up campaigns according to your marketing goals. Octopus CRM provides several campaign templates that users can customize based on their needs.
Step 3: Define Target Audience
Once the campaign is set up, users can define their target audience using various filters like location, industry, job title, etc.
Step 4: Automation
Octopus CRM's automation software automatically sends connection requests to the defined target audience, bypassing the weekly limit of 100 invitations imposed by LinkedIn. Once the connection requests are accepted, the tool sends personalized messages to the new connections, endorsing their skills to initiate conversations.
Step 4: Track Performance
Users can track the performance of their campaigns through the Octopus CRM dashboard, which shows various metrics like the number of profile views, search appearances, and the social selling index. They can also evaluate the effectiveness of their campaigns and adjust their strategies accordingly.
Overall, Octopus CRM helps businesses to expand their LinkedIn network, generate leads, and increase conversions through automation and effective targeting.
Best Features of Octopus CRM
Here are some of the top features of Octopus CRM:
Automatically send personalized LinkedIn connection requests
Octopus CRM allows users to send personalized connection requests on LinkedIn automatically. Users can customize their messages and targeting options to ensure that their outreach is targeted and relevant to their audience.
Bypass the weekly Linkedin invite limit
It allows users to send connection requests by email, bypassing the weekly limit on LinkedIn. This feature can help users increase their reach and connect with more potential clients.
Send bulk messages to hundreds of 1st level connections
With Octopus CRM, users can message hundreds of their 1st level connections in bulk, saving time and increasing their efficiency. The tool allows users to customize their messages and targeting options, ensuring that their outreach is relevant and engaging.
Endorse up to 7 skills to your LinkedIn contacts
It offers an automated endorsement feature that allows users to endorse up to seven skills on their LinkedIn contacts' profiles automatically. This feature can help users build stronger relationships with their contacts and increase their engagement rates.
Automatically view hundreds of profiles
Octopus CRM's profile visit feature allows users to visit hundreds of profiles on LinkedIn automatically. This feature can help users increase their visibility on the platform and generate more leads.
Create a marketing funnel on LinkedIn
It enables users to create a marketing funnel on LinkedIn by automating the process of connecting with their target audience. After sending connection requests, the tool allows users to automatically send a personalized "thank you" message once the requests are accepted. Additionally, users can warm up these prospects by endorsing a few of their skills and following up with them to convert them into clients.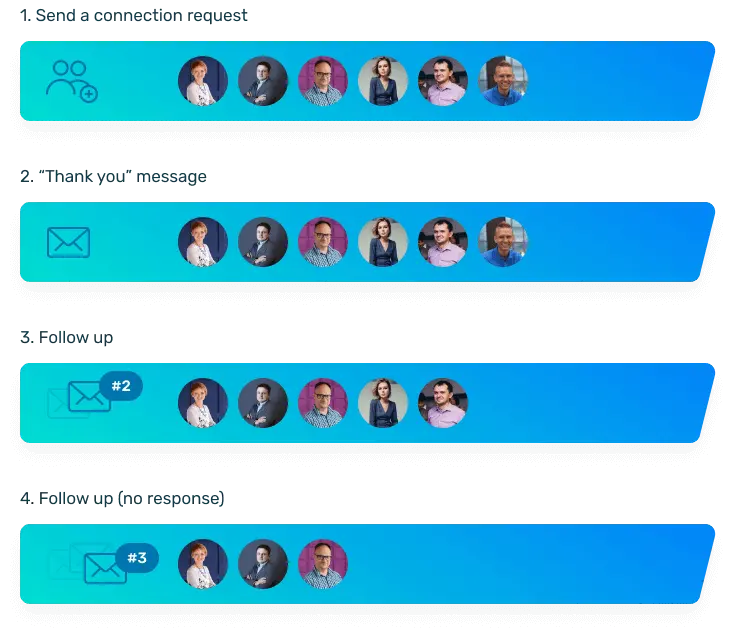 Monitor your LinkedIn metrics and evaluate performance
Octopus CRM lets you evaluate the performance of your campaigns so that you can make data-driven decisions about how to optimize them. By understanding these metrics, you can gain valuable insights into your target audience and the effectiveness of your outreach efforts.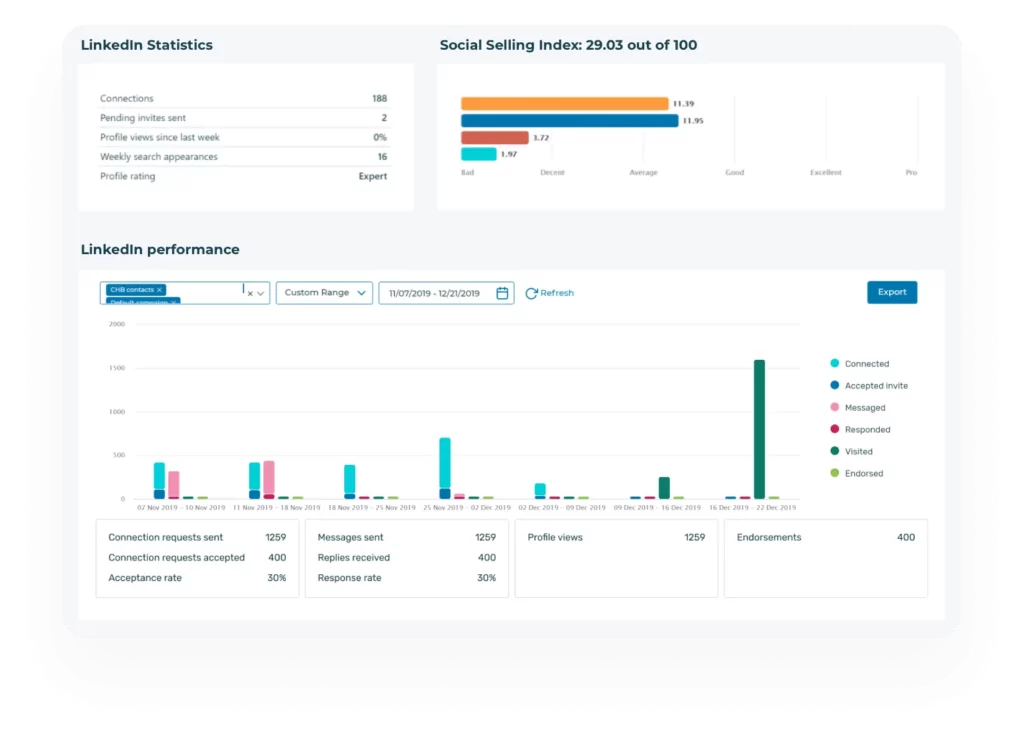 With Octopus CRM, you have the flexibility to upload your own list of LinkedIn profiles and include them in your campaigns for further action. Additionally, the tool allows you to export data from LinkedIn to a CSV file, giving you the ability to analyze and use the data in a way that suits your needs.
Compatibility with all LinkedIn account types
It is designed to work seamlessly with all types of LinkedIn accounts, whether you have a free account or a premium account such as Sales Navigator or Recruiter Lite. So, no matter what type of LinkedIn account you have, you can take advantage of the powerful automation features that Octopus CRM has to offer.
It also offers a safety feature that monitors your activity and notifies you if something goes wrong.
Octopus CRM Pricing Plans Reviews
It offers affordable pricing plans that cater to businesses of all sizes. With four pricing plans available – Starter, Pro, Advanced, and Unlimited – Octopus CRM provides a range of features to meet your needs.
1. Starter Plan
Starting at just $6.99 per month, the Starter Plan includes basic features such as auto-invite, linked connection, and compatibility with Sales Navigator. For more advanced features like automated messages, auto view profiles, and auto endorse skills, you can upgrade to the Pro Plan starting at $9.99 per month.
2. Advanced
The Advanced Plan, which starts at $14.99 per month, includes additional features like data export/import, funnel building, and activity control. All plans are compatible with Sales Navigator.
3. Unlimited
For businesses that require more functionality, this is a highly recommended plan priced at $24.99 per month and includes features such as integration, activity control, and the ability to bypass the weekly limit. This plan is compatible with Premium, Sales Navigator, and Recruiter.
With its range of affordable pricing plans, Octopus CRM makes it easy for businesses to leverage the power of LinkedIn automation without breaking the bank.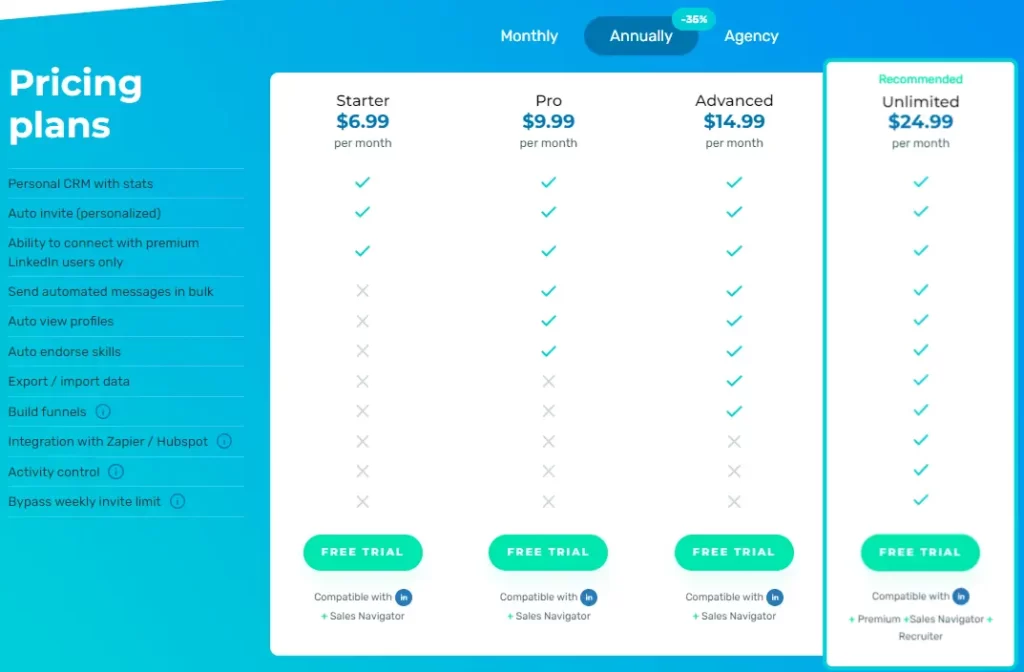 Octopus CRM Discount and Offer
Octopus CRM is currently offering a 35% discount on all annual plans. This is a great opportunity to sign up today and take advantage of the full suite of LinkedIn automation tools at an even more affordable price. Don't miss out on this special offer – streamline your LinkedIn workflow and achieve your marketing goals with Octopus CRM.
Octopus CRM Pros and Cons
Pros
Offer 7-day free trial to experience the platform

Effective Octopus Chrome Extension for LinkedIn lead generation

Affordable pricing plans compared to other LinkedIn automation tools in the market.

A user-friendly interface that makes it easy to use for even non-technical users.

Offers a wide range of automation features like personalized connection requests, bulk messaging, and auto-endorsement.

Compatible with all types of LinkedIn accounts, including Free, Premium, Sales Navigator, and Recruiter Lite.

Provides a safety feature that monitors your LinkedIn activity and sends you immediate notifications if there is excessive activity on your account.
Cons
Some users have reported issues with the tool getting blocked by LinkedIn.

The tool's customer support could be more responsive, according to some users.

The advanced features are only available on the higher pricing plans,

The tool's automated actions may not always result in the most personalized or effective outreach, depending on your specific use case.
Overall, Octopus CRM is a robust LinkedIn lead generation tool that offers a range of useful features at an affordable price point. However, like any tool, it has its limitations and potential drawbacks, so it's important to consider your specific business needs before deciding whether Octopus CRM is the right fit for you.
Octopus CRM Customer Reviews
Octopus CRM has earned the trust of over 40,000 users across a wide range of industries and countries, making it a highly popular choice for LinkedIn automation. Let's see customer reviews.
Is Octopus CRM the right tool for your business?
Octopus CRM is an excellent choice for B2B businesses seeking to expand their network of prospects through LinkedIn. It's a valuable platform for companies in various industries, including software, healthcare, manufacturing, retail, eCommerce, education, and more. Sales, marketing, and recruiter professionals can especially benefit from this tool's features to streamline their LinkedIn outreach and achieve their goals.
Final Octopus CRM Reviews and Ratings

Octopus CRM Alternatives and Competitors
The world of LinkedIn automation is vast and constantly evolving, with new players entering the market every month. As such, if you're on the hunt for an Octopus CRM alternative, there are plenty of great options to consider.
Final Thoughts on Octopus CRM Reviews
Octopus CRM is a powerful LinkedIn automation platform that offers a wide range of features to help businesses expand their network and engage with prospects on the platform. With its affordable pricing plans, compatibility with various LinkedIn account types, and ability to track important metrics, Octopus CRM is a popular choice for businesses of all sizes and industries.
While it does have its limitations and potential drawbacks, such as the need for careful monitoring to avoid triggering LinkedIn's spam filters, many users have reported positive experiences with the tool and found it to be a valuable asset in their LinkedIn outreach efforts.
Ultimately, whether Octopus CRM is the right choice for your business will depend on your specific needs and goals, but it's definitely a tool worth considering for anyone looking to enhance their LinkedIn marketing and sales strategies.
Frequently Asked Questions
1. Is a LinkedIn Sales Navigator account mandatory to use Octopus CRM?
Not necessarily to have a Sales Navigator account. You can also use Octopus CRM in free LinkedIn accounts.
2. What is the limit of connection requests and messages that can be sent using Octopus CRM?
You can send over 500 invitations per week without any risk, which is significantly more than the usual limit of 100 invitations per week on LinkedIn.
3. Is your automation tool suitable for agencies?
It is an ideal tool for larger teams and marketing agencies looking to manage multiple client accounts effectively. Additionally, you also get a special discount for bulk purchases.
4. How can I cancel my subscription?
It is very easy to cancel the subscription. Making it a stress-free process if you're not completely satisfied with the tool.