Are you tired of spending hours in front of a blank screen, struggling to find the right words to express your thoughts? Do you wish there was an easier way to write high-quality content without sacrificing your valuable time and energy? Well, you're in luck! In this article, we're going to dive into the world of the best AI writing tools and discover the top solutions that can take your writing game to the next level.
With these powerful tools by your side, you'll be able to write with more ease, creativity, and accuracy than ever before, all while saving yourself hours of precious time. So, let's get started and explore the exciting world of AI writing tools together!
What are AI Writing Tools?
AI writing tools are software programs that use artificial intelligence algorithms to assist and automate the process of writing. These tools can help users to write faster, more efficiently, and with greater accuracy by providing suggestions, correcting errors, and generating content.
Some AI writing tools can help users to improve their writing skills by analyzing their texts for grammar, syntax, and spelling errors. Others can assist in generating content by providing suggestions, writing prompts, or even generating entire articles, essays, or reports.
AI writing tools can be useful for a wide range of users, from professional writers to students, bloggers, marketers, and business owners. They can save time and improve the quality of written content, allowing users to focus on other important tasks.
However, it's important to note that while AI writing tools can be powerful, they are not perfect. They may sometimes produce errors or unnatural-sounding text. Therefore, it's important to use these tools as a supplement to one's own writing skills and not solely rely on them for creating high-quality content.
Why AI Writing Tools are important?
AI writing tools are important for several reasons:
1. Time-saving: AI writing tools can help users to write faster and more efficiently by automating some of the tasks involved in writing, such as proofreading, grammar checking, and content generation. This can save users a significant amount of time, allowing them to focus on other important tasks.
2. Improved accuracy: AI writing tools can help users to avoid common writing errors such as spelling and grammar mistakes, which can improve the overall accuracy of the written content. This can be particularly important for professional writers or those who need to produce high-quality content.
3. Enhanced creativity: AI writing tools can help users to generate new ideas and overcome writer's block by providing suggestions and prompts for content creation. This can be particularly useful for those who need to produce a large amount of content or who are working on a tight deadline.
4. Accessibility: AI writing tools can make writing more accessible to people with disabilities or those who struggle with writing due to language barriers or other challenges. These tools can provide assistance with grammar, spelling, and vocabulary, making it easier for people to express themselves through writing.
Overall, AI writing tools are important because they can help users to write better, faster, and more efficiently, while also improving the overall quality of written content.
Here are the 15 Best AI Writing Tools You Need to Know
We've compiled a list of the 15 most powerful and innovative AI writing tools on the market that are guaranteed to transform the way you write. From generating content ideas to perfecting your grammar and style, these tools have got you covered. So, whether you're a professional writer or just starting out, get ready to enhance your writing game like never before. Without further ado, let's dive into our list of the 15 best AI writing tools that will revolutionize the way you write!
If you're looking for an AI-powered writing tool that can help you create high-quality content quickly, Writesonic is the perfect choice for you! With more than 80 AI writing tools at your fingertips, you can brainstorm ideas, generate SEO-friendly blog posts, create compelling Facebook and Google ads, write tweets and Instagram captions, and even produce stunning AI-generated art and images.

What's more, Writesonic is incredibly easy to use. Just specify your topic and the keyword you want to rank for (if you have one), choose your language from over 25 options, and let Writesonic work its magic. Plus, you can use Writesonic anywhere you write, thanks to its handy Chrome extension. Read Writesonic Review.
Whether you're a professional writer or just starting out, Writesonic is the perfect tool to enhance your skills and take your writing to new heights. Sign up today and get 10,000 words for free – enough to write 4-5 articles with ease!
Are you ready to experience the full power of an AI content generator that delivers premium results in seconds? CopyAI is the ultimate writing tool that's trusted by over 7 million professionals and teams worldwide. Whether you're a content writer, social media manager, email marketer, business owner, or startup team, CopyAI has everything you need to streamline your content production and take your content creation game to the next level.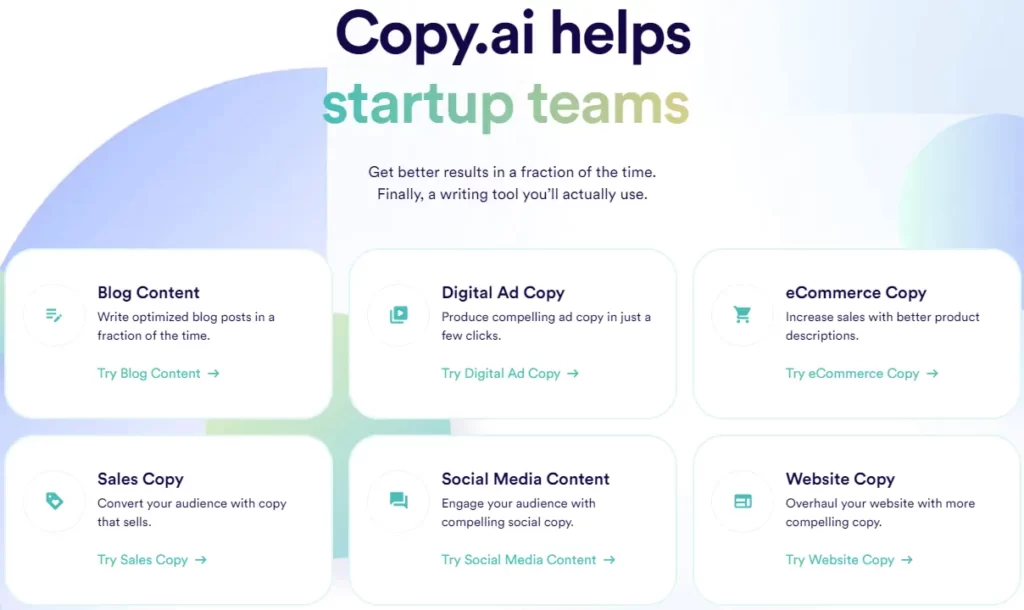 With over 90 tools and templates at your disposal, you can write everything from blog content and digital ad copy to eCommerce copy, sales copy, social media content, website copy, and more. And with 2,000 free words per month, you can try CopyAI for yourself and see the difference it makes in your content creation process. Don't settle for mediocre content – unleash the power of artificial intelligence with CopyAI today!
Looking for an AI writing tool that guarantees original content with a plagiarism rate as low as 2%? Look no further than Copymatic – the ultimate writing tool that's taking the market by storm! Built on the powerful GPT-3 AI language model, Copymatic generates content that's not only natural and unique but also creative, giving you the edge you need to stand out in today's crowded digital landscape.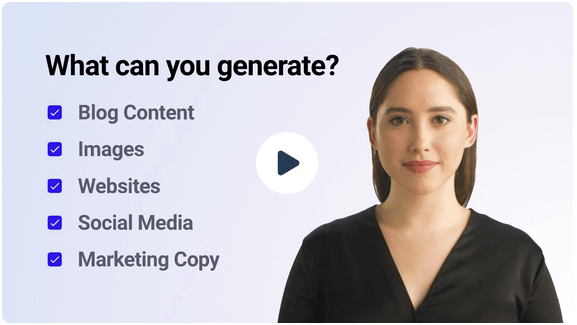 Copymatic is more than just a writing tool – it's a trained AI that knows the ins and outs of content writing and conversion optimization, making it the perfect tool for creating content for your website or social media posts. With the Copymatic Chrome extension, you can access over 80 AI writing tools right in your browser, including a revolutionary AI chat assistant – CopyChat.
In a free trial, you'll get 10 credits that let you try all AI tools, from blog content and copywriting to digital ads, marketing tools, and more. With 10 credits, you can generate about 1,000 words of blog content, giving you a taste of the power of Copymatic.
With over 5.5 million satisfied users, Rytr is the perfect tool for copywriters, marketers, and entrepreneurs looking to streamline their content creation process. Whether you need blog posts, emails, or ad copies, Rytr's state-of-the-art language AI can generate unique and original content for almost any vertical.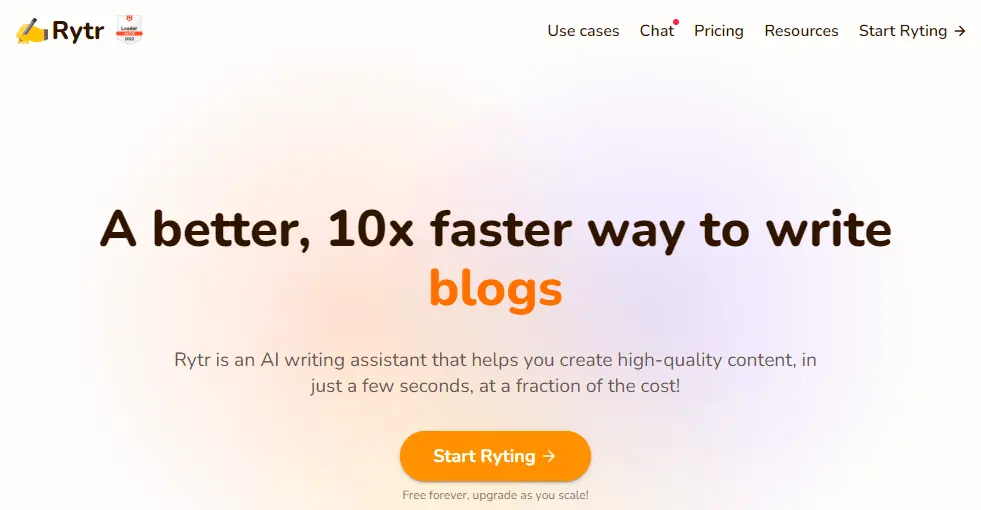 Choose from 30+ languages and 20+ tones of voice to convey the right emotion in your writing. And with a fraction of the cost compared to hiring a human writer, Rytr is the ultimate solution for all your content needs.
ShortlyAI is cutting-edge AI technology designed to help you seamlessly continue writing, develop your ideas, and even brainstorm for your next project. Whether it's a novel, a blog post, or anything in between, ShortlyAI is here to assist you every step of the way.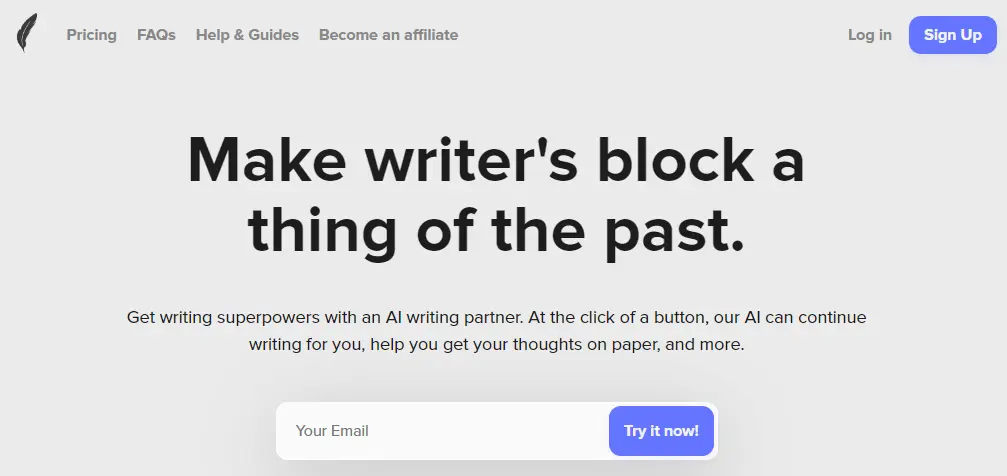 With a distraction-free interface and intuitive /commands, refining your writing has never been easier. Make your sentences shorter, expand them, or even rewrite them with just a few clicks.
With over 50+ types of copy available to generate instantly, you'll be able to write plagiarism-free content for all your needs, including blogs, articles, ads, products, websites, and social media. Simplified AI content generator uses cutting-edge technology to create copy that converts, whether you need it for business bios, Facebook ads, product descriptions, emails, landing pages, YouTube descriptions, taglines, and more.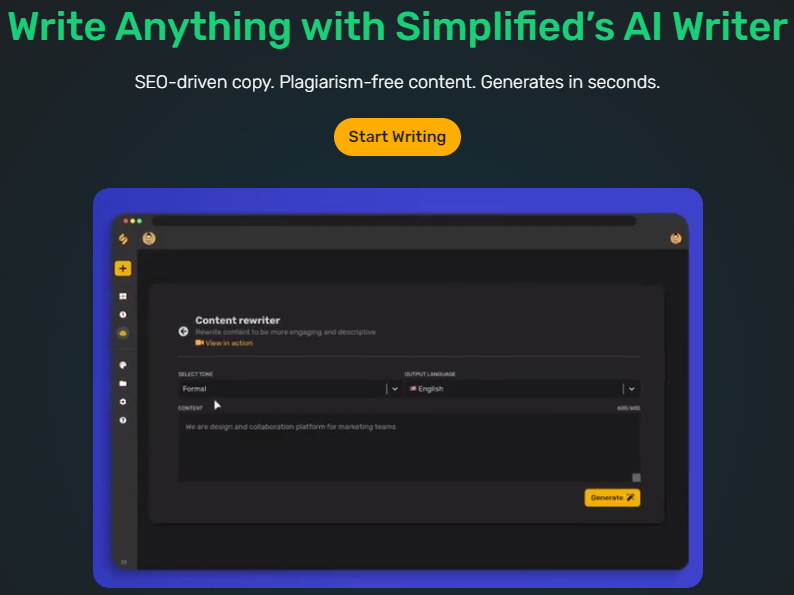 With 10+ tones and 30+ languages to choose from, you can write copy AI that resonates with a broad audience. Plus, Simplified AI Writer allows you to improve or rewrite existing content for Facebook and Instagram captions, quotes, descriptions, marketing materials, or website content instantly.
Optimize your copy for uniqueness and readability with a content rewriter, ensuring that your message comes across loud and clear.
Copysmith is a powerful AI writing tool designed to help you craft compelling, high-converting copy in record time. With its advanced AI algorithms, Copysmith can analyze your target audience and craft copy that resonates with them on a deep level. From catchy headlines to persuasive ad copy and everything in between, Copysmith has got you covered.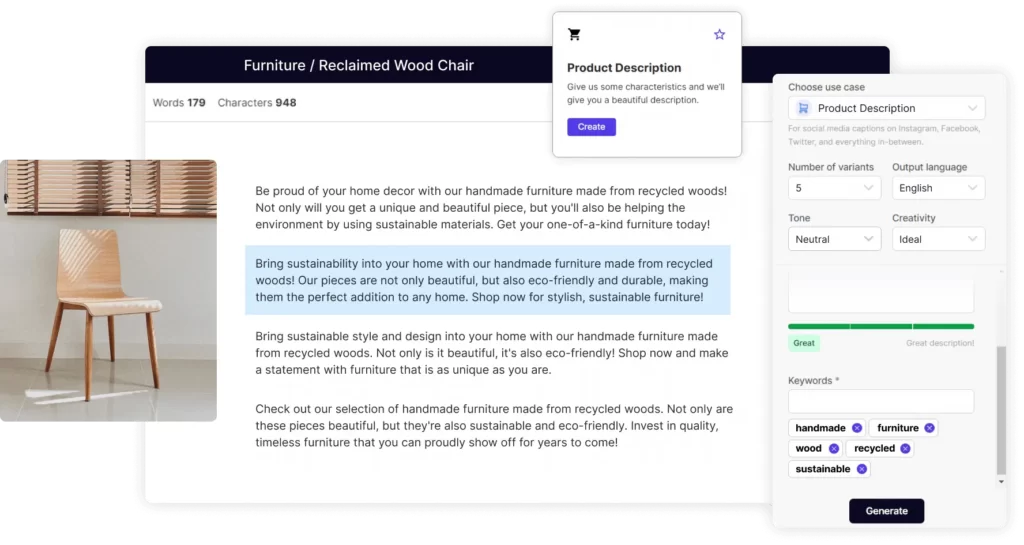 Copysmith is state-of-the-art copywriting software, powered by the revolutionary GPT-3 technology, that can create highly effective ad copy for Facebook and Google with ease.
Sudowrite is the #1 creative writing AI tool that can help you write with ease and inspiration. Whether you're a student struggling to come up with new ideas for an essay, or a professional writer looking to enhance your craft, Sudowrite can help you tap into your creativity and unlock your potential.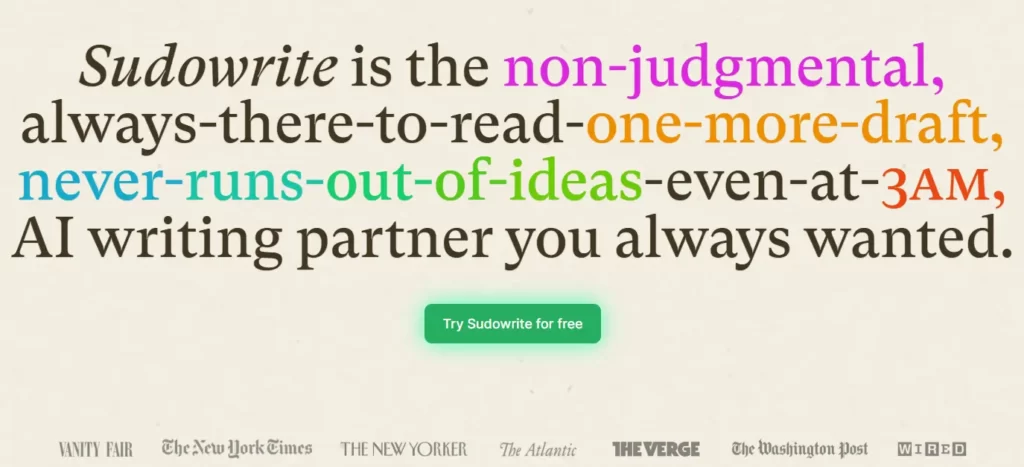 With its advanced natural language processing and deep learning algorithms, Sudowrite can provide you with suggestions, prompts, and ideas that will inspire you to write in new and exciting ways. So why not give Sudowrite a try and make writing fun again?
Jasper.ai, is the popular AI writing tool that's trusted by over 100,000 innovative teams worldwide. With advanced features and unparalleled precision, Jasper.ai is the go-to solution for crafting amazing blog posts, art and images, marketing copy, sales emails, SEO content, Facebook ads, web content, love letters, captions, and video scripts 10 times faster with AI.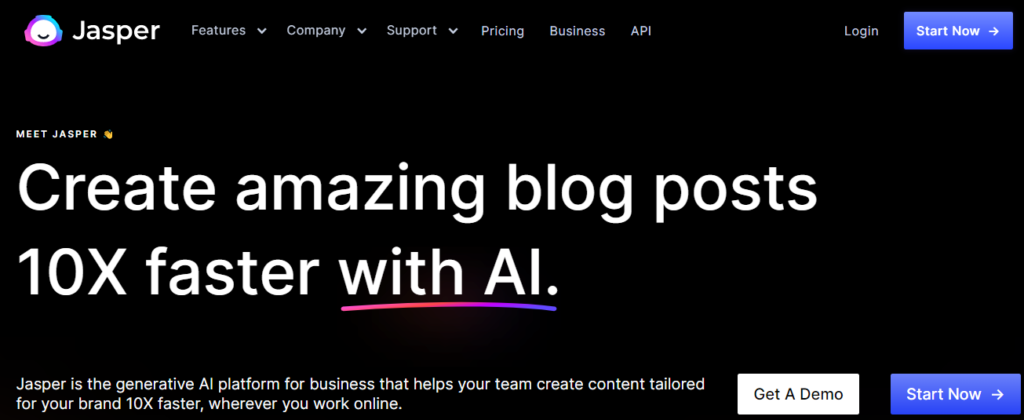 This powerful tool can read and write content in 25 different languages, including English, Spanish, Japanese, and Portuguese, making it easy to expand your audience and reach new markets. Join the ranks of industry leaders like Intel, IHeart Media, Canva, CBInsights, Airbnb, and many more who trust Jasper.ai to help them create compelling content that drives results.
ContentBox.AI is an AI-powered content-writing tool that helps users generate high-quality and unique content quickly and easily. It offers a range of features and templates to suit different content needs, including blog posts, social media posts, product descriptions, and more.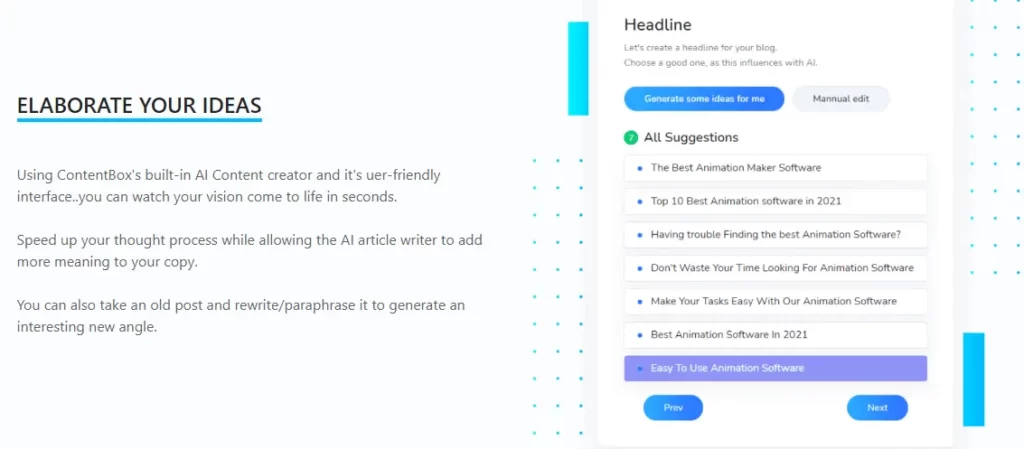 ContentBox.AI also ensures the content is optimized for SEO, making it a popular choice for marketers and businesses looking to boost their online presence.
PepperType AI is an AI-powered writing tool that helps users create high-quality content with ease. It offers a range of writing features, including generating blog posts, product descriptions, social media posts, and more.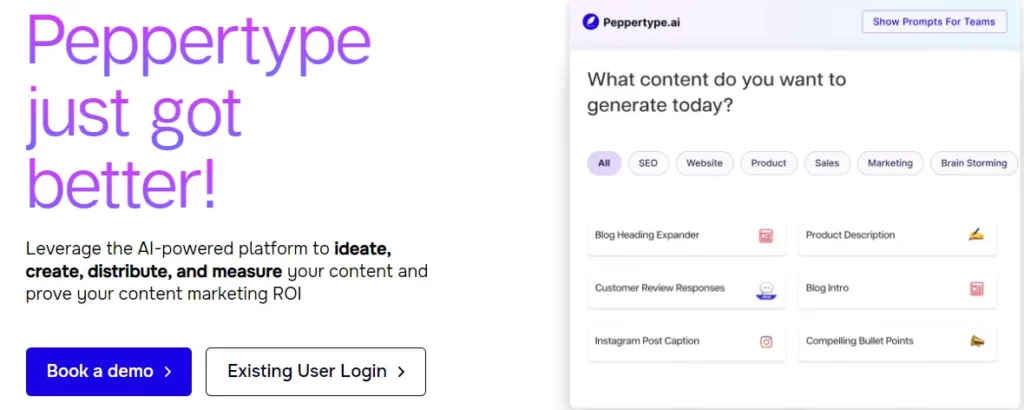 The tool uses advanced language models to ensure that the content generated is unique, engaging, and free of errors. With PepperType AI, users can save time and boost their productivity while creating top-notch content for their audience.
Anyword is one of the best AI writing tools for businesses and marketers. With Anyword, you can generate high-quality content for ads, emails, landing pages, social media, and more, all in a matter of seconds.

Anyword's advanced AI technology analyzes your brand's voice, audience, and goals to deliver perfectly tailored copy that captures attention and drives conversions. Plus, with the ability to test and optimize multiple versions of your content, Anyword ensures that you're always putting your best foot forward.
Outranking.io is another AI-powered writing tool that will take your content game to the next level. With advanced optimization features and cutting-edge natural language processing, Outranking.io helps you create compelling content that ranks higher on search engines and attracts more traffic. It uses AI algorithms to analyze your content and suggest the best keywords, phrases, and topics to include for optimal SEO performance.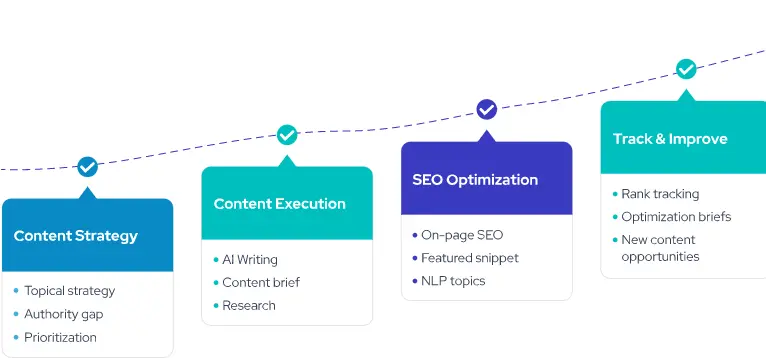 Plus, it offers a suite of tools to streamline your workflow, from content planning to analytics. Whether you're a blogger, marketer, or SEO specialist, Outranking.io is your secret weapon for dominating the competition and achieving content greatness. 12,000+ Writers and SEO's Use Outranking.
GrowthBar is like having a secret weapon in your SEO arsenal. With its powerful tools and features, you can unlock the secrets to ranking higher on search engines and growing your online presence. Get instant access to in-depth keyword research, competitor analysis, and backlink data with just a few clicks.
Plus, use the GrowthBar Chrome extension to get real-time SEO insights on any website you visit. From small businesses to large enterprises, GrowthBar is the ultimate growth tool for anyone looking to improve their online visibility and drive more traffic to their website.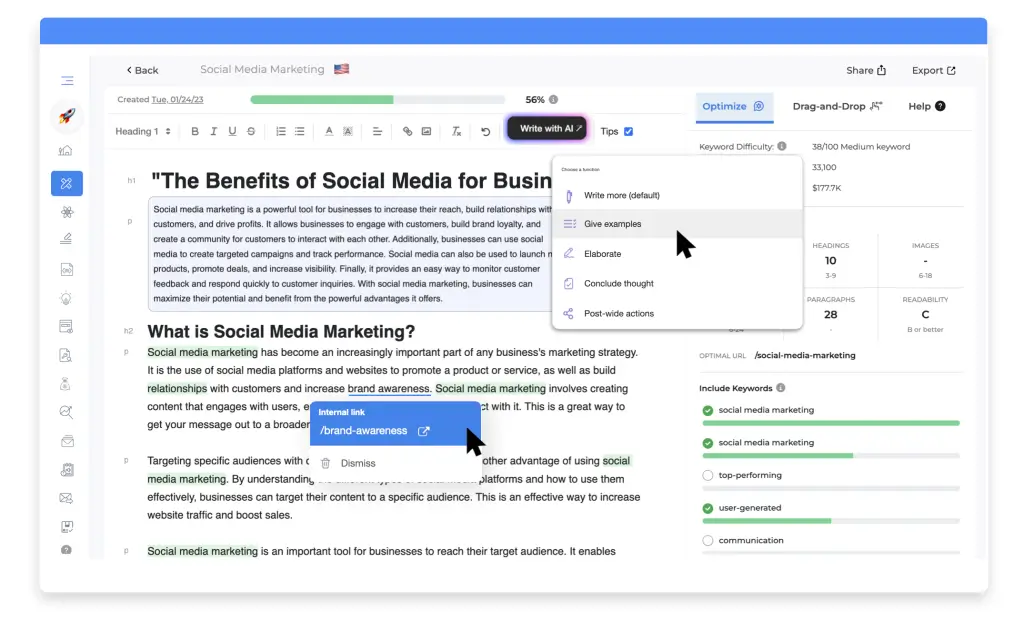 GrowthBar is the go-to tool for over 6,000 marketers and teams looking to take their content strategy to the next level. With GrowthBar, you can conduct in-depth research, write compelling content, and optimize for maximum impact all in one place. With lightning-fast speeds and innovative features, you can complete tasks up to 10x faster, giving you the time and resources you need to grow your business.
Scalenut is an AI-powered content marketing platform that helps businesses of all sizes to create, publish, and promote content that drives results. With Scalenut, you can leverage the power of AI to generate topic ideas, create engaging content, optimize your content for SEO, and measure your content's impact on your business. Whether you're a blogger, marketer, or business owner, Scalenut makes it easy to create high-quality content that drives traffic, leads, and revenue.

INK Editor is the game-changer you've been waiting for in the world of content creation. With its innovative AI technology and intuitive interface, INK Editor takes your writing to the next level, allowing you to create engaging and optimized content that stands out in a crowded digital space.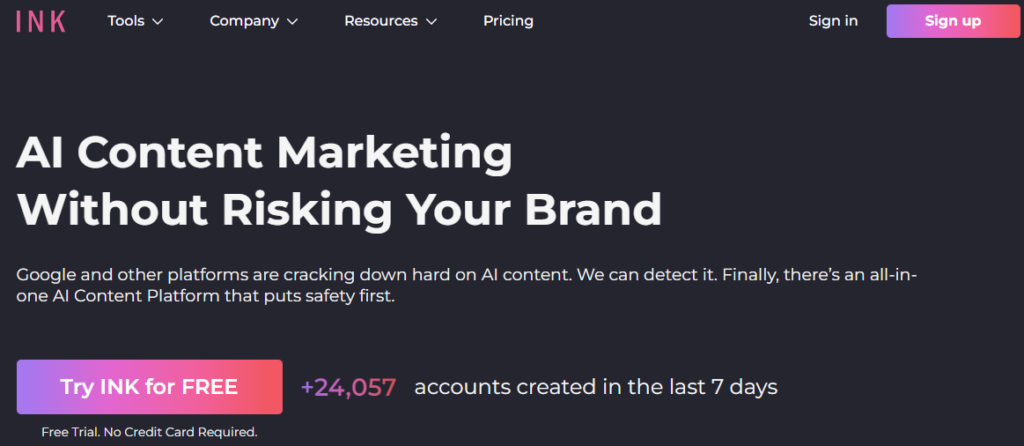 Whether you're a professional writer or just starting out, INK Editor's advanced features make it easy to craft SEO-friendly content, improve readability, and track your progress. With INK Editor, you'll never settle for mediocre content again.
Conclusion
AI writing tools are revolutionizing the way we create and optimize content. With the ability to generate original and high-quality copy in a matter of seconds, these tools are saving time and resources for individuals and businesses alike. The range of features and capabilities offered by different AI writing tools is expanding rapidly, making it easier than ever to create content that is not only informative and engaging but also optimized for social media channels and search engines.
As AI continues to evolve, we can expect AI writing tools to become even more sophisticated and user-friendly, helping writers and marketers to achieve their goals more efficiently and effectively.
These are the best AI writing tools you can use for free. All these AI writing tool has unique features and content quality. It's worth trying out each one to see which best meets your needs.