In this MailerCheck review, we have discussed each element of the platform to boost your email reach and deliverability. The most important aspect of running an effective email marketing campaign is email verification and deliverability. Email verification can help you increase your open rate and conversion rate.
Creating engaging content and stunning email design is no longer enough in today's world. To reach the customer inbox you should verify the subscriber emails by using email verification software, a double opt-in process, and delivery tools. There are various types of email verification software. But I know you have shortlisted MailerCheck among them. So that is why we have MailerCheck Review, to understand its features, pricing, pros and cons, and alternatives to make the right decision.
MailerCheck Review
If you want to take control of your email deliverability then you should use MailerCheck. It is the ultimate email verification and delivery tool that helps you in enhancing your email campaign response and conversion rate. It has an expert team and experience that allows you to send campaigns with confidence. It detects spam words, broken links, blocklists, and other issues, allowing your emails to bypass spam folders and reach the inbox.
MailerCheck is the most accurate email verification platform. It guarantees 98% email deliverability for the verified email list. It is used as an email deliverability solution by over 37,590 satisfied customers worldwide. It is a one-stop shop for all email deliverability problems.
Best features of MailerCheck
MailerCheck offer exciting feature that includes email verification, data cleansing, spam detection, inbox placements, DMARC reports, domain health, broken links, email testing, and more. Let's review each feature.
MailerCheck is mastered in email list verification. Within 3 simple steps, you can verify the entire email list. It cleans your email list by detecting bounces, fake emails, bad emails, invalid emails, spam traps, inactive emails, blacklisted emails, syntax errors, typo errors, catch-all emails, full inboxes, and more. Analyze the complete email verification report and use it for your email campaign.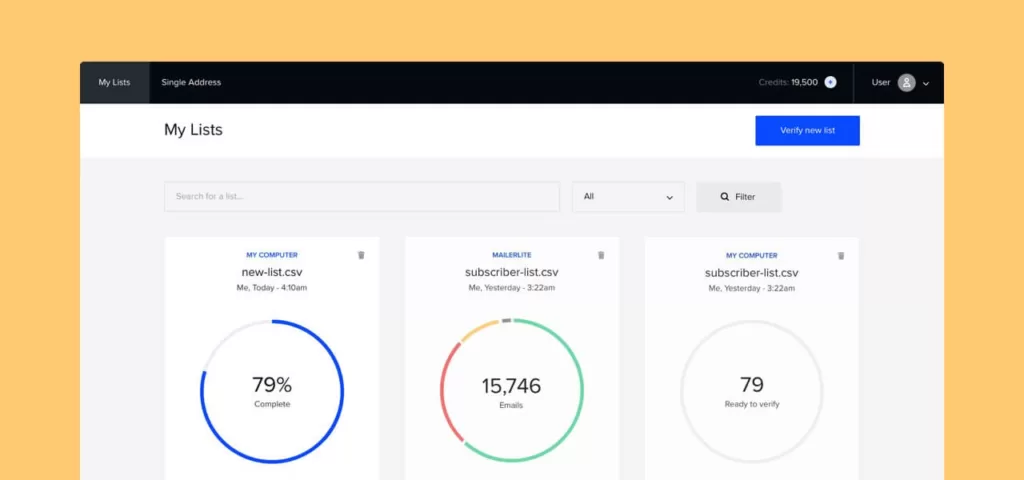 Email insights for testing your email before sending it to your subscribers. This process will help you to maximize the email open rate and delivery rate. MailerCheck offers an email testing solution to get outstanding results from your email campaign. Email insights check all elements of your email like content, subject line, links, CTA, spam words, send reputation, sender name, and inbox placement. And provide your recommendation to fix the problem.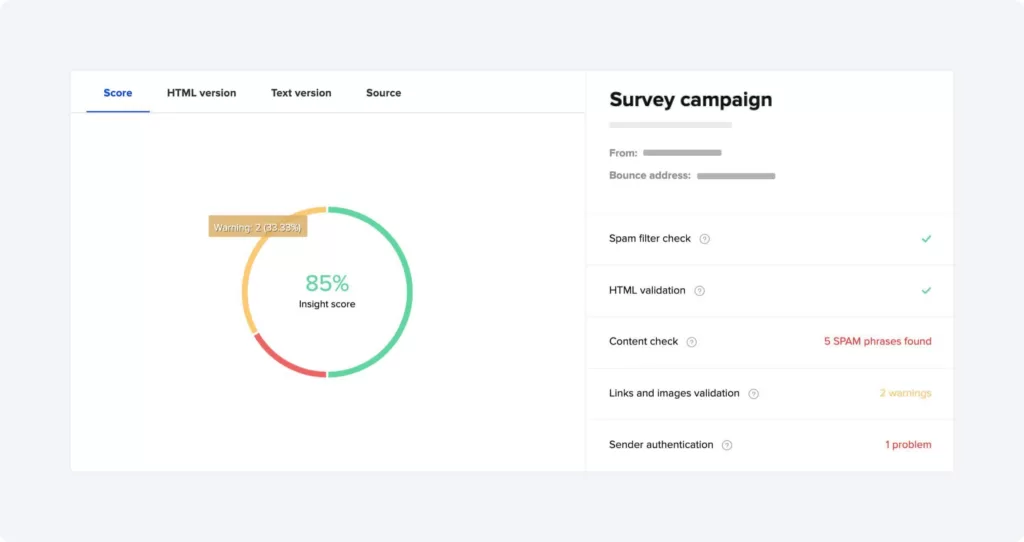 With the MailerCheck, Email insights feature you can conduct 6 email tests.
1. Spam filter test: To analyze spam-related issues.
2. HTML validation: To check poorly formatted HTML code in the email.
3. Content check: To identify spam words and unusual format.
4. Links and images: To detect broken links, alt image text, and missing file.
5. Sender authentication: Used to validate domain, SPF, DKIM, and DMARC records.
6. IP address blocklist: Used to keep track of IP address blacklisting.
1. To enhance email open and click rate
2. To Protect your sender's reputation
3. Avoid landing in the spam folder
4. Know the inbox placement before sending it to the customer
5. Increasing the ROI of the email marketing campaign
One of MailerCheck's best features is inbox placement. You can track whether your email is being delivered to the inbox or the spam folder. Use the complete inbox deliverability insight and fix the issue accordingly. Controlling email deliverability is easier with inbox placement.
3 reasons to monitor inbox performance
1. Anticipate where emails will land
2. Learn where emails appear in Gmail
3. Optimize emails for deliverability
Inbox testing collaborates with the major mailbox providers to ensure that you cover as much ground as possible with your subscribers. Some of them are Gmail, Aol, Outlook, Yahoo!, Gmx, Mail.Com, Zoho, and Protonmail.
Real-time API verification
You can validate email once a subscriber enters your database with real-time API verification. MailerCheck detects typos, syntax errors, spam traps, fake, inactive, and invalid email addresses and keeps your list clean for email campaigns.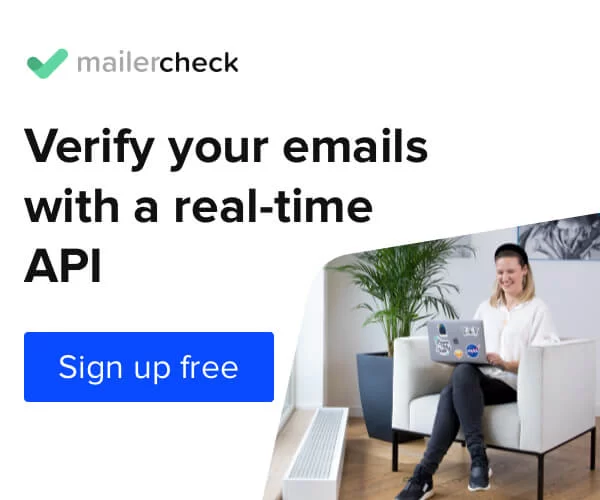 By validating email addresses on a regular basis, you can improve the sender's reputation, email deliverability, and the ROI of an email marketing campaign.
Get a thorough understanding of your usage reports. You will be given a dashboard dedicated to email activity reports. There, you can see an overview of list health, how many emails are verified, how many emails are invalid, and other information.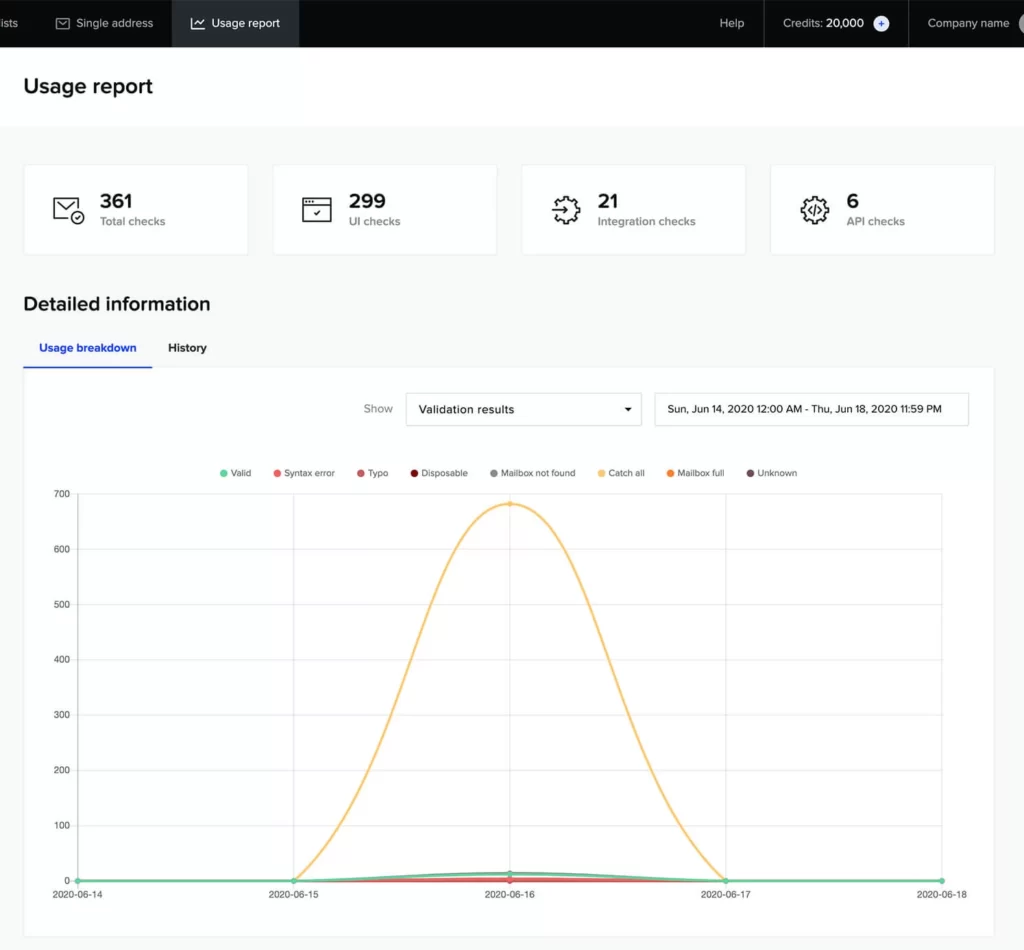 MailerCheck help you to keep your email secure and safe. DMARC monitoring tracks domain authority and protects against unauthorized activity. With 3 simple steps, you can analyze your email authentication status.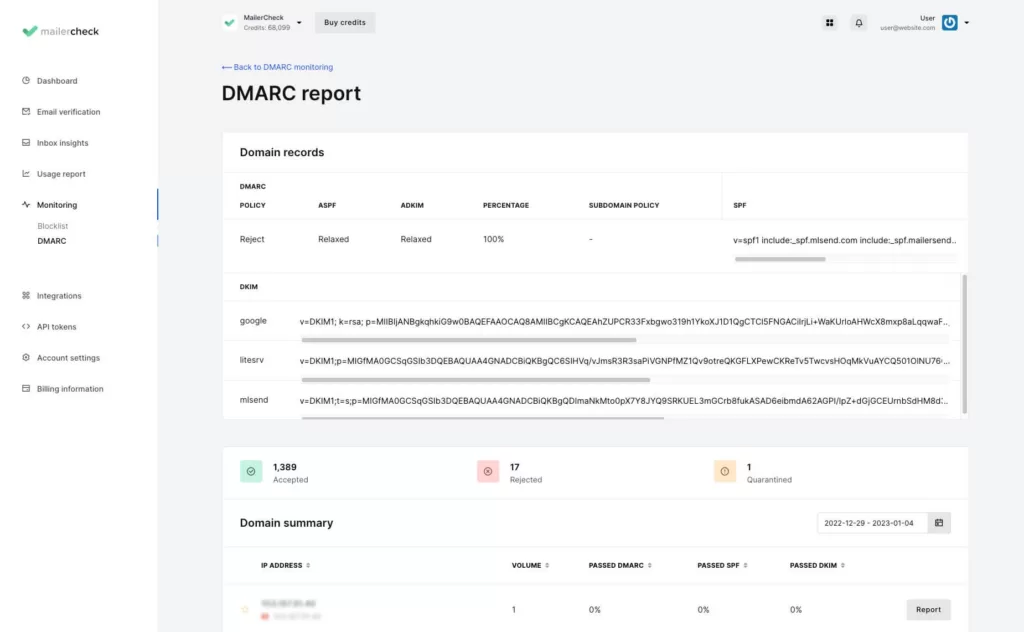 Best features of using MailerCheck DMARC reporting tools
Enter a domain to verify your SPF, DKIM, and DMARC records.

The user-friendly wizard allows you to create your DMARC policy in seconds.

Keep track of the IP addresses that are sending emails from your domains.

Get advice on how to proceed in the event of DMARC failures.

Track recognized IP addresses and detect suspicious activity with ease.

Favorite your IPs to keep them separate from other activities.
MailerCheck email verification solution is compatible with a variety of email platforms. Some of them are MailerLite, Mailchimp, ActiveCampaign, ConvertKit, GetResponse, Zapier, and more.
MailerCheck Pricing Plans Reviews
Are you ready to clean your email list and optimize your email campaign? MailerCheck offers a fair and flexible pricing plan. There are two pricing plans. One-time purchase and Monthly subscription. Let's see the pricing plan in detail.
In a One-time purchase plan, you can pay as per your needs. This plan included all the features of MailerCheck. You can use it for email verification, email inbox insights, DMARC reporting, and more.
– To verify 1000 emails, it will cost you $10 per month.
– To verify 10,000 emails, it will cost you $80 per month.
– To verify 50,000 emails, it will cost you $300 per month.
Monthly subscription plan for those who get thousands of leads per day. But there are a lot more features that need to be included in this plan.
In MailerCheck you will get email credits for each plan. 1 credit equals to 1 email verification. But for email insights and inbox placements, you have to spend 200 credits for one test.
MailerCheck Pros and Cons
Now let's review MailerCheck's pros and cons. Is it right for your business…or should you use an alternative? Let's find out.
Pros
Signup and get 200 credits for free

98% email accuracy for a verified email list

One-stop solution for email delivery

Optimize email campaign and performance

Monitor inbox placement

Keep track of your email domain activity

Easy integration with multiple email platforms

Excellent tech support
Cons
Is MailerCheck the right tool for your business?
MailerCheck is the perfect tool for digital marketers, email marketers, lead generation, sales, and business development teams to verify emails before sending emails to the target audience. It serves small to large companies and helps improve the open and deliverability rates.
You must try using MailerCheck for free and utilize 200 credits. Then decide if it is the right tool for your business or not.
Final MailerCheck Reviews and Ratings

MailerCheck Alternatives and Competitors
In this review, you have seen pricing is the main drawback of MailerCheck. If you are still not satisfied you can consider MailerCheck alternatives.