SendPulse Overview
SendPulse is a multi-channel marketing automation platform. SendPulse offers email marketing, CRM, automation, email verifier, landing page, forms, web push notification, chatbots, and bulk SMS service. It has all the marketing tools to stay connected with your prospects and customers.
SendPulse is trusted by 1000 marketers across the globe. Some of the brands are Samsung, Swatch, Puma, PWC, TCS, Viessmann, Jack WolfSkin, Kärcher, Radisson Blu Hotels, and more. Accelerate your sales and business performance with a powerful SendPulse platform. SendPulse is not limited to email marketing. SMS and chatbot messages also you will get on one platform.
The company's offices are located all over the globe. Support team available 24/7 and speaks in English, Portuguese, Spanish, Russian, and Ukrainian.
Best Features of SendPulse and Reviews
Email Marketing Campaigns
SendPulse provides each and every feature that helps you to grow your business with an email marketing campaign. You will get all marketing channels on one single platform.
SendPulse email marketing features include:
Email Editor: To create quickly and easily professional email templates.

Segmentation: To organize a contact list and send relevant emails.

A/B Testing: Test and improve campaigns response with A/B testing.

Subscriber Rating: To analyze the activity of subscribers.

Personalization: Personalize and tailor your messages by using subscriber information and behavior.

Free Email Templates: Make use of 130+ free responsive email templates

Transaction Emails: Send transaction emails like order confirmation, shipment details, abandonment cart, feedback emails, etc.

Trigger Emails: Send automated emails based on specific events and actions.

Campaign Analytics: To analyze results and improve campaign performance.
Free CRM for Marketing and Sales
Collect and store your customer information in one CRM database. Make use of customer information to run multi-channel marketing campaigns. CRM is the best way to manage your sales and communication channel effectively.
Store database in one place

Streamline sales and marketing

Distribute leads to the sales team

Notify sales team with lead notification

Check the progress of leads and deals

Connect with customers conveniently

Report and Analytics
SendPulse simple drag and drop editor will help you to build a beautiful and responsive landing page without hiring a developer or writing a code. Easily promote or share landing page links in social media, email, SMS, or chat messages and get new customers.
Use landing page as an online store, add product gallery, product description, shipment details, and payment button. Integrate with the payment getaway and start taking orders from online customers.
Chatbot builder will help you to create automated chat replies on Instagram, WhatsApp, Facebook, and Telegram. Deliver personalized messages via chatbots and increase your customer engagement.
SendPulse smart chatbot is capable of managing customer initial queries and FAQs. It reduces your team workload and tasks. Make use of chatbots to close more deals and increase your sales.
SendPulse offers a bulk SMS service, you can send SMS campaigns to more than 200 countries and increase your market reach.
Provide language support – You can send SMS in any language in the world.

High-speed delivery – Send SMS campaign with the speed of 200 -500 messages per second.

GSM and CDMA support – Send SMS to the subscriber that uses GSM and CDMA phones.

SMS service integration – Integrate SMS service with CRM, CMS, eCommerce, and SaaS application.

SMS personalization – Personalize SMS by using the recipient's name and offers.

SMS automation – Use a scheduler to send SMS campaigns for a particular date and time.
Send all type messages and make phone calls from Viber. It's cheaper than sending SMS and also you can attach images, links, and buttons.
Offers 1000 character length in a message

It's easy to setup

Its cost-effective compare to SMS

Schedule messages at a specific time

Resend messages to unread contacts
Web push notification is a new marketing channel to reach your target audience. Web push notifications are messages you get in your browser. Notify your subscriber about offers, updates, new content with browser push notifications.
SendPulse web push notification support all popular browsers including Chrome, Firefox, Opera, and more.
Benefits of web push notification
Get a high CTR rate

Get a high subscription rate

It's a free service

Send trigger and bulk Messages

Use SendPulse API and send notification

Users will see your notification once they open the browser
Verify email address with SendPulse email verifier and improve inbox deliverability rate. Email verification helps to keep your list clean and updated that leads to higher conversion and sales.
With the help of SendPulse, you can easily build and sell online courses and training programs. This is additional features offer by the SendPluse platform. Get early-bird access here.
SendPulse Pricing and Plans Reviews
SendPulse has simple and affordable pricing plans. It provides different pricing for email marketing, transactional emails, SMS, web push, chatbots, email verification, and websites. Based on your requirement choose the plan accordingly.
SendPulse has a Monthly subscription plan and Pay as you go model. Mentioned below pricing for Email marketing.
Let's look into a monthly subscription plan.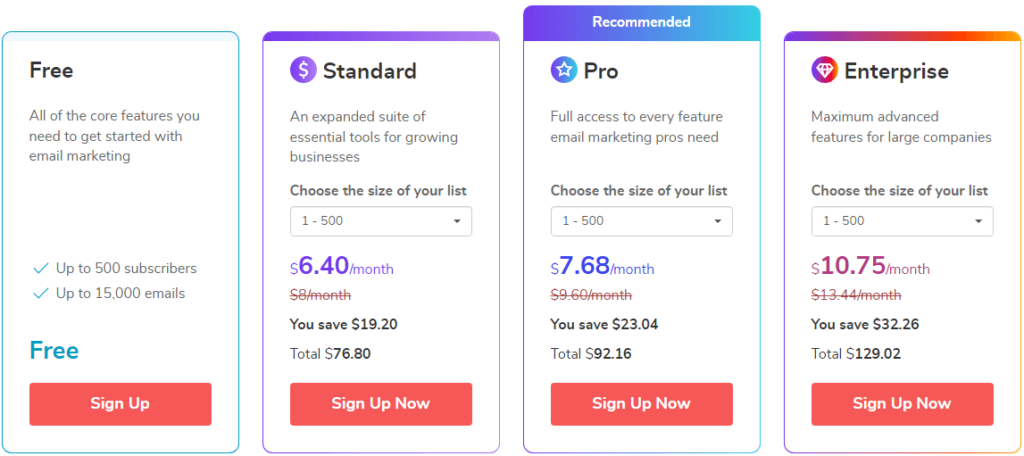 Now, here is the pricing for pay as your go model.

SendPulse Discount
SendPulse offers a discount on a yearly plan.
If you opt for 6 months subscription you will receive 10% off
If you opt for 12 months subscription you will receive 20% off
If you are looking for an additional discount click here.
SendPulse Pros and Cons
SendPulse provides marketing tools to enhance your marketing efforts, get more leads, convert them into paying customers. Every marketing tool has its own pros and cons, let's review it in detail.
SendPulse Pros
Send 15k emails per month for free

Easy to set up and use

Free 100+ ready to use email templates

Free and unlimited web push notifications

Best multi-channel marketing platform

Offers reasonable and affordable pricing

Send free chatbot messages up to 1000 subscriber

Easy to integrate with other marketing tools

Inbuilt email verifier to keep your list clean

Send time optimization

Great email deliverability

24/7 live support
SendPulse Cons
Initially takes a lot of time to approve campaigns

Platform is a bit slow compare to competitors

Its API functionality is complicated but you can solve this with the help of the support team

Limited fonts option
Is SendPulse the right tool for your business?
SendPulse is suitable for large companies and small business owners to grow their business to the next level. It is a simple and easy-to-use platform, with no need for prior experience to use the SendPulse email marketing platform. Best for bloggers, retailers, E-commerce, tourism, banking, small and medium businesses.
Final SendPulse Reviews and Rating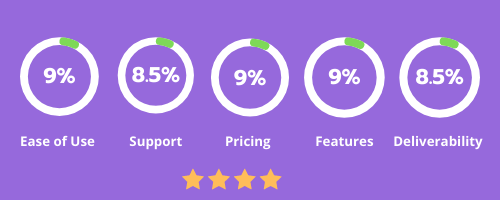 SendPulse Alternatives and Competitors