Are you thinking about using Mail250 for bulk email marketing? Then, of course, you should read Mail250 reviews to help you make a better decision. In this article, we have discussed every aspect of Mail250, including its features, benefits, and drawbacks. Also, deliverability, pricing, customer reviews, alternatives, and discounts are all essential considerations.
You have many options for mail or email marketing software, but Mail250 is one of my favorites because it's cost-effective software that has everything to run an effective email marketing campaign. Especially if you're a growing business or just started then this is a great tool to have in your arsenal.
So let's get down to business. What is Mail250? How does it work? Let's go over all of the cool features.
Mail250 Overview
Mail250 is a simple and cheapest bulk email marketing platform. It offers attractive features, transparent pricing, and actionable insights that help you to scale your business through email marketing. With Mail250 reach millions of your customers and generate a high return on investment.
Mail250 is ideal for startups, small businesses, bloggers, enterprises, agencies, eCommerce, and marketers. Thousands of customers trust Mail250 to send bulk emails. KFC, L&T, Ajmer Group, DLF, Raymond ltd, and American Tourists, among others.
How does Mail250 work?
It works smoothly and effectively. Just follow 3 steps to send bulk emails.
#Step 1: Upload your list
Login to Mail250 account. Then click on " Upload list and "Create a list"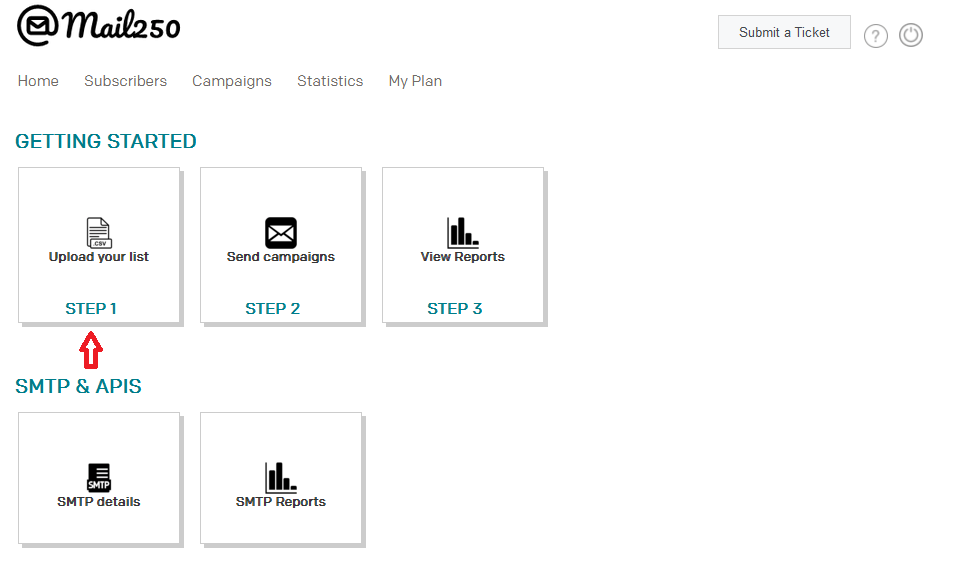 Provide list name and save. After that, you will get two options "Upload CSV file for quality check" and "Skip Quality Check & Upload CSV file". If your list is not verified then go for the quality check option. Suppose, if your list is already verified then move to the "Skip Quality Check option" and click "Next"
Then Upload the subscriber list by using the "Copy-paste email addresses" Or "Upload a CSV file" method and click on "Add" to upload your list to your Mail250 account.
#Step 2: Send Campaign
Click on "Campaign" and provide "Campaign name".
Then go to "template editor" to design a responsive template. And add your target list to which you want to send a campaign.
Provide the subject line, sender name, sender email address, and reply address. Then click on "Next" and send the campaign.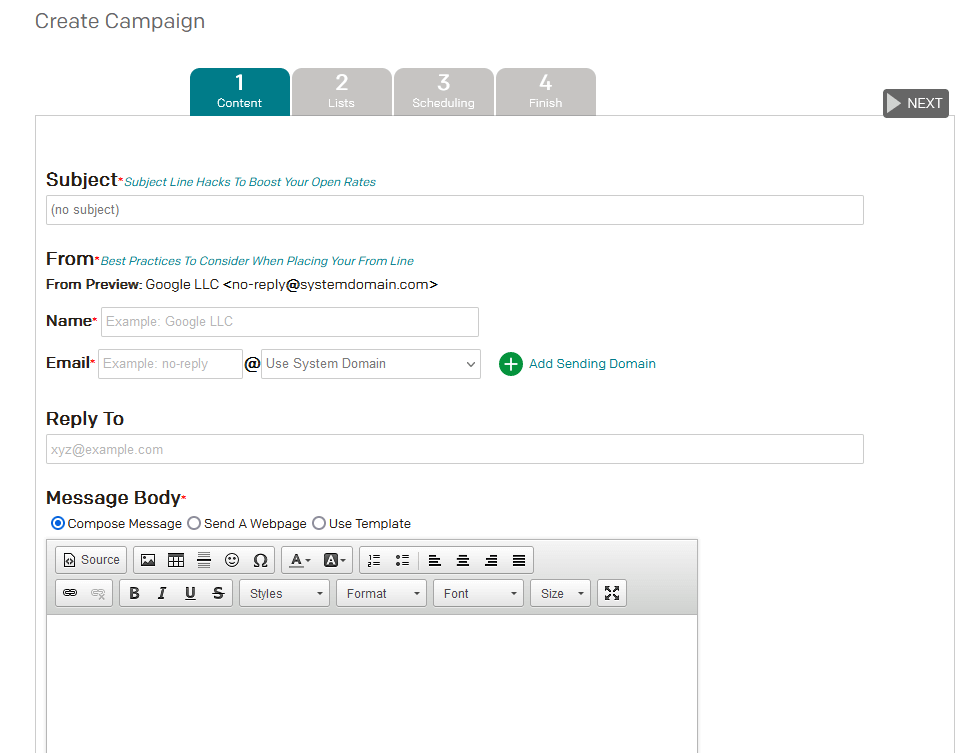 #Step 3: View Reports
Click on "Statistics" to review complete reports of your campaign. The report includes the following metrics: delivered, opens, clicks, unsubscribe, and bounce. Make the right decision to optimize your campaign.
Best Features of Mail250
Mail250 provides powerful features that help you to scale your business to the next level. In this section, we will go over each feature of Mail250 and understand its usability and reliability.
All email marketing platforms include campaign design tools as standard features. Mail250 allows you to easily create campaigns from scratch or use pre-made HTML templates. It's a very user-friendly platform that helps you to create beautiful email templates to increase your customer engagement. The best part about Mail250 is that you can create templates just like you do in Outlook.
The campaign builder includes a campaign scheduler, content analyzer, upload or inline images, custom sender, and other features. It has everything to run the bulk email marketing campaign.
When it comes to email deliverability, Mail250 has an AI-powered infrastructure that handles email throttling issues intelligently. It employs cutting-edge technology to eliminate spam traps, large IP pools, adaptive sending, IP reputation monitoring, blocklist monitoring, and other features.
In terms of email deliverability, before sending a bulk email campaign, you should follow email deliverability best practices. Mail250 can provide industry-standard infrastructure but cannot guarantee email delivery. Email deliverability is determined by your campaign response and the process you use to keep your list clean.
This is the best feature of Mail250. You will get inbuilt email validation tools to keep your list clean and verified. Email validation tools effortlessly remove bounces, spam complaints, spam traps, and bots. With the help of Mail250 email validation, you can verify thousands of email addresses without paying extra money.
Mail250 validation service is one of the most effective email validation platforms. Benefits of using email validation tools.
Reduce your bounce rates

Improve your deliverability

Keep your sender reputation score safe

Increase the ROI of email marketing
Use email validation service to too boost your email deliverability and secure sender reputation.
Mail250 offers the most affordable SMTP service, which can be used to integrate with CRM and other third-party applications. It supports applications like Outlook, Microsoft Exchange Servers, Mautic, Postfix, Joomla, Xenforo, Sendblaster, and more.
Make use of the SMTP relay service and send mass emails from your native software. By using this method you can save a lot of email marketing costs.
Personalization and Merge Tags
Personalization can be accomplished by utilizing database fields. Include database fields such as first name, last name, industry, titles, gender, age, habits, country, and company name in email content and send personalized emails to your customers.
This is yet another built-in feature of Mail250. The subject line tester will assist you in selecting the best subject line to improve the performance of your campaign. A few of the checks that subject line testers go through are listed below.
Smart Recommendations

Length Check

Sentiment Check

Spammy Words Check

Personalization Check

Emoji Check
Make use of the free subject line testing tool and follow the best practice of email subject lines.
In the Audience dashboard, you can check audience engagement for better targeting campaigns. It will give you a complete overview of your customer interaction that help you to make the right decision to enhance your campaign performance.
Email Report and Analytics
This is a very important part of an email campaign. Clear insights and reporting help to take better decisions. Mail250 is capable of tracking basic information of email campaigns. A few of the lists are below.
Email Open Tracking

Link Click Tracking

Hard and Soft Bounce

Unsubscribe Tracking

SMTP Email Logs

Real-Time Progress of Sending
These reports are helpful to understand the email campaign success.
Mail250 Pricing Plans Reviews
Mail250 offers an attractive and affordable pricing plan. Mail250 is popular among customers because it offers unlimited emails and contacts at reasonable prices. Its pricing structure is divided into two sections. Startup Plans and SMB Plans. Let's dive into more details on pricing.
Startup Plans
Startup plans are designed for small busineess, startups, affiliate marketers, and bloggers. In startup plans, you will get 4 pricing options. Starter, PLUS, Pro PLUS, and DEDICATED.
Startup pricing plan starts at just $20/ month and goes up to $150/ month. Includes features like unlimited contacts, list cleaning, SMTP support, automated warmup, SPF/DKIM, suppression, unlimited custom fields, dedicated IP, email scheduling, and technical support.
You can send up to 1,000,000 emails per month. It depends on the pricing plan you select.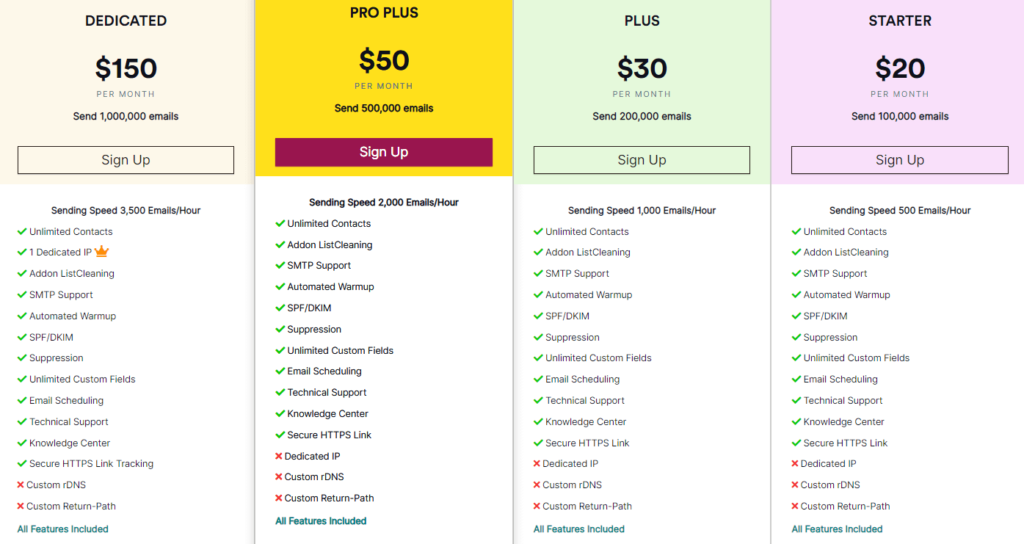 SMB Plans
SMB Plans are tailored to enterprises, seasoned marketers, and high-volume senders. It has four pricing tiers: SMB STARTER, SMB PLUS, SMB PRO PLUS, and SMB DEDICATED.
A major difference in the SMB plan is the unlimited sending that is beneficial for high-volume senders. Pricing ranges from $129 per month to $549 per month.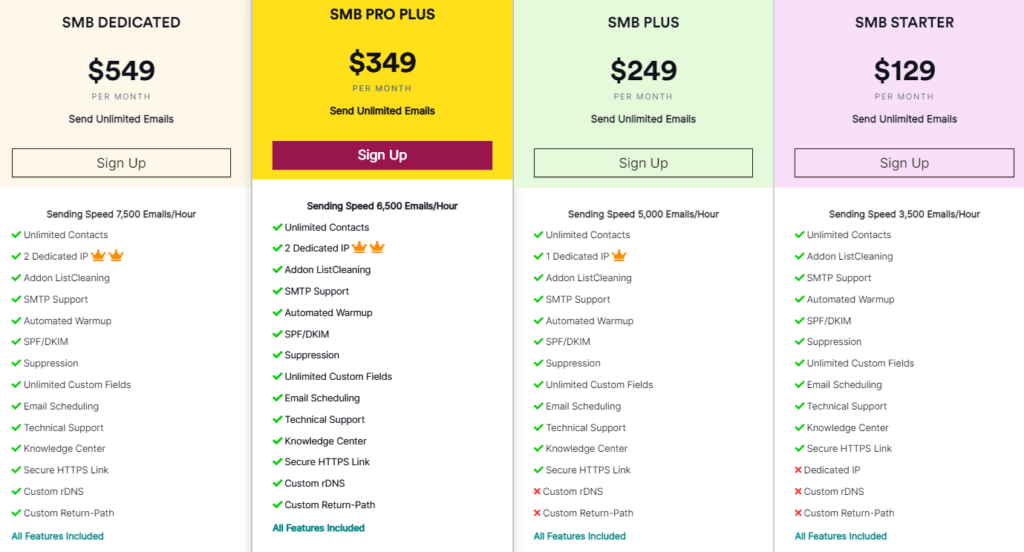 Mail250 Pros and Cons
There are some pros and cons of Mail250 that you should consider.
Pros
Affordable Pricing: Mail250 is well-known for its low-cost pricing structure. Because the cost of sending bulk emails is too low, you can try it for at least a month.
Unlimited Contact Upload: This unique feature that none of the email marketing service providers can offer you. In Mail250 you can upload unlimited contacts and send unlimited email campaigns. There are no restrictions or additional charges for uploading unlimited contacts.
Send Bulk Emails: Its reliable and robust infrastructure is ideal for bulk emailing. This platform can be used to send newsletters, promotional emails, product launch emails, prospecting emails, follow-up emails, welcome emails, transactional emails, and other types of emails.
Simple Template Editor: Its email editor is very easy to use and ideal for beginners who do not have any coding skills.
Additional In-built Tools: In Mail250 you will get access to the email validator, subject line tester, and email warmup which will help you save money on email marketing.
Contact Management: Managing contacts become very easy because Mail250 automatically removes bounces, unsubscribes, spam traps, and complaints.
Cons
Sluggish User Interface: The interface is a bit slow and sluggish. Sometimes it gets stuck in the process and does not work. The template editor should be much more responsive and there is a need for improvement.
Lack of Support: There is no way to contact the support team via chat or phone. You should use their ticket system, which takes at least 24 hours to respond. These are the areas in Mail250 that require improvement.
Mail250 Customer Reviews
So, here are some genuine customer reviews from people who used Mail250 for email marketing. Here's what they're saying about the product.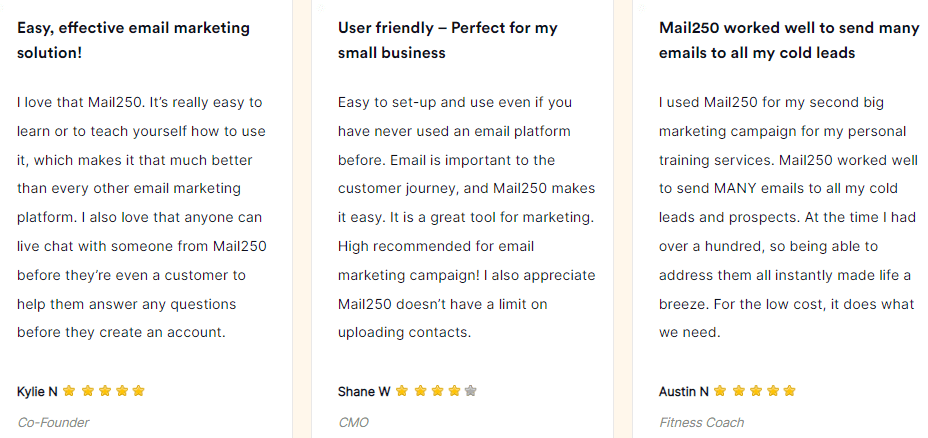 Final Mail250 Reviews and Rating
Is Mail250 the best email marketing software?
No. it's not the best, but cheapest email marketing software. Best for bulk messaging with essential features. View the final reviews and ratings.

Mail250 Alternatives and Competitors
There are many alternatives to Mail250 available in the email marketing space. These are the proven major player in the market that offer outstanding email marketing solutions.