In this Warmup Inbox review article, we have tried our best to explain every detail of Warmup Inbox. We have personally reviewed the complete platform including how it works, features, pricing, pros, and cons, customer reviews, alternatives, and more. Without any further delay, you can read more on Warmup Inbox here.
Warmup Inbox Overview
Warmup Inbox is a top-class email warmup tool that helps you to deliver your messages to the right inboxes. You should use Warmup Inbox if you are facing delivery or spam-related issues. Warming up email is the best practice of email marketing. Before sending any campaign, you should warm-up your email for better deliverability.
Warmup Inbox is the trusted email warmup platform. Where you can warm up your email at the lowest price. More than 1000 customers using Warmup Inbox for better campaign results. Some of the major clients are Meveto, Growbots, Decimal, Wishpond, Ramp, Buffalo Wild Wings, VisualSitemaps, Launch Marketing, and more.
How does Warmup Inbox work?
Let's investigate how Warmup Inbox works so that you will get a better understanding of the email warmup process.
#Step 1 – Sync your email with 20,000 real inboxes
Warmup Inbox has a huge growing network of real inboxes. First, you need to sync your email inbox with 20,000 real inboxes. So that it will exchange communication with Warmup Inbox network.
#Step2 – Email interaction
Once you connect your email with Warmup Inbox. It will start interacting with 20,000 real inboxes. Automatically it will open your email and mark it as an important email so that improves your sender reputation and deliverability. And it will also unmark if your email landing in spam. These activity helps to build trust among ISPs and improve email sender reputation.
#Step3 – Inbox health and reports
Email health report gives you a complete overview of your email warmup activities. It checks domain health, DNS record, SPF, DKIM, and DMARC settings. And identify any issue with your current email infrastructure. Also, recommend you change the email setting that helps to increase your inbox deliverability.
Best Features of Warmup Inbox
Reach more leads and customers
Warmup inbox will ensure deliver your message to the right inboxes and generate more leads for your business.
Avoid spam folders and blacklists
With the help of Warmup inbox, you can easily avoid landing your email in a spam folder. Its simple and robust email warmup process makes sure your email never gets blacklisted.
Monitor and improve your sender reputation
Apart from improving email deliverability, it also calculates sender reputation against an industry benchmark and suggests improvements.
Keep your email out of the promotion folder
If your email landing in Gmail promotional folder then Warmup Inbox will help you to deliver it to the primary inbox. It will improve your engagement rate drastically.
Receive alerts when things go wrong
When sender reputation score reduces below industry standard, automatically you will get an alert to pause your campaign to protect against damages. This notification helps to take timely action and avoid impact on running the campaign.
Huge real inboxes network
Warmup Inbox offers more than 20,000 real inboxes network that controls your email warmup activity and enhances email deliverability.
Easily sync and connect with all major email service providers that include Gmail, Outlook, Yahoo, Salesforce, AWS, Aol, SendGrid, Sendinblue, Mailgun, Zoho, and other SMTP providers.
Warmup Inbox Pricing Plans Reviews
Warmup Inbox is one of the cost-effective email warmup platforms. Its attractive pricing plans fit any business without extending their budget.
Warmup Inbox free plan comes with 7 days free trial with limited features.
In the paid plan, you will get the Basic and Pro plan. Basic plan for those who send 10s of emails per day. And Pro plan for those who send 100s of emails per day.
Basic plan starts at $9 per month. That includes 50 warmup emails per day and basic features.
Pro plan is basically for bulk email sender. It cost you $49 for one email account and the features include 150 emails/day, reputation health checks, dashboards, and 24/7 priority support.
Warmup Inbox Pros and Cons
In the Warmup Inbox tool, there are some pros and cons you should know before considering buying.
Pros

Cons

Simple and easy-to-use email warmup tool

Affordable pricing plans

No fake inboxes

Great support team

Improves email delivery rate drastically

Seamless integration with ESPs

Prevent email from spam and blacklisting

Monitor your email health and reputation

Get a notification for any issue in your email

Once you close your account, in some cases you still receive warmup email in your inbox.
Warmup Inbox Customer Reviews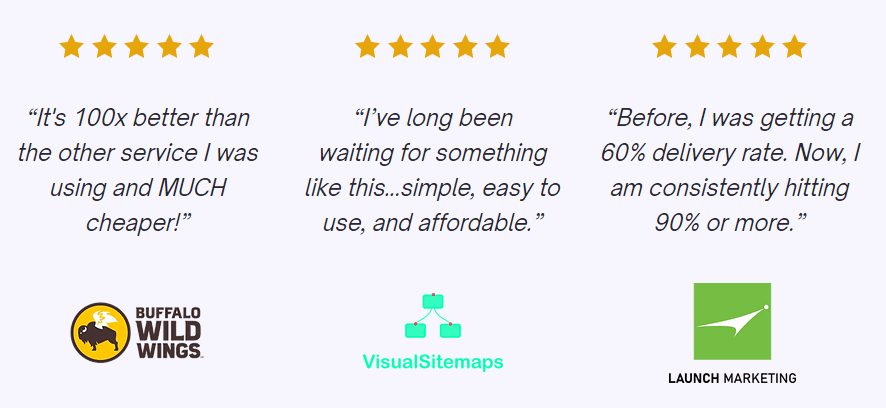 Is Warmup Inbox the right tool for your business?
Warmup Inbox is an easy fit for any businesses those are relying on email marketing for lead generation. And the must-have tool for sales, marketing, lead generation, and recruiter.
Sales professionals: Email warmup tool helps the sales team to get 3x response rate and increase 60% sales productivity by avoiding spam folders.
Marketing professionals: Send promotional content without facing any issues. Warmup Inbox takes care of all delivery and spam-related issue. Marketing team just needs to focus on engaging content to boost campaign ROI.
Recruiting professionals: Connect with the right candidates without hammering sender reputation. Warmup Inbox makes sure your email reaches to primary inbox.
Final Warmup Inbox Reviews and Rating

Warmup Inbox Alternatives and Competitors