Are you ready to generate leads for your business? If yes, then PhantomBuster is a versatile lead-generation tool that can help you generate leads in no time, with highly targeted leads. In this PhantomBuster review, we will discuss how to use the PhantomBuster lead generation tool and how it can help you to achieve your business goals.
If you are looking for the best data scraping tool then PhantomBuster is one of them. It offers a complete solution for your lead generation requirement. In this article, we will discuss the PhantomBuster Reviews. We will explore the pros and cons of using the tool, its usability scores from esteemed reviewers, customer feedback on its performance in various use cases, pricing plans available for different user needs, and more. By the end of this article, you will have a better understanding of how PhantomBuster can help your business reach its goals faster.
PhantomBuster Review
PhantomBuster is a great way to boost your lead generation. PhantomBuster is a powerful tool that provides you with all kinds of options to generate more leads in just a few clicks. With this platform, you will be able to extract contacts from LinkedIn, Facebook, Twitter, Instagram, Reddit, GitHub, Youtube, Yellow Pages, and Google Maps.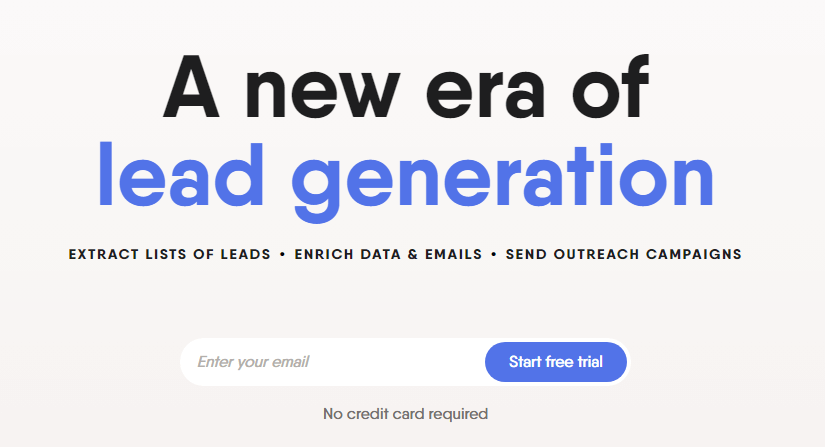 It is an online marketing tool that helps you generate leads for your business. The best part about using PhantomBuster is that it doesn't cost a lot of money! You can try it for free by creating your account and connecting a number of different social media accounts. More than 100,000 businesses use PhantomBuster to full fill lead generation requirements. That includes Side, Upflow, Pintrest, Germinal, Swapcard, Qonto, and more.
How does PhantomBuster works?
PhantomBuster is an easy-to-use lead-generation tool. With a simple and flexible interface, getting new leads is as easy as it can get for your business.
Read more about How does PhantomBuster work.
Best features of PhantomBuster
The PhantomBuster review shows you all of the features inside and takes a look at what kind of results it can produce. It's also possible to try this software for free, so you can make sure the program works before purchasing it. Interestingly enough, the company behind this software has tried to make sure that there's a money-back guarantee in place with this product available at any time.
Extract leads from all major networks and websites
PhantomBuster is a powerful lead-generation tool. It works on all major social media networks like LinkedIn, Facebook, Twitter, Instagram, Reddit, GitHub, Youtube, Yellow Pages, and Google Maps. You can easily scrap data from these networks and build a quality list for your sales outreach campaign.
Securely automate social media task
Automating social media tasks is a great way to save time and increase productivity. Using a tool like PhantomBuster, you can schedule posts, track responses and set up notifications to ensure that you never miss an opportunity to post.
Social media automation is an essential part of a brand's marketing strategy. It allows brands to spend less time on social media and more time on their main goals, such as increasing brand awareness or generating leads.
You can use PhantomBuster for multiple purposes. Comfortably automate social media individual tasks like Sending Linkedin messages, LinkedIn Auto Connect, Instagram Follower Collector, Instagram Followers Auto Follow, Twitter Follower Collector, Twitter Auto Follow, Instagram Auto Commenter, and much more Phantom flow you can use based on requirements.
Enrich with data & emails
PhantomBuster is able to find all the missing information in your contact database. Use data enrichment features to fill the gap of missing information like a phone number and verified email address. Find the reliable professional email addresses of your prospects. Keep your data updated for your outreach campaign.
You can use these flows in PhantomBuster data enrichment solutions.
LinkedIn Profile Scraper

Sales Navigator Profile Scraper

HubSpot CRM Enricher

Data Scraping Crawler and more.
Apart from this, there are 100+ flows you can use it to increase lead volume, engagement, and brand awareness.
Create a personalized outreach campaign with PhantomBuster. It allows you to send automated outreach campaigns that boost lead engagement and sales. These are some powerful automation flows you can use.
LinkedIn Auto Connect – To connect automatically with LinkedIn prospects

LinkedIn Message Sender – Send personalized automated LinkedIn messages to your lead

Sales Navigator Message Sender – Use Sales Navigator and send target messages in bulk
You can fully automate Linkedin outreach with the PhantomBuster lead generation tool.
Track your campaign performance in real-time
Whatever activity you perform in PhantomBuster, can easily track each and every activity. A few of the reports like the number of profiles collected, the number of invites sent, requests accepted, and more. It provides you with an overview of your account that helps you to understand account usage.
Connect with your favorite marketing tools
You can effortlessly integrate PhantomBuster with Salesforce CRM, HubSpot CRM, Pipedrive CRM, and more. It helps you to directly transfer data to your CRM and saves a lot of time.
PhantomBuster Pricing Plans Reviews
The PhantomBuster pricing plans are the most advanced and flexible pricing plans in the market. They offer a full range of features that can be used to help you grow your business and productivity. The pricing plans are designed to be used in conjunction with other tools such as lead extraction, data enrichment, and automation.
In the free trial, you will get 14-day access to PhantomBuster. That includes features like 50 email credits, 5 slots means 5 flows or tools you can install. And you will get a total of 2 hours of execution time.
The starter plan will cost you $48 per month. That includes basic automation features, 500 email credits/per month, 20h/month execution time, 5 slots, and Priority support.
Pro plans for high-volume users. It will cost you $112 per month. That includes automation features, 2,500 email credits/per month, 80h/month execution time, 15 slots, Dedicated expert, and Priority support.
The team plans for large team users. It will cost you $320 per month. That includes automation features, 10,000 email credits/per month, 300h/month execution time, 50 slots, Dedicated expert, and Priority support.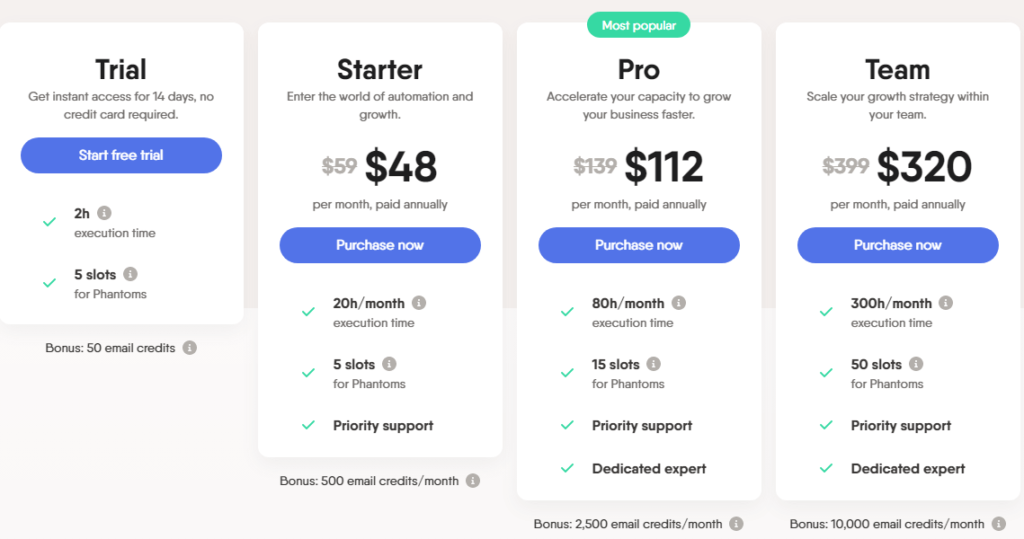 PhantomBuster Pros and Cons
It is a high-quality lead generation tool that helps you to identify, qualify and close more sales. Having said that every tool has its own advantages and disadvantages. Here we will review each pros and cons of PhantomBuster.
Pros
You can start for free. It provides a 14-day free trial.

Make the entire lead generation process automated.

Easily leads can be extracted from Linkedin profile searches.

Create a high-quality list in a matter of minutes.

Compatible with LinkedIn, Facebook, Twitter, Instagram, Reddit, GitHub, Youtube, Yellow Pages, and Google Maps.

Affordable and value-for-money pricing plans.

100+ automation workflows to complete an individual task.

Integration with other marketing tools is seamless.

Highly responsive and quality support service.
Cons
Need to use within the limitation

Risk of getting blocked from a social media account

Sometimes unable to find emails and phone number

Bit confusing for beginners
PhantomBuster Customer Reviews
Every customer has their own opinion regarding PhantomBuster. It has become an indispensable tool for many businesses, but what do customers think about it? In this section, we'll explore some of the customer reviews for PhantomBuster and discuss what users have to say about the service.
Is PhantomBuster the right tool for your business?
PhantomBuster is an outstanding lead-generation tool in the market. It can fit any business and professional. Starting from small businesses to large size companies to generate high-volume leads and sales.
The PhantomBuster platform is designed to help salespeople, marketers, and service professionals maximize their productivity by automating their lead generation efforts using powerful lead management tools. PhantomBuster platform will make it possible for your sales team to be more efficient, effective, and productive than ever before!
It offers a wide range of services that enable them to benefit from the most advanced technologies available today such as cutting-edge CRM solutions, automated lead generation, and sales outreach platforms.
Final PhantomBuster Reviews and Ratings
PhantomBuster is a powerful automation tool that enables users to save time and automate manual processes. It offers an array of features, such as data scraping, lead generation, and AI-based analysis. Therefore, it has become increasingly popular among marketers and business owners alike.
In this section, we will provide an overall rating for PhantomBuster. After reviewing its features, pricing, usability, alternatives, pros, and cons. Here is the final verdict on PhantomBuster.

PhantomBuster Alternatives
PhantomBuster is a popular automation tool that helps marketers and data scientists automate their tasks. While it is a great tool, there are also many alternatives to PhantomBuster that offer similar features and functionality. These alternatives can be used to reduce costs, increase efficiency, and make data-driven decisions faster.
We will take a look at some of the best PhantomBuster alternatives available today.
Conclusion
PhantomBuster has revolutionized the way businesses automate their processes. It's a powerful automation tool that allows businesses to simplify and streamline their operations, saving both time and money.
The PhantomBuster platform provides an integrated suite of automation solutions, from scraping webpages to automating mundane tasks. It also provides user-friendly tools that allow businesses to easily integrate the platform into their existing workflow.
This comprehensive overview of PhantomBuster has shown how this powerful automation tool can help businesses save time and money by automating mundane tasks and simplifying processes. With its user-friendly interface, robust features, and reliable support team, it is no wonder why so many companies have embraced the power of PhantomBuster.