Do you have confusion between Evaboot and PhantomBuster? Don't worry, we have compared Evaboot vs PhantomBuster in this article to guide you in making the right buying decisions.
If you are selling products and services to the B2B industry then lead generation software is required to find B2b professionals' contact details. There are many lead-generation tools accessible in the market. It seems like you've looked at a few, like Evaboot and PhantomBuster.
We've checked both platforms, including their features, pricing, advantages, and disadvantages, and we'll clarify which is the superior choice for lead generation.
Evaboot vs PhantomBuster: Overview
Exploring Evaboot and PhantomBuster? This overview provides a quick look at both platforms to help you make an informed choice.
What is Evaboot?
Evaboot is known for being the smartest LinkedIn Sales Navigator scraper that helps you find valid email addresses. It works on Linkedin, you can easily pull out the contacts from a LinkedIn search and build a prospect list for your cold email campaign. For more details, you can check out our Evaboot review.
What is PhantomBuster?
PhantomBuster is an all-in-one lead generation platform that can collect contact information from various sources on the internet. It's compatible with platforms like LinkedIn, Twitter, Facebook, Instagram, YouTube, Google Maps, and Yellow Pages.
Additionally, you can automate LinkedIn outreach tasks, such as sending connection requests, inmails, comments, likes, and posting content on your LinkedIn wall, all with the help of PhantomBuster. If you want to learn more, check out our PhantomBuster review.
Evaboot vs PhantomBuster: Feature Comparison
In this overview, we'll assess the capabilities of both platforms to assist you in choosing the right one for your lead generation needs.
| | | |
| --- | --- | --- |
| Features and Actions | | |
| Free Trial | 14 days | 1000 Credits |
| Starting Pricing | $56 / month | $49 / month |
| Compatibility with | LinkedIn (Free and Sales Navigator), Facebook, Twitter, Instagram, Google Maps, and more. | All LinkedIn plans |
| Linkedin automation | Yes | No |
| Find Email and Phone numbers | Yes | No |
| Tracking and Reporting | Yes | No |
| Leads Export / Import | Yes | Yes |
| Auto Connect | Yes | No |
| Like & comment | Yes | No |
| Send Messages | Yes | No |
| Data Enrichment | Yes | No |
| Safety & Security | Yes | Yes |
| Integrations | Yes | No |
| 24/7 customer support | Chat, email and phone | Email and chat |
Evaboot vs PhantomBuster: Pricing
Pricing is the most important part of decision-making. Evaboot and PhantomBuster have different pricing plans.
Evaboot pricing starts at $49/ month, which allows you to extract up to 2000 leads monthly. Evaboot offers cost-effective pricing plans but works only on the LinkedIn Sales Navigator. If you need more credits you can go for higher plans according to your needs.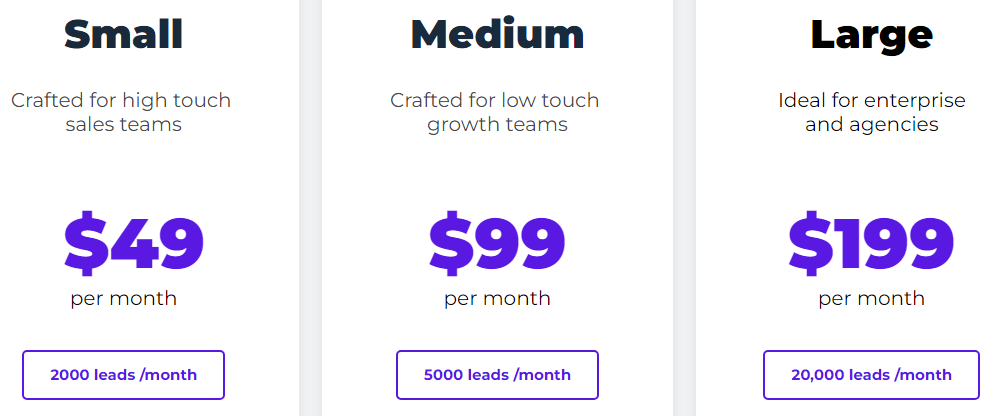 On the other hand, PhantomBuster starts at $56 per month, which includes 500 credits and 5 phantoms you can use to extract data from LinkedIn, Facebook, Twitter, or other sources. If you require additional credits, you can consider higher plans for more credits and leads.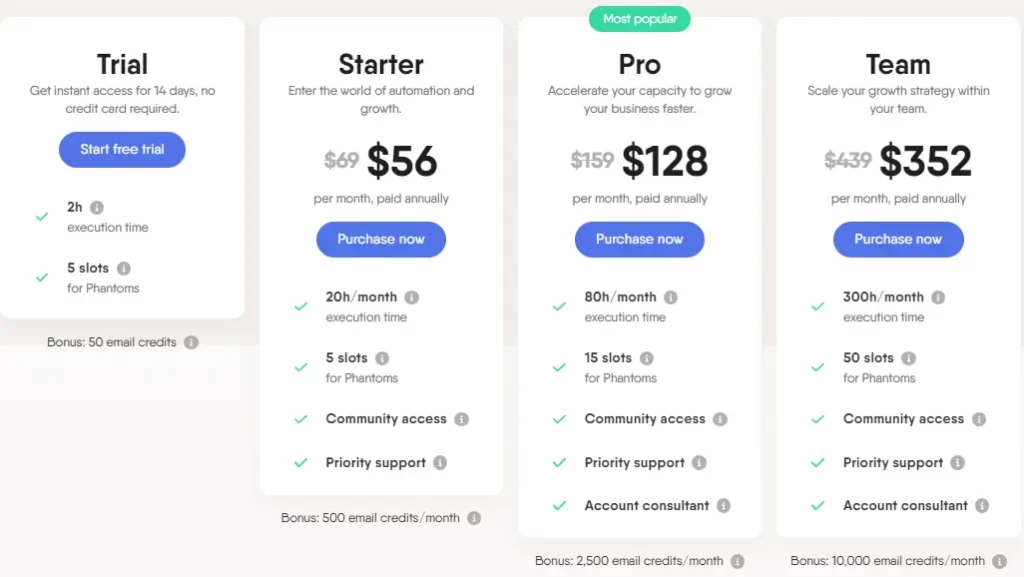 In terms of pricing, if your focus is mainly on LinkedIn Sales Navigator, Evaboot is the more affordable choice. However, if you need to automate various LinkedIn activities and work with multiple platforms, PhantomBuster is the better option.
Evaboot vs PhantomBuster: Pros & Cons
Here we have outlined the pros and cons of both platforms to help you make an informed choice for your lead generation endeavors.
PhantomBuster Pros and Cons
Pros

Cons

Use for 14 days for free

Automate the entire lead generation process

Effortlessly extract leads from LinkedIn and other platforms

Build target prospect list in minutes

Reasonable pricing plans

Offer 100+ automation workflows

Seamless integration with third-party software

Offer Chrome extension to get leads from any social media platform

Certain limitations must be strictly followed

For beginners need some time to get used to it
Evaboot Pros and Cons
Pros

Cons

Offer 1000 free credits

Perfect LinkedIn lead generation platform for sales

Affordable pricing plans

Provide Chrome extension

Build a prospect list with no time

Get email and phone number of prospects

No third-party integration

Works only on LinkedIn

Low email accuracy

Sometimes platform stops working
Evaboot vs PhantomBuster: Which Is Better?
Trying to decide between Evaboot and PhantomBuster for your lead generation needs? In this section, we will see all the major differences between both platforms.
1. Interface
Both Evaboot and PhantomBuster provide user-friendly interfaces that are easy for anyone to get the hang of. They both work really fast, collecting data within seconds. Importantly, both platforms are safe and fully compliant with GDPR regulations.
In terms of usability, both Evaboot and PhantomBuster are convenient options.
2. Features
Evaboot offers features like LinkedIn sales navigator prospects extraction, finding valid emails, building a list, bypassing weekly connection limit, and weekly search limits, getting phone numbers, sending unlimited inmail, etc. However, it primarily revolves around LinkedIn-related functions.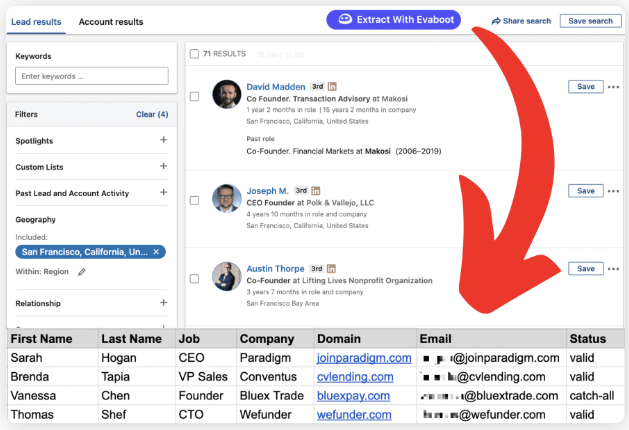 On the other hand, PhantomBuster provides even more extensive features compared to Evaboot. With PhantomBuster, you can discover lead emails and phone numbers, extract LinkedIn search contacts, bypass LinkedIn limits, send unlimited connection and inmail messages, send follow-up messages, and automate the entire LinkedIn lead generation process. And also extract contacts from Facebook, Twitter, Instagram, YouTube, Google Maps, and Yellow Pages, and create a highly targeted prospect list for your campaign.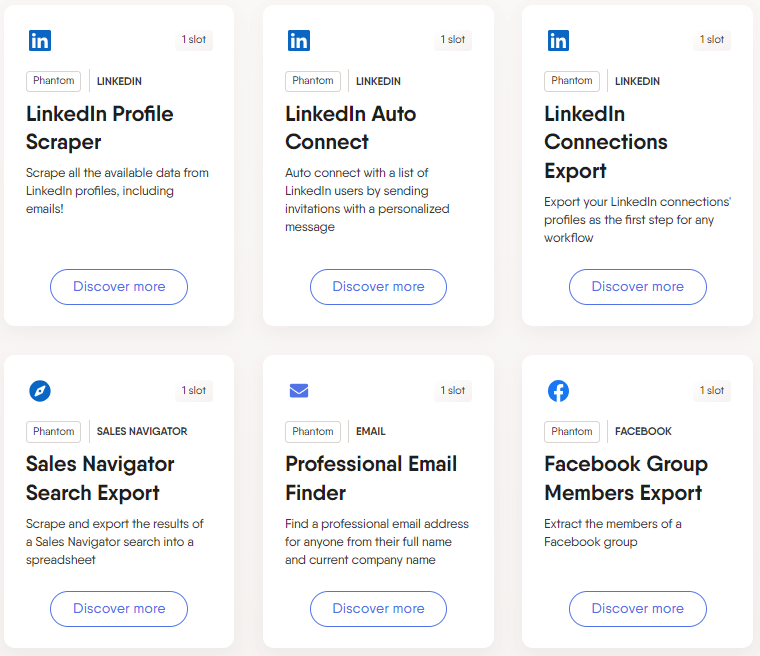 3. Compatible
Evaboot is compatible with all LinkedIn plans. All the Evaboot function works in any LinkedIn plan. There are 8 types of LinkedIn accounts. Such as
Free LinkedIn Account

Linkedin Premium Career: $39.99 /month

Linkedin Premium Business: $59.99 /month

LinkedIn Sales Navigator Core: $99.99 /month

LinkedIn Sales Navigator Advanced: $149.99 /month

LinkedIn Sales Navigator Advanced Plus: custom

LinkedIn Recruiter Lite: $180 /month

LinkedIn Recruiter: $835 /month
On LinkedIn, there is a separate account category for jobseekers, recruiters, and salespeople. If you are a salesperson then you can choose Premium Business, Sales Navigator Core, Sales Navigator Advanced, and Sales Navigator Advanced Plus.
Whereas PhantomBuster is compatible with any type of LinkedIn account. Additionally smoothly works with Facebook, Twitter, Instagram, YouTube, Google Maps, Reddit, Quora, Yellow Pages, etc. And also there are no additional charges. You will get all the options in the PhantomBuster regular plan.
4. Linkedin Automatation
Evaboot isn't a complete LinkedIn automation tool. You'll need to perform some tasks manually, like searching for leads and extracting data, sending connection requests, and inmails.
On the other hand, Phantombuster is a comprehensive LinkedIn automation tool that automates various LinkedIn tasks, including sending connection requests, inmails, likes, comments, posts, and automated follow-up messages. With Phantombuster, you just need to set your target leads, and it takes care of the automation for you.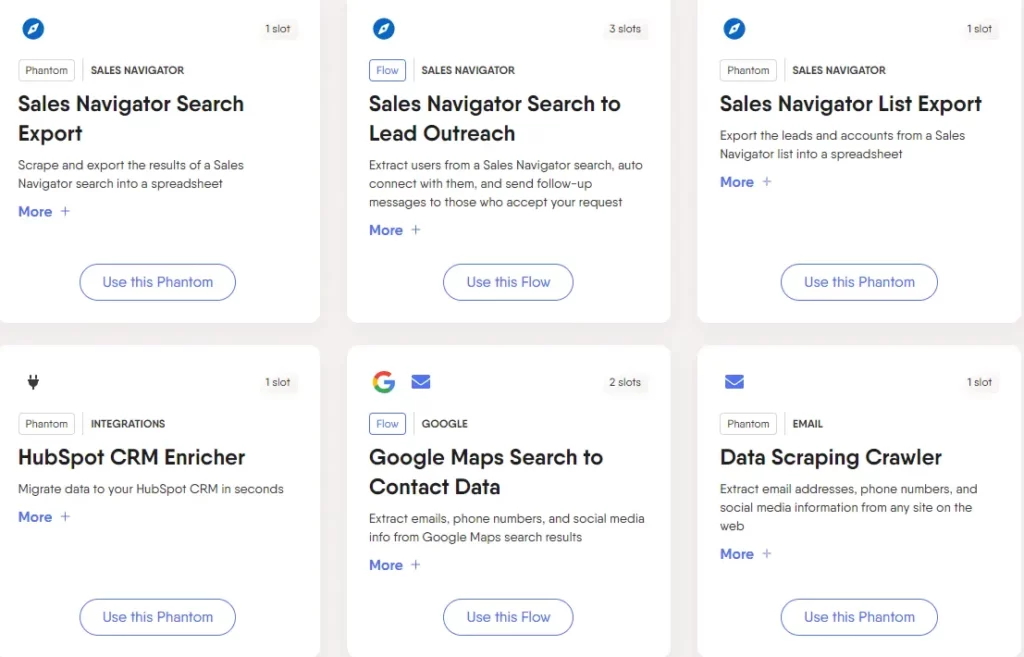 When it comes to LinkedIn automation, Phantombuster is a definite choice to consider.
5. Accuracy and Reliability
Evaboot and Phantombuster are lead-generation platforms known for accuracy and reliability. They can provide valid email and phone numbers. While you might not always get a B2B email address for every contact, in most cases, they ensure you receive a valid email address for about 90% of your contacts.
6. Integration
Evaboot doesn't offer integration options with CRM, email marketing software, or any other marketing tools. In contrast, PhantomBuster allows you to integrate with various platforms like Hubspot, Snov.io, Hunter.io, Dropcontact, lemlist, and Zapier. This means you can easily transfer data from PhantomBuster to your CRM tools for seamless workflow.
7. Send Outreach Campaign
With Evaboot, you can't send automated follow-up messages or run email campaigns directly within the platform. To launch an outreach campaign, you'll need to extract leads into an Excel file and then upload the list to an email marketing platform, which can be time-consuming and require manual effort.
In contrast, PhantomBuster allows you to send automated messages and emails directly from its dashboard. You can easily monitor your outreach campaign's progress and performance in real time. This is why PhantomBuster is a user-friendly tool for lead-generation campaigns.
8. Customer support
Both Evaboot and PhantomBuster provide responsive customer support through email and chat, ensuring your questions are promptly addressed. Additionally, both platforms offer extensive knowledge libraries and tutorials to assist you in effectively managing and utilizing their features.
Conclusion
When making your decision between Evaboot and PhantomBuster for lead generation, it's essential to consider your specific needs and priorities.
Evaboot offers cost-effective pricing and compatibility with various LinkedIn plans, making it a suitable choice if your primary focus is LinkedIn. However, it may require some manual tasks and lacks the extensive automation features found in PhantomBuster.
On the other hand, PhantomBuster provides a broader range of features, seamless integration with various platforms, and comprehensive LinkedIn automation capabilities. This makes it an excellent choice for those looking for a more all-encompassing lead generation and automation solution.
Ultimately, your choice should be guided by your unique requirements and preferences, whether that involves budget considerations, automation needs, or the desire for seamless integration with other tools. Both platforms offer reliable customer support and knowledge resources to assist you in making the most of their features.