In this SalesQL VS Lusha comparison review, I am going to put these two leading lead generation tools head to head and help you find out which of them best meets your requirements.
I hope you are searching for the best lead generation tools. While researching you might short listed Salesql and Lusha. But now you have confusion about which one to choose. So if you looking for deep comparison of these two popular lead generation tools, then you've come to the right place.
SalesQL VS Lusha: Overview
What is SalesQL?
Salesql is a cost-effective LinkedIn lead generation tool that helps you to identify prospects email and phone numbers. SalesQL chrome extension will find the email and phone numbers of prospects directly from LinkedIn profiles.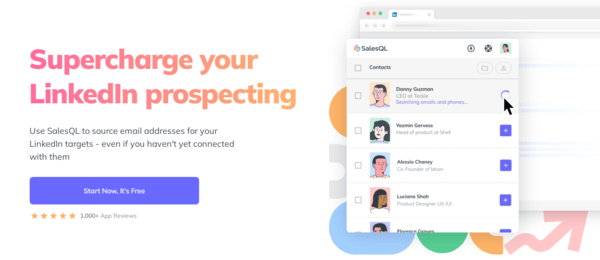 Perfect lead generation tool for sales, marketing, demand generation, SDRs, recruiters, and startup companies to build prospect lists for outreach campaigns. SalesQL smoothly works on LinkedIn, Sales Navigator, Recruiter Lite and RPS. For more details click on Salesql review.
What is Lusha?
Lusha is a great prospecting tool that helps you to build an accurate b2b contact list. With the Lusha chrome extension, you can find the email and phone numbers of prospects in seconds. Lusha perfectly works on LinkedIn, Sales Navigator, Recruiter, Salesforce, and any company website to find the right audience.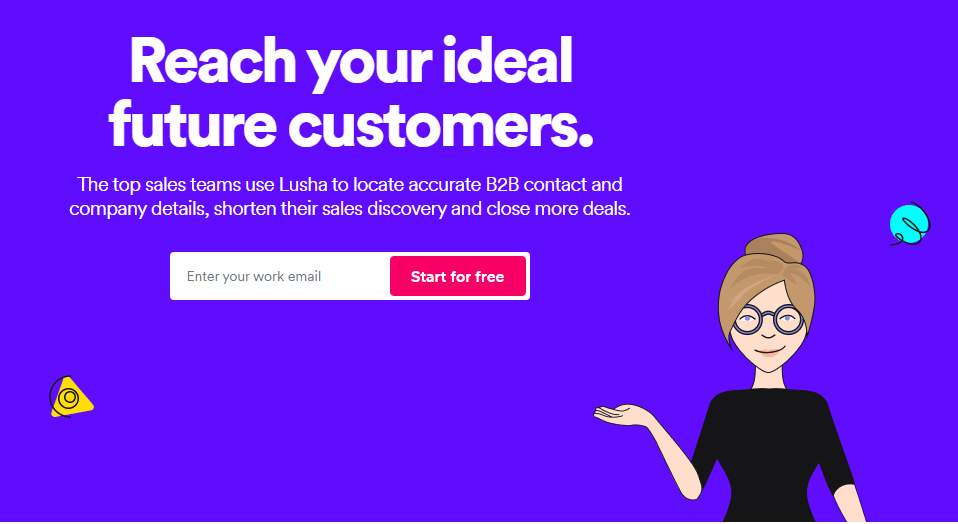 Around 8,00,000 sales and marketing professionals use Lusha as their lead generation tool. Lusha is having 100+ million contact databases that include email and direct dials that enhance your reach to sell more.
What are the differences between SalesQL and Lusha?
SalesQL and Lusha both are world-class lead generation or prospecting tools. Both the tools work impressively well on Linkedin. Salesql and Lush both offer similar features, operations, and accuracy. But there are many differences between Salesql and Lusha. What they are?
Now, Let's look into SalesQL Vs. Lusha comparison report.
| | | |
| --- | --- | --- |
| | SalesQL | Lusha |
| Free Plan | 100 free credits | 5 free credits |
| Price | $39/mo for 1500 Credits | $39/mo for 480 Credits |
| Cost Per Contact | $0.02 | $0.50 |
| Email Retrieve Results | 70% | 30% |
| Real-time Email Verification | Yes | No |
| Works on | LinkedIn, Sales Navigator, Recruiter Lite and RPS | LinkedIn, Sales Navigator, Recruiter, Salesforce, and any company website |
| Browser Extension | Chrome, Firefox, and Microsoft Edge | Works only on Chrome Extension |
| Integration | Most popular CRM and email marketing tools | All popular CRM and email marketing tools |
| Pricing model | 1 subscription for your entire team | Charges based on the number of users |
SalesQL VS Lusha: Customer Reviews
If you observe the above SalesQL VS Lusha comparison report, you might get an idea of who is the clear winner. But we need to investigate it further to declare the winner. So let's look into customer reviews and understand what are they saying about SalesQL and Lusha.
SalesQL Customer Reviews
Lusha Customer Reviews
SalesQL VS Lusha: Pros and Cons
SalesQL and Lusha both tools are powerful and effective. But while using SalesQL and Lusha you will feel some positive and negative points. Every tool available in the market is not perfect, there is always room for improvement. So let's see what are Salesql and Lusha's pros and cons.
SalesQL Pros

Lusha Pros

Offers 100 free credits

Provide accurate results

Get a verified email address

Super fast and easy to use

Extract contacts in bulk

Get personal and b2b emails

Secure and reliable

Reasonable pricing plans

Easy export and integration

Reach millions of decision-makers

Find fresh and accurate data

Offer data enrichment service

Get access to API to get bulk results

1 click integration with any third-party tools

Improve team efficiency and productivity

Align with CCPA and GPDR

Effortlessly works on any website

Excellent customer support
SalesQL Cons

Lusha Cons

Lack of customer support

Bit complicated installation process

Expensive compared to alternatives

Offer only fewer credits on free plans

Poor email retrieve results
Which one to choose SalesQL or Lusha?
Still, have confusion in choosing between SalesQL and Lusha? Then now we will reveal which one you can use and why.
After reviewing features, pricing, functionality, and complication. You can go for SalesQL because it is a cost-effective and simple-to-use tool. SalesQL offers a lot more features and facilities at a reasonable price. Let's dive into the details.
Salesql offers better pricing than Lusha. At the same price, you will get more credits compared to Lusha.
In SalesQL, if you buy one login your entire team can use it without any interruption. But in Lusha you have to pay per user. With one login only one user can access the data.
SalesQL is best for small to large size teams. But Lusha can be affordable for only large and enterprise companies.
In SalesQL, you will find more email addresses compare to Lusha. The success rate of Salesql is up to 70% whereas Lusha's is up to 30%.
SalesQL works on all LinkedIn versions like LinkedIn, Sales Navigator, Recruiter Lite and RPS. Whereas Lusha works on Linkedin as well as any other website.
Salesql smoothly works on Chrome, Firefox, and Microsoft Edge. Whereas Lusha works only on a chrome extension.
Salesql offers minimal customer support that serves your purpose. Whereas Lusha has a quick and responsive customer support team to answer your queries.
Salesql provides 40+ data points that include name, job title, company, website, education, age, gender, phone, emails, social and more. Whereas in Lusha you will get 8 data points which are very limited.
To install the SalesQL chrome extension you should follow the manual process which will be difficult for newbies. Whereas in Lusha with just one click you can install the chrome extension.
These are the common factor you should consider while choosing the right lead generation partner.
Summarizing the SalesQL VS Lusha
I hope this SalesQL vs Lusha comparison report helps you to choose a relevant prospecting tool. Now choosing the right lead generation tool is up to you. Based on your requirements you can choose any one of them.
SalesQL and Lusha both are potential lead generation tools available in the market. You see more benefits in using Salesql but at the same time, you can not ignore the power of Lusha. Both are equivalent tools but only pricing makes a huge difference among them.
Before making buying decision you should use the free version of SalesQL and Lusha. Then decide wisely and take benefit of lead generation tools.