Looking for MyEmailVerifier alternatives? Check out our list of the 7 best alternatives to MyEmailVerifier and find the perfect email verification tool to improve your email deliverability and sender reputation!
MyEmailVerifier alternatives overview
Then, you have landed at the right place. MyEmailVerifier is the top-rated email verification software. That verifies the email list effectively and enhances your deliverability.
The main purpose of using email verification software is to reduce bounces and keep your email list clean. MyEmailVerifier is capable of verifying email lists accurately and efficiently. It offers reliable features and cost-effective solutions.
So, the question is why would you search for alternatives to MyEmailVerifier? If you are considering MyEmailVerifier, you may also want to investigate similar alternatives or competitors to find the best solution. Other important factors to be considered when researching email verification tools that include price, functionality, support, and features. So let's review each MyEmailVerifier alternative.
Comprehensive list of best MyEmailVerifier alternatives
and
competitors
ZeroBounce is the #1 trusted email verification platform that verifies emails accurately and securely. Increase your open rate and delivery rate by using the ZeroBounce validation service. ZeroBounce ensures your emails reach the customer inbox.
ZeroBounce email verifier is trusted by 185,000+ Clients across the globe. Use ZeroBounce to verify the email list and get a solid campaign response. ZeroBounce is the best alternative to MyEmailVerifier.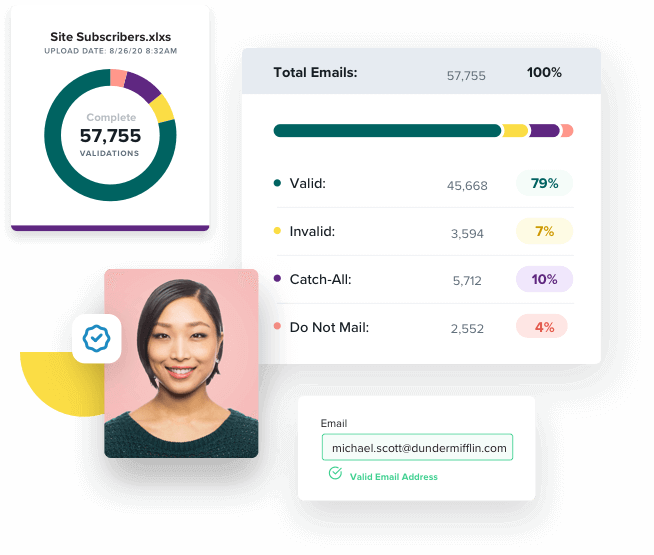 Best Features of ZeroBounce
Offer 98% email accuracy

Secure email verifier

Connect with email verification API to check emails in real-time

Fastest growing company in the United States

Offer bulk email verification services

Get a detailed verification report

Quick and reliable email verification software

24/7 customer support
ZeroBounce Pricing Plans
ZeroBounce provides flexible pricing plans. Pay as you go and monthly subscription plan. Choose a plan wisely and take full benefits of ZeroBounce.
Free Plan: In the ZeroBounce free plan, you will get 100 credits for free which includes all the features.
Paid Plan: ZeroBounce offers an as-you-go pricing model. To verify 2000 emails, will cost you $16. Similarly, verifying 10,000 emails will cost you $65.
Look at ZeroBounce and MyEmailVerifier in comparison reports.
Bouncer is the most powerful bulk email validation platform. And one of the strongest competition for MyEmailVerifier. Bouncer is the easiest way to verify an email address and keep your list ready for a high-performance campaign.
Bouncer is trusted by popular companies to clean their contact database. Some of them are MindFire, MulBerry Media, Petmarkt, Rentently, VipeCloud, WoodPecker, BigMailer, HCM Deck, and more.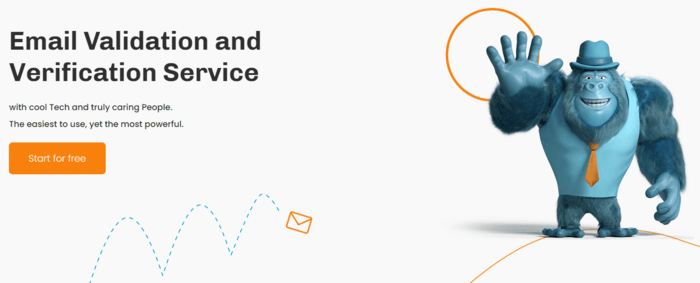 Best Features of Bouncer
Get 100 credits for free

Reliable and accurate email verifier

Easy to use and smooth to implement

Verify emails through API

Maximize the impact of your campaign

Seamless integration with ESPs

Detects toxic email address in your list

Protect your sender reputation
Bouncer Pricing Plans
Bouncer offers a fair pricing plan. You can pay as you go. To verify 5,000 emails, will cost you $30 including all the required features.
Also, there is an option for a monthly plan. To verify 10,000 emails, will cost $40/month.
Want to know more about Bouncer? Read the complete Bouncer review.
DeBounce is another frequently used MyEmailVerifier alternative that helps you to reduce the bounce rate of your emails and increase the deliverability. Easily detects bounce, disposable, spam-trap, and deactivated emails. Use DeBounce bulk email verification tool to remove any bad emails from your list.
DeBounce is a well-known email verification platform. Also the best-rated app in Trustpilot. Some of the clients of DeBounce are Samsung, Mobitek, Western Digital, Siemens, Eset, and more.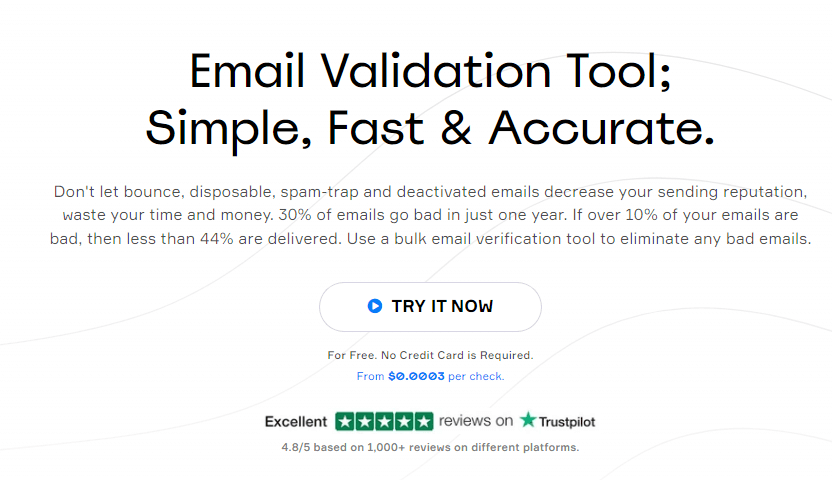 Best Features of DeBounce
Verify email list quickly and securely

Eliminate invalid, spammy, and non-operational emails

Minimize bounce rate

Verify emails by using API

Powerful integration with third-party apps

Upload list in Txt and CSV format

Accurate bulk email verification tool

Keep your list fresh and active
DeBounce Pricing Plans
DeBounce offers affordable pricing plans and a 10% discount on each plan.
Debounce provides 100 credits for free. You can use a free verification service and later decide on a paid plan.
Paid Plan: DeBounce paid plan just costs you $10 for 5,000 email verification. As you buy more credits the cost will be reduced.
Suppose if you buy 200k credits the cost will be $140. The cost per email verification is 0.0007.
ClearOut is an email finder and email verification software. Clearout is one of the great alternatives for MyEmailVerifier. Clearout helps you to protect your email list from fake emails, disposable, and bad email address with real-time email verification.
ClearOut is trusted by all types of businesses around the globe. You can handle complete prospecting activity with ClearOut which includes finding emails of prospects, verifying email addresses, and reaching your prospects. More than 30,000 users trust ClearOut as the best email verification partner.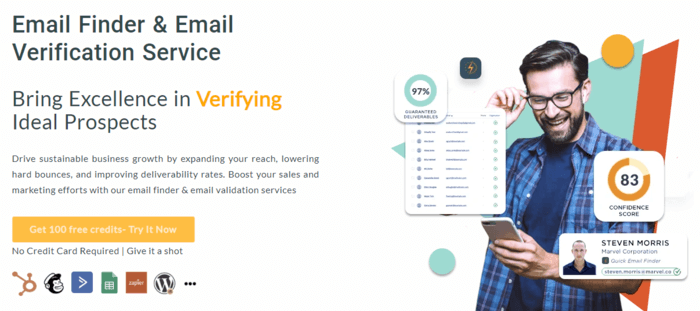 Best Features of ClearOut
Stop bad emails coming from entry points like form and landing pages

Verify email address directly on Google sheets

98% email accuracy

Help you to keep high sender reputation

Offer guaranteed email deliverability

Best bulk email validation service

Offer 60 day money-back guarantee

No charges for duplicates emails
ClearOut Pricing Plans
ClearOut offers transparent pricing plans that save your email verification cost.
Just create an account in ClearOut and get 100 credits for free. In the paid plan you will get two pricing options. Pay one time and Monthly subscription.
One-time plan: For 3000 credits it will cost you $21. 1 credits = 1 email verification.
Monthly subscription: Suppose you want to verify 10,000 emails every month. Then it will cost you $58 per month.
EmailListVerify is the best alternative to MyEmailVerifier. EmailListVerify is full-featured email verification or email validation software. That is capable of detecting spam traps, hard bounces, and disposable or catch-all emails at the lowest price.
EmailListVerify can save your email verification cost. It offers much better pricing compared to most of its competitors.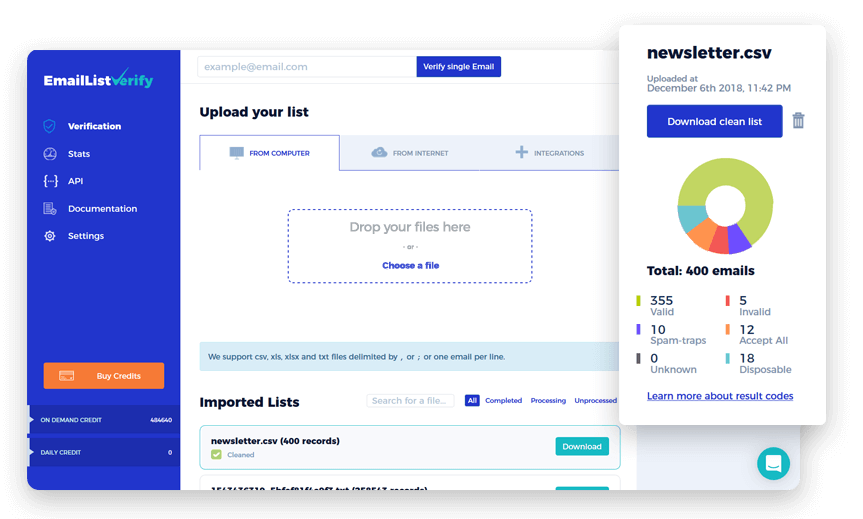 Best Features of EmailListVerify
Get 99% accurate results

Uses best-of-breed technology

Support Txt, XLS, CSV, and other formats

Save email verification cost

Increase campaign ROI

Protect domain and email from bad emails

Detects all kinds of invalid emails

Offer 30 day money-back guarantee

Great API integration solution
EmailListVerify Pricing Plans
EmailListVerify is a simple and reliable email verification software that offers cost-effective pricing plans.
In the EmailListVerify free plan, you will get 100 credits for free. Test the complete features of EmailListVerify. There are two paid plans, Pay as you go and Monthly subscription.
Pay-as-you-go plan: To verify 5000 emails, it will cost you just $15.
Monthly plan: For $139 you can verify 5000 emails per day. Best for high-volume sender and API users.
EmailListVerify service is flexible, pay only for what you need. Choose the right pricing plan to save your marketing cost.
Emailable is the most accurate and secure email list cleaning software. Emailable is another best Myemailverifier alternative. Use Emailable to reduce bounce rate and increase delivery rate. One of the highest-rated email verification tools.
With Emailable you can automate the complete list cleansing process and get only deliverable emails. Emailable is trusted by 1000 fastest-growing companies to enhance their customer reach.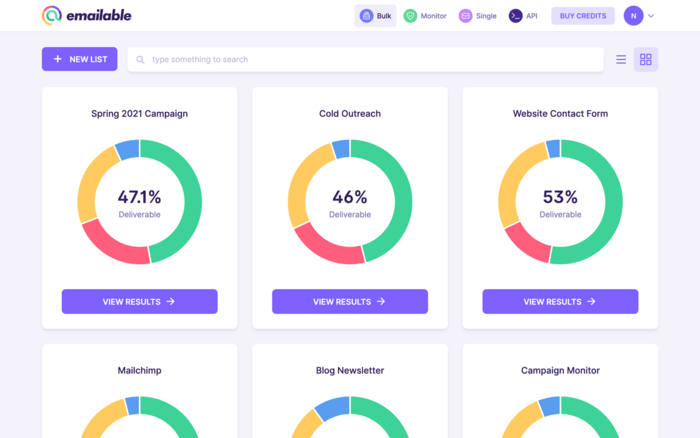 Best Features of
Emailable
Removes all unwanted and invalid emails

Ensure 99% inbox placement

50+ app integration

Automate email list verification

Real-time email verification service

Solid email verification API

Quick and responsive support

Offer volume discount
Emailable Pricing Plans
Emailable offers affordable and reasonable pricing plans. Select a plan that is perfect for your business.
Free Plan: Emailable allows 250 credits for free. Just sign up and explore the free features.
Paid Plan: Emailable paid plan offers 5000 credits at $30. In that, you can easily verify 5000 emails. If you are looking for more credits then go for a higher plan to get more volume discounts.
Get 10,000 credits at $50

Get 25,000 credits at $125

Get 50,000 credits at $225

Get 100,000 credits at $420
Emailable also offers a monthly subscription plan you can explore further here.
NeverBounce is the top-rated accurate email validation and list cleaning service provider. Over 125,000 customers trust NeverBounce for their email verification solution. MyEmailVerifier is not as popular as NeverBounce. But Myemailverifier is the most efficient and cheapest email verification software available in the market.
NeverBounce cleans billions of email address every month. NeverBounce can effortlessly identify invalid, inaccurate, spam, bad emails and keep your email list clean to get higher email responses.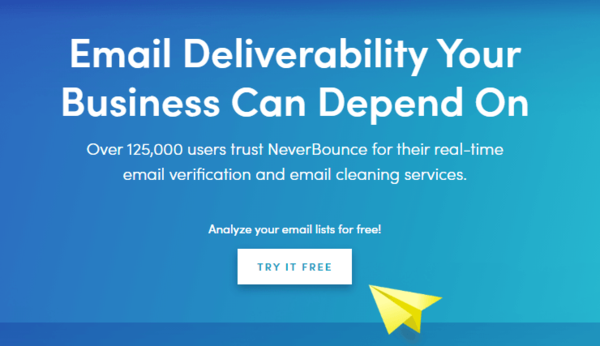 Best Features of NeverBounce
Offer bulk email verification service

Real-time list cleaning capabilities

Connect with over 80+ marketing platform

Provide 99% accuracy on email

Seamless API integration

Connect with email software and automate email validation

Instantly analysis bounce

Awesome customer support
NeverBounce Pricing Plans
NeverBounce offers competitive pricing plans. It is mainly known for customer support and email accuracy.
NeverBounce does not offer a free trial. You can contact customer support and take a demo before buying Neverbounce email verification software.
Paid Plans: In a paid plan you will get two options. Pay-as-you-go and Subscription plan.
In Pay-as-you-go, you should pay only for what you use. Pricing varies based on volume.
Suppose you want to verify 5000 emails, then it will cost you $40. And similarly, if you want to verify 10,000 emails then it will cost you $50.
Subscription plans are useful for regular users and large enterprises. To verify 10000 emails, it will cost you $99/month. It looks costlier compared to MyEmailVerifier.
Conclusion
I hope this article has helped you to identify the right alternative to MyEmailVerifier. Each email verifier has its own pros and cons. After reviewing each feature, pricing, and offer, we have chosen the best and most affordable email validation software. Thus, you can choose the perfect email verification software based on your need.
These are the best MyEmailVerifier alternatives. Apart from this there are plenty of free and paid email verification software available in the market. Check it out here.