Are you looking for InboxAlly Alternatives? As you know, InboxAlly is one of the leading email warmup tools that keep your emails out of spam folder. It is a valuable tool for marketers, bulk email senders, delivery experts, agencies, and new email senders to warm up their IP and domain.
InboxAlly has a proven record of improving open rates and deliverability. However, some users feel that the pricing is steep and the features need to be improved. Read InboxAlly review.
In this article, we look into more affordable alternatives to InboxAlly that you might want to consider.
Let's start with an overview.
Top InboxAlly Alternatives: Compared
Find out the top alternatives to InboxAlly as we compare and evaluate the best email warmup solutions available.
| | | | |
| --- | --- | --- | --- |
| No. | InboxAlly Alternatives | Starting Price | Free Plan |
| 1 | Warmy | $24/month, per mailbox | 7-Day Free Trial |
| 2 | Warmup Inbox | $9/month, per mailbox | 7-Day Free Trial |
| 3 | Warmbox | $15/month, per mailbox | No Free Trial |
| 4 | Folderly | $200/month, per mailbox | 7-Day Free Trial |
| 5 | MailReach | $25/month, per mailbox | No Free Trial |
| 6 | GlockApps | $59/month, per mailbox | Free |
| 7 | OutreachBin | $19/month, per mailbox | No Free Trial |
| 8 | Mailwarm | $69/month, per mailbox | No Free Trial |
| 9 | TrulyInbox | Free | Free Forever |
| 10 | Instantly.ai | $30/month, unlimited mailbox | 14-Day Trial |
Now, let's look into the specifics of each email warmup platform. Let's get started!
Warmy.io is the perfect InboxAlly alternative that helps to keep your mailbox ready for higher email deliverability. Just set up and forgot, that its advanced AI technology automatically warms up your email.
More than 2,500+ happy customers rely on Warmy email delivery solutions. It has also earned high ratings on review platforms like G2, Google, and Capterra. Check out our Warmy review for valuable insights into email warmup solutions.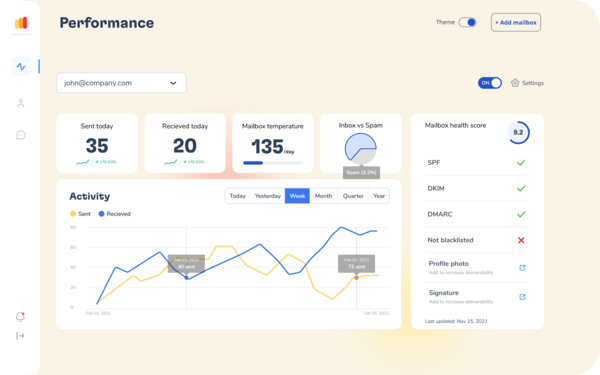 Features
Raise your sender reputation

100% automation

Innovative AI algorithms

Keep high deliverability rates

Less than 25 sec of setup to save weeks of frustration

Compatible with every major email provider!

Connect Warmy with your favorite apps
Pricing
Warmy pricing starts at $49/month for 100 emails per day. The Premium plan has all the features you will need to enhance email deliverability, such as Mailbox health tests, Inbox placement tests, Adding your own template, Choosing a warm-up topic, Custom warm-up settings, Premium support, and so on.
Warmup Inbox is the cheapest InboxAlly alternative you can consider. The best warmup platform to keep your email out of the spam and promotion folder. If you're running a cold email campaign then Warmup Inbox ideal tool to improve mailbox deliverability.
With Warmup Inbox apart from email deliverability, you can also monitor and improve your sender reputation. Perfect platform for Marketers, Sales experts, Lead gen pros, and Recruiters. Read the Warmup Inbox review for more details.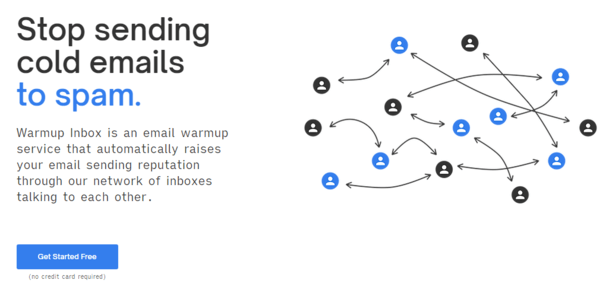 Features
Reach more leads and customers

Avoid spam folders & blacklists

Track and improve your sender reputation

Get notified about issues promptly

User-friendly and straightforward

Transparent and reasonable pricing options
Pricing
Warmup Inbox pricing starts at $12/mo and sends up to 50 warm-up emails per day. Compared to InboxAlly, Warmup Inbox is more cheaper. If you want to increase the sending limit then you can go for a higher plan. That will cost you $39/mo and send up to 150 warm-up emails daily.
Warmbox is another affordable InboxAlly alternative for email warmup solutions. It is a useful tool to increase sender reputation and email deliverability. Over 2000+ companies trust Warmbox for better email deliverability.
With Warmbox you can run cold email campaigns confidently, ensuring they don't end up in spam. Reach customers' inboxes directly and boost your sales potential.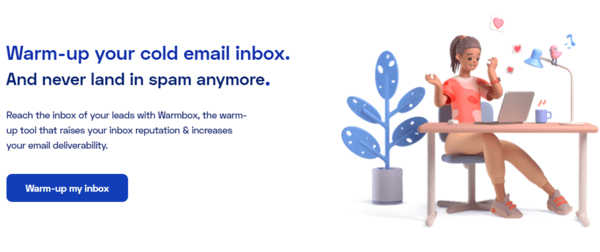 Features
Increase your deliverability & reputation

Reach your leads & close more deals

Sends warmup emails automatically

Connect with your inbox and warm up emails in 2 minutes

+35,000 inboxes to enhance sender reputation

Track & analyze your inbox reputation
Pricing
Warmbox offers clear and straightforward pricing options. Its pricing starts at $15/month for 50 warmup emails with premium support. For a larger sending limit then you go for a start-up plan that will cost you $69 for 250 emails/per day.
Next on our list is Folderly, an InboxAlly alternative with great functionality, including email deliverability, analyze email content, deliverability placement, email spam checker, maintaining mailbox health, and so on.
But when you compare Folderly with InboxAlly, Folderly pricing is on the higher side that every business can not afford it. Otherwise, it's a solid platform to consider for enhancing your email deliverability.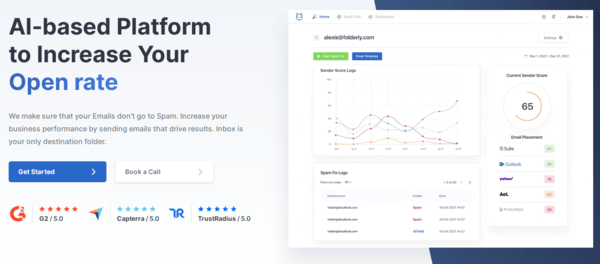 Features
One-stop-shop solution for email deliverability

Check the inbox placement of your emails

Detect spam trigger words in your emails

Analyse email content for better email deliverability

Generate SPF and DMRC records for free

Monitor your deliverability metrics
Pricing
You probably know that Folderly offers expensive pricing plans. Its pricing plan starts at $200 per month with unlimited features. It's valuable if you're dealing with major email deliverability issues. You can kick off with a free trial to explore the platform further.
MailReach is another potential alternative to InboxAlly. Its email warmup service can help you to raise sender reputation. MailReach's warmup platform automatically generates genuine and positive engagement in your emails.
Over 3000+ businesses trust MailReach solution to identify and fix spam-related issues. Take a look at the detailed Mailreach review here.

Features
Network of 20k real human inboxes

Automated and easy to use

Positive interactions and spam removal

Integrate with multiple email providers

Smart and complex warming algorithm

Top-notch spam checker
Pricing
Mailreach pricing plans start at $19.5/ month and features include send up to 90 emails/day, smart warming algorithm, deliverability correction, advanced spam tester, and more.
GlockApps is a popular InboxAlly competitor that offers email deliverability, free spam testing, inbox placement, blacklist monitoring, running automatic tests, and more.
GlockApps is known to be an email delivery expert. It has everything to handle email deliverability issues. GlockApps identifies spam issues within your email program and offers suggestions to enhance your inbox delivery. GlockApps is the must-have tool for email and cold outreach campaigns.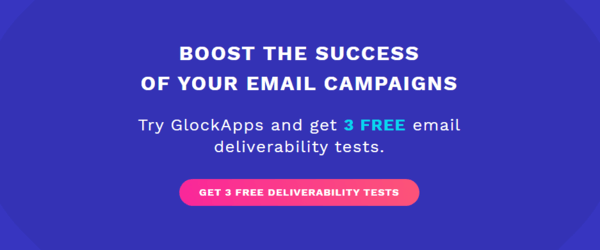 Features
Get Free email spam test

#No.1 solution for email deliverability

Monitor your domain and IP address

Detect and prevent phishing attacks

Get notified if there is any deliverability issue

Boost your campaign response

Works with all email service providers
Pricing
GlockApps offers budget-friendly pricing plans that are accessible to any business. Their basic plan is priced at just $59 monthly and includes all the essential features. If you're just starting your email campaign, the basic plan is a suitable choice for you.
If you require additional email testing credits, you can opt for the Business plan, priced at $99 per month. With this plan, you can conduct 8,400 email tests and enjoy premium support.
The next one is OutreachBin. It is an outstanding InboxAlly alternative to warmup your email for higher open and click rates. It's a specialized email warmup solution for cold outreach campaigns. Use OutreachBin cutting-edge technology to significantly enhance your inbox placement.
OutreachBin works with Gsuite, SendGrid, Amazon, Zoho, Outlook, SMTP and more. Apart from email warm-up, you can also use OutreachBin for cold email campaigns. It has a track record of excellent email deliverability and a whopping open rate of 77%.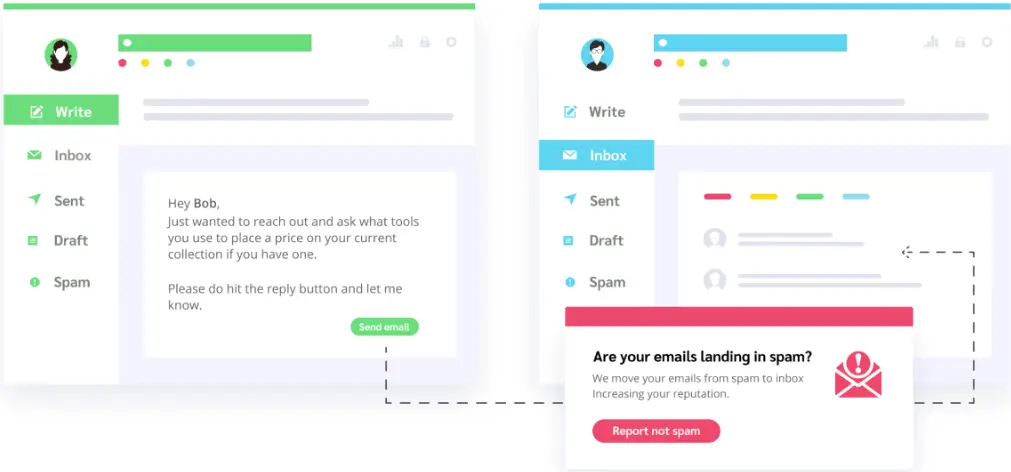 Features
Excellent Email warm-up and outreach platform

Close more sales with automated follow-up sequences

Send hundreds of laser-targeted emails with personalization

Use InboxWarm to increase deliverability

Take full control of your email warmup process

Send unlimited emails and track each email's engagements
Pricing
OutreachBin comes with a cold-email and warmup solution. Its pricing plans start at $19.97/month for 1 users. It includes A/B testing, warm-up, email deliverability booster, personalization, autopilot email sequence, advanced analytics, and more.
Mailwarm is one more email warmup tool that you can use as an alternative to InboxAlly. Mailwarm offers a similar service to InboxAlly. It has an automatic function to warm up your email. You can connect with actual individuals who engage positively and respond to your emails, which helps boost your sender reputation.
Features
Simple email warmup platform

Easy to set and use

Improves sender reputation

High email deliverability

Monitor all your email activities
Pricing
Mailwarm pricing starts at $69/ month for 1 user and sends up to 50 emails/day. If you require additional users then you can consider a Growth plan that costs $159/per month for 2 users and sends up to 200 emails/day.
If you are looking for a free email warmup tool then TrulyInbox is for you. It works similarly to other email warmup solutions in the market. TrulyInbox interacts with your email and increases sender reputation.
Just connect your email with TrulyInbox and start the email warm-up process.

Features
Connect unlimited email accounts for FREE

Fully automated set-up

Advance warm-up reports

Adjust sending volume with a single click

Sends highly personalized emails to avoid spam
Pricing
Currently, TrulyInbox is running on the beta version, so there is no cost for the warmup solution. You can use it for free.
If you want a simple and reasonable InboxAlly alternative, you can always go for Instantly.ai. This email warmup platform will allow you to send emails, collect leads, warm up emails, and enhance email deliverability.
Instantly.ai is the best tool for running a cold outreach campaign. More than 10,000 clients use Instantly.ai to scale their email outreach and close more sales.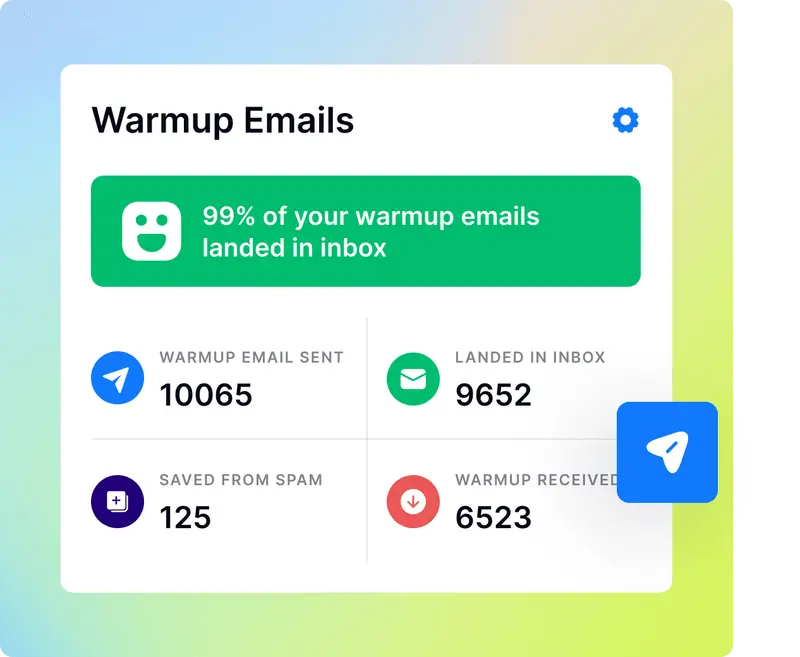 Features
Get 25 leads & free warmup service

Best cold email software

Reach your prospects inbox

Optimize with campaign analytics

Eliminate guesswork with instantly cold email accelerator

Quick customer support
Pricing
Instantly.ai pricing plan starts at $30/mo and includes unlimited email accounts, unlimited email warmup, 1000 active leads, 5000 emails monthly, and live chat support.
If you opt for the Hypergrowth plan at $79 per month, you'll receive all the features included in the Growth plan, along with 25,000 active leads, 100,000 monthly emails, and premium support.
Conclusion of InboxAlly alternatives
There are several compelling alternatives to InboxAlly in the realm of email warmup solutions. These alternatives offer various features and pricing options to cater to diverse needs. Whether you require improved email deliverability, enhanced sender reputation, or a boost in open and click rates, these alternatives can help you achieve your email marketing goals.
If you prefer to warm up your email manually, take a look at this comprehensive email warmup guide.