If you're looking for LeadLeaper alternatives, you've come to the right place. LeadLeaper is an email finder tool that empowers salespeople with the capability to track, organize and manage leads in one place. Unlike other tools, it allows users to automate the entire sales process – from capturing and qualifying potential customers to nurture order conversations.
LeadLeaper is a great tool for gathering new leads. but there are many problems you face while using LeadLeaper. A few of the issues are:
Low retrieve results

Takes too much time to load

Low email accuracy

Higher bounce rate

Sometimes it crashes
There are plenty of companies out there that provide reliable email-finding solutions. In this guide, we will compare them and help you find the best LeadLeaper alternative that enhances your productivity and sales.
10 best LeadLeaper alternatives for Lead Generation
Choosing the right lead generation or prospecting tool for your business is a key factor in its success. A wrong decision may lead to a loss of money, time and resources. That's why we came up with the list of the top LeadLeaper alternatives.
SalesQL is the top alternative to LeadLeaper. It is one of the leading LinkedIn prospecting and lead generation tool. It provides sales teams with a powerful, real-time platform to gain more leads, engage more prospects and close more sales. SalesQL provides you with all of the tools needed to drive results in your Sales & Marketing organization – while saving a lot of time and money.
SalesQL helps you get more sales by providing you with instant access to qualified leads from LinkedIn 1st, 2nd, and 3rd+ connections. SalesQL works with all social media platforms to help you find your next client, increase your sales pipeline and satisfy your marketing goals. Read the review here.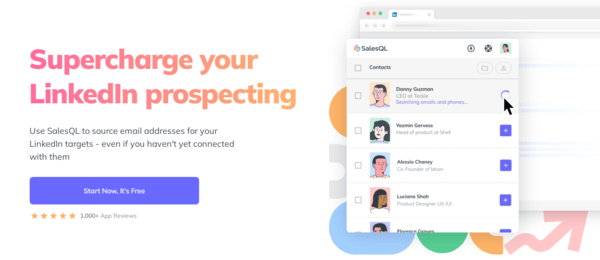 Top features of SalesQL
Find phone numbers and email addresses from Linkedin

Powerful SalesQL Chrome extension for lead extraction

Download all of your LinkedIn connections and contact information in bulk

With a single click, switch from recruiting to sales, and keep your emails clearly separated

Get over 40 data points per contact

Get 50 free email credits every month

Seamlessly works with Sales Navigator, Recruiter, Recruiter Lite, or RPS

Increase your productivity by managing your leads more effectively

Send contacts and leads to the most important CRM, outreach, and productivity tools for your business
SalesQL Pricing
SalesQL offers flexible and reasonable pricing plans. SalesQL pricing starts at $39/ month in that you will get 1500 email credits. Similarly, 10,000 email credits, will cost you $89/ month.
Salesql is a more reliable and efficient prospecting tool than LeadLeaper. LeadLeaper does not provide phone numbers and you will not get results for every search. But SalesQL is capable of providing the results for every search that includes the email and phone numbers of prospects.
UpLead is the superb LeadLeaper alternative that offers the most accurate and real-time verified B2B database. So you can create more relevant content and drive leads to your business. This can help you grow and gain an advantage over your competitors.
Want to grow your business and take your sales to the next level? UpLead provides you with actionable intelligence to drive growth and increase visibility in your market. This means that when you're looking for new customers, you can find the best contacts in UpLead database and get in touch with the right prospects. B2B lead generation is all about targeting the right prospects and matching them with the right opportunities.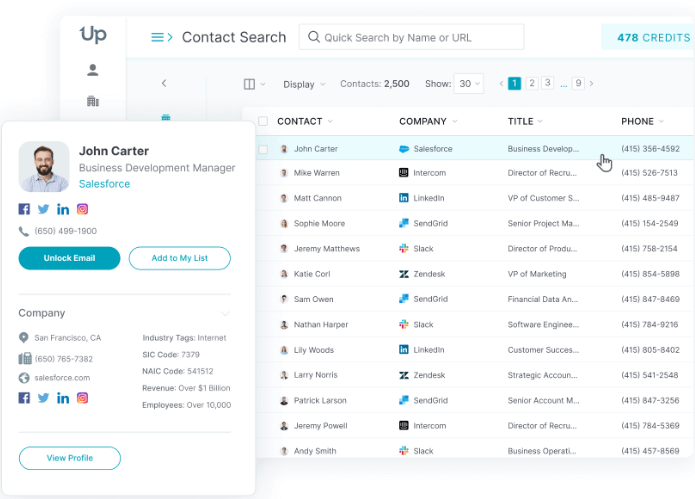 Top features of UpLead
Get access to 108 million+ contacts with 95% data accuracy

Provides best data enrichment services

Chrome extension to grab leads directly from the web browser

Compatible API to build high-quality leads

Real-time email verification that doesn't bounce

Track 16,000+ technology and offer technographic data

Easily search for emails by using the company name or URL

Provides best intent data solution

#1 Highest-rated lead intelligence software by G2
UpLead Pricing
UpLead offers competitive pricing plans that any business can afford for B2b lead generation. UpLead pricing starts at $74/month in that you will get 2,040 credits. If you looking for more credits then you can go for a Professional plan that will cost $299/month for 12,000 credits.
When you compare UpLead pricing with LeadLeaper. It looks very costly because LeadLeaper is just an email-finding tool. But UpLead is the largest b2b database provider that helps you to reach +108Million b2b contacts. Just you need to build a relevant prospect list and target them with engaging content.
Try UpLead for free and get targeted leads
GrowMeOrganic is a leading full-featured, all-inclusive lead generation and cold outreach platform for your business. One of the best LeadLeaper alternatives that boost your conversion rates and improve your ROI.
GrowMeOrganic is a powerful outbound sales platform that helps small businesses to increase their sales and overall revenue. The main goal of GrowMeOrganic is to help any organization find new clients, leads, and customers in any way possible. Find professional contacts quickly and easily, then send them personalized automated emails to convert them into sales.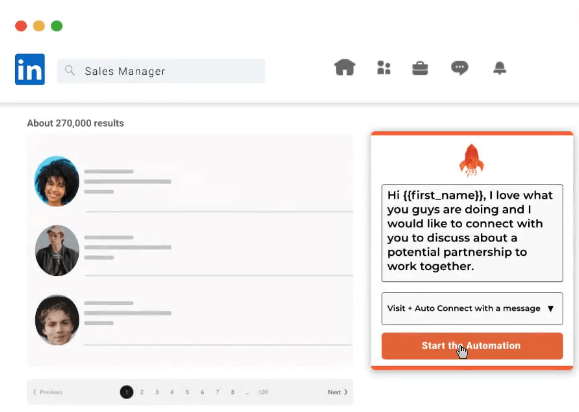 Top features of GrowMeOrganic
Outstanding Prospecting & Cold Outreach Platform

Get access to over 15 million companies and 575+ million professionals worldwide

Extract emails from Linkedin Sales Navigator, Recruiter, Recruiter Lite, or RPS

Effective and powerful GrowMeOrganic chrome extension

Offer B2b data enrichment solution

Scrap email, phone number, and website from Google My Business

Use Web scraper to get contacts from any website

Effortlessly send a drip email campaign to your prospects

Send unlimited emails and create unlimited users accounts
GrowMeOrganic Pricing
GrowMeOrganic offer affordable pricing plans with unlimited credits. GrowMeOrganic pricing starts at $39/month with 2000 email credits and sends unlimited emails.
The other two best pricing plans are Growth and Pro plans. That offer unlimited credits and unlimited sends.
Growth plan will cost $79/month which includes 5 users, unlimited credits, and sends

Pro plan will cost $159/month which includes unlimited users, credits, and sends
GrowMeOrganic is a direct competitor of LeadLeaper. LeadLeaper is an outdated platform compared to GrowMeOrganic. GrowMeOrganic is the best alternative to LeadLeaper because of its unlimited credits and features.
ProspectingToolkit is your one-stop shop for leads, sales automation, and cold outreach automation. It is powerful automated sales lead generation app that makes it easy to nurture, qualify and close more deals than ever before.
The ProspectingToolkit is designed to make sales, marketing, and business development as efficient, effective, and productive as possible. ProspectingToolkit is another alternative to LeadLeaper that helps you to generate more leads and sales.
Top features of ProspectingToolkit
Offer unlimited B2B sales leads for lead generation

Get access to 200 million+ business emails and phone numbers

Advance cold email automation to generate qualified leads

Best Linkedin email finder for sales and marketing team

Automated email warmup solution for better email deliverability

Integrate with 2,000+ apps using Zapier or Integromat
ProspectingToolkit Pricing
ProspectingToolkit offers a simple pricing plan. Pricing plans start at $49 /Month for 2500 credits and similarly for 30,000 credits it will cost you $249 /Month.
Snov.io is a simplified sales platform and technology, you can grow your business with more efficiency and easier. LeadLeaper and Snov.io offer similar features but Snov.io is more advance in terms of technology and features. That's why Snov.io is one of the greatest LeadLeaper alternatives to consider.
Are you ready to expand your business? Do you want to improve your lead engagement with the sales toolbox and CRM platform? Then Snov.io is the perfect AI-based lead generation tool that allows you to scale, engage and track leads that are critical for any business. These tools help you in generating more leads, sales, and revenue.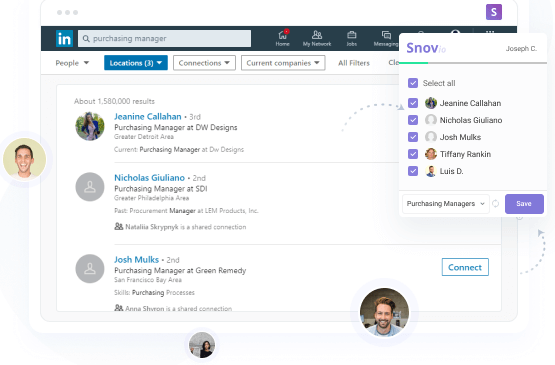 Top features of Snov.io
Signup and get 50 free searches each month

Quick email finder to find prospect emails

Find prospect's details by domain name, company name, from name, and boolean search

Offer a drip email campaign to send emails and convert more leads

In-built email warmup solution that improves email deliverability

Provides an email verifier to keep your list clean and up to date

Best Sales CRM to manage and prioritize leads to get more sales

Reliable technology checker to identify technology users

Support 2000+ third-party apps for integration
Snov.io pricing
Snov.io offers an exciting pricing plan. Its base plan starts at $33/ month for 1000 credits and goes up to $615 for 100,000 credits. Snov.io is an excellent tool for sales, lead generation, business development, outreach, and recruitment.
Lusha is another best competitor to LeadLeaper. It is a leading B2B database company, that provides the most accurate contact database through an intuitive interface. Lusha helps you to find all the ideal prospects for your company and gets you more leads and deals.
Use Lusha and spend less time on lead generation. It has everything to create a laser-focused list that generates highly qualified leads for your business.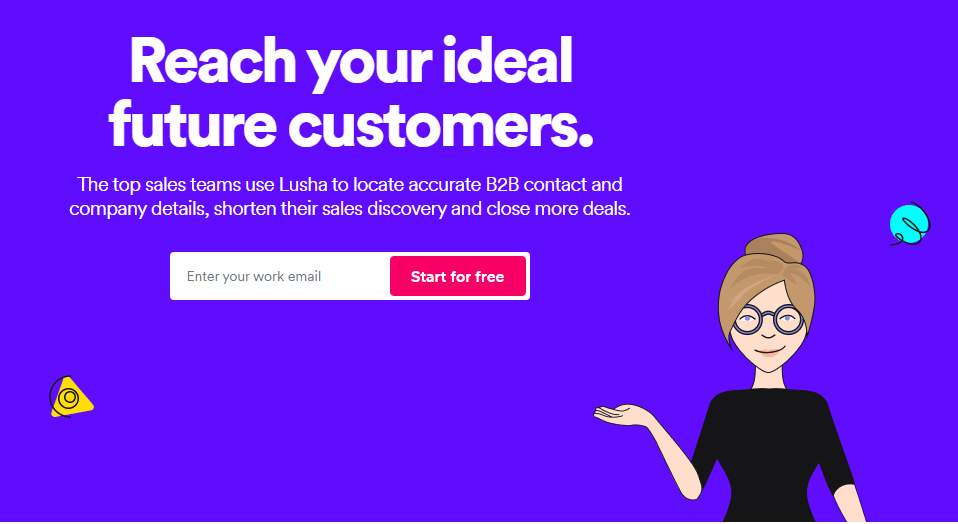 Top features of Lusha
Reach millions of decision-makers from one place

Create a high-performing sales pipeline

Offer robust API integration to enrich any database

Lusha's chrome extension easily finds contacts from Linkedin or any company website

Capable of automatically enriching CRM database

Connect Lusha with other apps

Provide clear insights on data usage

GDPR Aligned and ISO 27701-certified sales intelligence tool
Lusha Pricing
Lusha pricing is expensive among competitors. Its pricing plans start at $348 for 480 credits and go up to $528 for 1680 credits. That is way more expensive than LeadLeaper. In terms of features and accuracy Lusha is ahead of everything. But when it comes to pricing it is one of the most expensive prospecting platforms in the marketplace.
Clearbit is a world-class b2b database and market intelligence tool. It is a one-stop platform that creates, captures, and converts demand from ideal customers. Clearbit provides you with a 360-degree view of your market, prospects, and customers.
There is no direct comparison with LeadLeaper. LeadLeaper is just email finding tool whereas Clearbit is more into market intelligence and database platform. In Clearbit you will get a Gmail extension that will help you to find relevant prospects from your Gmail account. Clearbit is one of the most effective lead-generation tools that you can use for free.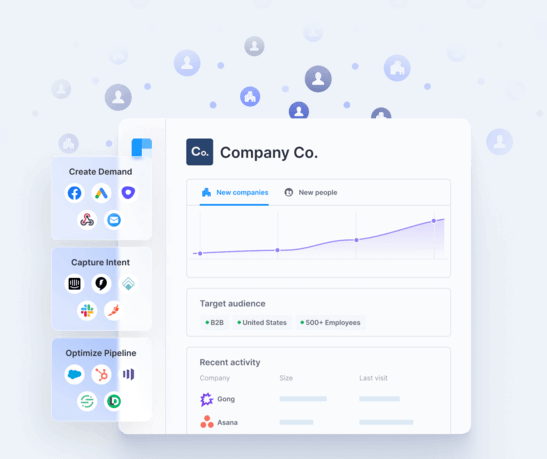 Top features of Clearbit
Offer 100+ reliable firmographic, demographic, and technographic attributes

Powerful Gmail extension to get the quality leads

Get fast and accurate contact details

Provide real-time data enrichment

Setup intent base outreach campaign

Best tool for lead capture form optimization

Efficient lead scoring and routing

Provide personalized experience to your best leads
Clearbit Pricing
Clearbit offer customize pricing plans. Based on your requirements pricing will be decided. There is always room for negotiation. If you are interested contact their support team. Clearbit solution is meant for sales, operations, and marketing teams. And also there is special pricing available for startup companies.
Clearbit is a more advanced LeadLeaper alternative, you can consider to full fill your sales pipeline with highly qualified leads.
Hunter.io is an outstanding email-finding tool and the toughest competitor for LeadLeaper. You can find the right people for your business with a single click. Hunter helps you find professional email addresses like a pro. If you're looking for a way to grow your business, Hunter.io is the tool you need in your back pocket.
Hunter.io can find verified email address from any website. And send cold emails to prospects by using the Hunter.io campaign that works in Outlook and Gmail.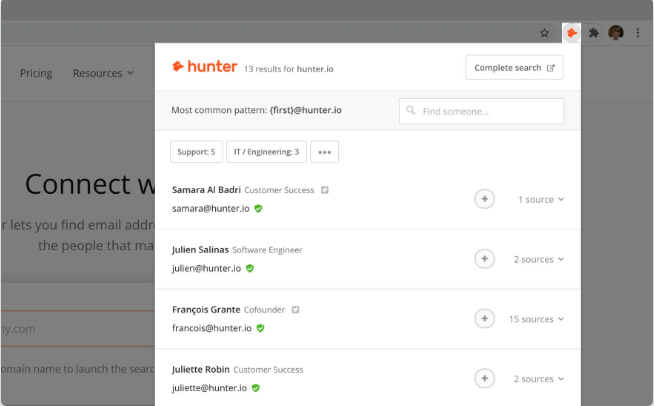 Top features of Hunter.io
Powerful email-finding tool

Find email addresses in bulk

Find any professional email through API

Signup and get 25 credits for free

Offer fast and accurate email verification services

Schedule follow-ups and track email activity

Easily integrate Hunter.io with any app

Awesome Techlookup that helps you to find technology users

Get an extension for the web browser and Google sheet
Hunter.io Pricing
The Hunter.io pricing plans are designed to help you get the most value from the platform. Whether you're just starting out or are ready to scale, Hunter.io made it easy for you to select the plan that's right for your needs. Upgrade or downgrade at any time and cancel anytime. Hunter.io pricing plans start at $49 for 500 credits and go up to $399 for 30,000 credits.
Finding email, phone and social media links can be a painful process if you don't know where to look. RocketReach makes it easy by helping you find all the contact that you need to complete your job in less time. RocketReach is another best LeadLeaper alternative that helps you find anyone's email address.
Connect directly with key decision makers with accurate email and phone numbers. RocketReach has over 700 million professional contacts. More than 13.5 million small to large business users trusted RocketReach for their lead generation solutions.
Top features of RocketReach
Signup and find relevant prospects for your business

RocketReach browser extension works on Google, AngelList, Crunchbase, and LinkedIn

Bulk email lookup to fill out blank data field

Offer lightweight, intuitive REST API

Capable of creating and sending emails to your target prospects

Compatible integrates with Salesforce, HubSpot, and other CRM
RocketReach Pricing
RocketReach offers different pricing plans for email lookups and phone numbers. Its pricing plan starts at $80/month for 80 credits and goes up to $300 for 500 credits. it is much costlier than LeadLeaper. But it's worth trying for free.
AnyBiz is a sales automation and email lookup software that powers 1000s of businesses across the globe. AnyBiz is not a LinkedIn email finder or database provider. Anybiz is the only tool in the market that provide warm leads directly to your sales team.
Warm leads are the leads that show interest in your product and services. You can also be called it a positive reply. Let's see how Anybiz works.
Why Anybiz is an alternative to LeadLeaper? Because you are looking for a lead generation solution. If you are using LeadLeaper or any other service then you have to manage all the tasks such as finding contacts, creating a list, writing email content, scheduling a cold email campaign,s and then waiting for a positive reply. But Anybiz does that all task and provide you with warm leads or positive reply. It is a unique prospecting solution that no one provides in the market. Anybiz is an effective and reliable solution for lead generation that you pay only for results.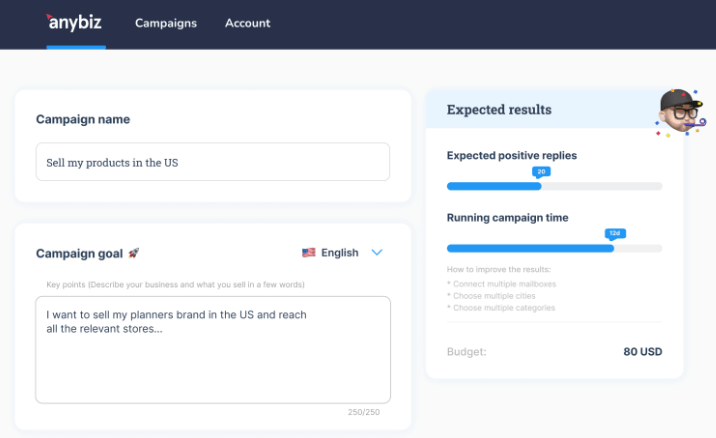 Top features of Anybiz
Generate new customers for your B2B business

Pay only for a positive reply or warm leads

Just tell what you sell and get warm leads in your inbox

Reach out to 275+ million contacts

Get the best results from the optimized campaign
Anybiz Pricing
Anybiz offers simple pricing plans. You can pay only for positive replies. Pricing starts at $97.99 for 2 positive replies and to get 10 positive replies it will cost you just $319.99. It is cheaper than other lead generation or LinkedIn email finders tools because it provides only positive replies or warm leads that matter the most.
LeadLeaper is a LinkedIn email finder tool but Anybiz is a sales intelligence tool that offers positive replies from customers directly to your inbox. You can consider Anybiz as one of the best LeadLeaper alternatives.
Conclusion
There are many alternatives to LeadLeaper. Because the lead generation software market is growing very fast. Every now and then new tools arrive in the market. But choosing the right tool is very important to scale your business.
We have personally used these tools and found great results. Especially, SalesQL, AnyBiz, Hunter.io, Clearbit, UpLead, and GrowMeOrganic are the top lead generation tools. Their pricing plans are affordable and reasonable. You can definitely try these tools as LeadLeaper alternatives. If you found this LeadLeaper alternative article useful, feel free to share. Clicking on the icon will make it easier for others to find.