AnyBiz Overview
AnyBiz is a risk-free lead generation platform that generates leads for your business. AnyBiz provides positive replies of customers directly to your inbox. It helps to save a lot of time and manual work for the sales, marketing, and lead generation team. AnyBiz is a straightforward lead generation tool that offers qualified leads for any business.
With the AnyBiz.io solution, you can focus on only qualified leads that matter the most. AnyBiz is a startup lead generation company trusted by more than 1000 happy customers. Few of the clientele are Slack, Coinbase, Macys, Airwallex, Airbnb, etc.
How AnyBiz.io works?
AnyBiz.io is a completely automated lead generation platform. Just you need to give your lead requirement and the rest AnyBiz will take care. AnyBiz uses a cold email strategy to generate qualified leads. Let's look into how it works.
#Step1: Complete the AnyBiz leads form
This is the first step, you need to fill out your lead requirement form
You need to tell AnyBiz what you sell

Choose a location where you want sell your product and services

Select your target industry

Total budget, how many positive replies do you want get

Then launch the campaign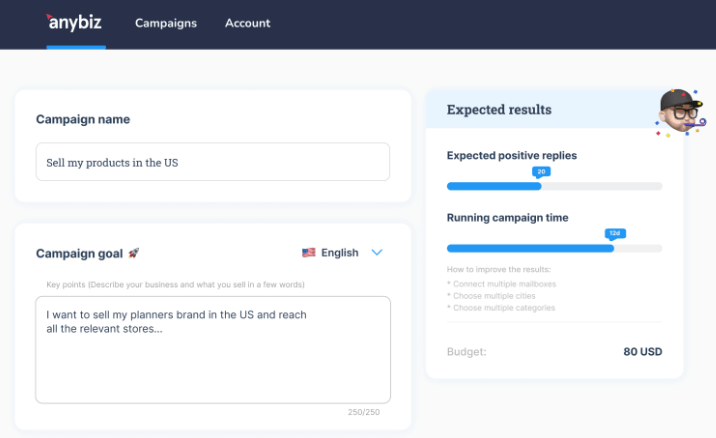 #Step2: Connect multiple mailboxes
You need to connect Outlook or Gmail or any mail clients to the AnyBiz platform. Try to connect as many mailboxes with AnyBiz to get better results.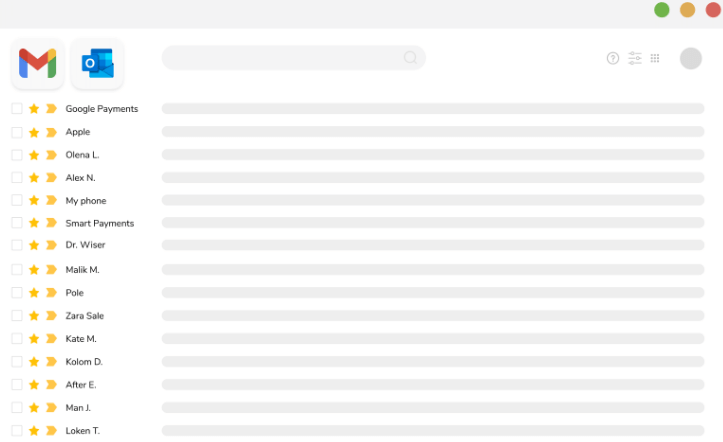 #Step3: Sending emails from your mailboxes
Once you connect your email with AnyBiz. Then AnyBiz will start sending thousands of emails to targeted prospects from your mailboxes.
#Step4: Campaign Optimization
With the help of AI, AnyBiz will start optimizing campaigns to get better results. That includes database, timing, best practices, personalization, messages, deliverability, and more. Everything will be taken care by AnyBiz.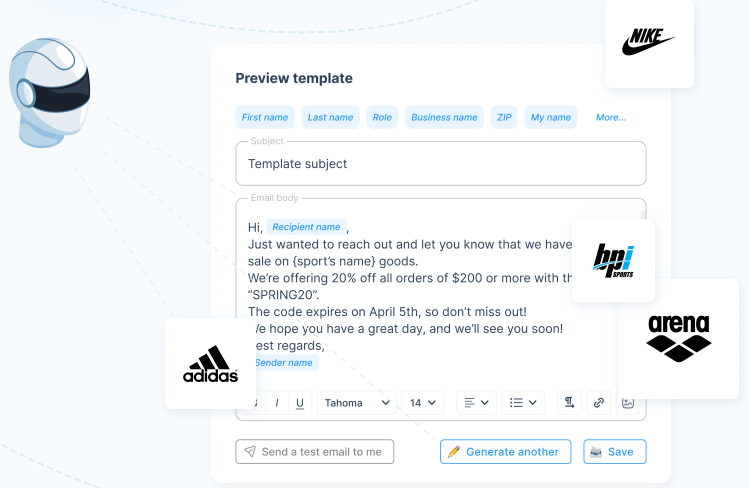 #Step5: Positive replies or Qualified leads
Now you will start receiving positive replies from customers directly to your inbox. Here you can see a few examples of the positive replies.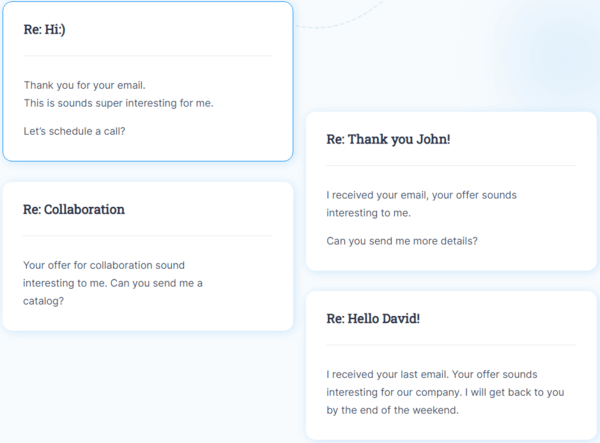 Now it's your turn to follow up with the leads and close the deals.
Best Features of AnyBiz
AnyBiz is a powerful lead generation tool that helps you to sell more products and services. Let's look into the best features of AnyBiz.
Simplified and risk-free lead generation
AnyBiz is very simple to use and generates qualified leads for your business. Anybiz is capable of handling the entire lead generation process and activity.
Automated lead generation platform
With AnyBiz you can automate the complete lead generation process. Its AI based technology can bring hundreds of new clients to your business. AI technology helps you to optimize campaigns to get the best results.
Save a lot of time for your sales and marketing team
Prospecting and lead generation is a time-consuming task. There are lots of tasks you have to do it manually. Some of them are list building, sending emails, creating personalized messages, identifying relevant prospects, and more.
By using AnyBiz.io you can overcome from these many tasks. It's specially designed to avoid unnecessary tasks for the sales and marketing team. Salespeople can be focus on interested prospects. And marketing team can focus on only engaging qualified prospects.
Extensive contact database
Over 40 million companies and 275 million contacts are available with AnyBiz. Based on your requirement it filters out contacts and runs a campaign on behalf of you and gets you new leads for your business. No need to worry about database and audience reach. AnyBiz has a database that fulfills your lead requirement.
Improves productivity of sales and marketing
Lead generation is a hectic process that slows down sales and marketing productivity. By using AnyBiz you will get ready-made leads directly to your inbox, who are interested in your product and services. Instead of generating leads, your sales and marketing team will get more time to work on proposals, demos, and closing deals.
Cost-effective and powerful cold outreach solution
AnyBiz offers a cost-effective cold outreach solution. For getting 16 positive replies, it will just cost you $79. No need to pay for negative replies or campaigns. AnyBiz pricing is completely on positive replies. Its effective lead generation capability is worth trying.
Generate qualified leads in a short span of time
If you are looking for leads in a short period of time and have limited resources, then AnyBiz becomes the right choice for you. Just give leads requirements and the rest will be taken care by AnyBiz.
Pay only for positive results
AnyBiz can charge only for positive replies like "Yes, I'm interested", "Call me back", "Please send me more information", etc.
AnyBiz is one of the easiest ways of generating leads for your business. It helps especially for startups, business owners, co-founders, marketers, agency owners, and Amazon sellers to boost revenue and sales.
AnyBiz Pricing Plans Reviews
AnyBiz offers a flexible and reasonable pricing plan. You can pay only for customers really interested in your product and services. One of the affordable lead generation solutions for any business.
AnyBiz charges $4 per positive replies. No credit card and setup fees are required. There are several plans you can choose that are right for your business.
Suppose you need 16 positive replies, it will cost you $79.90
Suppose you need 50 positive replies, it will cost you $249.56
Camping can run until you get expected positive results.
AnyBiz Pros and Cons
Pros

Cons

Cost-effective lead generation platform

Save time and money

Pay for only positive customers replies

Easy to setup and get started within a minute

Get entire campaign results in the dashboard

Offer Zoom, Chat, and Email support

No setup and subscription fee

Simple and straightforward pricing

Automated campaign optimization features

Trusted and risk-free lead generation tools

Newly started lead generation company

No monthly plan and time limit
Is AnyBiz the right tool for your business?
Yes. AnyBiz is an outstanding lead generation company that is impressive with hassle-free solutions. One of the perfect solutions for those who are struggling to get new leads. In AnyBiz you have to pay only for positive replies and it makes the job easy for many business owners.
Generally, AnyBiz solution is perfectly fit for entrepreneurs, startup owners, agency owners, Amazon sellers, marketers, and salespersons to generate new leads for their business. AnyBiz is capable of finding new leads for any business in the world, so try using AnyBiz lead generation solution.
Final AnyBiz Reviews and Rating

AnyBiz Alternatives and Competitors
Currently, there are no alternatives and competitors for AnyBiz. Since it is a challenging and demanding solution, in near future we will see many competitors and alternatives for AnyBiz. But for now, AnyBiz is the only solution for getting leads through cold email outreach.