Are you looking for QuickEmailVerification Alternatives? Then there are many email verification service providers that you can consider as alternatives to QuickEmailVerification. QuickEmailVerification is a great email verification software. But if you are looking for cheaper alternatives to QuickEmailVerification. There are many options available to you.
In this article, we will discuss QuickEmailVerification alternatives and competitors' pricing, features, support, reliability, and accuracy. Let's dive into the details.
QuickEmailVerification Alternatives: An Overview
If you want a quick overview of QuickEmailVerification Alternatives. Then this comparison table guides you to choose the cheapest email verification software for your business.
| | | | |
| --- | --- | --- | --- |
| Email Verification Software | Number of Emails/Credits | Price | Free Trial |
| QuickEmailVerification | 2,000 | $16 | Get 100 Free Credits |
| MyEmailVerifier | 2,000 | $5.04 | Get 100 Free Credits |
| EmailListVerify | 5,000 | $15 | Get 100 Free Credits |
| DeBounce | 5,000 | $10 | Get 100 Free Credits |
| Bouncer | 2,000 | $14 | Get 100 Free Credits |
| Clearout | 2,000 | $14 | Get 100 Free Credits |
| Emailable | 2,500 | $15 | Get 250 Free Credits |
| ZeroBounce | 2,000 | $16 | Get 100 Free Credits |
| NeverBounce | 2,000 | $16 | No Free Trial |
| MailerCheck | 2,000 | $20 | Get 200 Free Credits |
| BriteVerify | 5,000 | $40 | No Free Trial |
Top 10 QuickEmailVerification Alternatives
MyEmailVerifier is the cheapest alternative to QuickEmailVerification. Verifying 1000 emails in MyEmailVerifier will cost you just $2.88. Whereas QuickEmailVerification will cost you $8. There is a huge pricing difference between MyEmailVerifier and QuickEmailVerification. You can consider MyEmailVerifier as budget-friendly email verification software.
MyEmailVerifier is an email validation service that helps you verify the validity of email addresses in your database. It offers a range of email verification tools and services that can help you improve the accuracy and quality of your email list. Read MyEmailVerifier review.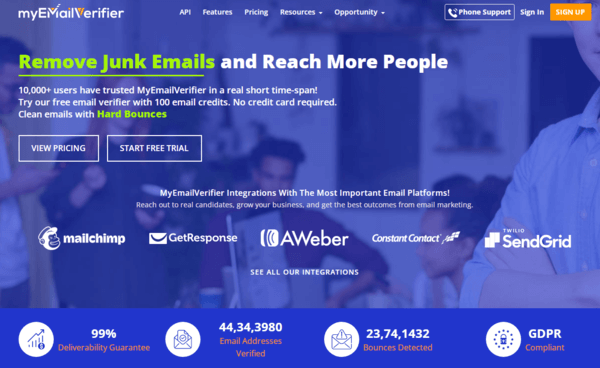 Best features of MyEmailVerifier
Real-time email verification: MyEmailVerifier offers real-time email validation, which means that you can verify email addresses as soon as they are entered into your database.

Bulk email verification: MyEmailVerifier allows you to verify large numbers of email addresses in a single batch, saving you time and effort.

API integration: MyEmailVerifier offers an API that you can use to integrate its email verification services into your own systems and applications.

Customized verification rules: MyEmailVerifier allows you to create customized verification rules to ensure that your email list meets your specific requirements.

Detailed reports: MyEmailVerifier provides detailed reports that give you insights into the quality of your email list, including the number of valid, invalid, and risky email addresses.
Overall, MyEmailVerifier is a comprehensive email validator that can help you improve the accuracy and quality of your email list, and improve email deliverability.
EmailListVerify is another cheapest alternative to QuickEmailVerification. For verifying 1000 emails it will cost just $4. On the other hand, QuickEmailVerification cost you $8. In terms of accuracy, EmailListVerify offers 99% guaranteed accuracy.
EmailListVerify is an excellent email verification platform. It is capable of reducing bounce rates, spam traps, unsubscribe rates, and disposable or catch-all emails without breaking your budget. If you switch from QuickEmailVerification software, you can reduce your email verification cost and run the campaign without any hard bounce. Read detailed EmailListVerify review.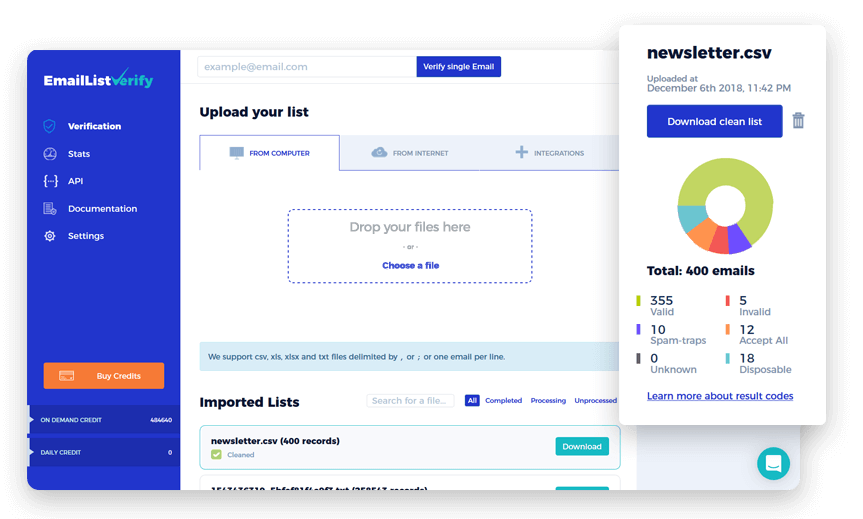 Best features of EmailListVerify
Identify hard bounces, spam traps, invalid emails, syntax errors, temporary emails, and catch-all domains

Increases inbox deliverability and open rate

Catch all bad email addresses before entering your database

Great accuracy, reliability, and cost-effective verification software

Connect your CRM and email marketing software

Flexible pricing option to fit your marketing budget

Simple and affordable full-featured email validation platform
DeBounce is a simple, fast, and accurate email verification platform. Its outperformed email verification software and great alternative to QuickEmailVerification software. Pricing is the most important factor to consider before buying any product. For verifying 5000 emails, DeBounce will charge you just $10. On other hand, QuickEmailVerification charges you $35. DeBounce is much cheaper than QuickEmailVerification software.
DeBounce is the best email verification platform for marketers to save money on marketing. It helps you to improve your email deliverability and sender reputation. DeBounce is a trusted brand by reputed companies. Make use of DeBounce to boost your email marketing performance.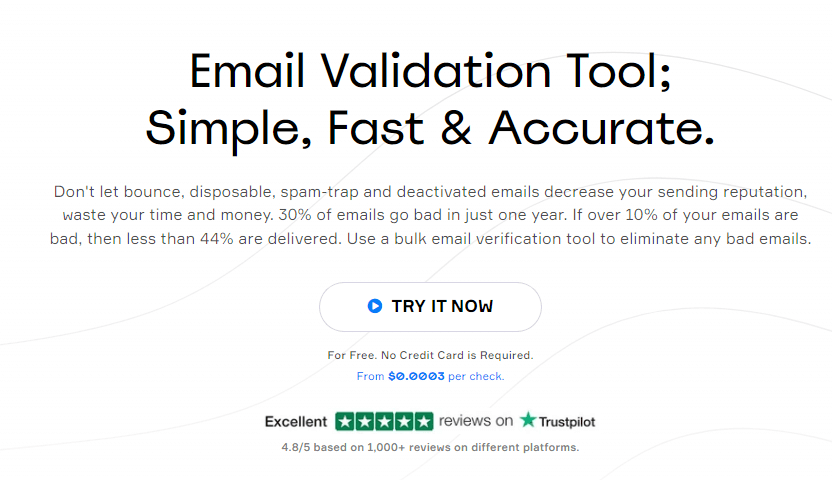 Best features of DeBounce
Cheapest bulk email verification platform

Minimize bounce, spam, and unsubscribe rate

Email validation API for real-time verification

Simple and reliable user interface

Offer free tools like email verification and email extractor

98% guaranteed email deliverability

Easy integration with WordPress, Zapier and ESPS
Sign Up Now and get 100 FREE credits
Bouncer is an outstanding and cost-effective bulk email validation platform. It uses advanced email verification techniques that enhance your email accuracy and deliverability. Bouncer is the best alternative to QuickEmailVerification software.
Bouncer email list verification services used by reputed companies in the industry such as BigMailer, WoodPecker, MindFire, Job Circuits, MulBerry Media, and more. Read Bouncer review.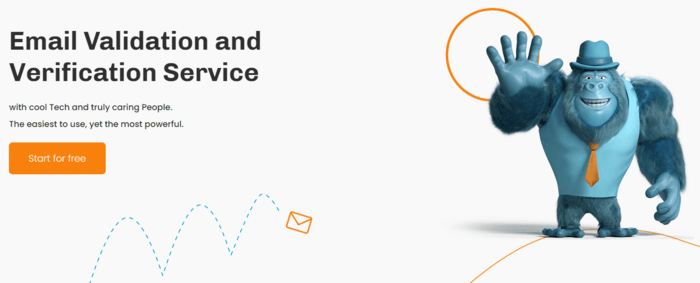 Best features of Bouncer
Boost engagement rates

Improve sender reputation and inbox placements

Excellent customer support

Clear and detailed reporting

Secure and reliable list verification software

Comfortably integrate Bouncer with email marketing platforms

API service for real-time bulk email verification
ClearOut is another option for QuickEmailVerification. ClearOut is a powerful bulk email verification software that can help you increase the reach of your marketing campaigns by lowering the bounce rate, spam, and wrong email addresses.
ClearOut is not the only email verification service provider. It also offers an email-finding tool that is capable of finding the emails of any prospects. Clearout can be used for both email verification and email discovery.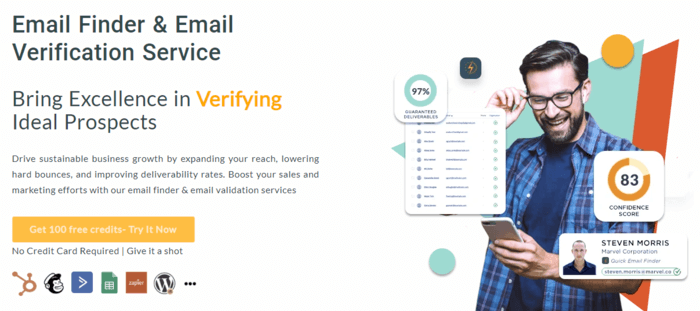 Best features of ClearOut
Guaranteed email deliverability

Fastest turnaround

Affordable pricing plans

20+ refined email validation checks

Discover the email address of your leads

Protect your sender reputation and avoid being penalized

Increase your ROI by using a high-quality database and accurate leads
If you're looking for the most accurate & secure email checker then look no further than Emailable. With over 100 million emails checked, Emailable is the leading provider of email list cleaning services. Emailable is the most affordable QuickEmailVerification alternative. Try for free.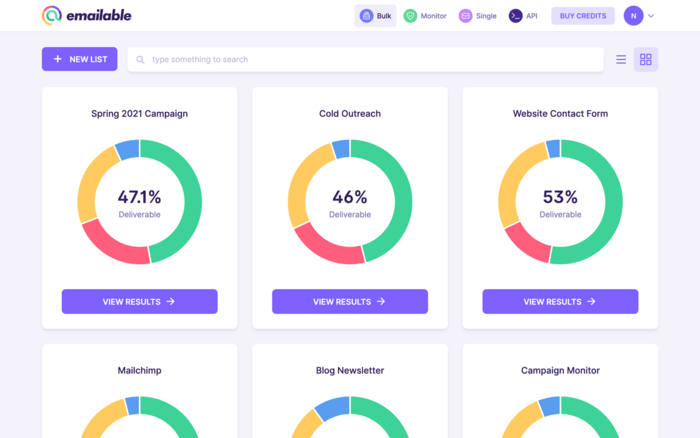 Best features of Emailable
Get 250 credits for free

Remove bad emails from your lists to reduce bounces

Increase the deliverability of your emails by up to 99%

50+ Integrations

GDPR Compliant

Using APIs, you can add email validation features to your own app

Automate your email verification

Improve deliverability and secure inbox placement

Verify emails at the point of capture

Ensure your emails hit the inbox
ZeroBounce is an email validation service and deliverability solution that provide 100% assurance. It helps you shift from bounce rates to email engagement by monitoring your marketing and reporting on a daily basis. ZeroBounce's advanced technology analyzes your emails, categorizes them into the quality of service levels, and ensures deliveries to inboxes.
ZeroBounce is a famous email verification provider and another top-class alternative to QuickEmailVerification platforms. It helps small businesses to validate their emails, save money on bounce rates and improve deliverability.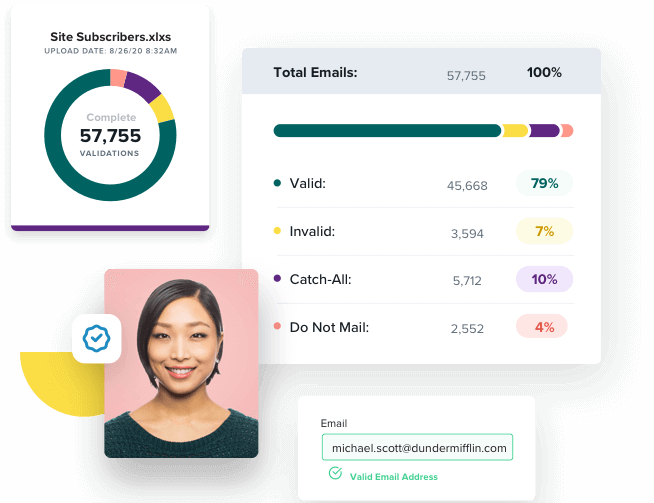 Best features of ZeroBounce
Drive up your open rates and ROI

98% email accuracy

Offer email activity data

Email scoring system for your email list

Real-time blacklist monitoring

Fast and accurate email validator

Live customer support
Get 100 free monthly email verifications
NeverBounce is a real-time email verification and email cleaning service that makes email marketing more effective for small, medium, and enterprise businesses. NeverBounce's real-time email verification and email cleaning services are trusted by over 125,000 users. NeverBounce is another best alternative to QuickEmailVerification.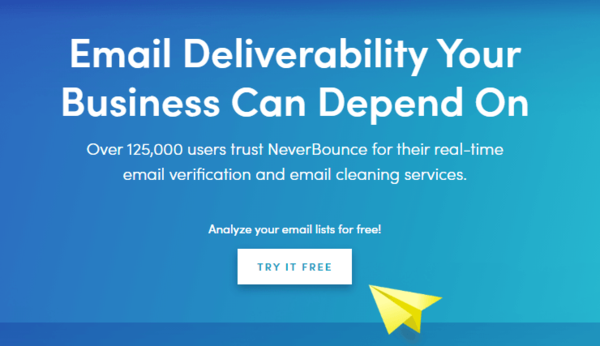 Best features of NeverBounce
Deliver up to 99.9% of your emails, guaranteed

Seamless API

Instant bounce analysis

Email, Phone, & Live Chat are available when you need them

The industry's #1 trusted cleaning solution

Time is money. Clean 10k emails in as quick as 3 minutes
MailerCheck is another fantastic alternative to QuickEmailVerification. MailerCheck is a world-class email verification and deliverability testing tool. By verifying, analyzing, and cleaning your email lists, you can increase your deliverability and reach the inbox.
View detailed usage reports on all of your email activities to help you optimize your list and improve how you collect email addresses. MailerCheck integrates with email marketing tools such as MailerLite, Sendinblue, and Mailchimp, or you can integrate it into your workflow using Zapier and custom API calls.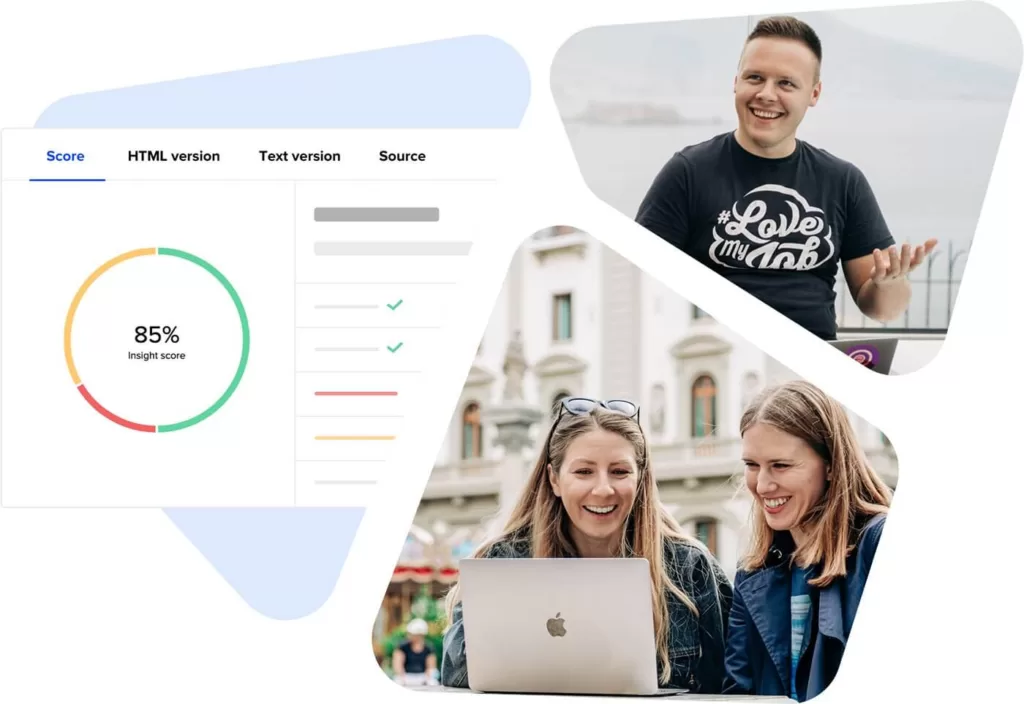 Best features of MailerCheck
Uses 3 Simple steps for email verification

Offer email insights to maximize deliverability and open rate

24/7 customer support

Get 200 free credits

Test and optimize email content for better inbox placement

With your verified email list, you can expect a 98%+ delivery rate

12+ years of email deliverability expertise

Integrate email verifier with your favorite apps
BriteVerify is the industry's most experienced contact verification solution, offering secure, scalable validation to help you build and maintain an actionable database, reach more people, and communicate more effectively. BriteVerify is a last but not least alternative to QuickEmailVerification.

Best features of BriteVerify
Create and keep a clean, usable database

Communicate more effectively

Secure and accurate validation you can trust

Integrate with your existing email marketing tools

Offer complete data management and email deliverability solutions
Conclusion
Though QuickEmailVerification is a solid email verification or validation platform, it isn't the best one out there. To get more value and features for the price you are paying, you must try out the platforms mentioned in this blog.
You can select the platform that best suits your budget and business requirements.