PipiLeads is a competitive email finding tool but switching to PipiLeads alternatives can boost your list-building efforts while saving you money each month. Although PipiLeads has been a popular choice for beginners. But it's losing a lot of customers due to many reasons.
The first reason is support; support is inadequate, and the process for connecting the customer support team is outdated. PipiLeads provides insufficient email credits and features that is not enough for large-size marketing and sales team. Overall, PipiLeads is not a cutting-edge lead generation solution.
There are numerous LinkedIn email finder tools on the market. However, each tool has advantages and disadvantages. Choosing the best email finder tools is challenging. As a result, we've compiled a list of the PipiLeads alternatives.
Since pricing is the most important factor for buyers to consider. We have compared PipiLeads pricing plan with competitor pricing plans. So here you go.
| | | | |
| --- | --- | --- | --- |
| No. | Email Finder Tools | Free Plan | Paid Plan Starting Price |
| 1 | PipeLeads | 50 credits/mo | $29.95/mo, Get 1,250 credits |
| 2 | SalesQL | 50 credits/mo | $39/mo, Get 1500 credits |
| 3 | Kendo | 50 credits/mo | $34/mo, Get 1500 credits |
| 4 | Snov.io | 50 credits/mo | $33/mo, Get 1000 credits |
| 5 | Clearout | 100 credits | $21/mo, Get 3000 credits |
| 6 | UpLead | 5 credits/mo | $74/mo, Get 2,040 credits |
| 7 | Hunter.io | 25 credits/mo | $49/mo, Get 500 credits |
| 8 | Skrapp.io | 50 credits/mo | $39/mo, Get 1000 credits |
Here is the list of 7 Best PipiLeads alternatives
SalesQL is the ultimate LinkedIn email finder used by many marketing and sales professionals. Install the SalesQL extension and find accurate, updated emails and phone numbers of prospects from Linkedin.
SalesQL is compatible with Sales Navigator, Recruiter, Recruiter Lite or RPS. Get over 40+ data points per contact, such as name, job title, location, company name, work emails, etc. It allows you to extract contacts in bulk from Linkedin searches.
Integrate Salesql with your favorite apps such as Hubspot, Zoho, Pipedrive, Salesforce, Salesloft, Outreach, Gmail, Mailchimp, and more. Learn more about SalesQL features here.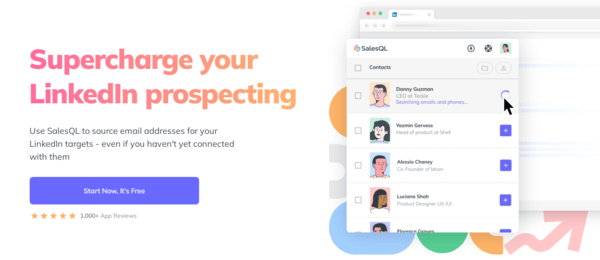 Pricing
SalesQL has advanced features with reasonable pricing plans. Every month, it provides 50 free email credits to test the tools' capabilities. Paid plans range in price from $39/month for 1500 credits to $89/month for 10,000 credits. Pricing plans are more affordable than PipiLeads. SalesQL is one of the top PipiLeads alternatives.
Kendo is the simplest and most straightforward email finder tool, that reveals prospects' contact information with a single click. Kendo gives you access to a database of over 150 million contacts. Kendo is trusted by over 60,000 businesses for lead generation.
Contact your prospects directly using real-time validated personal/work email addresses and direct mobile phone numbers. Kendo's Chrome extension works with LinkedIn, Sales Navigator, and Recruiter.
Create verified email lists by simply uploading your contact list to Kendo bulk search. With Kendo's powerful API, you can automate lead generation and prospect data enrichment. Directly import contact information into your preferred CRM or ATS.
Kendo is another PipiLeads alternative that you can try. You can read Kendo's email app review for more information.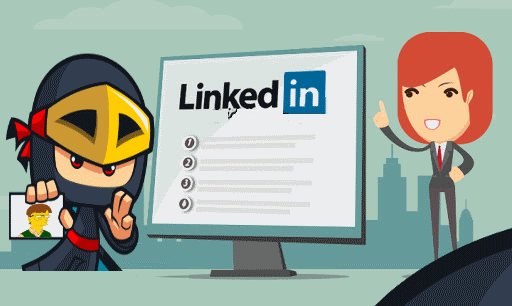 Pricing
Kendo's free plan includes 50 free credits per month for finding emails. Paid plans range from $17 per month for 600 credits to $129 per month for 10,000 credits.
Snov.io is a comprehensive prospecting tool that includes everything you need to launch a cold email campaign for your sales team. The main features of Snov.io include an email finder, email drip campaigns, email warmup, technology checker, email verifier, sales CRM, and other tools.
Snov.io offers far more features than PipiLeads. Snov.io is a complete prospecting tool with a highly responsive support team, whereas PipeLead is just an email finding too with limited features.
Using the Snov.io email finder, you can generate more leads and deals. Ideal for teams in sales, lead generation, business development, outreach, and recruitment.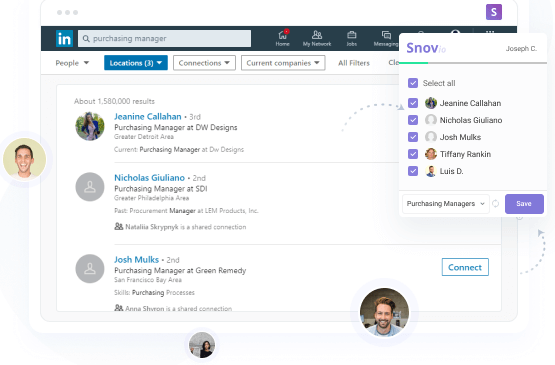 Pricing
Snov.io offers competitive pricing plans. The free plan comes with 50 email credits every month. Paid plans start at $33/mo for 1000 credits to $615/mo for 100000 credits.
Clearout is another alternative to PipiLeads. One of the most effective bulk email finder tools that provide accurate contact information of your ideal prospects. Use Clearout to expand your reach, reduce hard bounces, and improve deliverability rates to drive long-term business growth with a 4-fold increase in ROI.
Using the email finder, you can improve your cold outreach efforts. Clearout is trusted by over 30,000+companies to find qualified leads in bulk. It has useful features such as an email finder, bulk email verification, phone number validation, and others.
Clearout is mainly used for email verification. Email finder is just an add-on product. You can find emails in the excel database. But not directly from Linkedin.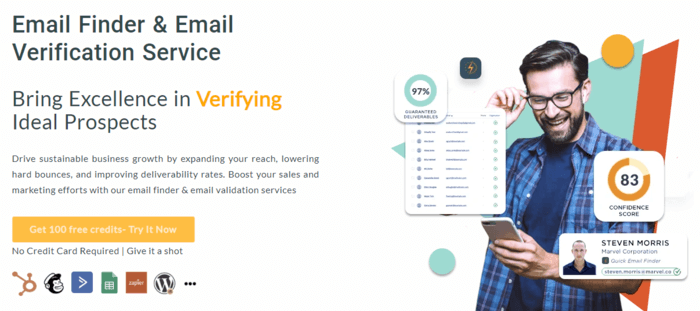 Pricing
Clearout offers transparent pricing plans. The free plan comes with 100 credits for free. For email finding, it uses 4 credits per contact and for verification, it uses 1 credit per contact.
Paid plan starts at $21 for 3000 credits to $1,100 for 1 million credits. You can also choose Pay As You Go model as per your requirement.
UpLead is a top-class B2B contact database provider with 95% data accuracy. UpLead allows you to extract prospects from Linkedin as well as you can use a huge internal database of +85M contacts. It provides 50+ data filters to help you precisely target your ideal prospects.
With UpLead you can save a lot of time finding leads on Linkedin. You can use the +85M database to find the right prospects for your business. UpLead is the highest-rated lead intelligence tool that provides all information about prospects.
UpLead outperforms Pipileads in terms of features, accuracy, support, data quality, and other factors. UpLead is one of the best Pipilead alternatives you can consider.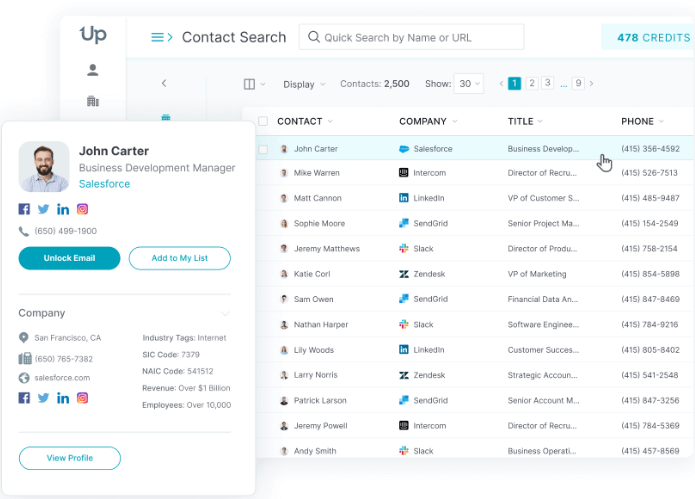 Pricing
UpLead offers a flexible pricing plan that can fit any business. In the free plan, you will get 5 credits to test the data quality.
Paid plan starts at $74/month for 2,040 credits to $299 for 12,000 credits.
Hunter.io is another powerful email finder tool that you can use on behalf of Pipileads. Hunter.io chrome extension can help to get anyone's email address on Linkedin or any other website. It offers full-service cold email campaign solutions, including an email finder, email verifier, domain search, cold email campaigns, and seamless integration with third-party apps.
Effortlessly reach out to decision-makers with highly accurate contacts. Hunter.io is used as a prospecting tool by over 3,000,000 professionals. It is one of the most effective email-finding solutions on the market.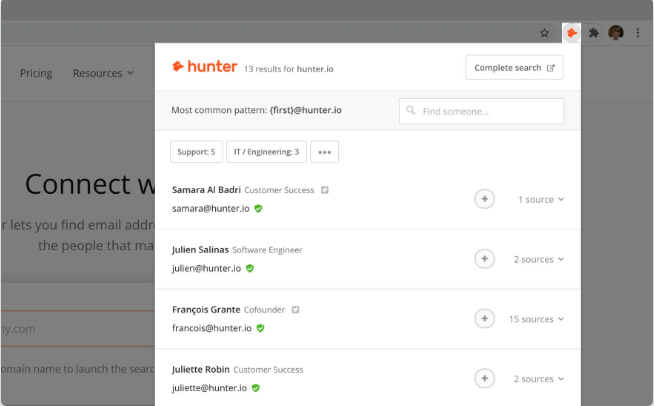 Pricing
Hunter.io offer reasonable pricing plans that any business can afford. The free plan gives you 50 credits per month. And Paid plans start at $49 for 500 searches to $399 for 30,000 searches.
Skrapp is an email lookup tool that finds professional email addresses from Linkedin. Skrapp is another PipiLeads alternative you can think about. Use Skrapp to gather relevant business information and connect with the people who matter.
Skrapp is a reputable email lookup service used by over 2,000,000 professionals from various industries. Build your lead pipeline quickly and connect with your target audience to increase conversions.
Pricing
In Skrapp's free plan you will get 50 credits every month. Simply install the Skrapp chrome extension and start building your contact list.
Paid plans start at $39/mo for 1000 emails to $239 /mo for 50,000 emails. Skrapp provides the most valuable and cheapest plan in the market.
Conclusion
These are the top PipiLeads alternative you can try. All of the email finder tools on this list offer a free plan that allows you to create a contact list and learn how to use it. In terms of retrieving search results, you might feel some difference in each tool. Some tools will return results for every query, while others may not give you results for every query.
You can use any of the email-finding tools listed above. Choose the best plan for your company based on your budget and needs. I hope this article has assisted you in determining the best PipiLeads alternatives.