If you've harnessed the power of GrowMeOrganic's features but need more, we might have the best GrowMeOrganic alternatives to help you out!
Email finder and sales automation tools are more effective for generating high-quality leads. It saves a lot time and manual effort of the sales team. Using a lead generation tool you can achieve higher sales and revenue targets.
GrowMeOrganic is one of the famous lead generation and sales automation tools. You can use it to autopilot the entire lead generation activity. If you already using GrowMeOrganic or searching for better GrowMeOrganic alternatives then they are multiple options for you.
So to help you choose the best GrowMeOrganic alternative, we have analyzed the top 10 lead generation software on the basis of features, pricing, and customer support available.
Read on to find out more.
GrowMeOrganic Alternatives: An Overview
If you are a bit impatient to discover the best solutions, here's a comparison table with the best GrowMeOrganic alternatives we'll see today:
| | | | |
| --- | --- | --- | --- |
| Lead Generation Software | Starting Price | Free Trial | Free Plan |
| GrowMeOrganic | $39/Mo, Find up to 2000 contacts | 14 days | Not Specified |
| SalesQL | $39/Mo, Find up to 1000 contacts | Yes | 100 Credits/ Month |
| PhantomBuster | $48/Mo, Find up to 500 contacts | 14 days | 50 Credits/ Month |
| MobileMonkey | $119/Mo, Find up to 3000 contacts | 14 days | Not Specified |
| Waalaxy | €80/Mo, Find up to 3000 contacts | Yes | Not Specified |
| FindThatLead | $49/Mo, Find up to 5000 contacts | Yes | 50 Credits/ Month |
| Dripify | $39/Mo, Find up to 2500 contacts | 7 days | Not Specified |
| Closely | $49/Mo, Find up to 500 contacts | Yes | 50 Credits/ Month |
| Zopto | $215/Mo, Find up to 2500 contacts | No | No |
| Dux-Soup | $11.25/Mo, Unlimited | Yes | 100 Credits/ Month |
| UpLead | $74/mo, Get 2,040 credits | Yes | 5 Credits/ Month |
Considering switching from GrowMeOrganic? Or not liking the deal there?
If you're looking for options beyond the GrowMeOrganic Email Finder and Sales Automation, there are a number of great alternatives out there. Best of all, many of them are free to use!
Let's take a closer look at them!
SalesQL is the cheapest alternative to GrowMeOrganic. SalesQL is a prospecting tool that helps marketers and salespeople find contact details for prospective customers. It is a free, web-based software that provides enriched data for all of your B2B prospects. SalesQL allows marketers to identify prospects by industry, vertical, job title, and location.
It's one of the best lookup tools to find anyone's direct, business email addresses & phone numbers. SalesQL offers the highest retrieved results and smoothly works on Linkedin's free and paid versions. For more information read the SalesQL review.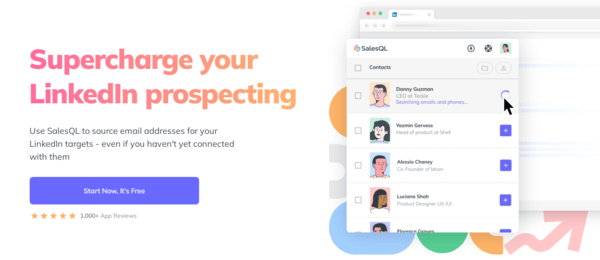 SalesQL Pricing
SalesQL free plan provides you with 50 credits for free.
SalesQL paid plan starts at $39/ month which includes 1000 credits and all required features.
PhantomBuster is one of the best GrowMeOrganic alternatives. PhantomBuster is an all-in-one, powerful lead-generation software that works on all major networks, including Google, Facebook, Twitter, and LinkedIn. With more than 100 Phantoms and Flows available, PhantomBuster can help you increase your sales without wasting time or money!
There are ready-made workflows for every task you do on social media networks such as extracting data, generating leads, finding emails and phone numbers, sending invites, sending emails, posting content, liking and commenting, data enrichment, and more. PhantomBuster offers more features than GrowMeOrganic. It is the right replacement for GrowMeOrganic.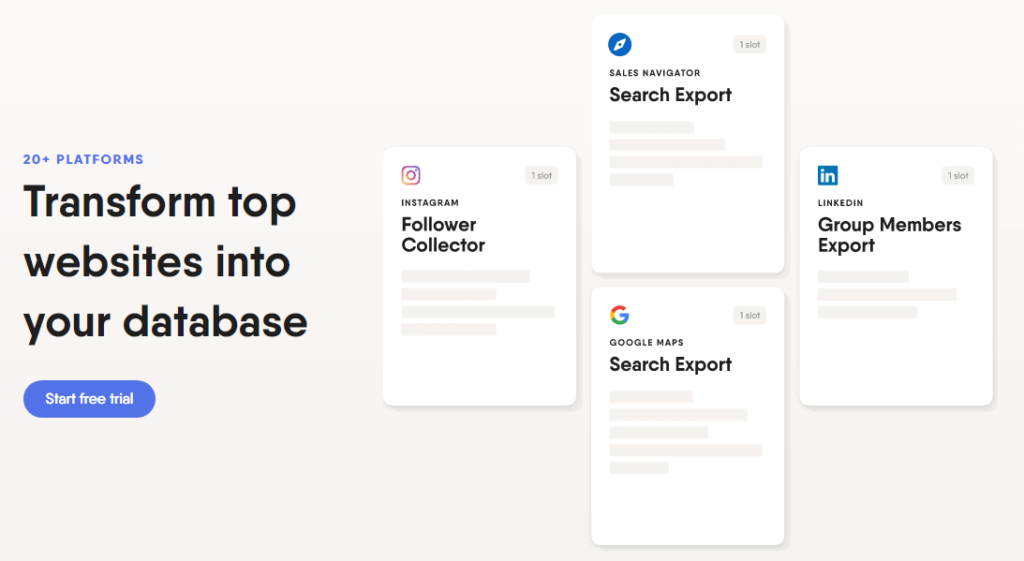 PhantomBuster Pricing
Signup and get 14-day free trial that includes 50 email credits, 5 automation flows, 2 execution time.
PhantomBuster paid plan starts at $48/ month that includes 500 email credits, 5 automation flows, 20 execution time.
MobileMonkey is an excellent GrowMeOrganic alternative. MobileMonkey is one of the best sales automation and lead generation software. It can help you generate qualified leads, allowing you to automate the process of following up with potential customers.
With MobileMonkey you can automate a series of tasks so that they can be performed without any human input, which saves time and allows them to focus on what's important. Discover how this system works to increase efficiency and learn about how it can help your company!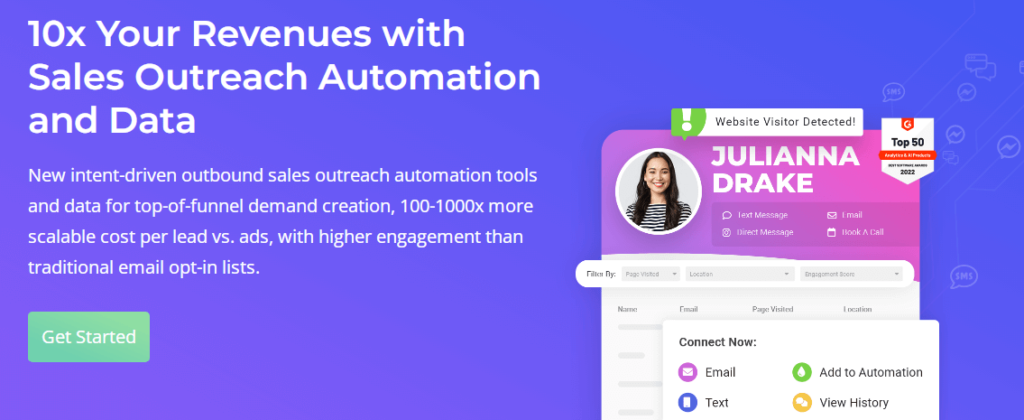 MobileMonkey Pricing
14-day Free Trial with all features.
MobileMonkey paid plan starts at $119 / month that includes 1 multi-channel inbox, 1,000 send credits, 3,000 contacts, and 1 user.
For an unlimited plan, you can contact the MobileMonkey sales team.
Whether you have a company that specializes in Sales, Marketing, IT Services, Banking or Insurance and so on, LinkedIn is the fastest and most reliable platform to find potential prospects. However, how can it be used to generate leads? Waalaxy is an AI-powered software that performs two functions: firstly, it ensures your profile remains active by automatically sending invitations to others and following up with them regularly; secondly, it automates your lead generation by suggesting people whom you might want to contact.
Waalaxy is the superb altnetives to GrowMeOrganic. It is the perfect tool for Linkedin lead generation. With Waalaxy you can easily find potential clients within a short period of time. Try for free and explore all the Linkedin automation features of Waalaxy.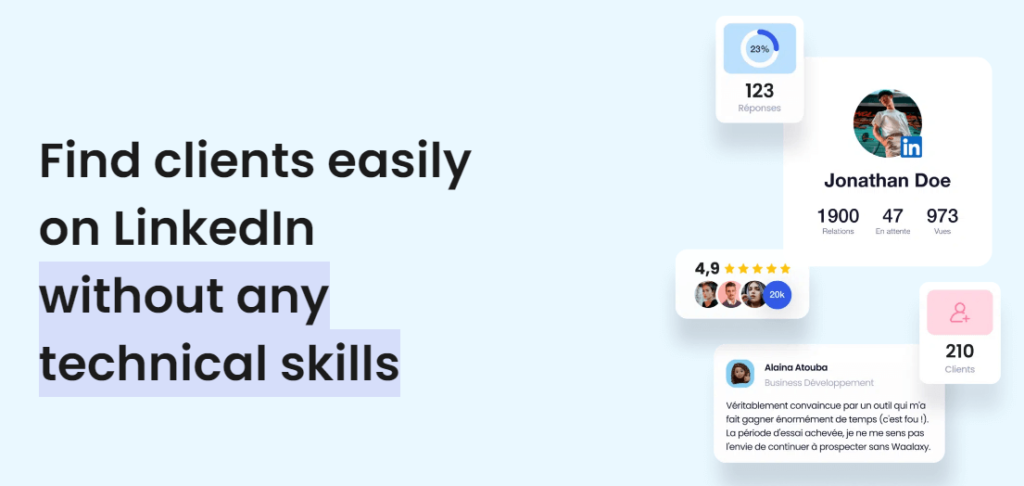 Waalaxy Pricing
Signup and start for free includes 400 invitations per month, Pre-filled message templates, and LinkedIn features.
Waalaxy paid plan starts at €28 /month that includes LinkedIn features, 800 invitations per month, Pre-filled message templates, Cloud-based solution, and Live chat with real humans 5/7d.
FindThatLead is the leading b2b lead generation software with every tool to generate highly qualified leads. FindThatLead makes it easy for you to find and reach out to your potential customers. It takes just a few clicks to find that ideal customer and start the conversation. FindThatLead helps to build relationships with your customers by finding leads on social media, helping you stay in touch with them, and nurturing leads until they're ready to buy your product or service.
FindThatLead is the most effective GrowMeOrganic alternative. Its features are more advanced than GrowMeOrganic. Even the customer service team is quick and responsive. Try FindThatLead for free and reach thousands of potential customers.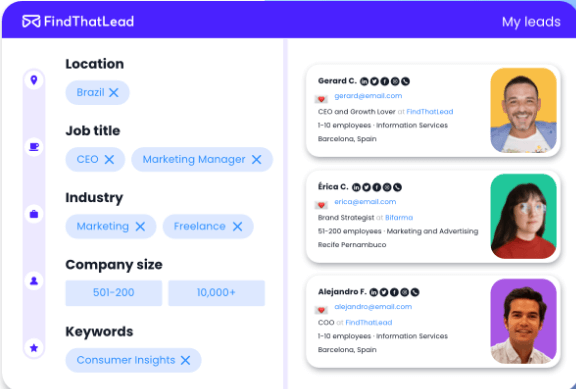 FindThatLead Pricing
Signup and get 50 email credits for free.
FindThatLead paid plan starts at $49/ month that includes 5000 monthly credits, 2 campaign accounts, Send up to 400 daily emails, and 1 user.
Dripify is a fantastic Linkedin automation and prospecting platform that help to generate qualified leads for your business. Dripify works on only Linkedin and you can automate your entire Linkedin prospecting activity. Dripify is one of the great GrowMeOrganic alternatives you can consider.
How is Dripify different from GrowMeOrganic? GrowMeOrganic all in one lead generation platform but Dripify is the Linkedin lead generation platform. If you rely more on Linkedin prospecting then Dripify is the perfect lead generation platform for you.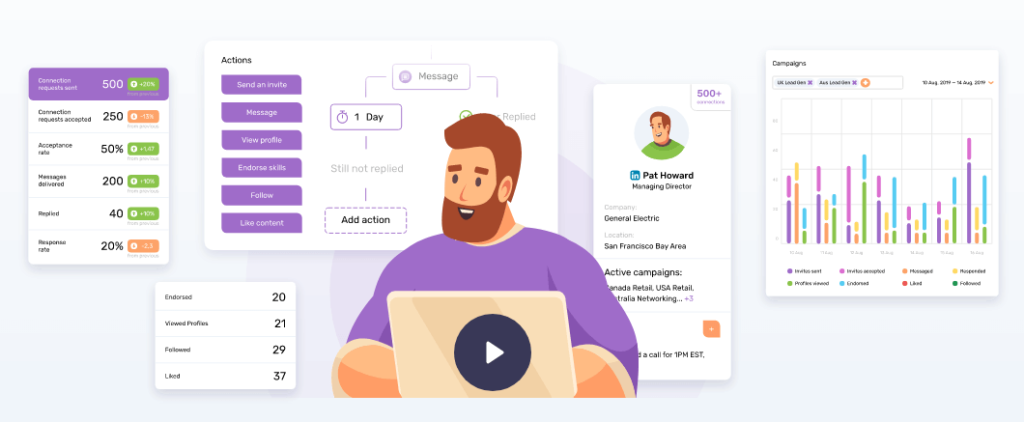 Dripify Pricing
Try Dripify for free. You will get 7-day free trial with all features.
Dripify paid plan starts at $39/ month that includes 1 user, daily quotas, advanced dashboard & reports, and complete performance automation.
Closely is another alternative to GrowMeOrganic. Closely is a simple sales automation tool that helps you generate more sales at a lower cost. Hit your sales target with a world-class lead generation platform. You can find leads, engage them, and convert them into customers with the autopilot prospecting system.
With Closely, you can automate entire lead generation tasks and generate highly qualified leads for your business. Install the Closely chrome extension and scrap the LinkedIn profiles within a fraction second. Review Closely features and benefits here.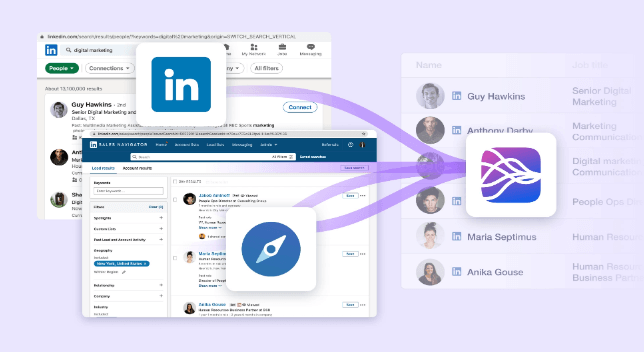 Closely Pricing
Start for free and get 50 credits.
Closely paid plan starts at $49/ month that includes 500 credits for 1 user.
Zopto is one of the Linkedin lead generation platforms that help you to simplify prospecting efforts and grow your business. You can consider Zopto as a GrowMeOrganic alternative that offers powerful features and dedicated support.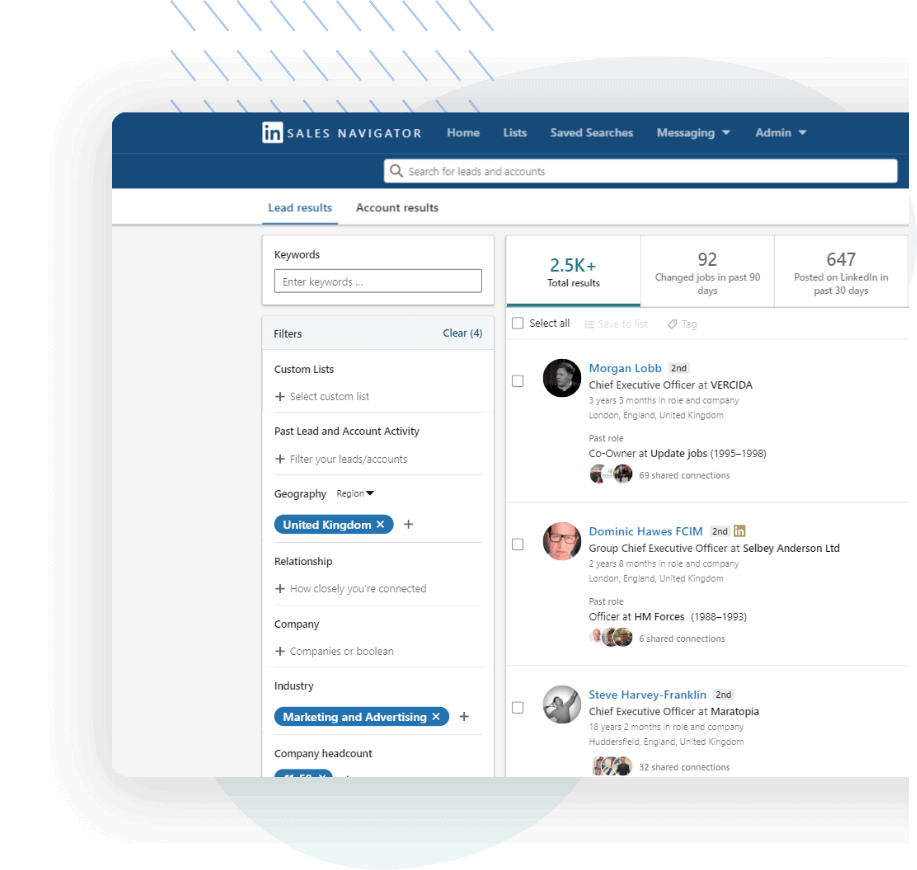 Zopto Pricing
Zopto does not offer a free plan.
Zopto starts at $215/ month that includes all features such as Auto profile views, follows, endorsements, post liking, Email: enrichment, verification and invites, LinkedIn post scheduler, and more.
Dux-Soup is the most popular LinkedIn automation platform. And another best GrowMeOrganic alternative. More than 70,000 sales and marketing professionals use Dux-Soup for their lead generation solution.
It helps you create an accurate and responsive prospecting list. Dux-Soup can be used on Linkedin to automate complete LinkedIn activities. Install the Dux-Soup chrome extension to generate high-quality leads for your company. Try Dux-Soup for 14 days for free and get full access to all of its features.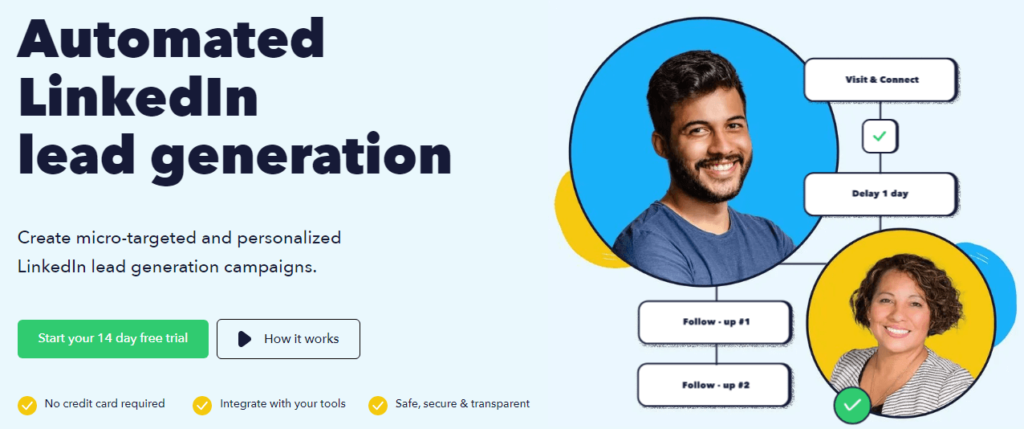 Dux-Soup Pricing
Signup and get started with the free plan that has basic features like Scan/visit profiles etc.
Dux-Soup paid plan starts at $11.25/month that includes Sending connection requests, Sending direct messages and InMails, Auto endorsing, Exporting to CSV, importing CSV lists, and more.
UpLead is the full-featured B2b lead generation platform. It has more than 100 million b2b contacts. Get easy access to your ideal prospects and reach out to prospects within minutes. UpLead provides 95% database accuracy.
UpLead is the best alternative to GrowMeOrganic in terms of data accuracy. You can use Uplead as a b2b lead generation partner. It has a huge b2b professional database so you reach any professional, industry, country, title, or company in the world.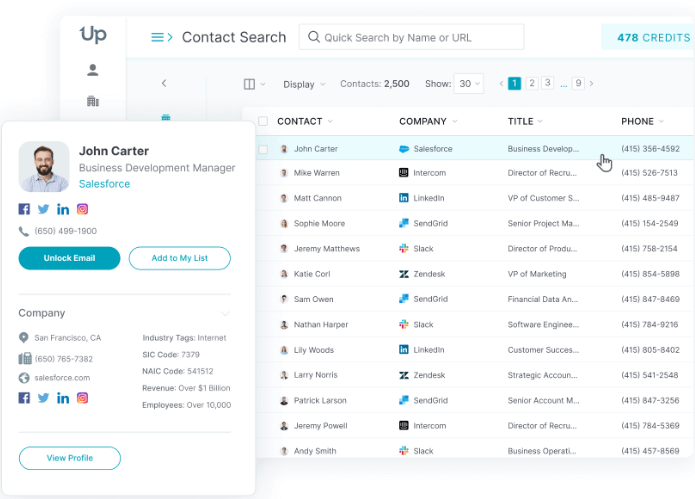 UpLead Pricing
Try for free, it offers 5 credits for free.
UpLead paid plan starts at $74/month and gets 2,040 Credits. You will get access to over 100 million databases filtered out based on your requirement.
Conclusion
Mentioned all sales automation and lead generation platforms are worth trying for free. Take a free tour of each software and decide which one is the right fit for you. All these lead generation software has pros and cons. These lead generation software definitely improves your sales and revenue without any doubts.
Especially try using SalesQL, PhantomBuster, MobileMonkey, Dux-Soup, and FindThatLead which offer advanced and innovative features that boost sales and revenue. You can also have look at Best LinkedIn Prospecting Tools to increase your productivity.
We hope that by providing you with this list of potential GrowMeOrganic alternatives, you will be able to achieve all the success you need with other tools in your arsenal.