If you're not happy with MailReach email warm-up service, or if you want to find the best alternative to MailReach. Then we are here to help you. We will review one by one MailReach alternatives, analyze the pros and cons of each one and help you pick the best one for your business.
Email warm-up is an essential factor in increasing email deliverability and inbox placement. To deliver your marketing emails to designated inboxes, your email should have a good sender reputation among ISPs. Email warm-up tools help to increase and build a good sender reputation by warming up your domain and IPs.
All email warmup tools include an automated warmup option, allowing you to relax while it manages your entire email deliverability. We have shortlisted the 8 best MailReach alternatives that solve your email deliverability issue right away.
MailReach Alternatives: An Overview
If you are in a hurry! Want to know Mailreach alternatives quickly then this comparison table will give you enough idea of which one to choose as an email warmup service provider. These are the most powerful and effective email warmup platforms to explore.
| | | |
| --- | --- | --- |
| Email Warmup Tools | Starting Price | Free Plan |
| MailReach | $25/month, per mailbox | No Free Trial |
| Warmup Inbox | $12/month, per mailbox | 7-Day Free Trial |
| Warmy | $41/month, per mailbox | 7-Day Free Trial |
| Warmbox | $15/month, per mailbox | No Free Trial |
| InboxAlly | $149/month, per mailbox | 10-Day Free Trial |
| GlockApps | $59/ month | 3 Spam Tests for free |
| Folderly | $200/month, per mailbox | 7-Day Free Trial |
| Mailwarm | $69/month, per mailbox | No Free Trial |
| Lemwarm | $25/month, per mailbox | 14-Day Free Trial |
8 Best MailReach Alternatives
In this section, we will understand in detail about top email warmup solution providers. And see what the difference between MailReach VS other email warmup tools is.
Warmup Inbox is the cheapest alternative to MailReach. It is a fantastic email warmup tool that effortlessly improves your email deliverability and inbox placements. By using Warmup Inbox you can solve all your deliverability problems.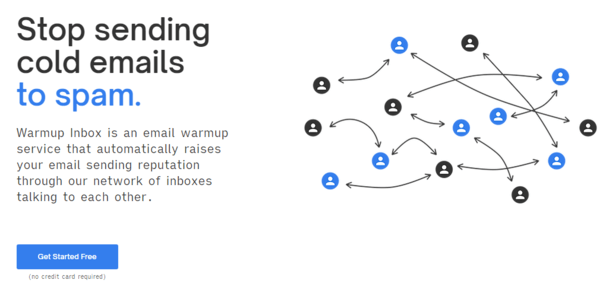 Main benefits of using Warmup Inbox
You can reach more leads and customers

Avoid landing your email in the spam or junk folder

Monitor and improve your sender's reputation

Prevent landing your email in the promotion folder

Receive an alert if something goes wrong in your email campaign
For more details, you can read the Warmup Inbox review.
Warmup Inbox Pricing
Warmup Inbox is a cost-effective email warmup tool. Warmup Inbox pricing is based on per email account. The basic plan will cost $12/per month with a warmup capacity of 50 emails per day. Warmup Inbox pricing goes up to $199/ per month with a warmup capacity of 500 emails per day.
Whereas Mailreach will cost you $25/month with a warmup capacity of 90 emails per day. Mailreach is an expensive email warmup platform compared to Warmup Inbox.
If you are pricing-sensitive then Warmup Inbox is the perfect platform for you to improve your email campaign deliverability.
Warmy.io is another top-class MailReach alternative. It is known for advance features and in-depth reports. Boost your email campaign deliverability with Warmy.io automated AI warmup process. It's a fully automated email warmup platform just set up and forget.
Warmy.io automatically warmup your inbox and get ready for the email marketing campaign. It works similarly to MailReach but in a more advanced way. Easy to set up and implement in just one click.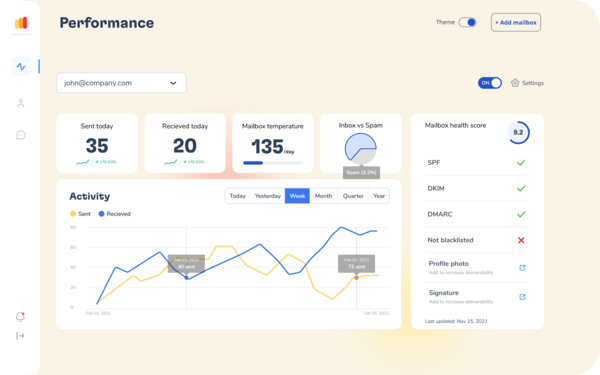 Main features of Warmy.io
Safe and reliable email warmup tool

Get your email ready for the highest email deliverability

Save time in warming up your email

Monitor the full performance of your email warmup activity

Automatically interact with your email by opening, clicking, and replying to your email

Connect with your favorite email services providers like Gmail, Outlook, SMTP, Microsoft 365, Zoho, and more.

Provide an inbox placement test to check where your emails are landing.
For more details, you can read the Warmy.io review.
Warmy.io Pricing
Warmy.io offer a competitive pricing plan. Pricing starts at $41/per month to send 100 warmup emails per day with all features. Pricing goes up to $233/ per month to send 2000 warmup emails per day.
Compare to MailReach, Warmy.io pricing is a bit higher side but it's completely worth it. Because it is a more powerful and effective email warmup tool that definitely improves your sender reputation and email deliverability.
Warmbox is one of the best MailReach alternatives you can explore. If you run a cold email campaign and having issues with email deliverability then Warmbox is the perfect email warm-up tool for you. Around 51% of marketing emails land in the spam folder. To avoid that you need to use tools like Warmbox.
Warmbox is the most effective and efficient email warmup tool. It has 35000 private networks that helps you raise your domain and IP reputation. Everyday warmup emails to be sent to these networks and real-time interaction will improve your sender reputation and the deliverability of your email. Read the Warmbox review to understand its capability, pros, and cons.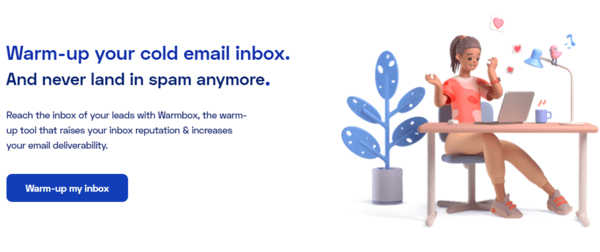 Main features of Warmbox
Sign up and get 15% discount ( Use code: WELCOME15)

Add multiple inboxes to your account

Simple to install and use

Customize warmup option to control email activity

Fully automated email warmup platform

Millions of natural and realistic email templates

Offer free IPs/Domain Blacklist and DNS deliverability checker

Monitor and analyze delivery report
There is no comparison between Warmbox and MailReach. Warmbox is a much more reliable and efficient solution to warm up your inbox safely. It offers more advance features than MailReach.
Warmbox Pricing
Warmbox offers transparent and flexible pricing plans. For 1 inbox it will cost you $15/month and you can send 50 emails/day. Similarly, 3 email accounts will cost you $69/ month and you can send up to 250 emails/ per day.
InboxAlly is the leading email warm-up platform that ensures double your open rate within 1-2 weeks! It regularly interacts with email providers and builds a good reputation for your email so automatically ESPs start landing your email in the inbox.
InboxAlly is the trusted partner for many businesses including mailing list owners, deliverability experts, agencies, and email service providers. Use InboxAlly to supercharge your marketing efforts. Send mass emails without any fear of landing in the spam folder.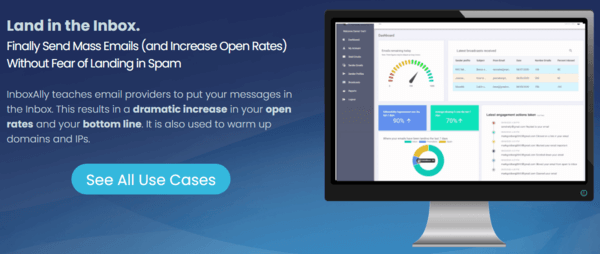 Main features of InboxAlly
Increase your open rate within 1-2 weeks

Always helps you to land your in the primary inbox

Handle all email actions like opens, clicks, moving spam to primary inbox, and replies

See all of the broadcasts you sent

Track progress out of the spam folder

Change the email warmup setting depending on the requirement

Works with any email-sending service

Set your own sending time

Offer free email spam checker
There is not much difference between Mailreach and InboxAlly. Both have similar features but InboxAlly guarantees email delivery and boosts your open rate. Whereas MailReach does not promise anything.
InboxAlly Pricing
InboxAlly offers expansive pricing plans but it guarantees definitely improving email deliverability and sender reputation. It offers 10 days free trial.
Paid plan starts at $149 / month for 1 sender profile. Send up to 100 warmup emails per day. To set up 10 sender profiles it will cost you $1,190 / month. Send up to 1,000 warmup emails per day. You can choose a plan depending on your requirement. If you want a more customized plan you can always contact to InboxAlly team.
GlockApps is one of our favorite deliverability platforms. It is an all-in-one deliverability solution that maximizes your email deliverability. With GlockApps you can run spam tests, inbox placements, DMARC checks, and all aspects of technical deliverability issues.  Learn more about How to test Inbox Placement and Spam Score in GlockApps?
GlockApps is not a direct email warmup tool. But it's a spam and inbox placement testing tool that gives you an idea of what you are doing wrong in your email campaign. Not only that it also provides you with suggestions to improve your campaign response. It is a very useful tool if you are facing big-time email delivery problems.
When you compare GlockApps with MailReach. GlockApps is a master and expert in email deliverability solutions whereas MailReach is a beginner in this field.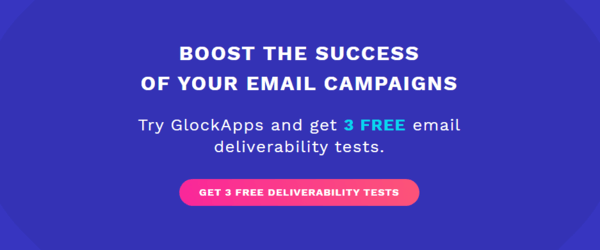 Main features of GlockApps
Take 3 free email delivery test

Enhance your email deliverability

Test inbox placement before sending the campaign

Check the spam score of your email

Check all technical email delivery problems

Get suggestions to improve open and click-through rate

Get insights on inbox placement

Get notified if there is any issue

IP and blacklisting monitoring
GlockApps Pricing
GlockApps offers a simple and affordable pricing plan. All marketers should consider this tool for better inbox placement and campaign response. It offers two pricing plans. Free and Paid plan
Free plan: You can run 3 spam tests for free including all the features.
Paid plan: It will cost you $59/ month and run 3,600 spam tests. Includes all the features to maximize your email open rate and performance.
Folderly is another popular email warmup and deliverability platform. You can consider Folderly as an alternative to MailReach. It is an AI-based platform that helps to maximize your sender reputation, open rate, click rate, and reply rate.
Folderly is one of the best-rated apps in G2, Capeterra, and TrustRadius. It is trusted by major companies including Sock Fancy, Token, Cemtrex, Federal Filling, Oncobox, Pogo, and more. After using Folderly many customers saw a drastic improvement in email open rate and conversion rate. Some of them increase the open rate by 60%. You can also try using Folderly for free.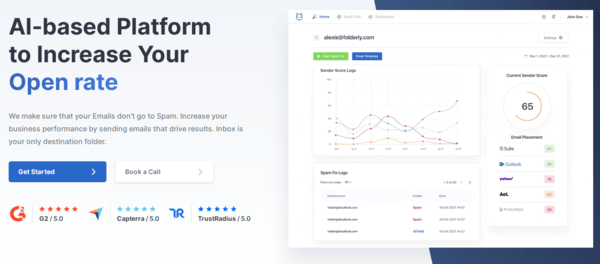 Main features of Folderly
AI-based automated email warmup service

Identify and solve domain-related issues

Highly expert and experienced dedicated deliverability team

Make sure always your email goes to the recipient's inbox

Quickly check your domain and email health

Email folder analysis

Easily integrate with ESP like Outlook, Klaviyo, Sendgrid, Sendpulse, Sendinblue, Intercom, Mailgun, and more.
Folderly Pricing
Folderly has two pricing plans for the entire deliverability solution.
It is an advance email deliverability solution for cold email outreach campaigns. Capable of solving email deliverability problems and maximizing inbox placement rate. This plan will cost $200/ per month for 1 email account. It guarantees 100% email deliverability and a 50% open rate.
This plan is specially designed for marketers who send marketing emails such as transactional or trigger emails, newsletters, product updates, and announcements emails. It rapidly builds the sender's reputation and delivers emails to subscribers' inboxes.
Compare to MailReach, Folderly is a more powerful email warmup tool you can consider.
Mailwarm is another MailReach alternative you can check out. It works similarly to MailReach. Instead, MailReach offers cheaper pricing compared to Mailwarm. It is just an alternative to MailReach but featurewise it's not value for money.
Mailwarm Pricing
Mailwarm offers expensive pricing plans. It will cost you $69/ month for 1 email account. Send up to 50 emails per day. Whereas Mailreach will cost you $25/per month and you are able to send 90 warmup emails per day.
Mailwarm pricing goes up to $479/ per month for 10 email accounts and sends emails up to 500 per day.
Lemwarm is the perfect email warm-up tool to boost your email deliverability. This is one of the best Mailreach alternatives you can choose from. Lemwarm is used by 10,000 companies to get better email deliverability. Its autopilot email warm-up solution makes your email ready for high inbox placement.
Just in 3 minutes, you can set up Lemwarm deliverability booster. Smart warmup tool that takes own decision based on domain age and gradually improves your sender reputation for the longer run.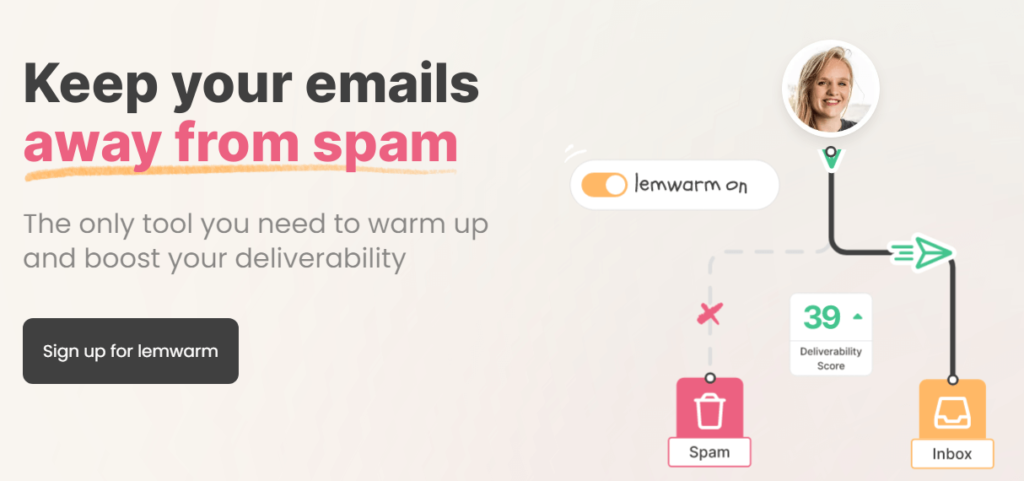 Main features of Lemwarm
Get your email ready for the highest email deliverability

Maintain and improve your domain's reputation

Offer smart and automated warmup process

Personalize the warmup strategy based on your industry, target audience, goals, and needs.

Uses smart content to get higher interaction

Provides a comprehensive delivery report
Lemwarm Pricing
Lemwarm offers a reasonable and competitive pricing plan. There is two pricing plan you can consider.
Essential plan: It will cost you $29/per month, fit for people who just started an email outreach campaign and want to build a good reputation without risk.
Smart plan: It will cost you $49/per month, useful for high-volume email senders and people who are already facing email delivery issues.
Conclusion
In this MailReach alternatives article, we have mentioned the top email warmup platform. Now the choice is yours if you are looking for a budget-friendly email warmup tool then you should definitely consider Warmup Inbox and Warmbox.
Suppose, if your looking for a guaranteed results-oriented email warm-up platform then you can consider Warmy, InboxAlly, and Folderly.
Apart from email warm-up, you can use GlockApps all-in-one deliverability solution for better email deliverability and campaign performance.