In this Closely review, we have explained each feature, pricing, pros and cons, customer reviews, performance, and competitors. So you can make the best choice when it comes to LinkedIn automation tools.
It's no secret that LinkedIn is among the most popular social media sites. You can find a lot of potential clients on Linkedin. LinkedIn is the best place to find B2B leads. But you should have the right set of tools to use Linkedin at full extension. That's why you need a Closely LinkedIn automation tool to automate entire Linkedin activities.
Closely is a powerful and essential prospecting tool as it helps you in making the most out of your Linkedin account. You can use Closely to find, engage, and convert an ideal prospect into a customer. Let's review the Closely LinkedIn lead generation platform and see how tools can be used most effectively.
Closely Review
Closely is a smart lead intelligence and sales automation platform that enables you to automate Linkedin prospecting and find new leads for your company. It is an essential lead-generation tool for boosting the productivity of your sales, marketing, business development, and demand-generation team.
With Closely, you can reduce prospecting time and repetitive manual tasks such as sending connection requests, finding emails of prospects, and sending emails and LinkedIn messages. You can effortlessly take control of your LinkedIn marketing. Closely is one of the best-rated Linkedin automation apps on Capterra and Global Marketing Solutions. Use the OOIJKGFN Coupon code and get 10% off.
How does Closely work?
Closely is a simple and powerful automation tool that works on Linkedin basic, sales navigator, and recruiter plans. Just watch this video, and grow your sales with the world's most powerful LinkedIn lead engagement platform.
Best Features of Closely
Closely offer outstanding lead generation features that help you achieve your sales target with ease.
Lead finder is the best lead generation tool offered by Closely. You can easily find your ideal prospect's email and phone numbers on Linkedin. It has a potential database pool of 151 Million emails and 59 Million phone numbers, including 31+ data points such as industry, company name, contact name, emails, phone numbers, geography, job titles, websites, and more.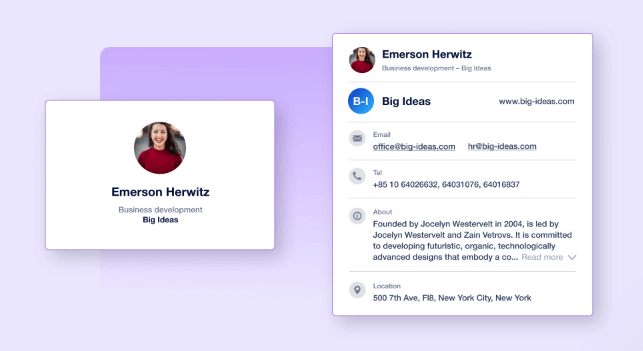 It is one of the most effective tools for quickly building a prospect list. If you're planning a marketing campaign and need the contact information of a potential prospect, Closely LinkedIn automation can help you extract contacts and connect with your target audience. Simply sign up to receive your targeted prospects.
Sales enablement is one of the outstanding features of Closely. You can reach out to your target audience via Linkedin messages and email using the sales enablement feature. Closely allow you to automate communication with your audience through multiple channels.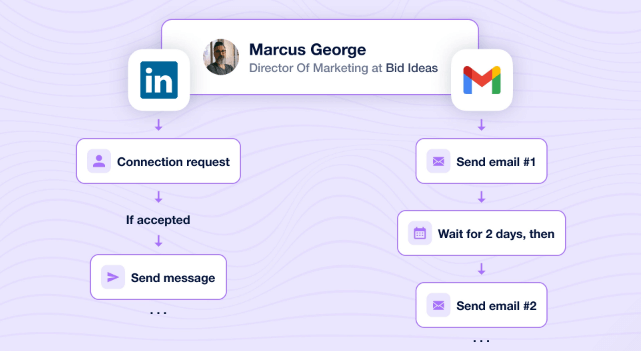 You can effectively create automated Linkedin messages and email sequences that help you engage with your prospects and convert them into sales. An automated sequence can be used to send LinkedIn connection requests, send messages with time gaps, and send emails. If someone responds, it will be delivered directly to your inbox.
Linkedin Network Intelligence
This is the important feature of Closely. You can sync your LinkedIn connection with Closely so that it can update your database automatically. With these features, you do not require search and update leads. Closely automatically find leads and update them. It also allows you to filter your database by location, tags, job titles, company, and so on.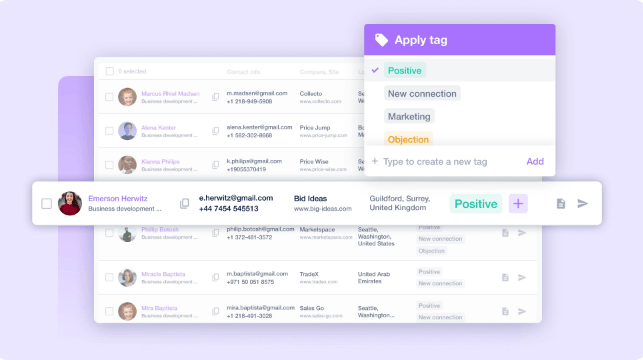 Closely Chrome Extensions
Closely offer a free chrome extension that helps you find out new leads on Linkedin. You can scrap up to 50 emails or phone numbers for free. Very useful and risk-free chrome extension for Linkedin.
Bulk Exports for Linkedin Prospects
You can export Linkedin prospects into a CSV file and use them for your outreach campaign. It is a straightforward and easy-to-use LinkedIn automation platform that provides valuable features to hit your sales targets.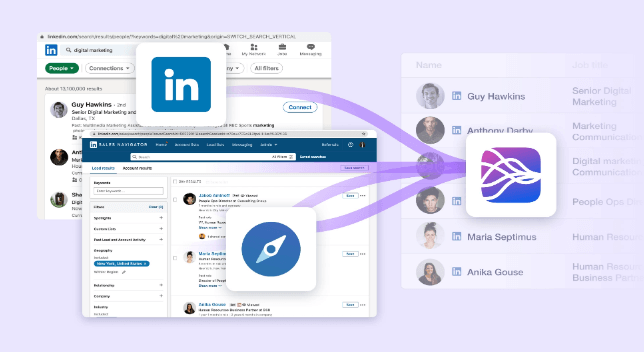 In Closely, you will get personalized messaging features that help you communicate with your audience more effectively.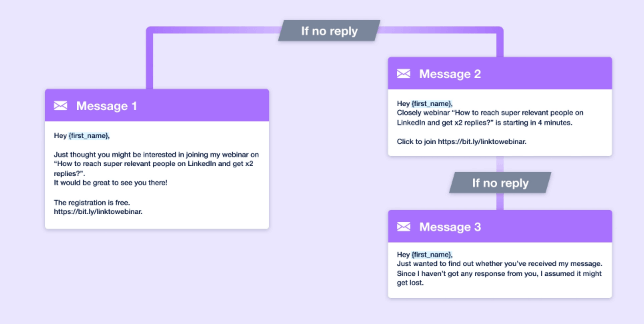 In the report dashboard, you can track the entire performance of your Linkedin campaign. Such as
How many connection requests were sent?

How many accepted connection invites?

How many have seen your messages?

How many responded to your messages?
This report will give a clear idea about your LinkedIn lead generation activities.
Secure and Safe Linkedin Prospecting Platform
As you know, LinkedIn has some limitations. But Closely strictly adheres to that limitation, and it has implemented smart techniques to avoid limitation and risk.
Closely Pricing Plans Reviews
Closely offer transparent and reasonable pricing plans. It comes with 4 standard pricing plans Free, Personal, Growth, and Pro. Use the OOIJKGFN Coupon code and get 10% off.
In the Closely free plan, you will get 50 email credits and can connect with 1 LinkedIn account.
Personal plan starts at $49/ month, which includes 500 email credits, one LinkedIn account, network manager, smart box, automated network growth, and bulk messages. Best use for small business owners.
Growth plan starts at $83/ month, which includes 500 email credits, 2 LinkedIn accounts, network manager, smart box, automated network growth, and bulk messages. Best use for small member team.
Pro plan starts at $166/ month, which includes unlimited credits, 5 LinkedIn accounts, network manager, smart box, automated network growth, and bulk messages. Best use for sales, business development demand generation, and marketing team. This is recommended plan if you are buying for your entire team.

A customized plan option is also available if you have any specific requirements.
Closely Pros and Cons
Pros
Closely have a lot of pros that benefit your business to generate more leads.
Offer 50 email credits for free

Smart and intelligent lead generation platform

Powerful and simple to use

Extract bulk leads from Linkedin

Automate the entire Linkedin lead generation

Risk-free prospecting platform

Highly accurate and updated data

Unlimited credits at a reasonable price

Top-notch customer support
Cons
There are only a few cons to Closely. But you have to be careful about Linkedin's limitations.
It does not offer API and Webhook

Sometimes CSV imports doesn't work
Closely Customer Reviews
Let's see what customers have to say about Closely.
Is Closely the right tool for your business?
Closely mainly suitable for sales, business development, demand generation, lead generation, small business owners, marketing, social media professionals, bloggers, and affiliate marketers. Professionals who spend a lot of time on LinkedIn prospecting can benefit from it. Closely can help you increase team productivity and generate 10x more leads for your business.
Final Closely Reviews and Ratings

Closely Alternatives and Competitors
There are many alternatives to Closely. Here is the list of Closely alternatives.